New York Giants:

Coughlin Report
August, 27, 2013
8/27/13
3:38
PM ET
EAST RUTHERFORD, N.J. -- Giants coach Tom Coughlin confirmed Tuesday that he will play his starters against the Patriots, in the team's final preseason game.
Coughlin expects to play his first units for 12-15 snaps on Thursday. Rookie quarterback
Ryan Nassib
will come in after
Eli Manning
, followed by
David Carr
, and Coughlin hopes to play
Curtis Painter
as well.
The first-team offense in particular has struggled thus far in the preseason. They've scored just two touchdowns, and both came on big plays as opposed to sustained drives -- Manning's 57-yard touchdown pass to
Victor Cruz
against the Steelers, and
David Wilson
's 84-yard TD run against the Jets.
"I'd like to see some continuity and some execution, some performance," Coughlin said, when asked about the offense. "I'd like to see us get the ball in the end zone, I'd like to see us do well on third down. I'd like to see our passing game, with our protection, look like some type of an efficient operation. I'd like to see progress, that's what I'd really like to see [Thursday]."
The Giants are 1-2 in the preseason, have lost two in a row and have looked very mediocre in the process. Coughlin was asked if he is satisfied with what he's seen thus far from his team.
"I don't like the word, I never have. Satisfied is not a good word for me, it doesn't work and it never never has," Coughlin said. "I see things that I like, and I see things that I don't like, and I see things that have to happen, and have to move along. ... It's a work in progress, there's no question about it. It'll be a work in progress when we get ready to play the first [regular season] game, it's just been one of those [summers]."
To be fair, the Giants have had a bunch of injuries to deal with during training camp and the preseason.
"We're trying to get 11 guys to work together, [that] has not been easy," Coughlin said. "There is, I hope, a silver lining in that lots of people have played, lots of experience, lots of guys have been in positions of flexibility. So we've had some things we could see, and I'm hoping that becomes a good thing."
August, 22, 2013
8/22/13
3:44
PM ET
EAST RUTHERFORD, N.J. -- Giants coach Tom Coughlin plans to play his starters for "basically a half" against the Jets on Saturday night, in the team's third preseason game.
He also left open the possibility that some of them could play a little more than that, into the third quarter.
"Sometimes that's based on numbers if the numbers aren't where you want them to be," Coughlin said Thursday. "You'd like to get guys 30 snaps in this game."
As for the quarterbacks, Coughlin confirmed that
Curtis Painter
and
Ryan Nassib
will play Saturday, in addition to
Eli Manning
.
David Carr
will sit this one out, after Painter sat out last Sunday's game against the Colts.
But the coach would not reveal who'll play immediately after Manning, and who will be the third quarterback.
"Who comes in second -- we've got some maneuvering thoughts on that one, too, but they're both going to play," Coughlin said.
Nassib, who the Giants traded up to draft in the fourth round this past spring, will almost certainly make the team. Carr and Painter are competing for a spot on the roster.
August, 16, 2013
8/16/13
6:00
PM ET
EAST RUTHERFORD, N.J. -- Giants coach Tom Coughlin said the starters will play approximately 20 snaps when the Giants play host to the Colts on Sunday, while the second string will get about 25 snaps.
"If we get any kind of snap distribution like we did the other night [against Pittsburgh], it would be a 65-snap game, if it went that way," Coughlin said.
[+] Enlarge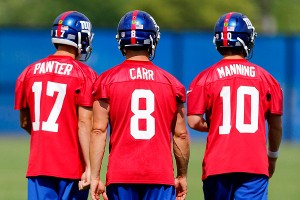 Jim O'Connor/USA TODAY SportsCurtis Painter won't take any snaps against Indy; David Carr and Eli Manning will.
The 20 snaps for the starters in the second preseason game is part of the gradual snaps increase for the starters through the first three preseason games, before toning it down for the final one.
The Giants' starters had a strong showing last Saturday, scoring a touchdown while holding Pittsburgh to a field goal.
Coughlin added that the team will only be using three quarterbacks this week, as
David Carr
and
Curtis Painter
will be split up. Carr will play against the Colts, along with
Eli Manning
and rookie
Ryan Nassib
, while Painter will play the following Saturday against the Jets.
JPP UPDATE:
Coughlin liked what he saw from rehabbing defensive end
Jason Pierre-Paul
during a workout on Thursday. Pierre-Paul had offseason back surgery, and it's not known yet whether he'll be ready for the season opener against Dallas.
"He worked well yesterday. I think he's a little sore today so they slowed him down again," Coughlin said. "Yesterday was an outstanding day. He ran well. He worked in the weight room."
Coughlin didn't believe the soreness was a sign of a setback.
"He ran yesterday well, he's sore today probably because he hasn't been running, so they just held him back today," Coughlin said. "In other words, he's not ready to come out two days in a row and do what he did yesterday. But I'm encouraged by what he did."
ALL FOR AHMAD:
Coughlin raved about former Giant
Ahmad Bradshaw
, who will return to MetLife Stadium for the first time since he signed with the Colts in the offseason. Bradshaw played for the Giants from 2007-12, winning two Super Bowls. He won't play Sunday.
"He was a tough, hard-nosed guy. Any time you came on the field you knew what you were going to get out of him. Very focused, very physical, very tough. Played hard, very emotional about the way he played. He was a big, big part of our two championship teams," Coughlin said. "Those are the things that stand out for me: his toughness, his heart, the way he approached every game, the emotion he put into it. He would play with extreme pain, we all know that. Nothing but great thoughts about him."
END WITH A FIGHT:
A scuffle halted practice on Friday, drawing the ire of Coughlin. It appeared defense end
Adewale Ojomo
was involved.
The team was in the middle of a two-minute drill when the skirmish broke out, ending practice.
"Of course I'm not happy. Why would I be happy about that?" Coughlin said. "You could get somebody hurt under those circumstances."
August, 13, 2013
8/13/13
6:19
PM ET
EAST RUTHERFORD, N.J. -- Tom Coughlin made it clear Tuesday he is optimistic about
Antrel Rolle
's ankle injury. When asked if he projected that the safety would be available for Week 1 of the regular season, the Giants' head coach raised his eyebrows.
"I hope he comes back next week," Coughlin said. "Why would I talk about Week 1?"
Coughlin said Rolle has given him every reason to believe he will be back on the field quickly, given his attitude and ability to rebound from injury.
"I don't know what he said (to the media), but I know that even when he was out there on the field, he said, 'I'll be fine, I'll be fine, I'll be fine,'" Coughlin said. "So he has an ankle injury and he'll do everything he can to get back in. He doesn't like to miss anything and, quite frankly, if he can possibly avoid it, he misses nothing, which is a good attitude. "
Coughlin's post-practice news conference Tuesday consisted mainly of a rundown of the expectations for injured players like defensive back
Terrell Thomas
, who is being brought back gradually from a knee injury.
"That's all I can tell you, is that when he practices enough to where the medical people think he can take a series or whatever, then we'll take a series," Coughlin said.
Guard
Chris Snee
(hip) is in the same situation, being worked back in slowly.
Rookie offensive lineman
Justin Pugh
is coming back after passing the NFL's concussion protocol, and Coughlin acknowledged that Pugh missed some important time in training camp with the injury.
"He's got a ways to go, but he's in there fighting," Coughlin said.
Coughlin also said he expects to have defensive end
Justin Tuck
and wide receiver
Hakeem Nicks
available for the team's next preseason game, on Sunday against the Colts.
August, 8, 2013
8/08/13
4:41
PM ET
EAST RUTHERFORD, N.J. -- Tom Coughlin said he will try to play all four of his quarterbacks against Pittsburgh on Saturday night.
Coughlin has mapped out about a quarter for
Eli Manning
.
David Carr
,
Curtis Painter
and
Ryan Nassib
then will see snaps after Manning is done.


Coughlin, though, isn't revealing the order of quarterbacks after Manning and Carr.
"Don't worry about it," Coughlin said. "You'll see."
Full speed:
Coughlin is eager to see how his young players deal with the increase in speed in the preseason opener.
"The thing that you are not prepared for other than the form tackling -- which is the number one defensive drill that we do -- you're going to tackle live for the first time," Coughlin said. "And you are going to be brought to the Earth for the first time. Ball security is a big issue. Head up, see what you hit. All those types of things that are taught from a fundamental standpoint are now going to happen full speed. People have to be ready for that."
"It will be a good first experience, I am sure," Coughlin later added. "We talked about being physical. We are playing against a very physical team."
August, 3, 2013
8/03/13
1:23
PM ET
By
Mike Mazzeo
| ESPNNewYork.com
EAST RUTHERFORD, N.J. --
Giants
coach Tom Coughlin is excited to fly to Canton, Ohio, following Saturday's practice to see Bill Parcells' induction into the Pro Football Hall of Fame.
"It's the celebration of the apex of someone's career," Coughlin said. "The idea [is] that we do throw this 'great' word around in common usage today much too often, but Bill Parcells is a great football coach."
[+] Enlarge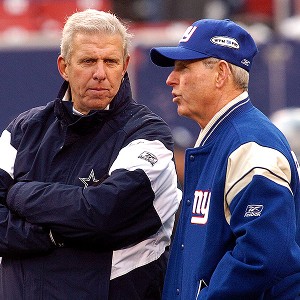 Lee S. Weissman/Icon SMI Bill Parcells and Tom Coughlin have been colleagues and opponents during their careers.
Parcells served as the head coach of the Giants from 1983-90, winning the Super Bowl in 1986 and 1990.
Coughlin has coached the Giants since 2004, also capturing a pair of championships (2007 and 2011).
Asked if he'd think about his own possible future induction, Coughlin replied: "I don't even want to hear that stuff today. Sorry to say it that way, but that's not what this day is about. This day is about Coach Parcells, period."
Coughlin was one of Parcells' assistant coaches from 1988-90. He was asked what he learned from Parcells.
"It was just the way that he went about his business and the way the organization went about its business," Coughlin said. "The continuity, winning, the high expectation level that was put by Billy on his players. He had an ability to gauge right away whether it was championship-level or not, and his ability to communicate that in fluent 'New Jersey-ian' to his players."
No Albany:
The Giants moved training camp, formerly held at the University of Albany, to their practice facility in East Rutherford, N.J., this summer.
Coughlin was asked if Albany's lack of an indoor facility had something to do with it.
"It was a big factor, no doubt about it," Coughlin said. "However, it was one of the factors. That shouldn't be used in any kind of way against the University at Albany. Mayor [Gerald] Jennings told me if that was the case, they'd find a way to have one of these facilities there."
"The fact that the CBA and the way it's conducted today and that there's only one practice [instead of two-a-days], that had an awful lot to do with it," Coughlin continued. "At least that was the argument posed. I didn't make that decision. Naturally, Mr. Mara and Mr. Tisch made the decision, but that was the way I'd present it, with the CBA the way it is and one practice."
August, 2, 2013
8/02/13
7:27
PM ET
By
Mike Mazzeo
| ESPNNewYork.com
EAST RUTHERFORD, N.J. -- Giants coach Tom Coughlin scoffed at a question about his team possibly running goal-line drills on the first couple days of pads during training camp.
"Have you been watching us the last few years?" Coughlin responded. "Last time we ran a goal-line [drill], I lost a linebacker and a running back. We've been practicing short yardage and goal line, really since the spring. But the live part of it we haven't done yet, if we're going to."
Friday was the Giants' first day of full pads. They were supposed to do it Thursday, but the rain halted those plans.
"It went OK, but you can see we have a lot of work to do," Coughlin said. "The majority of the day was more of a third-down type of a day. The first group had a pretty good two-minute drill. The defense really did make a couple of plays, but we've got a ways to go with that phase of it."
Two backs:
Coughlin was asked about his running back tandem of
David Wilson
and
Andre Brown
.
"Well, they both have playing experience," Coughlin said. "They both are talented. Obviously Brown is bigger. He's fast, he does catch the ball well out of the backfield. David is a big threat for a big play any time he touches it. Kickoff return, catching a ball out of the backfield, making a great cut down the field. They are an explosive duo and hopefully we're going to give them some opportunities to get in the open field. There's great competition for the third spot. Sometimes we've played three guys around here. We're always looking."
August, 1, 2013
8/01/13
4:16
PM ET
By
Mike Mazzeo
| ESPNNewYork.com
EAST RUTHERFORD, N.J. -- Giants coach Tom Coughlin worked in rookie right tackle
Justin Pugh
on a few snaps with the starters.

Justin Pugh
"We like to be able to do that," Coughlin said. "Basically if they're with the first couple of groups, they're being interchanged once in a while, so we'll see about that."
Pugh is currently behind starter
David Diehl
on the depth chart. Pugh was selected by the Giants in the first round.
• Coughlin said he will not miss any practice time to be at former Giants coach Bill Parcells' Hall of Fame induction ceremony.
Coughlin said he's never been to an induction ceremony before, though he did coach in the Hall of Fame game 18 years ago.
• Coughlin praised the progress of second-year tight end
Adrien Robinson
. Coughlin also likes what he's seen out of
Larry Donnell
.
July, 30, 2013
7/30/13
4:42
PM ET
By
Mike Mazzeo
| ESPNNewYork.com
EAST RUTHERFORD, N.J. -- Giants coach Tom Coughlin says
Victor Cruz
is still "knocking some of the rust off."
"He's coming along and he's definitely gonna get there," Coughlin said, noting the key is that Cruz is on the field and getting his practice time in. "And we know that he'll work his way through camp and he'll be ready to go."
Cruz recently signed a six-year contract worth nearly $46 million -- including $15.6 million guaranteed.
The 26-year-old wide receiver had 86 catches for 1,092 yards and 10 touchdowns for the Giants last season.
Happy they're hitting:
The Giants put their shoulder pads Tuesday, which made Coughlin happy.
"It was good. It's always good to get started that way it was real good to see the majority of time we were on our feet," Coughlin said. "There was a few occasions where I didn't appreciate it, but it was good to see them. They were very enthusiastic about it, and we like to think that that would be maintained."
The Giants will have their first fully padded practice on Thursday. They are off Wednesday.
Chip on their shoulders:
Coughlin likes the fact that many of his defensive players are going into the season with something to prove.
"I'm going to like it even more if it's maintained on Sundays, yeah," Coughlin said. "They do have a lot to prove."
Jumbo package:
Coughlin rotated defensive tackle
Cullen Jenkins
in at defensive end on some plays, adding extra beef to the D-line.
"Not just matching personnel but matching it with some large bodies, large people inside," Coughlin said.
The Internship:
Sam Madison
is on Coughlin's staff as a training camp defensive backs coach.
The four-time Pro Bowler played with the Giants from 2006-08.
"It's good to have Sam around here. Sam's good medicine," Coughin said. "Sam was like that as a player when he was here with us. He was working, he was coaching, he did a nice job in that capacity, he did a good job with all the young corners. The guys seem to respond to the fact he's here now."
The Tutor:
Coughlin was asked about quarterback
Eli Manning
mentoring rookie
Ryan Nassib
.
"Well I've seen that since Day 1, oh yeah. Eli does a great job with that," Coughlin said. "And he does enjoy that role.
"I talked to [Eli] about bringing in a young player [Nassib] and how challenging it was gonna be for the young guy. I'm sure he remembers his early days and he really does try hard."
July, 29, 2013
7/29/13
6:33
PM ET
By
Mike Mazzeo
| ESPNNewYork.com
EAST RUTHERFORD, N.J. -- Giants coach Tom Coughlin is ready for his team to put its pads on.
The Giants will hold their first padded practice on Thursday.
"We need that," Coughlin said Monday. "You get to this point and, quite frankly, (the offensive and defensive lines) bang on each other more than they're supposed to and no matter how many times you talk about hands and feet, there are a lot of shoulders. So we need the protection of that, especially as they get more and more aggressive."
Coughlin said it's important to find a balance when practicing with pads on.
"You're not supposed to be out of control. You're supposed to stay on your feet, stay on your feet. You're going to get some hitting in, that type of thing, but that's what those preseason games are for as well," he said. "You have to remember that part about it."
In past camps, there would be more tackling. Why have things changed?
"One is a salary cap. Secondly is that you don't have quite as long as some of those old camps where you brought them along slower and that type of thing. You have these offseason programs the way they are today, but you still have to, in this day and age, you've got to try to do the best you can," Coughlin said. "It's a very fine line, you've got to get a team ready to play and they've got to be physical, but you can't step over the line."
High on Randle, Amukamara:
Coughlin liked what he saw from wide receiver
Rueben Randle
and cornerback
Prince Amukamara
on Monday.
"(Randle's) made some outstanding plays and today he had a couple that were almost, that would've been nice plays," Coughlin said.
"Prince competed like heck," Coughlin said. "He really did and that's what we're trying to get there and he's rising to the occasion. He's being more and more competitive."
Competition on O-line:
Coughlin was asked about whether
David Diehl
can benefit from having first-round pick
Justin Pugh
pushing him for playing time at right tackle.
"David Diehl is a highly motivated guy in the first place and competition always brings out the best, so between the two of them competing and battling away for positions and especially with (James) Brewer in there as well, that's all good stuff," Coughlin said.
Coughlin was also asked if he's ever been part of a team where all three linebacker spots are open.
Mark Herzlich
and
Dan Connor
are vying for the middle spot, while
Spencer Paysinger
,
Keith Rivers
,
Jacquian Williams
and
Aaron Curry
are vying for the outside spots.
"Well, it's been the position everyone's wanted to talk about in the spring and now. It is competitive, we do have guys who have been outstanding special teamers who can run that are vying for those spots," Coughlin said. "Just because you don't know necessarily a lot of information about them doesn't mean they're not football players, so we'll see. It's very early, but they've done OK up to this point."