New York Giants:

Drew Brees
July, 28, 2014
7/28/14
1:55
PM ET
EAST RUTHERFORD, N.J. -- Look, I'm not saying he can and I'm not saying he can't. I have nothing but respect for
Eli Manning
's abilities and the things he can do. He can beat
Tom Brady
in the Super Bowl, and if you didn't believe that after the first time, he did it again for good measure. The
New York Giants
' quarterback is largely underrated and underappreciated, and he's perfectly capable of having a great season even though he's coming off his worst season.
However.
If Manning completes 70 percent of his passes this year in Ben McAdoo's new offense, as quarterbacks coach Danny Langsdorf said Monday
he'd challenged Manning to do
, then McAdoo, Langsdorf and anyone else who had a hand in it should have their choice of NFL head-coaching jobs next January. And they can ride unicorns with Santa Claus and the Easter Bunny to the interviews.
Start with the very short list of quarterbacks who've ever hit that number in a full NFL season. It's basically
Drew Brees
(twice, in 2009 and 2011), Joe Montana (1989) and Steve Young (1994). Langsdorf said the list he gave Manning also included Sammy Baugh, Ken Anderson and
Alex Smith
. But Baugh played only eight games in the 1945 season in which he hit the mark (the league played a 10-game season that year). Anderson's 1982 season was only nine games long due to a players strike. And Smith put up his 70.2 mark in 10 games in 2012 before losing his job to
Colin Kaepernick
.
So if Manning is to hit this goal over a full season, he'll be doing something only three other players -- two of whom are in the Hall of Fame, and one of whom surely will be -- have done. The fact that it's a nearly impossible achievement is the first and best reason to doubt it. Manning's career completion percentage is 58.5, and his career high for a single season is 62.9, set in 2010. He would have had to complete an additional 69 passes in 2013 to get to 70 percent from the dismal 57.5 at which he finished. That's 4.3 more completions per game. Even in 2010, he would have needed 39 more completions, or 2.4 per game. May not sound like a lot, but it is when you think about what it means.
Secondly, as much as we've written about the Giants' new offensive scheme, there are still legitimate concerns about whether they have the personnel to run it effectively. The offensive line isn't set yet. Their wide receiver group is littered with question marks after
Victor Cruz
. They do not have a reliable pass-catching tight end on the roster. And as much as they want to stress high-percentage plays and completion percentage, it's tough to imagine they'll throw to the running backs all season.
Which kind of leads me to my final point: Eli Manning, risk-taker. Manning's calling card as a quarterback has always been, to me, his fearlessness. He has the confidence to try any throw, no matter how risky, because (a) he believes he can make it, and (b) he has an uncommon ability to put mistakes behind him and not let them affect his performance as the game goes along.
It's inconceivable to think that McAdoo and Langsdorf could change this about Manning even if they wanted to, and it's inconceivable to believe they would want to. Manning's ability to deliver an uncanny throw in a huge spot is one of the few things you can point to right now in this Giants offense that might have a chance to set it apart from others in the league. Their challenge is to install an offense that's more efficient and less turnover-prone while still making use of what Manning does best. So there's still going to be plenty of downfield stuff, and that stuff will come with more risk.
Now, OK. I understand about coaching and motivation. If Langsdorf sets a goal of 70 percent and Manning aims for it but falls 5 percent short, he'd still obliterate his career high and improve on last year by 7.5 percent. The Giants would surely take that. But hearing Langsdorf say this Monday brought home the ideas of (a) how much different this offense is going to be than it has been for the past decade, and (b) how hard it's going to be for the Giants to be proficient in their new offense in its first season.
July, 11, 2013
7/11/13
12:30
PM ET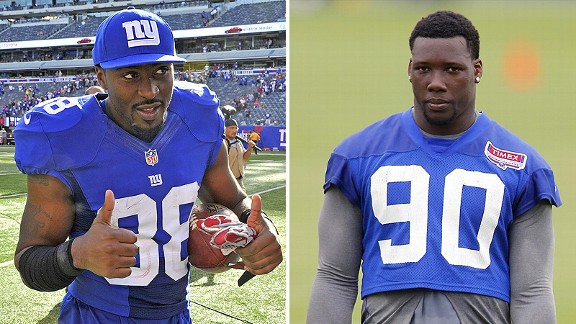 AP Photo, USA Today Sports ImagesGiants stars Hakeem Nicks, left, and Jason Pierre-Paul will be need new contracts in the near future.
The proverbial ink had yet to dry on
Victor Cruz
's
New York Giants
contract extension and people were already asking about
Hakeem Nicks
, who will need a new contract himself before the 2014 season begins and is likely going to cost more. This time next year, whichever way the Nicks situation has resolved itself, people are going to be asking about
Jason Pierre-Paul
, another young superstar who's going to need a long-term deal if the Giants want him to be part of their long-term foundation. And they're going to want to know what the Giants are doing about safety and cornerback -- two positions on which they've shown a desire to spend during the salary-cap era. Cruz wasn't the first sticky financial situation the Giants have encountered in recent years, and tons more loom on the horizon.
The issue that complicates all of these matters is the contract of quarterback
Eli Manning
, who is scheduled to cost the Giants $20.85 million against this year's cap, $20.4 million against next year's, and $19.75 million against the 2015 cap. The Giants are perfectly happy to commit such a large percentage of their cap to a quarterback who wins them a Super Bowl every four or five years, and justifiably so. Manning's deal is not out of line or regrettable. But it is an issue around which the Giants find themselves needing to work, and it is going to force some tough decisions in the next couple of years.
There's a real dichotomy developing between the teams that commit huge cap numbers to their established veteran quarterbacks (Giants, Broncos, Saints, Cowboys, Ravens, Packers ... Lions, I guess, now) and the newly minted contenders whose quarterback costs are low. Teams such as the 49ers, Seahawks and Redskins have some of the most talented quarterbacks in the league locked up for a small fraction of their cap costs.
Colin Kaepernick
is costing San Francisco $1.398 million against this year's cap and $1.63 million against next year's.
Russell Wilson
's cap cost to the Seahawks over the next three years is scheduled to average $817,302 per season.
Robert Griffin III
costs the Redskins about $4.8 million against this year's cap, about $5.76 million against next year's -- big numbers compared to Kaepernick and Wilson, but nothing compared to Manning and
Drew Brees
.
This is why the Seahawks can trade a first-round pick for
Percy Harvin
and sign him, why the 49ers can counter with an
Anquan Boldin
pickup, why the Redskins will be able to be active in free agency next year when their cap penalties are behind them. Having a franchise quarterback who costs less than 1 percent of the salary cap, as Wilson costs the Seahawks, is like finding free money when you're competing for players against a team whose quarterback costs 17 percent of the salary cap, as Manning costs the Giants. There's no quarterback in the league with a higher 2013 cap cost than Manning's.
Tony Romo
of the
Dallas Cowboys
is the only one who currently has a higher projected 2014 cap cost than Manning's. Romo, Brees and
Peyton Manning
are the only ones currently scheduled to cost more against the cap in 2015.
Such is the Giants' financial reality. Manning deserves his contract. They've built the team around him and he has rewarded them with remarkable durability, unassailable character and championship performance. But the fact of his contract means they have less money with which to build the rest of their roster, and that this annual cap crunch they face is going to remain an issue as long as Manning is their man.
There is relief to be had next year with the expiration of contracts such as
Justin Tuck
's and
David Diehl
's. But players such as
Chris Snee
,
David Baas
,
Mathias Kiwanuka
and
Antrel Rolle
carry massive 2014 cap numbers and probably all can't be kept. Each is a significant starter and would have to be replaced while Nicks and Pierre-Paul are lining up for their big paydays. The Giants have paid good money for defensive backs, believing the secondary to be a priority position. Can they continue to do that, or do they need to go cheap at cornerback and/or safety? How badly do they need
Damontre Moore
to develop as a pass-rusher so they can save money there in the coming years? Can they rebuild the offensive line on the cheap? They won't be able to answer all of those questions exactly the way they want to, and the decisions they make aren't going to come with much margin of error.
Again, they're not alone. Not even in their own division. The Cowboys deal with this same problem all the time, often as a result of decisions far worse than the one the Giants made to commit to Eli Manning. This isn't a criticism of the team, just a warning to its fans that things are going to continue to be tricky in the coming offseasons, and the Giants are going to have to rely more than ever on their ability to draft and develop players to fill gaps they can't afford to fill because of cap concerns.
Cruz should be flattered, honestly. He might not have ended up with the contract he wanted from the Giants, but the deal he got is significant. And because they know they can't pay everyone they want to pay, the Giants didn't offer it lightly. Cruz can take the Giants at their word when they say they value him and want him to be a part of their long-term plan. The deal they gave him proves it. They won't be able to make good on that promise to everyone.
January, 16, 2013
1/16/13
12:52
PM ET
It's safe to say Phil McConkey isn't a fans of Saints quarterback
Drew Brees
.
McConkey, a former Giants receiver, appeared on WFAN radio and voiced his
displeasure with the NFL Players Association
and Brees, who serves on the NFLPA's executive committee.
"I know he's canonized, and people think he's great," McConkey said of Brees. "(But) if he got in front of a group of ex-players, I don't know what would happen."
[+] Enlarge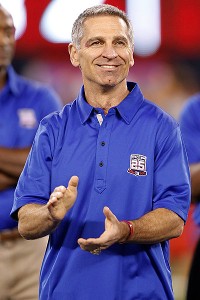 AP Photo/Paul SpinelliPhil McConkey says the NFLPA hasn't done enough to help retired players, many of whom are suffering as a result.
The degree of commitment the union should have to helping retired players has been a divisive topic.
"There's some guys out there that have made bad business decisions," Brees said in 2009. "They took their pensions early because they never went out and got a job. They've had a couple divorces, and they're making payments to this place and that place. And that's why they don't have money. And they're coming to us to basically say 'Please make up for my bad judgment.'"
"It's disgusting," McConkey said Tuesday, referring to Brees' comments, "but that's some of the mentality that's around."
Brees did show an appreciation for retired players during that 2009 interview, saying, "They shaped the game for us. Because of those guys, we have an opportunity to play this game, to make the money that we make, to get the benefits we get. We will always, always, always reach back to give to those guys. But there's a way to do it."
McConkey, who played for the Giants from 1984-88 and helped them win Super Bowl XXI, said the NFLPA doesn't take care of former players.
"I see so many of my colleagues suffering terribly," McConkey said. "I really don't blame the owners and the management. I don't. It's the Players Association. They're the ones that should have taken care of the guys that went before them. And they didn't, and they still don't."
McConkey regretted the 1987 NFL strike but said today's players like Brees are benefiting from it.
"All (the strike) benefited were some of the guys of today," McConkey said. "There are some guys today that have absolutely no clue and that run their mouths. And Drew Brees is one of them."
December, 5, 2012
12/05/12
7:30
PM ET
EAST RUTHERFORD, N.J. -- The Saints have one of the most explosive aerial attacks in the NFL this year, as usual. Through 12 games, New Orleans is ranked third in the NFL in passing yards, averaging 294.2 per game.
And yet, this has not been a good season for quarterback
Drew Brees
.
[+] Enlarge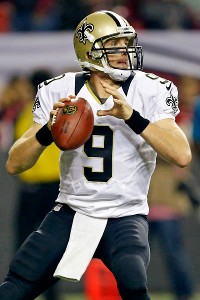 Josh D. Weiss/USA TODAY SportsDrew Brees
Yes, he leads in the NFL in touchdown passes, with 31. But he's also tied for the league lead in interceptions, with 16.
That's why nine quarterbacks are ranked ahead of him in passer rating -- including rookies
Robert Griffin III
and
Russell Wilson
.
And, Brees is coming off his worst performance of the year. In a 23-13 loss in Atlanta last Thursday, Brees threw a career-high five picks and had his NFL-record streak of consecutive games with a touchdown pass snapped at 54.
"I would say that was disappointing for me, very uncharacteristic of me and not what I'm used to," Brees said Wednesday on a conference call with New York reporters. "Mom always said there would be days like that. You're going to have a rough day and, unfortunately, it was the timing of it all at this point in the season and against a divisional opponent on the road, you kind of scratch your head."
At 5-7, the Saints' playoff chances are slim, at best. But Brees sounded eager to get back on the field Sunday against the Giants.
"I went back and I analyzed that film, and everything that happened is correctable and I can fix and I've been doing everything in my power to get that done," Brees said. "I also know this: I'm not losing any confidence. You've got to have a lot of trust and a lot of confidence to play this position, and I believe in myself and I believe in this team, in this offense and our ability to make plays and to score points."
Brees has had some big games against Big Blue. Last season, he threw for 363 yards, with four touchdowns and no interceptions, in a 49-24 Saints victory in New Orleans. In 2009, he threw for 369 yards, again with four touchdowns and no interceptions, in a 48-27 win, also at the Superdome.
But Brees knows the Giants' defense is dangerous. Big Blue is currently second in the NFL in takeaways with 30, behind only the Bears (34).
"They've got an extremely talented group of players," Brees said. "They do a great job getting pressure on the quarterback with a four-man rush. They've got a plethora of great pass rushers. Their front four has done a phenomenal job at that; always has. That's been their reputation and they live up to that."
November, 28, 2011
11/28/11
4:00
PM ET
Drew Brees
gets a text from
Archie Manning
before almost every Saints game. Manning, one of the faces of the Saints franchise, usually offers a few words of encouragement the night before Brees hits the field.
"Just really trying to reach out and make sure that I knew that he was thinking about me, thinking about [the team] and wishing us luck and that kind of thing," Brees said, describing the texts from the elder Manning.
But Archie delivered a different message in late December, 2006.
It was the night before Brees and the Saints played Archie's son
Eli
and the Giants.
"His text was, 'You're on your own this week, buddy,' " said Brees. "It was kind of funny. But Archie has always been great."
Brees may have received a similar text on Sunday as he prepared for the Giants.
Manning and Brees will go head to head in New Orleans for the second time on Monday night.
In 2009, Manning and the Giants were smoked in the Superdome, 48-27.
Both teams were 5-0 at the time.
This time, the Giants will be looking to stop a two-game losing skid and keep pace with the Cowboys in the NFC East.
Brees, of course, will be a handful for the Giants' defense.
Under Brees' guidance, the Saints' offense leads the league in yards per game (436.9), passing yards (319.4), first downs (24.5) and third-down efficiency (53.3 percent, 72 of 135). They are second in scoring at 31.3 points a game.
Manning has been
very strong
for the Giants.
He currently ranks among the top 10 in the league in completion percentage, passing yards, touchdowns and quarterback rating. And he's led the Giants to a 6-4 record despite a ground game that ranks 31st in the league.
"Just from afar, watching some of the games on film when we play similar opponents and that kind of thing, I think Eli's had a great season," Brees said. "I think he's playing very well."
Brees learned early in his time with the Saints that New Orleans is a Manning town.
"Archie, obviously having played here and lived here ever since and being very involved with the community and Eli and
Peyton [Manning]
both, with everything that they've accomplished. People definitely take a lot of pride in saying those guys are from New Orleans," Brees said.
But they also take pride in saying Brees is their quarterback.
It will be interesting to see how many cheers Eli gets in his hometown on Monday night.
At the very least, he'll have Archie on his side.