New York Giants:

Greg Schiano
April, 16, 2014
Apr 16
1:05
PM ET
Even after we spent the past couple of days discussing it here, and even after
Matt Flynn
went back to Green Bay and left
Josh Freeman
as the last man standing in the
New York Giants
' search for an extra quarterback for the offseason, it was still hard to believe it would happen. Freeman washed out of two organizations last year, and the one game he played for the Vikings after the Buccaneers cut him was hardly a helpful audition. You'll remember that "Monday Night Football" fiasco as the Giants' first victory of the season, and the fact Freeman obviously wasn't at all prepared to play in the game was the main reason they were able to stop their losing streak.
Freeman
But they did it. The Giants have in fact
agreed to terms with Freeman
on a one-year deal, which means he'll likely be in the building next week when they start their offseason program and will be a candidate to take some of the snaps in OTAs and minicamp if starting quarterback
Eli Manning
's recovery from ankle surgery takes longer than expected.
I guess, if he shows something, Freeman could beat out
Curtis Painter
for the backup quarterback job. That assumes second-year project
Ryan Nassib
can't get into that mix, but given the level of his competition I don't know why he couldn't.
I know there isn't much out there on the quarterback market, and that Freeman was the best and most experienced of the candidates once Manning had surgery last week, and the Giants decided they needed to add a reserve quarterback. But if Freeman is on the 2014 Giants, I can't see how that helps them. Nothing we've heard about Freeman over the past year has indicated he'd be a useful backup. And while I'm willing to give him a pass for his ugly exit from Tampa Bay because I believe loony former Bucs coach Greg Schiano to have been at least as much at fault for their conflict as Freeman, it says a lot that he couldn't beat out
Matt Cassel
or
Christian Ponder
for playing time after the Vikings signed him in October. It also says a lot that this week was the first time any sort of market materialized for Freeman this offseason, given the state of the quarterback market.
So if you think Freeman is going to be some sort of diamond-in-the-rough signing for the Giants, or that having him on the team makes them better prepared to weather a potential Manning absence than they were yesterday, I'm going to take the opposite point of view. The best thing you can say about this move is that it probably can't hurt. But if the addition of Freeman has any impact on the Giants' 2014 season, they're in trouble.
April, 11, 2014
Apr 11
11:25
AM ET
The
New York Giants
have been in contact with the representatives for free-agent quarterback
Josh Freeman
and could have the former
Tampa Bay Buccaneers
' first-round pick in for a visit and workout next week, sources familiar with the situation said Friday.
Freeman
Nothing official has been scheduled in terms of a visit, and it's unclear whether the Giants' interest predates Thursday's news that starting quarterback
Eli Manning
had
surgery on his ankle
. But the timing of the Freeman news is interesting in light of the possibility that Manning could have to miss time in the offseason as he recovers from his surgery.
As I mentioned in
Thursday's analysis of the Manning news
, the Giants don't generally employ a fill-in-starter type of backup quarterback. Manning hasn't missed a game since he got the starter's job during his 2004 rookie season, and the Giants count on him to be able to suit up and play every Sunday. In recent years, backups such as
Curtis Painter
and
David Carr
have had their jobs mainly because of their abilities to portray opposing quarterbacks on the scout team every week.
But Freeman, who has started 60 NFL games since the Buccaneers took him with the 17th overall pick in 2009, could represent a viable fill-in, either in the preseason if Manning is slow to recover or in the regular season if the Giants are concerned Manning might be at risk of missing games for the first time in his career.
Of course, there's no guarantee Freeman would be a good backup quarterback or the Giants' interest will lead to a signing. Freeman was cut by the Buccaneers last year due to a variety of off-field concerns and a personality conflict with since-fired coach Greg Schiano (who obviously had his own issues). He was signed by the Vikings and started just one game -- a horrible one on "Monday Night Football" in MetLife Stadium that turned out to be the Giants' first victory of the 2013 season. He certainly showed the Giants nothing that night that would make them interested in him, but he has shown some talent and had some degree of success in the league. If the Giants can satisfactorily answer whatever questions they have about those off-field concerns, it's possible they could offer Freeman a job.
September, 17, 2012
9/17/12
11:18
AM ET
The NFL has no plans to impose any discipline for what took place on the final play between the
New York Giants
and the
Tampa Bay Buccaneers
on Sunday.
The Giants were attempting to kneel down to end their 41-34 win when the Buccaneers tried to charge through the line. The Giants' offensive line was knocked backward into
Eli Manning
, who was knocked down. Tom Coughlin was irate and
let Tampa head coach Greg Schiano hear it
at the postgame handshake.
Coughlin was worried someone could have been injured. In his Monday morning conference call with reporters, Coughlin said he did not know yet if anyone was hurt on that play, with players coming in for treatment late in the morning.
The NFL, though, saw enough and decided that no punishment was needed.
"There is nothing further on the incident at the end of the game," an NFL spokesperson said. "There were no violations on the play or afterwards that would require follow up from our office."
Coughlin stands by his belief that teams should never do what Tampa did at the end of the game.
"It's up to the NFL," he said when told there was no discipline. "I said what I said and I believe it to be accurate with regard to the number of years I have been in this league. I have said my peace about it."
September, 12, 2012
9/12/12
6:47
PM ET
EAST RUTHERFORD, N.J. -- It didn't take Greg Schiano long to make his return to the Garden State.
After spending 11 years as the head coach at Rutgers University, the New Jersey native was hired to be the coach of the
Tampa Bay Buccaneers
this past January. And this weekend, he'll bring his new team north to his old home, to face the
New York Giants
in just his second game as an NFL head coach.
"We're coming home to play the defending Super Bowl champions who are not in a real good mood right now," Schiano said on a conference call with Giants reporters Wednesday. "So we need to bring our best game just to have a chance to win."
He's right. The Giants are chomping at the bit after losing their regular season opener to the Cowboys one week ago. The Buccaneers, on the other hand, defeated the
Carolina Panthers
16-10 in Tampa Bay.
[+] Enlarge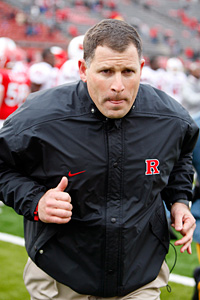 AP Photo/Tim LarsenEx-Rutgers coach Greg Schiano is no stranger to New Jersey.
Schiano is approaching this weekend as strictly business. "It is going home and all that stuff, but at the end of the day, it's a 24-hour trip that is one-sixteenth of your season, so I don't have time to get real sentimental," Schiano said. "The nice thing is that I'm familiar with the area and familiar with the stadium, the hotel, all that stuff. At least that makes it better."
The 46-year-old is trying to make the leap from college head coach to winning NFL head coach -- no easy feat, as recent history suggests. One man who has been able to do it is his counterpart this coming Sunday, Giants coach Tom Coughlin.
Coughlin spent three seasons as the head coach at Boston College in the early 1990s, before being hired to coach the expansion
Jacksonville Jaguars
, and eventually the Giants.
"I know him cordially," Schiano said of Coughlin. "We're not real close, but I respect the heck out of him. I studied things that he's done. He made the jump from a program that he kind of put back in order and went to the NFL. There are some things that I've studied about how he's done it.
"I really look up to his attention to detail and the way he prepares his football teams in every aspect. I hope that I can just do a similar job. I don't think I'm anywhere near the point where I can do what he does right now, but certainly trying to get there."
Schiano hasn't just studied up on Coughlin -- he hired two men who served under Coughlin as his offensive and defensive coordinators. Mike Sullivan, Schiano's new OC, spent the past eight seasons with the Giants -- the first six as wide receivers coach, the past two as quarterbacks coach. Bill Sheridan, his new DC, was the Giants' linebackers coach from 2005-08, and defensive coordinator in 2009.
"Well, it's been very helpful," said Schiano. "I can tell you there's a lot of Giant imprint on our program, and a lot of Coach Coughlin imprint on our program because as you go through the process and you set up all your schedules, you know it's different schedules than college. I have several NFL coaches on our staff, I have everybody's schedules from all the years they've coached, and I kept looking at Coach Coughlin's way of doing things and there are a lot of things that we mimic from a scheduling point and training camp standpoint, and all those things."
Schiano received a big vote of confidence from one of his veteran stars on Wednesday. Defensive back
Ronde Barber
, a five-time Pro Bowler in his 16th NFL season, spoke to Giants reporters in a separate conference call Wednesday, and was asked about his new coach.
"Whatever he's doing, it's working," Barber said. "He's very specific and very detail-oriented. You can call it whatever you want to, but we are a very attention-to-detail organization all the way down to the players. It's working for us."
A win on the road against the defending Super Bowl champs would give Schiano even more credibility -- with his own players and the rest of the league.
"I don't know," said Schiano, when asked if he will have butterflies on Sunday. "I always tell the story; I remember when the first Giants Stadium was built. We used to drive past it on the way to my grandma's every week. She lived in Rutherford, so I watched that thing come out of the ground.
"Now to be playing in MetLife Stadium in the Meadowlands, and to actually be coaching an NFL team, I probably won't be thinking of it very much, but it is fun. I enjoy every game day, like I told you guys before; game day is the best day of the week. Doing it back there will be especially good, but if we don't play well, then it won't."