New York Giants:

Jake Muasau
August, 3, 2013
8/03/13
3:59
PM ET
EAST RUTHERFORD, N.J. -- A full week into training camp, all three Giants starting linebacker jobs remain open.
Mark Herzlich
,
Spencer Paysinger
and
Keith Rivers
are the first unit, according to the first unofficial depth chart of the summer, released by the team on Thursday. But that is far from set in stone one week before the team's first preseason game, in Pittsburgh next Saturday.
"There's competitions all along the board, really," linebackers coach Jim Herrmann said prior to Saturday's practice. "And to me, that's really good. Because if they're all getting better, we're gonna be better."
[+] Enlarge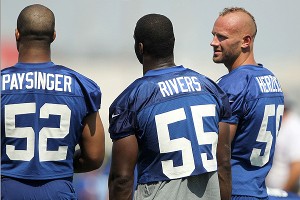 John Munson/The Star-Ledger/USA TODAY SportsWith Spencer Paysinger, Keith Rivers and Mark Herzlich at LB, teammate Mathias Kiwanuka says the Giants' defense is high on potential.
"Playing linebacker's not easy," Herrmann continued, "and there are injuries that happen, and the next guy that steps in is just as talented as the guy that had to take a week off."
Chase Blackburn
and
Michael Boley
, starters for the majority of last season, are gone. Herzlich and Paysinger, both undrafted, are entering their third seasons, but have just seven NFL starts between them.
Rivers, a former No. 9 overall draft pick, started six games for the Giants last season but has been injury prone in his four-year NFL career.
There are some intriguing prospects on the second unit.
Jacquian Williams
has shown flashes of great potential in his first two seasons, but is working his way back from a knee injury.
Dan Connor
started eight games for the Cowboys last year. And
Aaron Curry
is a former No. 4 overall pick trying to resurrect his career.
The third-stringers are
Kyle Bosworth
,
Jake Muasau
and rookie
Etienne Sabino
.
"It's been great competition, and the guys, the group, the room, they're all good guys," Hermann said. "There's nine good men there, and they all understand they're competing, but they're also trying to help each other get better. As a coach I can't ask anything more from them."
As for practice on Saturday, Herzlich made the biggest play of the day for the linebackers. During a two-minute drill at the end of practice, Herzlich dived for a deflected pass from rookie quarterback
Ryan Nassib
, hauling it in for an interception. That can only help him in his quest to secure the starting middle linebacker job.
That said, Hermann indicated Saturday that the Giants could have two different starting linebacker units -- one for first and second downs, and another one for third downs.
"To me the ballgame's broken up into two phases," Herrmann said. "First and second down, and then to me third down is a completely different game, because the majority of the teams in this league are gonna throw the ball every play on third down. And so your mind-set's different, the guys you put on the field are different."
He has some inexperienced players vying to play important spots, but Herrmann sounds excited about what he's working with.
"We have a lot of guys who fit into different little roles," Herrmann said, "which is exciting for them, because they may not be a starter on first and second down, but come third down they can be a starter because of their talents."
July, 23, 2013
7/23/13
9:00
AM ET
As training camp approaches, we're counting down to camp by taking a look at the Giants, position by position.
Position:
Linebacker.
Projected starters:
OLB
Jacquian Williams
, MLB
Mark Herzlich
, OLB
Keith Rivers
.
Projected reserves:
MLB
Dan Connor
, OLB
Spencer Paysinger
, LB
Aaron Curry
, LB
Jake Muasau
, LB
Kyle Bosworth
, LB
Etienne Sabino
.
New faces:
Connor, Curry, Bosworth, Sabino.
Going, going, gone:
Michael Boley
,
Chase Blackburn
.
Player to watch:
Williams. He took things slowly in OTAs and minicamp with a PCL injury suffered from last season. If he can remain healthy this season, Williams could emerge as the team's most important linebacker. He is capable of playing all three downs and being the linebacker used by Perry Fewell in passing situations alongside a third safety/defensive back that could potentially be
Ryan Mundy
,
Cooper Taylor
or
Terrell Thomas
. Rivers is capable of doing the same but the Giants have always liked Williams' speed and ability to cover tight ends. The question is Williams' health and if he can show his potential over a full season in a starting role. If Williams misses any time due to injury, Rivers' importance only increases that much more. And the team is counting on Rivers this season already. Paysinger, who worked with the starters in the offseason, is a dark horse. Any time Williams misses means more time for Paysinger.
Potential strength:
Youth and speed. The Giants lost a lot of experience this offseason when they released Boley and Blackburn left in free agency. And
Mathias Kiwanuka
is moving back to defensive end. But they should be a quicker unit with Williams and Rivers playing more snaps. The Giants also are confident Herzlich or Connor can handle the middle linebacker duties Blackburn had last season. If Curry shows any of the potential that made him the fourth overall pick in the draft in 2009, Jerry Reese will have a steal.
Potential weakness:
Experience and health. Boley and Blackburn helped the Giants win a Super Bowl just two years ago. Both were an extension of Fewell on the field. The Giants lost a lot of starting experience. Also, health is a major factor with the Giants linebackers. Williams missed six games and Rivers missed five last season due to injuries. Those two are going to be key to whether the Giants' linebackers have a successful season. But if they miss any time, Paysinger and Curry will have to step in. And there's the unknown at middle linebacker as well.
Wild card:
Herzlich. He enters camp as the starter at middle linebacker and he'll have to hold off Connor and possibly Curry as well. He has impressed coaches thus far with his handle on the defense and poise in the huddle. While the middle linebacker may play two downs and then come out on passing situations, Herzlich has the potential to be a factor against the run –- an area the Giants have put great emphasis on this offseason.
Let us know what your thoughts are on the linebackers entering camp.
July, 17, 2012
7/17/12
9:00
AM ET
As training camp approaches, we're starting a countdown to camp by taking a look at the defending champions position-by-position.

Position: Linebackers.

Projected starters: OLB Michael Boley, MLB Chase Blackburn, OLB Mathias Kiwanuka.

Projected reserves: OLB Keith Rivers, OLB Jacquian Williams, MLB Mark Herzlich, MLB Greg Jones, OLB Spencer Paysinger.

New faces: Rivers, MLB Jake Muasau.

Going, going, gone: None.

Player to watch: Rivers. The Giants acquired Rivers for a fifth-round pick hoping that the former ninth-overall pick can stay injury-free and show his talent with a fresh start. Rivers enters camp behind Boley, Kiwanuka and Blackburn but could eventually emerge as a starter. Defensive coordinator Perry Fewell said he plans to see how versatile Rivers is and could try him at MLB for some snaps in practice during camp. Rivers is still learning the defense but the Giants hope Rivers gives them another athletic, quick and versatile linebacker capable of playing the run and pass.

Potential strength: The linebacker unit is deep and more versatile than in recent years. It should be one of the most competitive positions in camp as players like veteran Clint Sintim, who is making his way back from a second serious knee injury in as many years, will fight for a roster spot. Fewell has more options at linebacker and says he feels more comfortable with playing three linebackers on the field –- as opposed to three safeties -- than he has in the past two seasons. Boley and Blackburn have become extensions of Fewell and can direct the defense on the field, helping improve the defense's communication which also was problematic at times last season. Kiwanuka is more comfortable with his linebacker/pass rusher hybrid role. Williams impressed during his rookie season and showed he can cover and be an asset on passing downs. The Giants hope Rivers will realize his potential and become a difference maker. Herzlich and Jones provide depth at middle linebacker and can help stop the run when called upon. Fewell has also tried Jones at outside linebacker in OTAs and minicamp as well. Those two and Paysinger are contributors on special teams.

Potential weakness: The Giants had trouble against the run last season and stopping the run will be a point of emphasis again this season. For the past two seasons, Fewell has often employed three safeties on the field. With Deon Grant unsigned and plenty of options at linebacker, Fewell says he is comfortable using three linebackers more often but it remains to be seen how much he will employ three linebackers on the field. Fewell could use Kiwanuka, Boley and Blackburn on running downs. He could also throw Rivers or Herzlich out there to combat the run. Rivers might be able to join Boley and Williams on passing situations. Fewell will try to figure out the right combination in training camp. The linebackers should and likely need to play a much more pivotal role in the defensive scheme than in the past two seasons.

Wild card: Kiwanuka. Jerry Reese likes to refer to Kiwanuka as a "joker" who can play multiple positions. He has improved in his pass coverage and can rush the quarterback from the linebacker position or defensive end. Kiwanuka is more comfortable in his hybrid role and could be used more as a rusher this season with the departure of Dave Tollefson. His versatility can make the Giants defense even harder for opposing offenses to deal with.
July, 7, 2012
7/07/12
11:00
AM ET
There was no chat this week, since I am taking a little break before training camp starts up at the end of the month.
But here are some questions leftover from the last chat and from Twitter:
Q: How many linebackers do they keep? Michael Boley, Mathias Kiwanuka, Chase Blackburn, Keith Rivers, Mark Herzlich, Jacquian Williams, Greg Jones, Spencer Paysinger are in the running. Doesn't seem likely they keep all of them, right? Paysinger first to go?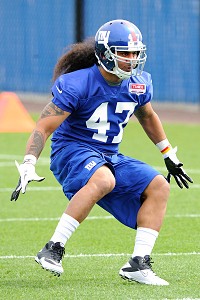 AP Photo/David DrapkinJake Muasau
OHM:
This is going to be an interesting one. I am very curious to see who they keep at linebacker and how many of them. Special teams will obviously play a factor. And let's not forget about undrafted free agent
Jake Muasau
and
Clint Sintim
. The Giants like Muasau enough to try him some at third-string middle linebacker while moving Greg Jones for a bit to strongside linebacker.
At the end of the season, the Giants had seven linebackers on the active roster and one (
Adrian Tracy
) on the practice squad. I think there is a possibility the Giants keep perhaps eight linebackers (
Tracy is considered a defensive end now
). They like all the ones mentioned above, in the question.
Herzlich, Jones and Paysinger all play roles on special teams. Muasau could land on the practice squad. Sintim's ability to stick depends on his surgically repaired knee. If Sintim makes a healthy recovery, the Giants will have some difficult decisions to make.
Q: Any chance the G-men pick up a veteran RB? Kicking the tires on Ced Benson not a terrible idea.
OHM:
I understand why some of you guys want to see Benson on the Giants to fill the
Brandon Jacobs'
void. But I think the Giants are going to see what they got with
D.J. Ware, David Wilson, Andre Brown
and
Da'Rel Scott
first. If for some reason they really see a weakness there and none of those guys satisfy what they are looking for -- or if there is an injury -- then I could see the Giants looking for a veteran running back. Otherwise I see the Giants sticking with what they have and seeing who emerges.
Q: Who's the receiver you think makes the biggest impact this year between Domenik Hixon, Jerrel Jernigan, Rueben Randle and Ramses Barden?
OHM:
Based on the non-contact practices we saw in OTAs and minicamp, I think Hixon will have the edge to start off as the third wide receiver. Jernigan and Barden finished minicamp with a strong practice. But I think Randle is the guy from this group who can have the biggest impact by the end of the season.
The coaches have seen flashes of his potential during OTAs and minicamp and they sound impressed. Randle just needs time to learn the offense, develop a rapport with
Eli Manning
and continue to progress. This could be like last year, when the Giants had to wait until Week 3 for
Victor Cruz
to emerge.
Q: With all the tight end talk, how did Christian Hopkins look in minicamp? Jerry Reese mentioned him after Jake Ballard and Travis Beckum got injured.
OHM:
Hopkins looks big and he's got some hands. At 6-5, 277 pounds, Hopkins is a large target. During the non-contact practices we were able to watch during OTAs and minicamp, we saw Hopkins make a few catches across the middle. He has ability. We'll have to see what he can do with more reps and full contract practices in camp.
Do you have more questions? Post them below.