New York Giants:

Jason Peters
February, 27, 2014
2/27/14
9:15
AM ET
With projections for the 2014 salary cap continuing to rise into the low $130 millions, we have discussed the ways in which the perennially cap-strapped
New York Giants
could benefit. According to
this chart Kevin Seifert put together
, the Giants currently project to have $18,288,183 in cap space if the cap comes in at $132 million when it's announced next week. That puts them right in the middle of the NFL pack, and third in the NFC East. Here's a look at where the division's other teams stand in the current projections. You'll note that the
Dallas Cowboys
appear to be in massive trouble.
Washington Redskins: $28,684,986.
After two straight offseasons in which they were penalized $18 million worth of cap room for their spending behavior during the uncapped 2010 season, the Redskins are ready to get to work rebuilding their secondary. They also need money to re-sign pass-rusher
Brian Orakpo
.
Philadelphia Eagles: $25,674,804.
The Eagles always manage the cap well, and they're already at work
locking up their current players
on long-term deals to maintain flexibility and continuity. Left tackle
Jason Peters
got his deal Wednesday, and it sounds as though center
Jason Kelce
and wide receiver
Riley Cooper
are next in line. If they spend in free agency, it likely will be on defense, where they could use some fresh pieces.
Dallas Cowboys: -$18,920,690.
Yeah, that's a minus-sign there. The Cowboys are nearly $19 million over the projected cap at this point, which means they probably can't retain free agent defensive linemen
Jason Hatcher
and
Anthony Spencer
and have some other tough choices to make. They have already made some noise about possibly having to cut
DeMarcus Ware
, which sounds crazy but would wipe out a huge chunk of the debt.
October, 5, 2013
10/05/13
2:00
PM ET
The
New York Giants
entered October still looking for their first victory of the season. They'll try to get it against the
Philadelphia Eagles
at 1 p.m. ET on Sunday at MetLife Stadium. Here are three things to watch for in a game between two once-proud division rivals who come in with a combined record of 1-7 and ranked 31st and 32nd in the league in points allowed:


It's got to be David Wilson time. It's just got to.
The Giants' handling of their running backs this season has made almost no sense -- as if the
Andre Brown
injury in the final week of the preseason left them at a complete loss and they had no backup plan. Wilson complicated things by fumbling twice in the opener, but enough already. This is a Giants season going nowhere, and the team needs to find out what it's got for the future. Wilson has the talent to be a building-block piece, but if they don't loosen the reins he's not going to develop the way he needs to -- especially in terms of confidence. With
Da'Rel Scott
off the roster and
Brandon Jacobs
showing very little, the Giants should let Wilson be the feature back they drafted him to be. And if he can't handle it, then at least they'll know that in time for next offseason.
Impact delayed?
Eventually, the Giants believe, defensive end
Jason Pierre-Paul
will be a disruptive factor again in the pass rush. This may not be the week. Pierre-Paul is recovering from offseason back surgery and has been dealing with a knee problem. And though he hasn't missed any practice time, he admitted Wednesday that he doesn't have his "quickness" back and is having trouble getting off the ball. If this remains true Sunday, his matchup against ultra-quick Eagles left tackle
Jason Peters
could be a mismatch in Peters' favor. The Eagles' offense leaves quarterback
Michael Vick
extremely vulnerable because of the way it spaces out its offensive linemen. And the Giants, who have just four sacks this season, should be able to pressure Vick. But Pierre-Paul has one sack in his last 11 games, and this may not be the week things turn around for him.
Prince vs. DeSean:
Cornerback
Prince Amukamara
has been one of the few individual bright spots for the Giants this season and one of the top cover cornerbacks in the league so far. If
Corey Webster
has to miss a third straight game with his groin injury, Amukamara's likely to draw the assignment of covering Eagles wide receiver
DeSean Jackson
. Teams have shown that taking Jackson out of the game is a good way to limit the Philadelphia offense, and if Amukamara (maybe with some safety help) can do that, the Giants' chances to win will improve.
August, 20, 2012
8/20/12
1:30
PM ET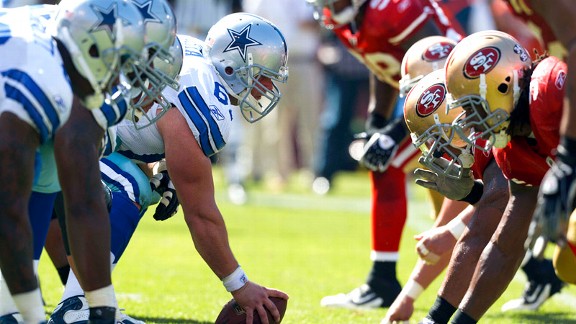 Jason O. Watson/US PresswireLike its NFC East rivals, Dallas is shuffling and searching for ways to solidify its offensive line.
The NFC East leads the league in hype. The huge media markets in which the teams play, the history of success, the rivalries ... all of it combines to create a perception that the NFC East is the best, most competitive and toughest division in the NFL. That the defending Super Bowl champion
New York Giants
play in it -- and are not the clear-cut favorites to win it again this season -- only adds to the perception, as does the growing excitement over an NFL regular-season opener between the Giants and the
Dallas Cowboys
16 nights from tonight.
But while Giants-Cowboys is fun, and each of those teams has something pretty intense going with the division's other two teams -- the Giants' recent struggles with the
Philadelphia Eagles
and the Cowboys' longstanding rivalry with the
Washington Redskins
-- the stats don't back up the NFC East as the league's toughest division anymore. The division is, by many measures, coming off its worst season ever. Last season was the first regular season in NFC East history in which no team won at least 10 games. Only the Giants finished over .500, and they gave up more points than they scored. Their Super Bowl run might have saved the division's honor, but it also disguised the troubling fact that the NFC East is no longer the Beast it used to be.
A large part of the reason for this, I believe, is the state of the division's offensive lines. We all know offensive line play is important, but in the NFC East these days, concern about the lines affects too many things. Teams that are strong on the line can control games. Teams that aren't cannot.
Eli Manning
and the Giants have been talking for months about wanting to not have to come back in the fourth quarter as much as they did last season, and the best way to avoid that is to control games from the start. Given the issues with their offensive line, they could find that a challenge once again.
But they're not alone. As we look ahead to 2012 and start assessing everyone's biggest questions, offensive line stands out as an issue for each of the NFC East's four teams. To wit:
The NFC has no shortage of star power. It has three great quarterbacks and one, Washington rookie
Robert Griffin III
, who's getting as much hype as any of the other three these days. It has some of the great wide receivers in the league in veterans such as
Hakeem Nicks
,
Miles Austin
and
DeSean Jackson
as well as rising stars such as
Victor Cruz
,
Dez Bryant
and
Jeremy Maclin
. The Eagles'
LeSean McCoy
ranks with the game's great running backs. And on defense, of course, the division is known for its great pass-rushers. Each team can rattle off names that give opposing quarterbacks heartburn.
DeMarcus Ware
.
Jason Pierre-Paul
.
Justin Tuck
.
Trent Cole
.
Jason Babin
.
Brian Orakpo
.
All of that makes the NFC East very exciting. But very often in the NFL, excitement and hype can conceal issues of quality. And if the NFC East really wants to be the best division in football again, it's not the quarterbacks or the wide receivers or even the pass-rushers that will bring it there. The NFC East's teams all need to start paying more attention to their offensive lines, because as those continue to erode, so will the division's annual claim to Beastliness.
July, 3, 2012
7/03/12
12:54
PM ET
SportsCenter has been running prime-time specials previewing the 2012 season for each NFL division. Tuesday at 7 p.m. on ESPN, they will do their one-hour show on the NFC East. To help you gear up, we take a look at each of the four teams and the reasons why you should like their chances to finish on top ... and why you shouldn't.
New York Giants

Why they'll win the East:
Quarterback
Eli Manning
has established himself as one of the best in the league, and the most clutch. Armed with two great wide receivers in
Hakeem Nicks
and
Victor Cruz
, Manning makes the Giants a threat to win any game that's close in the fourth quarter. They have a dominant pass rush that makes life miserable for opposing quarterbacks, even the very best ones. It's a passing league, and the Giants pass the ball and disrupt the opponent's passing game as well as anyone.
Why they won't:
The Giants' up-and-down 2011 regular season had a lot to do with inconsistency on the offensive line and an inability to control the game with the run. Neither the line nor the run game appears to have been improved over last year, and that could lead to inconsistency again, in spite of the outstanding talent they have at other key positions. Also, it's not their turn. This division has had three different winners over the last three years, and no one has repeated as NFC East champ since the Eagles won the division four years in a row from 2001-04. Every team in the division has improved, so the task of repeating is not an easy one.

Philadelphia Eagles
Why they'll win the East:
Everything went wrong last year, and they still missed by only one game. They went 5-1 against division opponents. The depth they have on the defensive line may actually be more impressive than the Giants' depth there (though, without the championship rings), and they tied for the league lead last year in sacks. Assuming he stays healthy, quarterback
Michael Vick
is a multi-faceted weapon.
LeSean McCoy
is one of the best running backs in the league. And
DeSean Jackson
and
Jeremy Maclin
are super-speedy potential stars in the receiving game.
Why they won't:
Almost everything rides on Vick, and he hasn't shown that he can be trusted to be (a) healthy or (b) consistently responsible in his decision-making. Even if you assume improvements on defense and in the wide receiving corps, Vick still has the potential to devastate the team with mistakes or a serious injury. They have very little behind him, and the loss of star left tackle
Jason Peters
for the year with a torn Achilles' tendon will make him more difficult to protect.

Dallas Cowboys
Why they'll win the East:
They had it in their hands last year with five games to go, but lost four of those, including two to the Giants. The main culprit for the collapse was a secondary that's been overhauled with the additions of
Brandon Carr
and
Morris Claiborne
at cornerback. And assuming running back
DeMarco Murray
comes back and remains healthy, he and
Tony Romo
lead an offense capable of big things.
Why they won't:
They remain questionable at safety, at guard and at center. Those are structural issues that could undermine the ability of the Cowboys' great skill-position players to put up their big numbers. The Cowboys' hope is that camp competition brings out the best at those positions, but they are areas in which Dallas could conceivably struggle all year.

Washington Redskins
Why they'll win the East
: The Redskins haven't won this division since the 1999 season, and they were so fed up that they dealt four high draft picks to get quarterback Robert Griffin III. If he can be half as dazzling in his rookie NFL season as he was in his final season at Baylor, the Redskins could be a surprise contender. Upgrades to the receiving corps and an imposing front seven bolstered by the return of 2011 second-rounder
Jarvis Jenkins
from injury also offer reasons for optimism, as does last year's 2-0 record against the Super Bowl champs.
Why they won't:
Still too many question marks, particularly on the back end of that defense and in the jumbled running game. They'll need some of their safeties, cornerbacks and running backs to play over their heads if they want to contend in this very tough division race, and they'll also need their rookie quarterback to play like a veteran. Everybody loves Griffin, and for good reason, but he is a rookie, and rookies struggle to adapt.
June, 14, 2011
6/14/11
1:00
PM ET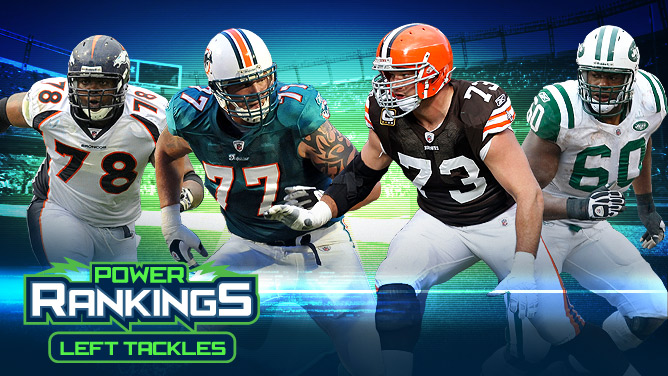 ESPN.com IllustrationOur bloggers say Joe Thomas and Jake Long are the NFL's best left tackles by a wide margin.
ESPN.com ranks the NFL's top 10 at left tackle, one of the most important positions in the league. Next week: Top up-and-coming assistants.
Take a quarter out of your pocket and look at its width. That's basically the difference between the top two left tackles in the ESPN.com Power Rankings.
Cleveland's
Joe Thomas
received 76 points from our eight-person panel of voters. Miami's
Jake Long
received 75. That put them way ahead of the rest of our top 10 list of the NFL's best blindside pass protectors.
Our panel of division bloggers gave Thomas five first-place votes, and Long received three.
"It was pretty much a coin flip for me,'' said NFC East blogger Dan Graziano.
If Graziano's quarter had landed on the other side, we might have had a different outcome. I think the same can be said for some of the other voters. I gave Thomas my top vote only after some strong consideration for Long.
But let's cut to the chase and point out the man who ultimately decided this election. It's AFC South blogger Paul Kuharsky. Every other voter had Thomas and Long in the top two spots. Kuharsky threw things off a bit by putting Long at No. 1 and Tennessee's
Michael Roos
at No. 2. He had Thomas at No. 3.
Let's turn to Kuharsky for his rationale.
"I've seen Long more, which helped him,'' Kuharsky said. "Also, frankly, I knew there could be close to a consensus for Thomas. He's very good. But we're not talking
Orlando Pace
or Jonathan Ogden. The groundswell for Thomas as top left tackle is, in my eyes, more a media creation than the view of players, scouts and coaches. I wanted to note and reflect that.''
Point taken, and I agree that we're not talking the same level as Pace and Ogden -- at least not yet. Thomas and Long are young and it's too early to put them in the category of surefire Hall of Famers. But, aided largely by Kuharsky, Roos did finish No. 6 overall.
Ryan Clady
,
Jordan Gross
and
D'Brickashaw Ferguson
rounded out our top five at Nos. 3, 4 and 5 respectively. After Roos, the rest of the top 10 was filled out by
Jason Peters
(No. 7),
Marcus McNeill
and
Donald Penn
, who tied for No. 8, and
Matt Light
at No. 10.
Let's work our way back toward the top, with one more quick stop at Roos. I had him at No. 8 on my ballot, and James Walker and Kevin Seifert didn't even vote for him. I've had a couple of scouts tell me Roos is a good left tackle, but seemed to take a step backward last season.
Kuharsky heard otherwise.
"I've had a coach and two scouts tell me Roos is as good or better than Thomas and Long,'' Kuharsky said. "I obviously see Roos a lot and think he's quite good, certainly better than he wound up here.''
Roos or ruse? Take your pick, but let's head right back to the top of the voting and back to the argument between Thomas and Long. They were drafted one year apart with Thomas entering the league in 2007 and Long coming in for the 2008 season. Each has made it to the Pro Bowl in every season played.
Kuharsky mentioned the "media creation'' about Thomas. In Cleveland? That's not where you usually turn to find guys to top Power Rankings, so our vote has to say something pretty strong about Thomas. Let's turn to the guy who covers Thomas.
"Thomas has always been focused on doing his job,'' Walker said. "You can't tell whether the Browns are 16-0 or 0-16 with the way he plays, and that's why he's been to four straight Pro Bowls. The NFL has gone the way of speed pass-rushers, and Thomas is the prototype to combat that. He's lean with very good feet and agility, but still strong enough to dominate in the running game. There's really no weakness in his game."
None of our panelists saw a weakness in Long's game.
"I thought Long's run-blocking ability put him a little bit ahead of Thomas,'' Grazianzo said. "I think he's shown improvement every year and is likely to pass Thomas soon if he hasn't already (and for me, these lists are about which guy I'd pick right now, so a guy I think is going to get better is going to get a long look from me). And he earned a bonus point or two from me for playing the last six games of 2010 in a shoulder harness and still being incredible.''
The best news is, these guys are so young we can have this same argument every year for the next decade. Now, let's move on to some other notes about the voting in the Power Rankings for left tackles.
Turn off the Light.
As we mentioned, Light came in at No. 10. That surprised me a bit because he's a big name with three Super Bowl championships and three Pro Bowl selections. I had Light at No. 6 and Walker had him at No. 4. But Light didn't even appear on four ballots, including the one from AFC East representative Tim Graham.
"Matt Light is a quality player, but Stats Inc. blamed him for 10 sacks allowed and four penalties last season, more in each category than his previous two seasons combined,'' Graham said. "I've always thought Light got more recognition simply from being
Tom Brady
's left tackle. Once you name the three or four elite tackles and you rack your brain for the next group, it's easy to understand people sorting through the great quarterbacks and asking, 'Who is so-and-so's left tackle?' Light made the Pro Bowl last year, but as an alternate. Light's reputation also is enhanced by his involvement in the union and being a truly rare species: the gregarious Patriot.''
Also-rans.
Andrew Whitworth
,
Chad Clifton
,
Doug Free
,
Russell Okung
and
Jeff Backus
didn't make the top 10, but each received votes.
"I don't think there are 10 elite or even complete left tackles in the NFL,'' NFC West blogger Mike Sando said. "I list Okung on a very short list of players with the talent and makeup to be elite at that position. Okung hasn't played enough to this point, but I think he'll join that group this season. Listing someone with considerably less ability was the alternative.''
The longest shot.
Somewhere, former Tampa Bay general manager Bruce Allen and coach Jon Gruden are smiling at Penn's name appearing on this list. It's true, they headed the regime that signed Penn as a free agent in 2007 after he was cut by Minnesota in 2006. Then again, they were also the ones who signed Luke Petitgout, and Penn only got a chance to play because Petitgout turned out to be washed up. I used to subscribe to the theory that you needed to use a first-round pick to get a good left tackle. But Penn has shown that's not necessary. In his case, he simply made the most of his shot at playing time and turned it into a $48 million contract as training camp started last year.