November, 26, 2014
Nov 26
3:50
PM ET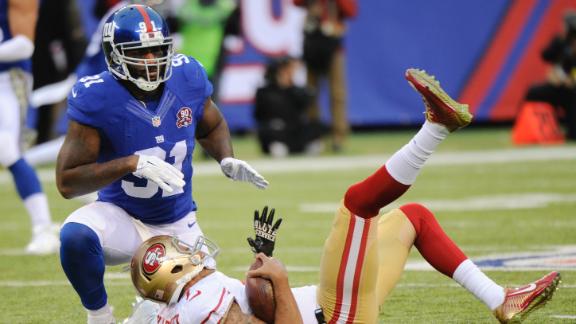 EAST RUTHERFORD, N.J. --
New York Giants
coach Tom Coughlin admitted the obvious on Wednesday: His team's pass rush has been a major disappointment this season.
"It is something that has been missing the majority of the time this year," Coughlin said. "The effectiveness of pressures, whether they come out of the secondary, the linebacker level, we have not been good with that.
"Plus, to be honest with you, we've had some missed assignments when those are called. The responsibility starts with me."
It may start with Coughlin, but it quickly extends to defensive coordinator Perry Fewell and the players themselves. Yes, Fewell could've called more blitzes against the Cowboys last Sunday, particularly on that final drive. But the guys up front have failed to live up to expectations this season.
Kiwanuka
Pierre-Paul
Starting defensive ends
Jason Pierre-Paul
and
Mathias Kiwanuka
have a combined six sacks -- 3.5 for Pierre-Paul, 2.5 for Kiwanuka. Pierre-Paul had 16.5 in 2011 and Kiwanuka had as many as eight in 2008.
"We'd like to think we would be a better team with pressure," Coughlin said. "There are a bunch of guys up front that are supposed to be known for that."
Robert Ayers
leads the team with five sacks and is also tops in quarterback hits (12) and quarterback hurries (24), according to Pro Football Focus. This despite the fact that he has played only 350 snaps. In comparison, Pierre-Paul has played 651 and Kiwanuka 558.
Ayers had gotten more playing time of late, until the game against the Cowboys, when he was in for only 20 of 55 defensive snaps and was not on the field for Dallas' game-winning drive.
When asked Wednesday if he felt he was benched, Ayers shrugged, then said, "I'm not the starter, so how can a backup be benched? The guys that started the game were the guys that played (at the end)."
"Ayers has had some success, (but) didn't play very well last weekend," Coughlin said earlier.
For what it's worth, Ayers was credited with three of the Giants' six quarterback hurries against the Cowboys, despite the limited amount of snaps. And he received a positive grade for the game from Pro Football Focus -- in fact, he got the highest grade of any defensive player on the team.
"Maybe? That's his assessment," Ayers said, when Coughlin's criticism was brought to his attention. "The way I viewed it was, there wasn't any other game this season when the starters didn't finish the game. If I was benched, I was benched. I don't know."
Speaking of sacks, second-year defensive end
Damontre Moore
had one of the Giants' two against the Cowboys (Kiwanuka had the other). But Moore played only six snaps and has played only 167 on the season, despite being active for every game.
"Young Damontre, everybody wants him in the ballgame. He did have some success the other day with one sack," Coughlin said. "He should have been playing a little bit more."
When asked why we haven't seen more of Moore, Coughlin indicated that poor performances in practice are the reason.
"Because there are times, to be honest with you, during the week when you talk about confidence level, whether it's assignment football or whatever -- for whatever reason, it hasn't been something that we thought he knows exactly what he's doing and so on and so forth," Coughlin said. "The practices have to fulfill the idea that we can go ahead and play him under all kinds of circumstances is what we'd like to do, not just on third down."
The
Jacksonville Jaguars
, the Giants' opponent this coming Sunday, have given up 43 sacks through 11 games, the worst total in the entire NFL. So if the pass rush is going to come alive this season, this would be the week.
But the Giants have just 19 sacks in 11 games, ranking them 26th in the league.
At 3-8 and virtually eliminated from playoff contention, perhaps it's time for the Giants to give guys like Ayers and Moore a bigger opportunity to show what they can really do.