New York Giants:

Jay Ratliff
October, 17, 2013
10/17/13
8:00
AM ET
Your daily morning check-in on news and notes about and of interest to the New York Giants.
The news of the day:
The Giants return to practice Thursday after a couple of days off and begin preparations for their "Monday Night Football" game against the Minnesota Vikings. All eyes will once again be on the running backs, with Peyton Hillis newly
signed for depth
and Brandon Jacobs having missed Monday's practice with a hamstring injury. All of the focus on the run game distracts from the major issues that are killing the Giants right now, which are the erratic play of quarterback Eli Manning and the complete lack of a pass rush, but maybe the Giants don't mind if we're all distracted from those things. We will of course have updates for you throughout the day.
Behind enemy lines:
The Vikings announced Wednesday that they will use their third different starting quarterback of the season, as newly signed former Buccaneer Josh Freeman gets the nod Monday night. If there's a surprise in all of this, it's that the team decided Freeman was ready to run its offense already after being run out of Tampa Bay by his coach just a couple of weeks ago. But based on what they got from Christian Ponder and Matt Cassel this season, why not? Ben Goessling things the Vikings' receivers
could benefit
from the switch.
Around the division:
The Cowboys have released Jay Ratliff in a move that was long overdue. Tim MacMahon writes that Ratliff's deal, and sticking with him as long as they did in spite of his injuries and other issues, ranks among Jerry Jones'
worst mistakes
as Cowboys owner and GM. I have to agree. Ratliff was a special player for a time, but it's been a while since he was reliable and he's created more headaches the past couple of years than he was worth.
Around the league:
Nobody should know better than Jim Irsay not to give Peyton Manning bulletin-board material before he comes to town to play his team. Which makes it really weird that that's
exactly what Irsay did
! Manning's going to throw for 800 yards and nine touchdowns, and the Colts players aren't going to be able to complain because the guy who fired him up is the one signing their checks.
September, 6, 2013
9/06/13
8:00
AM ET
Your daily morning check-in on news and notes about and of interest to the New York Giants:
The news of the day:
There was a time when you had to wonder whether Antrel Rolle would last in New York, as his relationship with Tom Coughlin had some rocky times early. That Rolle was
voted one of five team captains
Thursday, Coughlin said, speaks volumes about what he's come to mean to the Giants as a player and one of their defensive leaders. Rolle's an interesting guy, sometimes prone to saying over-the-top and kind-of-silly things on his radio appearances or in group media interviews. But he's got that kind of easy confidence about him that rings genuine to teammates. He's shown versatility and a willingness to move in and out of different roles as the team has required. And when he talks, teammates listen. My sense is he drew a good bit from veteran Deon Grant when Grant was with the team in 2010 and 2011. Grant was the kind of guy who wasn't scared to say what was on his mind when he felt something needed to be said, and he was the kind of guy teammates took seriously.
Behind enemy lines:
Sounds like a broken record, but the fact is the Dallas Cowboys just keep getting thinner on the defensive front. With starting defensive tackle Jay Ratliff already out and starting defensive end Anthony Spencer's chances of playing looking slimmer by the missed practice, reserve defensive tackle Ben Bass got
hurt in practice Thursday
. That could leave the Cowboys with only three defensive tackles, total, for the game. At a position where rotating players is vital, that's not enough. The Giants would do well to consider running the ball up the middle and wear down the few defensive tackles the Cowboys have.
Around the division:
If you were wondering when Riley Cooper was going to get into a fight with a teammate in practice, the answer turned out to be Sept. 5. Cooper, who made headlines last month when he was caught on tape using an angry racial slur,
scuffled
with known hothead cornerback Cary Williams. Cooper says it was nothing, but to me it says more that Williams didn't want to talk about it. I think the Eagles are going to be a mess, but I thought that before this happened.
Around the league:
Eli Manning's big brother threw for 462 yards and a league-record-tying
seven touchdown passes
Thursday night in the NFL's season opener against the team that had the No. 17 pass defense in the league last year and won the Super Bowl. The Giants had the No. 28 pass defense in the league last year and did not qualify for the playoffs. Peyton Manning and the Broncos will be at MetLife Stadium nine days from now to face the Giants. I'm not saying, I'm just saying.
September, 3, 2013
9/03/13
8:00
AM ET
Your daily morning check-in on news and issues about and of interest to the New York Giants.
The news of the day:
The Giants are off today, but they had a short practice Monday morning, and the big news was of course
the return
of wide receiver
Victor Cruz
to the practice field after two missed weeks due to a heel bruise. Talking to Cruz after practice, you couldn't be 100 percent sure he'd be playing Sunday night in Dallas, but all of the signs are encouraging. We will, of course, monitor this throughout the week. If he's practicing Wednesday and Thursday, you're probably OK to put him in your fantasy lineup. ... Defensive end
Jason Pierre-Paul
, recovering from back surgery, also worked some in practice, but he seems
less likely
to play in the opener. Same with fullback
Henry Hynoski
, whose return is vital to the run game with the offensive line banged up. ... Speaking of fantasy,
here's a post from Tom Carpenter

on Giants No. 3 receiver
Rueben Randle
as a potential sleeper in 2013.
Behind enemy lines:
As they prepare to face the Giants in Sunday night's season opener, the
Dallas Cowboys
are having
serious problems with their defensive line
. That's a strong unit if the four starters are healthy, but right now they're not.
Jay Ratliff
is definitely out, and as of now it looks as though it'll be a stretch for
Anthony Spencer
to play in the opener. They are crucial elements to the Cowboys' pass rush, and while
DeMarcus Ware
and
Jason Hatcher
still pose significant threats, it's easier to defend those guys when you only have backups to worry about at the other two spots. Welcome news for a banged-up Giants offensive line.
Around the division:
The
Washington Redskins
announced that quarterback
Robert Griffin III
, who had reconstructive knee surgery in January, would
start their Monday Night Football season opener
six days from now against the
Philadelphia Eagles
. Griffin didn't practice at all in minicamp or organized team activities, didn't practice in full until very late in training camp and didn't play at all in preseason games, so obviously it'll be fascinating to see how he looks in his first game action since he crumpled on the field in that playoff loss to the Seahawks. Griffin's not the Giants' problem until December, since the Giants don't play the defending champs in the first three months of the season.
Around the league:
Not a huge news day Monday. One item of note was the new
five-year, $55 million contract
the Bengals gave defensive tackle
Geno Atkins
. The Giants'
Linval Joseph
is not the same level of superstar player, obviously, but he's a very good one, and you can bet he smiled at the news of a defensive tackle getting a big-money deal as he himself heads into the final year of his four-year, $4.16 million rookie contract. Joseph's salary this year is $630,000.
August, 30, 2013
8/30/13
8:00
AM ET
Your daily morning check-in on New York Giants-related news and notes:

The news of the day:
Giants running back Andre Brown
fractured his left leg
in the second quarter of Thursday night's preseason finale in New England. Obviously rotten news for Brown, who broke the same leg last November, but also for the Giants, who were planning to use him as a significant part of their running game this season. While they have high hopes for second-year back David Wilson, the Giants listed the pair as co-starters on their depth chart and had been using Brown exclusively on passing downs and at the goal line this preseason. He's a better pass protector than Wilson is, and the departure of Ahmad Bradshaw has left a major hole in that area. Brown's physicality and understanding of the Giants' blocking schemes are assets on which they planned to rely.
Brown will obviously miss a significant amount of time, if not the whole season, so the question is about replacements. My guess is that Wilson would take over the goal-line duties since it was Brown's proficiency in that area, rather than any deficiency on Wilson's part, that led to the arrangement in the first place. But as for who'll play on third downs and in critical pass-protection situations, it's not so clear-cut. I know they like former Redskins running back Ryan Torain -- who was the next running back into the game after Brown got hurt -- as a pass protector. And Da'Rel Scott got significant action Thursday night for the first time this preseason and looked good as a runner. Rookie Michael Cox has impressed as a runner and a kick returner, but he likely has more to learn in protection. Veteran free-agent options still available include Michael Turner and Willis McGahee, each of whom has a good reputation for pass protection, and more guys will become available in the coming days. But it's entirely possible the Giants roll with what they already have at running back.
Around the division:
Washington Redskins quarterback Robert Griffin III says, with typical dramatic flourish, that he's been
cleared to play
following offseason knee surgery. Redskins coach Mike Shanahan declined to say for sure whether Griffin would start in the "Monday Night Football" opener in Week 1 against Philadelphia. Have to believe Shanahan's just playing some Shanahan-style mind games here with the Eagles. Regardless, Griffin and the Redskins aren't the Giants' problem until December. ... The Giants' Week 1 opponents, the Dallas Cowboys, are dealing with injury issues on the defensive line. Defensive tackle Jay Ratliff is on the PUP list and out for at least the first six weeks, and it sounds as though defensive end Anthony Spencer may be
a question mark for the opener
as well. So the Giants aren't the only ones who are worried about being at full strength nine days from now when the games count.
Around the league:
Giants owner John Mara is
happy with the settlement
of the concussion litigation against the league, which you'd expect him to be, because it's fantastic for the league and the owners that the thing got settled. But while the settlement is good for the league, my belief is that it could end up being bad for the game of football. Much of what the league has done in recent years in terms of its emphasis on player safety and health has been motivated by fears stemming from the possible consequences of the concussion litigation. With that fear removed, can we be sure the league will still be proactive on player-safety issues? Less accountability for the NFL and its owners is probably not a good thing. They got what they wanted here, which was for the thing to go away. But keep an eye out going forward to see what effect their relief has on their concern for player safety.
September, 5, 2012
9/05/12
10:14
AM ET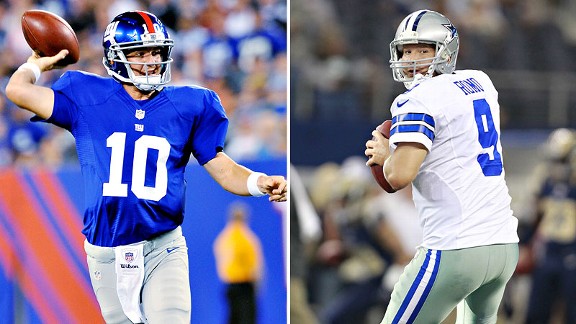 US PresswireThe performances of Eli Manning, left, and Tony Romo will go a long way in deciding the outcome of Wednesday's season opener.
The
Dallas Cowboys
and the
New York Giants
are set to kick off the NFL season on Wednesday night at MetLife Stadium in East Rutherford, N.J. It's a rematch of last year's regular-season finale, which the Giants won to clinch the NFC East title before going on to win the Super Bowl. As always, both teams enter the season with high expectations. But which of these two division rivals is primed to have the better year? ESPN.com NFC East blogger Dan Graziano and ESPNDallas.com's Todd Archer debate.
DAN GRAZIANO:
Well, Todd, we've got to stop meeting like this. It doesn't seem that long ago that the Cowboys rolled in on New Year's Day with hopes of winning the division title, only to give up the first 21 points and help launch the Giants on a Super Bowl run. They tell me the Cowboys have fixed their defense, and given what they spent on their two new cornerbacks, they'd better hope so. But when I look at these Giants, what I see reminds me a lot of last season. They're really strong at quarterback, wide receiver and pass-rushing defensive end but have questions elsewhere on the roster. Their hope, once again, is that
Eli Manning
and that pass rush are good enough to overcome their deficiencies. The division picks I made last week had the Giants going 12-4 and repeating as division champs, and the Cowboys finishing in third place at 8-8. So it's clear what I think about it. Both of these teams have flaws; I just feel like the Giants have shown they're better at overcoming flaws and adversity better than other teams are.
TODD ARCHER:
Wow, 12-4 and you see a team with questions? There can't be that many questions to finish 12-4. But it's hard to go against the Giants just because of their two Super Bowl wins in the last five years. They've done it and they get the benefit of the doubt. The Cowboys haven't done it and they don't get the benefit of the doubt. Winning at MetLife Stadium is difficult anyway, but it will be even more difficult because of what happened in training camp. Maybe
Jason Witten
and
Jay Ratliff
play, but that's pushing it.
Miles Austin
didn't play in the preseason.
Dez Bryant
missed the last week-plus in camp. The offensive line hasn't taken a snap together. So, other than that, the Cowboys are in great shape. But I'm not sure I see the Giants finishing 12-4. I think the Cowboys go 10-6 and make a wild-card run, but I'll admit I felt better about it before camp started.
DG
: When I look at the Cowboys, the last thing I worry about is the Austin/Bryant/Witten crew. If any of those guys is out, they're in big trouble anyway. My thing with them is that I don't think they're strong enough on the offensive line, or up front on defense, to overcome a significant injury to one of their star players. They feel a little flimsy to me in too many spots still. And I'm not 100 percent sold on the idea that the improvements at cornerback will automatically help the pass rush. I feel like it works better in the other direction -- i.e., a great pass rush supports the secondary. I think the Giants are built on that philosophy, and that they really lean hard on those strengths, especially in big games.
TA:
Man, I hate having to agree with you on this, but I think the Giants and other teams have shown a pass rush can cover up for an average/mediocre secondary. I can't think of too many great secondaries that make a pass rush. But that's the way the Cowboys have gone in signing
Brandon Carr
, trading up for
Morris Claiborne
and keeping
Mike Jenkins
. Carr was great in the preseason and he gives the Cowboys a physical presence on the outside that they have lacked. The Cowboys' offensive line is a huge question and I know I'm going to commit heresy in your eyes here, but
Tyron Smith
had some issues at left tackle this summer. The interior is a huge question, too, but the Cowboys believe in Bill Callahan. He has a great reputation and I think eventually the line is OK this year. Maybe not versus the Giants, though. But I will say this: The Giants' line is a little suspect, too, so that could be a push if Rob Ryan has figured out a way to defend
Victor Cruz
and
Hakeem Nicks
.
DG:
No doubt the Giants' line is suspect, and where that really shows up is in the run game, which ranked 32nd in the league last season. I don't see how it's improved, which means once again it'll be up to Manning and the receivers to get it done on offense. I know from talking to Redskins people, after they beat the Giants twice last year, they feel you have to shut down one side of the field against Manning and limit his range of decisions, or else he'll pick you apart. You think these Cowboys are built to do that this year? At the very least, I can't imagine we see too many Giants fullbacks hurdling Cowboys cornerbacks this time around.
TA:
I was surprised
Henry Hynoski
was not invited to the Olympic hurdle trials after what he did in January, but, yes, I think the Cowboys are better suited at cornerback to shut off one side of the field this year. Doesn't mean they're going to do it, but they have a better chance to do it. And I think Nicks' foot injury helps them, too. He's not going to be 100 percent for this game and not moving as well as he usually moves. But Cruz in the slot could be a major issue, as he was last January. I can still see his leaping grab on third-and-7 after the Cowboys made it interesting there for a bit. One guy who will make a difference for the Cowboys this year won't even take a snap. It's secondary coach Jerome Henderson. To me, he has future head coach written all over him. He has changed the attitude of this secondary. Defensive backs were more aggressive in camp. Maybe it's because Dallas has Carr, who likes to play press coverage, but I think Henderson has brought a swagger built on productivity and not just bravado.
DG
: Good point on Nicks, and if he's limited that not only helps the Cowboys but probably gives them the advantage at wide receiver (assuming, of course, that both of their guys are healthy). I'm also interested to see whether Witten plays and, if he does, how he looks after his spleen injury. But I think this is a big game for
Tony Romo
. Last year's opener, when he turned the ball over against the Jets, just fed into his (I believe largely unjustified) reputation as a guy who can't get it done in big games. A win here against the champs would at least delay the "same old Romo" stuff for a few weeks, if not set him on the path to wiping it out. Manning doesn't have to worry about such things after his second Super Bowl MVP award, but games like these are the ones Romo has to win if he wants to combat the popular perception of the kind of quarterback he is.
TA:
I have a column up on Romo talking about
how he can change the narrative
so many have of him by winning, specifically his lack of leadership. I don't believe there is a player who catches more grief in the NFL than Romo. Everything gets distorted with the guy. I asked Manning on the conference call if he is aware of all the garbage Romo receives and, paraphrasing, he said yeah and you have to ignore all of the outside voices. I think Romo does a good job of that. If the Cowboys beat the Giants, then Romo will get a reprieve, but it'll be short lived if they lose at Seattle. He has to walk a tightrope that other quarterbacks don't. But if you're asking me who wins this one, I have to go with the Giants, but it'll be closer than people think.
DG:
I'm taking the Giants to win this game, too, but the only thing we know about an NFL season before it starts is that we don't know anything. I think everyone can agree that it'll be great to see a real game again after so long, and that the NFL picked a pretty juicy matchup to start its season. I know I'm looking forward to it and you are, too. Thanks for the chat, and I'll see you in the press box in a few hours.