December, 16, 2014
Dec 16
10:00
AM ET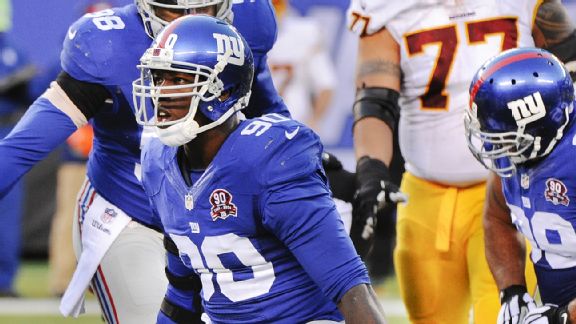 AP Photo/Bill KostrounNew York Giants defensive end Jason Pierre-Paul has turned up his production in recent weeks.
Six sacks in his last three games have raised Jason Pierre-Paul's season total to 9.5, which isn't an elite-pass-rusher number, but Pierre-Paul says it doesn't matter.
"Just numbers, man," the
New York Giants
defensive end said after his big game Sunday against Washington. "If you look at the film, really break down all the statistics, I'm having a great season."
The Giants, as you know, are not. But if Pierre-Paul truly is, he's setting himself up well for a free-agent contract push that could force the Giants into an interesting offseason decision.
Pierre-Paul turns 26 in two weeks and is eligible for free agency a couple of months after that. Given his age, the brilliance he flashed during the Giants' 2011-12 Super Bowl run and what's shaping up to be a strong finish to his walk year, he's likely to generate a high level of interest on the open market. Elite pass-rushers are a rare commodity, and if Pierre-Paul can sell himself at that -- at his age -- he has reason to dream of a deal in the $12 million or $13 million-a-year range.
The Giants will have enough cap space to do a deal like that if they want to keep Pierre-Paul. But they have many other needs as well, and the way the Giants generally act with their free agents is to set a price they think is fair and tell the guy he's welcome to go try to get more elsewhere if he thinks he can. It's unclear at this point whether the Giants would break the bank to keep their 2010 first-round draft pick, though they are happy with the way he has performed in 2014.
"JPP is playing very well," Giants coach Tom Coughlin said Monday. "Technically, early on, he was doing some things that we could correct and help with, and we did, and he has really adapted his game again to the way and manner in which we would like him to rush."
The Giants' pass rush as a whole has taken off the last three weeks in games against Jacksonville, Tennessee and Washington. After recording a total of 19 sacks in their first 11 games of the season, the Giants have 22 sacks in their last three games, pushing them all the way up to No. 4 in the league in that category. Much of that has to do with the contributions they're getting from young players like linebacker
Devon Kennard
, defensive tackle
Johnathan Hankins
and defensive ends
Kerry Wynn
and
Damontre Moore
. But Pierre-Paul is the centerpiece player -- the all-around defensive end who can take on left tackles, play the run and find his way to the quarterback with his speed and instincts. That's the player they saw in 2011, and after two injury-plagued seasons that followed, the Giants believe they're seeing that player again this year.
They will need a foundation piece for the pass rush this offseason. If it's not Pierre-Paul, they'll have to find it somewhere else -- either in free agency or with a first-round draft pick that currently would be No. 8 overall. I can't tell them how to spend their money, and I understand being hesitant to commit five or six years and $12 million or $13 million a year to a guy who's struggled to stay healthy. But Pierre-Paul may end up being their best option.
He also would be the first of GM Jerry Reese's first-round draft picks to sign a second contract with the team.
Aaron Ross
(2007), Kenny Phillips (2008) and
Hakeem Nicks
(2009) all went elsewhere at the end of their rookie deals for reasons of injury or ineffectiveness.
Prince Amukamara
(2011) is no sure thing to break that trend. They hold a 2015 option on him and it remains to be seen what effect his season-ending injury has on their long-range assessment of his value.
David Wilson
(2012) had to retire in August due to neck injuries. And it's far too early to know what the future holds for
Justin Pugh
(2013) or brilliant rookie
Odell Beckham Jr
. (2014).
First-round picks are supposed to be long-term foundation pieces. The questions for the Giants are whether they believe, after five years, that Pierre-Paul is a foundation piece and how much they're willing to bet on it.