New York Giants:

Josh Brown
November, 5, 2013
Nov 5
8:00
AM ET
Your daily morning check-in on news and notes about and of interest to the New York Giants
The news of the day
: A lot went on Monday during the Giants' first day back at work after their bye week. The team announced that running back David Wilson's herniated disk was improving but that he
still wasn't cleared
to resume football activities. Wilson's going to get his neck looked at again in a few weeks, and they haven't put him on season-ending injured reserve yet, but that certainly remains a possibility. ... We spoke with Prince Amukamara about his own experiences with hazing in light of the Jonathan Martin/Richie Incognito story. Amukamara
had a lot to say
about the concepts of hazing and bullying in general and the key differences between his case and Martin's. ... Newsday spoke with Giants kicker Josh Brown, who knows Incognito and
isn't surprised
by his behavior. ... And yes, the Giants
did some scoreboard-watching
Sunday, and were disappointed with the results of the NFC East games.
Behind enemy lines:
Of the
two significant offensive players
who left Sunday's game with injuries, the Raiders are more concerned with running back Darren McFadden's availability than they are with quarterback Terrelle Pryor's. McFadden has a hamstring injury and a history as a slow healer. Pryor's knee injury is being described by the team as "day to day," and the Raiders said he wouldd have been coming out of the game at that point anyway.
Around the division:
How many touchdown passes does a guy have to throw to get named the full-time starting quarterback?
Apparently more
than the seven Nick Foles threw Sunday against the Raiders. ... The trial of Sean Taylor's shooter is over, and
as John Keim writes
, it's the latest occasion to reflect on what might have been had Taylor's life and career not ended far too soon.
Around the league:
Tim Keown's column on the Martin/Incognito affair
knocks it out of the park
, addressing a core issue that you're not going to hear players address in their locker-room interviews about this while the story remains in the headlines. There are, plain and simple, a large number of people in the NFL who see Martin as the one in the wrong here. And that's sad. No matter how rough-and-tough your line of work is, there's no excuse for abandoning basic human decency. We're not on this planet very long, folks. No one's final words are ever, "I wish I'd been more horrible to people."
October, 28, 2013
Oct 28
8:00
AM ET
Your daily morning check-in on news and notes about and of interest to the New York Giants
The news of the day
: The Giants won their second game in a row, beating the
Philadelphia Eagles
15-7 to head into their bye week with a 2-6 record. For the second game in a row, the defense did not allow any points, as the Eagles' touchdown came when they recovered a botched punt snap in the end zone in the fourth quarter. The Giants' defense got four sacks, which represents two-thirds of its league-low season total from the first seven weeks of the season. It also forced three turnovers, including
Will Hill
's final-minute interception that sealed the victory. They were upset that they couldn't score touchdowns and instead had to settle for five
Josh Brown
field goals, but a Giants team that couldn't find a way to win for the first six weeks of the season wasn't complaining about much of anything after this one. Two of the sacks came from defensive backs, and some of the defensive linemen joked that maybe that was the spark the pass rush needed. "It's not the most ideal situation, but you'll take it," defensive tackle
Cullen Jenkins
said. "Especially if they're out there forcing turnovers like they were."
Behind enemy lines:
It was pretty apparent that Eagles quarterback
Michael Vick
should not have been playing on his bad hamstring. Multiple Giants defenders said Vick didn't look like himself, and
Justin Tuck
said he thought Vick "just tried to will himself to play hurt." Vick declined to say after the game whether or not he thought it was a good idea for him to play, but he did say it was a worse hamstring injury than any he's ever had and that he's going for further tests this week. "I tested it many times, but there's nothing like game simulation when guys are coming at you and they're going to hit you," Vick said.
Around the division:
The first-place Cowboys looked poised to improve to 5-3, but they gave their game away late to
Calvin Johnson
and the Lions, and so they fell to 4-4, which as everyone is pointing out is only two games better than the Giants. (Three, really, since they beat the Giants head-to-head.) Jason Garrett has a good team that
hasn't yet learned how to win
its big games against tough opponents, and as a result the division race remains up for grabs.
Around the league:
Top of my head, I'm thinking the Saints, 49ers and Bengals get serious looks at improved standing on my Power Rankings ballot as I put that thing together today. The Bengals' victory over a Jets team that just took out the Patriots a week earlier was something of a
serious statement
.
October, 27, 2013
Oct 27
6:59
PM ET
By
Mike Mazzeo
| ESPNNewYork.com
PHILADELPHIA -- The New York Giants' special-teams unit was nearly perfect in Sunday's 15-7 victory over the
Philadelphia Eagles
.
The only blemish was a bad snap late in the fourth quarter by long-snapper
Zak DeOssie
, which turned into the Eagles' only touchdown.
That was it.
Kicker
Josh Brown
connected on a career-high five field goals and had five touchbacks, while punter
Steve Weatherford
hit three of his five punts inside the 20-yard line.
[+] Enlarge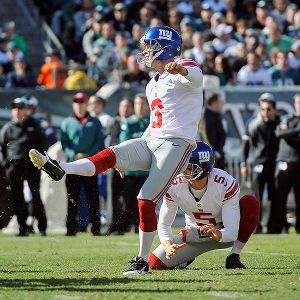 Joe Camporeale/USA TODAY SportsJosh Brown accounted for all 15 of the Giants' points on Sunday.
Weatherford's best punt of the day was a 68-yarder that landed at the Eagles' 3. Speedy return man
DeSean Jackson
, who has terrorized the Giants before, wasn't able to do so this time.
"I've never hit a punt that long out of bounds in my life," Weatherford said. "For me it was huge because it was a field-position game. We knew going into this game that it would be that type of game. We haven't put up a ton of points this year, so field position's been huge for us. That was the first punt that DeSean Jackson was back there, so I knew I needed to hit a good one.
"It landed at the 3-yard line, so obviously that was a huge momentum-changer for us."
Said Weatherford of Brown, who went 5-for-5 and connected from 40, 44, 33, 46 and 27 yards out: "I can't say enough about him. I thought special teams was a huge weapon for us today."
The Giants were in the process of pitching a shutout when DeOssie's snap sailed over Weatherford's head with 4:11 remaining in the game. Weatherford tried to kick the ball out of the end zone for a safety, but linebacker
Najee Goode
landed on it for a touchdown.
"I kind of looked back so I'd have enough time to do it [kick it out of bounds], and when I drew [my leg] back, the ball kind of bounced toward me and to the side, and I was like 'Oh [crud],' so then I just tried to pick it up and obviously the guy was right on top of me," Weatherford said. "But our defense was amazing today, and that was a nonfactor at the end of the day."
Said DeOssie of his error: "It's unacceptable and I totally bear that burden, but I know that my teammates have my back."
They did.
October, 27, 2013
Oct 27
4:05
PM ET
PHILADELPHIA -- A few thoughts on the
New York Giants
' 15-7
victory
against the
Philadelphia Eagles
:

What it means
: The Giants have won two games in a row for the first time since Weeks 7 and 8 of last season. This was their first road win since Oct. 28, 2012, in Dallas. Their defense hasn't allowed a touchdown since Week 6 in Chicago. And
Eli Manning
has played two full games without throwing an interception after throwing 15 in his first six. The Giants also picked up four sacks of Eagles quarterbacks Sunday, a stunning number considering they had a league-low six sacks as a team coming into the game and only nine sacks in their past 12 games dating back to last season. They have played teams the past two weeks that have major quarterback issues, but give the Giants' defense credit for taking advantage of their opponents' problems.
Stock Watch:
Peyton Hillis
: up. With
Brandon Jacobs
inactive again, Hillis got the bulk of the workload at running back for the second week in a row. Hillis isn't a very dynamic runner, but he's an asset in the passing game as a receiver out of the backfield and as a blocker in pass protection. With
Andre Brown
due back after the bye, it'll be interesting to see how things get divided in the backfield.
Turning it over:
Another thing with which the Giants' defense has struggled this season is forcing turnovers. But the first two they forced Sunday -- an
Antrel Rolle
interception of
Michael Vick
and
Jacquian Williams
' recovery of
Terrell Thomas
' strip-sack of
Matt Barkley
-- were critical. And the third --
Will Hill
's interception with 13 seconds to go -- sealed the game.
Eventful day:
Rolle had a sack and an interception and recovered an onside kick in the fourth quarter after the Eagles cut the lead to 15-7. A big enough all-around contribution to mitigate the incredibly stupid group celebration he led after the interception that cost the Giants 15 yards in the first quarter.
Getting his kicks
:
Josh Brown
's five field goals tied his career high and came one short of the Giants' team record set by Joe Danelo in 1981.
What's next:
The Giants have a bye next week. They'll gather in East Rutherford for their regular Monday meetings and film sessions, but then they're off again until they return to practice next Monday. Their next game is Nov. 10 at home against the
Oakland Raiders
.
September, 30, 2013
Sep 30
12:30
PM ET
An examination of four hot issues from the
New York Giants
' 31-7
loss
to the
Kansas City Chiefs
:
[+] Enlarge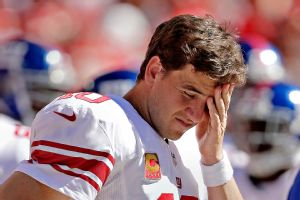 AP Photo/Charlie RiedelAside from a Victor Cruz touchdown the Giants failed to get inside the red zone all game.
The fourth-down call:
The initial call was first down -- that the Giants had converted a third-and-17 with a pass from
Eli Manning
to
Victor Cruz
over the middle. But the Chiefs challenged the call and won, which brought up fourth down and less than a yard to go for the Giants on their own 30-yard line. With 1:55 left in the third quarter and the Giants trailing just 10-7, Giants coach Tom Coughlin decided to punt instead of going for it. "If I would have gone for it on fourth down and didn't make it at that point in the game, it would have been a foolish error," Coughlin said, and he was right. He'd effectively have been handing the Chiefs at least three points. But it says a lot about where the Giants are with their offense, making Coughlin's call the obvious and easy decision. Coughlin talked about the offense being unable to get into a rhythm, and perhaps if he felt it was, he'd make a different call there. But given how tough it's been for the Giants to gain yards, this was an easy decision. It just looked really bad when
Dexter McCluster
ran the punt back 89 yards for a touchdown.
On a related note:
Earlier in the third quarter, the Giants had a third-and-1 at their own 45 and called a play on which running back
David Wilson
bounced out to the right behind three tight ends. But none of the tight ends could make a single block to free Wilson, who was tackled for no gain, and the Giants had to punt then too. Just another example of an offense that has no reason to feel it can get a yard when it needs to get one. The Giants were 1-for-14 on third downs.
Looks like a misprint, but isn't:
The official stat sheet shows the Giants 0-for-0 on red zone attempts, and it's true. They didn't run a single play that began inside the Chiefs' 20-yard line. Other than Cruz's 69-yard touchdown catch, the closest they got to the end zone all day was the 26, from which
Josh Brown
missed a field goal at the end of the first half. Only eight of the Giants' 61 offensive snaps came in Kansas City territory.
How about the defense?
The Giants did force three turnovers from a Chiefs team that had none in the first three weeks. But where's the pressure? Their one "sack" was a
Spencer Paysinger
tackle of
Alex Smith
at the line of scrimmage on a Smith scramble. They hit Smith just three times all game.
Jason Pierre-Paul
has one sack in his last 11 games. When the Giants don't pressure the quarterback -- and it's been quite some time -- they have a poor defense.
August, 26, 2013
Aug 26
11:24
AM ET
Tom Coughlin said Sunday that he will take a look at what combinations work best for the Giants at safety after losing
Stevie Brown
.
[+] Enlarge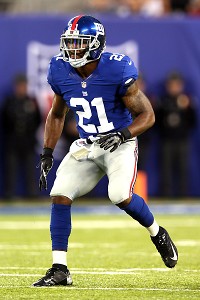 AP Photo/Damian StrohmeyerCan Ryan Mundy replace Stevie Brown? We'll soon find out.
But
Ryan Mundy
is the next man up, and Coughlin said the veteran safety can play both safety positions and be a physical presence.
"We'll see about that," Coughlin said, on whether Mundy can fill Brown's shoes. "He has played well. We just have to get the people out there and get the right combination here. Ryan has played well and he certainly has proven that he can be physical and be dominant in the box. From that standpoint, yes."
Coughlin broke down a few of his other safeties as well.
Will Hill
has lots of talent, but he is also facing a four-game suspension to start the season.
"(Hill) has been playing and playing well," Coughlin said. "He's an outstanding special teams player and he's very physical. He's played pretty well all the way along. The fact of the matter is, we're not going to have him for four games. While we acknowledge what he brings to the table, we certainly can't be lured into thinking that we're OK in any shape or form because he's not going to be here. That's a shame."
Tyler Sash
will have a major opportunity to show what he can do. Sash has a safety, a fumble recovery and 10 tackles thus far this preseason.
"Certainly (Sash) is going to get a lot of playing time," Coughlin said, referring to Thursday's preseason finale against the Patriots. "Quite frankly, it's really up to the production. That goes for anybody. The opportunity is certainly going to be there this Thursday night. We've got to take advantage of it."
Coughlin said he wants to get a good look at rookie safety
Cooper Taylor
as well. Taylor has been hampered by a hamstring injury.
TC on TT:
Coughlin sounded more inclined to keep
Terrell Thomas
at cornerback rather than consider moving Thomas to safety after the Brown injury.
Thomas logged 23 snaps in his
first preseason game since 2011
, when he tore his right ACL for a second time in a preseason game. He is currently coming back from a third ACL surgery.
"That came up in the spring," Coughlin said, of a possible position move for Thomas. "The No. 1 thing is to get Terrell Thomas on the field and get him to where he's playing well and his confidence is up and that type of thing. That has been first and foremost on our minds.
"Quite frankly, we haven't thought a lot about another spot for him other than getting him out there. Getting him confident, getting him playing again. He certainly is a talented guy and we'll do the best we can to utilize all of the talent that we have."
RB snaps:
David Wilson
had the 84-yard touchdown run. But the starter only got 13 snaps against the Jets compared to
Andre Brown
's 25 snaps. Brown was used quite a bit on passing downs as well.
"He's worked a lot with our pass protection situation," Coughlin said of Brown. "You might say that happened a lot last night, even our early downs. It's been a pretty good ratio between first/second down and then on third down, Andre's got more of that than I think David has. Both of them are capable of first/second down, or third down. We'd like to have more production consistently and hopefully we'll get to that."
When asked if he is more confident with Brown in pass protection than Wilson, Coughlin replied, "Not necessarily."
TC on O-line:
Coughlin was asked whether he might make any changes to the already revamped offensive line, which had some communication issues against the Jets.
"We'll see," Coughlin said. "I wouldn't say one way or the other. I'm not about to say what we're going to do that and you'll just have to wait and see."
Specials impress:
Coughlin may
not be happy with his offense
right now, but he has liked what he's seen on special teams.
"We continue to be impressed by
Josh Brown
and his kickoffs and his field goals as well," Coughlin said.
Brown has converted 11 of 13 field goals, with his misses coming from 38 and 53 yards out. Coughlin also praised running back
Michael Cox
, who had 79 yards on three kickoff returns Saturday.
August, 19, 2013
Aug 19
12:59
AM ET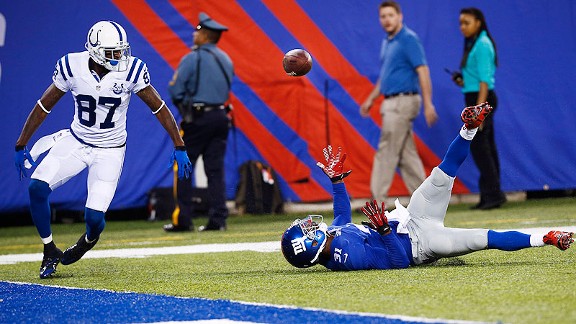 Jeff Zelevansky/Getty ImagesLuckily for Aaron Ross, this unlucky gaffe came in the preseason.
EAST RUTHERFORD, N.J. -- The most memorable play of Sunday night's
New York Giants
-
Indianapolis Colts
game was actually a gaffe, destined to appear on NFL blooper reels for years to come.
With the Giants leading 3-0 late in the first quarter, the Colts had a second-and-3 at the Giants' 28-yard line.
Andrew Luck
dropped back to pass looking for
Reggie Wayne
down the right-hand side near the end zone. The ball was underthrown, and it appeared
Aaron Ross
was going to have an easy interception. But Ross juggled the ball twice and flipped it over his head -- right into the diving arms of Wayne for an Indianapolis touchdown.
"Oh yeah, I knew it was a pick," Ross said. "I saw it leave his hands and then as soon as I looked up, the lights just took the ball away. I couldn't see anymore, and that's what kind of made me fall. As soon as I fell back, it hit my hands, and it kind of shocked me. So it just popped up and I turned around and Reggie was catching the ball. One of those plays you can't get back."
The play is destined for "SportsCenter's" Not Top 10 Plays -- and Ross knows it. But he was able to laugh about it after the game.
"I'm happy it's preseason," Ross said, smiling.
Rookie rising?
Seventh-round draft pick
Michael Cox
, the running back out of UMass, continued to impress on Sunday night.
Cox had just 4 rushing yards on two carries, but he had gains of 28 and 20 yards on screen plays and also had a nice 36-yard kick return.
"He's got a lot of fight," head coach Tom Coughlin said. "He breaks tackles. He's very persistent in what he does. He does the same thing on special teams, so he's making good progress."
New starter:
Dan Connor
started at middle linebacker on Sunday after
Mark Herzlich
started there in the first preseason game against the Steelers.
Coughlin said the competition for that spot is far from over. "No, it's very competitive, so we flipped it around and just wanted to see him operate with the ones [first-team defensive players]," Coughlin said.
Bright spot:
One more bright spot in the Giants loss was new placekicker
Josh Brown
.
Yes, the Giants were 0-for-4 in the red zone, but Brown was 4-for-4 on field goals, including makes of 47 and 45 yards.
August, 14, 2013
Aug 14
7:06
PM ET
EAST RUTHERFORD, N.J. -- The
New York Giants
haven't made many personnel changes on offense or defense from last season to this season.
Special teams is another story.
The Giants will have a new place-kicker in 2013. And their primary kick returner will probably be new as well.
Josh Brown
replaces
Lawrence Tynes
, who had been with the Giants since 2007 and had come through in the clutch many times, including with two overtime kicks in NFC championship games, on the road, sending Big Blue to the Super Bowl.
[+] Enlarge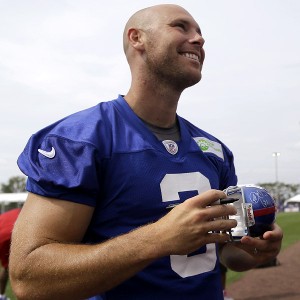 AP Photo/Seth WenigJosh Brown knocked in three field goals in the Giants' preseason game against the Steelers.
But special teams coordinator Tom Quinn likes what he has seen from Brown thus far, despite the fact that he missed a 38-yard field goal in the first preseason game against the Pittsburgh Steelers. (Brown did make three others, including a 47-yarder.)
On Wednesday, Quinn called the 34-year-old Brown "a consistent veteran kicker" and said the team was not concerned that Brown wasn't even on an NFL roster for most of last season before being picked up by the Cincinnati Bengals in December.
"It was a different year as far as kickers. I don't think anyone changed kickers until Week 13 or 14," Quinn said. "Usually a guy like Josh, who didn't make a team, would have been picked up earlier, so I think that was a surprise to everyone. We didn't really focus on that part of it."
Brown has actually trained with Giants punter/holder
Steve Weatherford
in the past, and Quinn said the chemistry between Brown, Weatherford and long snapper
Zak DeOssie
has developed quickly.
"It's gone really well," Quinn said. "I think Zak and Steve have done a good job. I think they're better than they were last year, so that made the transition a little bit easier."
As for the return game, the Giants had the NFL leader in kick return yardage last season in
David Wilson
. But Wilson is expected to have an increased role on offense this year. He's still listed as the No. 1 kick returner on the depth chart, but head coach Tom Coughlin has indicated the Giants will pick and choose when to use Wilson on special teams, as opposed to putting him back there all the time.
"That's all up to the powers that be," Quinn said. "Everyone realizes he is a weapon. If the time and the place is right, then I think we'll put him in after we consult with everyone."
Jerrel Jernigan
and
Da'Rel Scott
are listed as the second- and third-string kick returners, but both are currently out with injuries. Another candidate is rookie running back
Michael Cox
.
"He's looked good in practice," Quinn said. "We've just got to see him in the game when it is full-speed live tackling. He does have the ability to make people miss and he is explosive."
Rueben Randle
was the primary punt returner last season, but the Giants finished dead-last in punt-return yardage.
"It's wide open," Quinn said of the punt returner job. "We have Rueben. We got
Jayron Hosley
. We have Jernigan. We have David taking some reps back there. And we have some young guys we are interested in.
Kevin Hardy
is one, a receiver.
Laron Scott
and
[Charles] James
. So those are the guys in the mix right now."
July, 20, 2013
Jul 20
1:00
PM ET
As training camp approaches, we're counting down to camp by taking a look at the Giants, position by position.
Position:
Special teams.
Projected starters:
K
Josh Brown
, P
Steve Weatherford
, LS
Zak DeOssie
, KR
David Wilson
, PR
Rueben Randle
.
Projected reserves:
K
David Buehler
, KR/PR
Jerrel Jernigan
, PR
Aaron Ross
, PR
Jayron Hosley
.
[+] Enlarge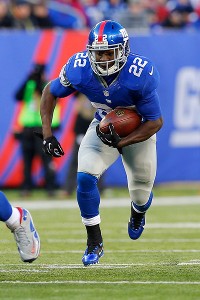 Jim O'Connor/USA TODAY SportsDavid Wilson is an elite kick returner -- but is it worth the injury risk?
New faces:
Brown, Buehler, Ross.
Going, going, gone:
K
Lawrence Tynes
, PR
Domenik Hixon
.
Player to watch:
Brown. The Giants brought him in to replace Tynes, who had been with the team for the past six years. Brown is a career 81.3 percent kicker, and has hit field goals from 52 yards or longer in nine of his 10 NFL seasons. Tynes was clutch, though, and had the valuable experience of knowing how to play in the Meadowlands weather. Brown will have to learn the nuances of the stadium and climate, beat out Buehler in camp, and develop the kind of chemistry Tynes had with DeOssie and Weatherford. That shouldn't be a problem, though.
Potential strength:
Weatherford has been rock-solid and that shouldn't change this season. And the Giants' coverage units went from a major weakness in 2010 to a prime strength the past couple of years. DeOssie,
Mark Herzlich
and
Spencer Paysinger
are among those who shine on coverage units. And those units should only get better with the addition of athletic young players like fifth-round draft pick
Cooper Taylor
.
Potential weakness:
Punt returns. Giants punt returners have offered little the past couple of seasons, and the team really could use somebody reliable and exciting back there. Randle is the leading candidate, but Jernigan, Ross and Hosley all could get looks in the preseason. The Giants averaged 7.2 yards per punt return last season.
Wild card:
Wilson. He was sensational as the team's kick returner last year. But now he is projected to start at running back, and the Giants must weigh the risk of using the 5-foot-9 Wilson at kick returner as well. Wilson wants to continue doing it. If the Giants don't want to risk their starting running back, perhaps they could use Wilson there on a situational basis. If Wilson doesn't return kicks, Jernigan could become the starter. Da'Rel Scott also could get chances in camp to return kickoffs. But having a guy like Wilson, who amassed 1,533 kickoff return yards and a return touchdown last season, is a major asset.
Tell us what you think of the special teams unit entering camp.
April, 20, 2013
Apr 20
3:00
PM ET
This is the sixth installment in a position-by-position analysis of the Giants as they prepare for the draft:
Position:
Special teams.
Depth chart:
P
Steve Weatherford
, K
Josh Brown
, K
David Buehler
, P/K
Jake Rogers
, LS
Zak DeOssie
, KR
David Wilson
, KR
Andre Brown
, KR
Jerrel Jernigan
, PR
Rueben Randle
.
The departed:
K
Lawrence Tynes
(free agent), PR
Domenik Hixon
(Carolina).
Scouting report:
The Giants are solid at punter with Weatherford, who averaged 47.5 yards per punt last season and landed 22 of 58 punts inside the 20. Long snapper and special teams captain DeOssie adds stability and chemistry on special teams as well. But the unit will have a major change at kicker.
[+] Enlarge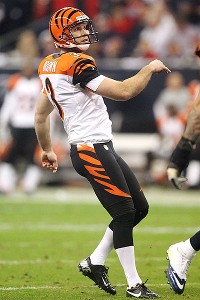 AP Photo/Patric SchneiderJosh Brown is the leading candidate to be the Giants' kicker next season, replacing Lawrence Tynes.
The Giants are moving on without Tynes, signing three other kickers (Brown, Buehler and Rogers). Brown is expected to be the man, but Buehler should have an opportunity to compete for the job. Brown, 33, has had a season-long field goal of 52 yards or longer in each of his 10 seasons, with a career long of 58 yards, which was during his rookie season in 2003. He has made 81.3 percent of his kicks and averages 64.1 yards on kickoffs.
Buehler averages 66.8 yards on kickoffs and made 24 of 32 field goals in 2010, his only season kicking field goals, for the Cowboys. He has a career long of 53 yards.
After kicker, the Giants have some uncertainty in their return game. Wilson was electric on kickoffs last season, amassing 1,533 return yards and one touchdown. But his workload at running back is going to increase, and the Giants have to consider how much they want to risk their prized running back on kickoffs. If they opt not to use him, the Giants could turn to Jernigan or Brown on kickoffs.
Randle averaged 7.2 yards per punt return last year. He could be the punt returner again. Jernigan is also an option here.
Aaron Ross
has return experience and could be in the mix if the Giants want to try somebody else. Also, cornerback
Jayron Hosley
was a punt returner at Virginia Tech.
The coverage teams were strong last year with the likes of DeOssie,
Mark Herzlich
and
Spencer Paysinger
all contributing.
The last time:
The Giants have not drafted a kicker or punter since 2010, when they took punter
Matt Dodge
in the seventh round.
Potential targets:
Perhaps the most well-known prospect with dynamic return skills in the draft is LSU's
Tyrann Mathieu
, who was a Heisman Trophy candidate before being dismissed from LSU. The cornerback comes with baggage, but he would have a ready and willing mentor in
Corey Webster
, a former LSU star who already has taken Mathieu under his wing.
"On the field he is a good player," general manager Jerry Reese said this week. "Obviously, he has got some off-the-field issues that have been well-documented. So we'll put all the pros and cons together and see if he fits anywhere for us."
The Giants could use a cornerback, and Mississippi State cornerback
Johnthan Banks
is one of the top corners in the draft and also has a return touchdown on his résumé as well. Another potential top-10 cornerback is Southeastern Louisiana's
Robert Alford
, who also has return experience. Texas A&M cornerback
Dustin Harris
led the country in punt return yardage, and Hawaii cornerback
Mike Edwards
returned three kickoffs for touchdowns last season.
Utah wide receiver
Reggie Dunn
might be the most explosive kick returner in the entire draft. The All-American returner, who was reportedly clocked at 4.2 in the 40 at Utah's pro day, has more 100-yard kickoff returns (5) than anybody else in NCAA history and had four last year alone. He sports a career average of 30.9 yards per kickoff return. The Giants could add one more receiver for depth as well.
Other prospects with return ability are Mississippi State wide receiver
Chad Bumphis
, Alcorn State wide receiver Terrance Lewis, UConn wide receiver
Nick Williams
, Central Arkansas wide receiver
Jesse Grandy
, South Carolina wide receiver
Ace Sanders
and NC State wide receiver Tobais Palmer.
Need rating (scale of 1 to 10):
4 (for a player with return ability).
Tell us what you think of the Giants' special teams entering the draft, and what they should do to improve.
April, 18, 2013
Apr 18
3:44
PM ET
EAST RUTHERFORD, N.J. -- Several new Giants met with reporters Thursday, on the first day of offseason media availability, and they sounded excited about their new team and the upcoming season.
"I really felt wanted here," said defensive tackle
Cullen Jenkins
. "It's hard to explain, but how they looked at playing me, how I fit into the system -- it's a system I'm used to. And then looking at the team -- it's a team that wins, that expects success, not a team that's rebuilding. It's a team where I'm coming in and just trying to help them continue the success that they've been having in the past."
Jenkins played for the Eagles the past two seasons, after spending the previous seven in Green Bay. And he's been impressed by what he's seen in the first week of offseason workouts. "Just seeing the work ethic so far. Getting in, and seeing how everybody approaches things, especially with the older guys -- the attendance is pretty high," Jenkins said. "Everybody's here working hard, and you see them pushing each other, working together as a group."
Offensive guard
Chris Snee
, who's gone up against Jenkins many times in the past, said Jenkins is a "tremendous addition."
"He's a big man who can rush the quarterback, explosive, and then that allows you to keep other guys on the edge where they're more comfortable," Snee added.
Linebacker
Dan Connor
played for the Cowboys last season, after four years with the Panthers. "I feel like I'm kind of a traitor to Dallas," Connor said. "But that's behind me. I'm comfortable here, I like it here. I've only been here for four days now, but it feels like a place I wish I had been right out of the draft. I wish I had been here. It feels so comfortable."
Connor will compete for the starting middle linebacker position. "There's a bunch of good guys, there's good guys in the room, a lot of young talent, and then the draft's right around the corner," Connor said. "There's always new guys coming in. So competition's gonna be high."
Tight end
Brandon Myers
spent his first four NFL seasons with the Raiders, and has never played in a playoff game. "It's definitely different. It's a different situation," Myers said. "[The Raiders] hadn't won in a while, and I think when you don't win in a while, you kind of lose that mentality."
Myers caught 79 passes for 806 yards last season with Oakland, and will replace the departed
Martellus Bennett
. "They've been very successful with their tight end position the last few years," Myers said, of the Giants. "And they have an established quarterback, and an organization that expects to win, that wins a lot of ballgames."
Kicker
Josh Brown
was brought in to replace
Lawrence Tynes
. Brown, a 10-year veteran, was 11-for-12 on field goal attempts in four games with the Bengals last season, and thinks he'll adapt to the windy Meadowlands just fine.
"I feel like I am just as good from 55 [yards] and in as I am from 35 and in," Brown said. "Dealing with the wind, growing up in Oklahoma and playing at Nebraska, I am a very good outdoor kicker. I say that with humility but with confidence at the same time because I have had to do a lot of it."
March, 13, 2013
Mar 13
12:03
PM ET
The Giants will continue to lose longtime veterans this offseason.
It certainly appears that
Lawrence Tynes
' days with the Giants are coming to an end. A source confirmed the Giants will sign kicker
Josh Brown
, which was earlier reported by the Newark Star-Ledger.
Tynes is a free agent. The Giants have been preparing for life after Tynes by signing kicker
David Buehler
and kicker/punter
Jake Rogers
in the offseason.

One thing the Giants could count on from Tynes was his ability to come through in the clutch. He helped the Giants march to two Super Bowls by making overtime field goals in the 2007 and 2011 NFC Championship Games.
Brown, 33, played in four games last year for the
Cincinnati Bengals
, converting 11-of-12 field goals and all eight of his extra point attempts in 2012.
He gives the Giants a big leg. Brown's career-long is from 58 yards out set back in his rookie season with Seattle in 2003. In nine of his 10 seasons, Brown has a season-high long of 52 yards or longer and has made 29-of-45 (64.4%) from 50 yards or longer in his career.
"We bring a lot of opportunities to score from a great distance," Brown said on Giants.com of what he can do with his new team. "We've kicked a number of 50-plus yarders and feel very comfortable from 55 and in, even in harsh winters and that and a lot of confidence."
So it appears Tynes will join
Chris Canty
,
Ahmad Bradshaw
and
Michael Boley
as veterans who are moving on after helping the Giants win a Super Bowl just over a year ago.
Canty signed with Baltimore on Tuesday and Bradshaw and Boley remain free agents after the Giants released them in February. And it's quite possible other veterans, like
Osi Umenyiora
, a free agent, could move on as well.
Staff moves:
The Giants announced that Lunda Wells will move from offensive assistant to offensive line coach assistant. The team hired Ryan Roeder, a former Albany quarterback who spent the past three seasons coaching tight ends at Princeton, to be the team's offensive assistant. The Giants also hired Robbie Leonard, who was a defensive assistant at NC State, to be the defensive assistant. Leonard replaces Al Holcomb, who joined the Panthers as their new linebackers coach.
Tell us what you think of the Giants' new addition at kicker.