New York Giants:

Larry Fitzgerald
March, 27, 2014
Mar 27
5:10
PM ET
The
New York Giants
invested heavily in free-agent cornerback
Dominique Rodgers-Cromartie
, and they're going to use him accordingly. Speaking at the NFL owners meetings in Orlando on Wednesday, Giants coach Tom Coughlin said Rodgers-Cromartie would be deployed as the team's No. 1 cornerback.
Per Jordan Raanan of NJ.com
:
When asked how exactly DRC would be employed within defensive coordinator Perry Fewell's defensive system, head coach Tom Coughlin didn't hesitate.

"Are you the best receiver of their team? [He's] following you then," Coughlin said Wednesday at the NFL Meetings.



AP Photo/Tony GutierrezNew Giants cornerback Dominique Rodgers-Cromartie, left, can expect to be matched up with elite receivers like Dallas' Dez Bryant next season.

Coughlin and the Giants targeted that type of player right from the start of free agency. They checked in on all the top cornerbacks, before landing Rodgers-Cromartie when the options were slimming. It's clear what drew them to talented cornerback.

"He's physical enough. When you watch him closely, he doesn't shy away," Coughlin said. "He's got great big long arms, he's tall, he's fast, he can match up."
So that's the answer to a lot of the questions that were asked when the Giants signed Rodgers-Cromartie. The question is whether he can handle the assignment of tailing guys like
Dez Bryant
,
Calvin Johnson
,
Larry Fitzgerald
,
Julio Jones
and maybe
DeSean Jackson
around the field for a whole game. All of those guys are on the Giants' 2014 schedule (unless Jackson gets traded to a team that is not), and each is a tough matchup for even the best cornerbacks in the league.
Rodgers-Cromartie hasn't really been used that way in previous stops, and it will be interesting to see how he responds. I asked my NFL Insiders colleague
Louis Riddick
what he thought. Louis is a former defensive back himself who worked in the Eagles' front office when Rodgers-Cromartie was there in 2011 and 2012.
"He may actually respond favorably to that, to be honest, especially if there are guys like [Antrel] Rolle who he doesn't want to let down," Louis said. "While we had him, no, he would not have reacted well to that kind of responsibility."
Interesting point about safety Rolle, who is the Giants' defensive team captain and was a teammate of Rodgers-Cromartie's in Arizona earlier in their careers. Rodgers-Cromartie was calling Rolle "big bro" around the time of his signing and clearly looks up to him. Part of the reason the Giants have confidence Rodgers-Cromartie can harness his talent and establish a level of consistency with them that he hasn't shown to this point in his career is that they expect Rolle's influence to be strong and positive.
If Rodgers-Cromartie can handle that "shut-down" responsibility with regard to the opponent's top wideout every week, that would obviously be a huge asset to the Giants' defense and justify their five-year, $35 million investment in him. It would ease some of the pressure on
Prince Amukamara
, who tried gamely to fill the No. 1 cornerback spot in 2014 but isn't really suited for that role full-time. It would allow fellow newcomer
Walter Thurmond
to stay on the slot receiver, where he should be a tough matchup every week. And the overall depth at corner now should allow Rolle to stay at safety for a whole season, which he prefers and will likely make him as effective as he can be.
If Rodgers-Cromartie can't handle that assignment ... well, then they're going to have to move a lot of pieces around to make up for that. The positive thing there is that they have a good number of quality pieces to move around in case Plan A doesn't work out.
February, 8, 2014
Feb 8
10:41
AM ET
I spent all of Friday sifting through tweets about how rough the conditions are in Sochi to find your questions about the
New York Giants
. Thanks for making it easier by tagging them #nygmail. Without you, there is no Twitter mailbag.
Thanks as always for your questions, and enjoy the rest of your weekend.
September, 29, 2011
9/29/11
3:51
PM ET
Larry Fitzgerald
and
Antrel Rolle
were teammates for years with the
Arizona Cardinals
, so
Fitzgerald is looking forward to seeing Rolle
on Sunday when Rolle and the
New York Giants
head to Arizona for their Week 4 game. Whether the Giants are looking forward to seeing Fitzgerald is another story. As one of the elite wide receivers in the league and the clear No. 1 target for Arizona quarterback
Kevin Kolb
, Fitzgerald looms as perhaps the most important person on the field for the Giants to stop if they want to come out of this game 3-1.
[+] Enlarge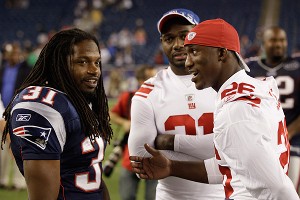 AP Photo/Stephan SavoiaGiants safeties Antrel Rolle, right, and Kenny Phillips, back, will have their hands full Sunday against Arizona receiver Larry Fitzgerald.
Stopping him is easier said than done, but with Rolle,
Kenny Phillips
and veteran
Deon Grant
at safety, the Giants have enough depth there to give them a puncher's chance. As Mike Garafolo points out in that link up there, the only way teams seem to have a chance against Fitzgerald is to use bracket coverage against him, doubling him with a cornerback and a safety on pretty much every play.
Fitzgerald is 6-foot-3, which gives him a three-inch height advantage on each of the Giants' starting cornerbacks,
Corey Webster
and
Aaron Ross
. The Giants would be wise to assign Webster to him for a couple of reasons. First, Webster has the leaping ability to at least compete with Fitzgerald and give him a chance to help make up for the height differential. And second, Ross is still finding his way as a starter in place of the injured
Terrell Thomas
. Ross had a rough game in Week 2 against the Rams but played well in Week 3 against the Eagles, and it would probably make more sense to keep him on other Cardinals receivers and help him continue to build confidence.
But even if they assign Webster to Fitzgerald, he's going to need help, and that's where one of the Giants' defensive strengths comes in. Their depth at the safety position, and their ability and willingness to put three safeties on the field when they go down to two linebackers on passing downs, should enable defensive coordinator Perry Fewell to constantly have a safety help out Webster over the top against Fitzgerald. There's no guarantee it will work, of course. Fitzgerald wouldn't have fashioned the career he has so far if he weren't able to beat double-teams. But unlike a lot of teams, the Giants have a lot of options and flexibility when it comes to making those double-teams as strong as possible. Phillips, Rolle and Grant are as solid a group of safeties as there is in the league.
September, 28, 2011
9/28/11
9:47
PM ET
By
Ian Begley
| ESPNNewYork.com


Last week, they had to deal with Philadelphia's DeSean Jackson and Jeremy Maclin. This week, it's Cardinals all-world wideout Larry Fitzgerald.

"He's a big play receiver," cornerback Aaron Ross said. "…. The plays never over with him."

In other words, it may be a long Sunday in the desert for Giants' defensive backs.

Said Tom Coughlin: "Fitzgerald [is] a guy that every team recognizes and tries to defend."

Try is the operative word there.

Because stopping the 6-3, 211-pound receiver is as easy as a baseball team overcoming a nine-game deficit in September.

Sure, it's possible. But if it happens, it's remarkable.

Fitzgerald has a 17.3-yard per-catch average, second among receivers with at least 13 catches. He's also had at least 90 catches the last four years and has a franchise-record 67 touchdowns.

"He's one of the top-5 receivers in the game," Kenny Phillips said. "It's going to be a challenge."

Giants defensive backs wouldn't reveal much about their plan for Sunday, but, in a surprise to no one, Antrel Rolle hinted they will double-team Fitzgerald.

"I have never seen a defensive back shut him down [one-on-one]," Fitzgerald said. "I'm not saying it can't be done, I am saying that I haven't seen it done."

And Rolle's seen plenty of Fitzgerald.

The two played together for five seasons in Arizona. They also played against one another in college in 2003. Rolle was at Miami, Fitzgerald at Pittsburgh.

On Wednesday, Fitzgerald recalled that Rolle tackled him in that 2003 game and, inadvertently, made his nose bleed.

So, in a playful text message this week, Fitzgerald told his ex-teammate that he was "going to bust his nose."

Turning serious, Fitzgerald added: "I love Antrel, he is like a brother to me.... I am looking forward to the matchup. I don't know what Coach Coughlin and Coach [Perry] Fewell are going to do, but I know those guys are going to be ready."

The Giants secondary limited Maclin and Jackson for a combined seven catches for 99 yards last Sunday. It appears they've turned a corner after two rough weeks against Washington and St. Louis, in which they allowed both starting quarterbacks to throw for more than 300 yards.

"Our focus is to get better every single week," Rolle said. "That's what our main mindset is."

That's going to be difficult to do with Fitzgerald on the field. But Rolle is looking forward to the challenge.

"Larry's a good receiver every knows he's good, if not the best receiver in the league. We're all aware of that," he said. "But we're also aware of our talents and we're also aware of what we have here in the secondary."


Things don't get any easier for the Giants secondary this Sunday.