New York Giants:

Marshawn Lynch
December, 16, 2013
12/16/13
8:00
AM ET
EAST RUTHERFORD, N.J. -- A review of four hot issues from the
New York Giants
' 23-0
loss
to the
Seattle Seahawks
:
[+] Enlarge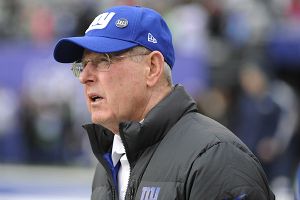 AP Photo/Bill KostrounTom Coughlin and the Giants are showing signs of frustration as they trudge down the stretch of a disappointing season.
Locker room strife?
The Giants have held together admirably all miserable season long, in spite of an 0-6 start and a generally dismal performance by their offense even during their four-game win streak. But after Sunday's game, coach Tom Coughlin laid the blame deservedly at the feet of the offense, and safety
Antrel Rolle
strongly indicated that he agreed. Wide receiver
Hakeem Nicks
bristled at Coughlin's use of the word "pathetic," and tight end
Brandon Myers
tweeted, "If ppl on this team wanna take shots at me an say I have no passion they are mistaken. I give everything I have each an every week." The Giants aren't going anywhere this season. They can't even finish .500 at this point. But the leaders and the coaches could conceivably face a challenge in keeping the locker room together to maintain some semblance of respectability in the final two weeks.
Nicks' woes continue:
It was easy to infer that Nicks was one of the players Coughlin suggested had to "fight harder for the ball," as
Eli Manning
was 1-for-4 for five yards and three interceptions when targeting Nicks on Sunday, according to ESPN Stats & Information. Manning is completing 56.8 percent of his attempts to Nicks this season with no touchdowns and six interceptions. The Giants entered this season hoping Nicks would have a big year and give them a difficult decision about how much to pay to sign him as a free agent. Instead, he has had a horrible one, and does not appear likely to be back. Amazing that he has fallen so far out of favor after being such a respected figure in their huddle and their locker room for his first four years.
Manning's miserable year:
Manning has matched his career high for interceptions in a season with 25. He threw 25 in 2010, but he still has two games to go in this season. He was sacked three times in Sunday's game, extending his career high in that category to 36 for the season with two games to go. He was 2-for-10 with four interceptions on throws of 10 or more yards downfield Sunday. If
Victor Cruz
is out next week in Detroit, which is possible after he left the game with a concussion and a knee sprain, it's hard to imagine how the Giants' passing game has a chance to do anything. And a run game that gained 25 yards on 14 carries Sunday didn't inspire much confidence that it can alleviate any of the pressure.
One positive:
The Giants did a good job limiting monster Seattle running back
Marshawn Lynch
between the tackles. He gained only 47 yards on 16 carries, though he did catch six passes for 73 yards. That looks like the kind of line top running backs were posting against the Giants back in September, which means the season has come full circle. Which is not, for the Giants, awesome.
December, 15, 2013
12/15/13
2:40
PM ET
EAST RUTHERFORD, N.J. -- The
New York Giants
' defense looked early on as though it had come to play. Led by linebacker
Jon Beason
, it spent the first quarter and much of the second flying to the ball, making
Seattle Seahawks
quarterback
Russell Wilson
move his feet, and even doing a decent job limiting the damage done by apparently indestructible Seahawks running back
Marshawn Lynch
.

But even as that was going on, it was apparent the Seahawks were the team on the MetLife Stadium field with the superior personnel. Too often, when they flushed Wilson out of the pocket, he made an incredible play with his arm and/or his feet to get out of trouble. And even when they managed to hit Lynch four times inside the 2-yard line on one play, he bulled his way into the end zone for a touchdown. They remained game and determined, as
Linval Joseph
's sack of Wilson in the final 30 seconds of the half showed, but it does appear as though the Seahawks are wearing them down, which is what the Seahawks do.
And besides, there's not a lot a defense can do when the offense is totally broken.
Giants quarterback
Eli Manning
threw three interceptions in the first half, at least temporarily wresting the league lead from the Jets'
Geno Smith
, who plays later today. The first two were inexcusable, as they were fired directly at receivers who were completely blanketed in coverage by Seattle defensive backs -- first
Byron Maxwell
and second
Richard Sherman
. The third was on a vain Hail Mary on the final play of the half, as the Giants took a worthwhile shot from their own 40 with three seconds to go. Manning now has 23 interceptions for the season. His career high is 25, set in 2010.
Anemic all season, the Giants' passing game today has been nonexistent. Manning is 7-for-13 for 47 yards and the three picks. They're also doing nothing on the ground, where
Andre Brown
has 15 rushing yards on seven carries. They had the ball for only 11:34 of the first half, so it's not as though there's been much of a chance to do anything, but a big part of the reason they've struggled with time of possession has of course been the fact that they're giving the ball away so freely. The Giants get the ball back to start the second half, but at this point it's hard to see how that could qualify as good news for them.
I don't know anyone who expected the Giants to beat the 11-2 Seahawks here today. Sure, they still might. It's only 13-0 at halftime, after all. But to this point, this game has been the ultimate anticlimax in a season filled with them. The Giants right now don't belong on the field with this team, and it's their own field.
December, 14, 2013
12/14/13
2:00
PM ET
The 5-8
New York Giants
host the 11-2
Seattle Seahawks
on Sunday at MetLife Stadium in a 1 p.m. ET game. Here are four things to watch for in the game between a Giants team that has no playoff hopes and a Seahawks team that looks like a favorite to be back at MetLife Stadium for the Super Bowl in early February.


Rough week for Eli?
The Seahawks have the No. 1 pass defense in the league, allowing just 175.6 passing yards per game.
Eli Manning
and the Giants' passing game have struggled through a rough season, averaging just 234 pass yards per game. Led by 6-foot-3 cornerback
Richard Sherman
and 6-3 safety
Kam Chancellor
, the Seattle secondary is big and physical and should beat up the Giants' receivers all game. The ability of
Hakeem Nicks
,
Rueben Randle
and
Victor Cruz
to withstand that beating will determine whether Manning can find success downfield. It would qualify as one of the week's larger upsets.
Look out for Lynch:
Seattle has the No. 3 rushing offense in the league, mainly because of monster running back
Marshawn Lynch
. Giants defensive linemen spoke in relative awe this week of Lynch as a running back it takes a whole team to tackle. "It takes more than one person to bring him down,"
Cullen Jenkins
said. "You've got to get 11 guys to the ball. You can't just leave one person hanging out to dry to try to bring him down himself, because he's a tough back, strong, fast, quick. He'll make you miss." After allowing 144 yards on 40 carries to the Chargers last week, the Giants have been paying extra attention to the run fits for their linebackers and safeties this week. It'll be more important than ever. One thing to note: Of the top 12 rushers in the league so far this year, Lynch will be the 10th the Giants have faced. (And next week,
Reggie Bush
will be the 11th. The only one they won't face this year is San Francisco's
Frank Gore
.) The Giants are 11th in the league in run defense, allowing 105.4 rush yards per game.
Road worriers:
If you've seen the Seahawks on TV this year, chances are it's been a prime-time home game, and they've looked fantastic. The Seahawks' average scoring margin in their home games, of which they have won all six, is 18.7. But in their seven road games (in which they are 5-2), it's just 5.7. So they don't always look unbeatable on the road, where they've lost in Indianapolis and San Francisco and won by less than a touchdown in Carolina, Houston and St. Louis.
Wide receiver matchups:
Seattle's
Percy Harvin
is still injured and will miss this game, so the big wide receiver weapons with whom the Giants' defensive backs will have to contend are
Doug Baldwin
and
Golden Tate
. Keep an eye on Tate, the fourth-year wide receiver out of Notre Dame. He's eligible for free agency after this season, and the Giants could be looking for help at that position, especially if Nicks leaves as expected.
December, 12, 2013
12/12/13
10:00
AM ET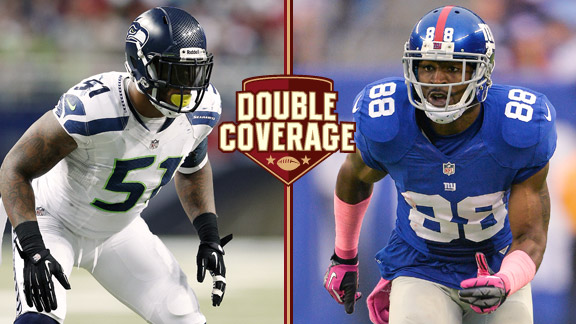 AP PhotoBruce Irvin and the Seahawks are beatable on the road. Can Hakeem Nicks and the Giants win?
The 11-2
Seattle Seahawks
have had their playoff spot wrapped up for a couple of weeks already and have their eyes on the top seed in the NFC. The 5-8
New York Giants
were eliminated from playoff contention Sunday and openly admit that they're playing for pride from this point forward. These two teams meet Sunday at MetLife Stadium -- a place the Seahawks hope to return to in early February for the Super Bowl.
ESPN.com Seahawks reporter Terry Blount and Giants reporter Dan Graziano break down the matchup between the league's best team and one of its most disappointing teams.
Graziano:
Terry, let's start with Seattle's exciting young quarterback. The Giants this year have seen
Terrelle Pryor
,
Cam Newton
and
Robert Griffin III
, who are the only quarterbacks with more rushing yards than
Russell Wilson
has. From your standpoint, what sets Wilson apart from those other mobile quarterbacks?
Blount:
Dan, there are so many intangibles about him that defy description. Some obvious ones are his character, his attention to every detail in his preparation and his underrated skills as a passer. But more than anything else, Wilson has the unusual ability to perform at his best when things appear to be at their worst. I've never seen him rattled, and he rarely makes a careless mistake. He has led the team to nine game-winning drives in his short career, and he almost did it again Sunday at San Francisco. As for his mobility, one thing that clearly sets him apart is his ability to make accurate throws downfield while he's running in either direction.
Speaking of quarterbacks,
Eli Manning
got off to a really rough start this season. What happened, and where is he now compared with seasons past when he was playing at a Pro Bowl level?
Graziano:
Manning's biggest problem at the start of the season was his protection. The offensive line, never great to begin with, was hit with injuries to key starters and never got the kind of blocking help it received in past years from supplemental positions like running back and tight end. Manning has already taken more sacks (33) than he has ever taken in a full season, and there are three games to go. He also had no running game whatsoever for the first half of the season until
Andre Brown
got healthy. And top wide receiver
Hakeem Nicks
has had an awful season in the final year of his contract. Manning obviously could play better, and he'd admit he has missed his share of throws. But I think he's a quarterback who really needs to be comfortable with his surroundings, and this year that hasn't been possible for him.
The Seahawks are so dominant at home, but while they've been good on the road they are clearly not
as
good. We know about the home crowd and the advantage it gives them, but are there on-field things they don't do as well on the road?
Blount:
One noticeable difference in the past three road games is that Wilson hasn't run much because defenses are trying to keep him in the pocket. Wilson had one carry for 2 yards last week at San Francisco, and only 38 yards on seven carries in the past three road games combined. They won two of those three games, however. Still, after Wilson ran for 102 yards at Indianapolis in Week 5 (ironically, one of Seattle's two road losses) teams have focused on not allowing him to beat them with his feet. He's running well at home (he rushed for 47 yards against New Orleans two weeks ago) but not so much on the road.
If the Giants pull off the upset Sunday, they'd send a message that despite a disappointing season, they still have the ability to get it done against the best of the best. Do you get the sense that they'll have a little added fire against a team that many people believe is Super Bowl-bound?
Graziano:
I do. A few of the Giants have already talked about that in the wake of the loss Sunday that eliminated them from postseason contention. There's a lot of talk around East Rutherford about "playing for pride," and that's not hollow with this group. They held together after the 0-6 start and have been professional in their play and their preparation since. This isn't a team that has or will quit on its season. It's just a team that's not very good. I don't think they have the personnel to hang with the Seahawks on Sunday, but if they lose it won't be for a lack of effort.
They do have a tendency to seek and drum up external motivation, and Seattle's excellent record will provide some of that. Tom Coughlin said Monday that they looked forward to measuring themselves against a team like this. The only dissenter so far is wide receiver
Victor Cruz
, who said he'd be "even more disappointed" if the Giants won this game, since it would tell him they had the capability to play with top teams all year and just didn't.
San Francisco had a strong game on the ground Sunday, and the Giants' run game has been considerably better in the second half. Is it possible to run on the Seahawks, or was that a one-game fluke by
Frank Gore
?
Blount:
Some Seattle fans might say it was a one-play fluke, the 51-yard run by Gore on the final drive that set up the game-wining field goal. Take that off the table and the Seahawks did OK against the 49ers' rushing game. However, one stat is a little scary. Of San Francisco's 163 yards on the ground, 137 were before contact, including Gore's big run. The Seahawks have been up and down on this all season. They held
Adrian Peterson
to 65 yards and allowed only 30 yards rushing at Arizona, but also had back-to-back games in which they allowed 200 yards rushing. Now they have to get it done without linebacker
K.J. Wright
, who had 80 tackles this season. He's out with a broken foot. It's hard to predict, but the Seahawks are so focused on the pass rush that they can get burned sometimes on the ground.
The Giants have struggled to stop the run, and
Marshawn Lynch
is one of the best backs in the league. I'm guessing the Seahawks are going to give him the ball early and often, especially if the weather is bad. Will the Giants load the box to try to stop Lynch?
Graziano:
Actually, stopping the run is one of the few things the Giants have done well. They've held down some top backs, such as Peterson,
LeSean McCoy
,
Alfred Morris
and
Eddie Lacy
. Until the Chargers got 144 yards on 40 carries against them Sunday, this had been a fairly consistent strength. So they'll be keyed on Lynch for sure.
Before the Packers game a few weeks ago, I asked
Justin Tuck
if Lacy reminded him of anyone. He said, "a bigger Marshawn Lynch," and then complained that they had to deal with Lynch again a few weeks later. They stacked the box against Lacy that day, but they weren't scared of
Scott Tolzien
's ability to beat them downfield even if they used single coverage on his receivers. Wilson is likely to make them think twice about committing as much to the run as they did that day, and they'll likely rely on the guys in their strong defensive-tackle rotation to get off of blocks better than they did in San Diego.
December, 10, 2013
12/10/13
8:00
AM ET
Your daily morning check-in on news and notes about and of interest to the New York Giants
The news of the day
: With the Giants eliminated from playoff contention, everybody wants to know whether they'll take a look at some of the younger, untested guys on their roster in their remaining three games. Thinking guys like
Damontre Moore
,
Adrien Robinson
, maybe
Brandon Mosley
... I don't know. Might be worth finding out what they have in some of those guys so they have as much information as possible when it's time to make their offseason plan. Coach Tom Coughlin said, "We may be able to do some things in terms of maneuvering some numbers of plays or perhaps even getting someone a suit that hasn't had one. But we're going to try as hard as we can to win football games and the guys who deserve to play are going to play." So while they may get a look at some newer guys, that's not going to be the focus of the final three games. The Giants believe the right thing to do, as long as people are still paying for tickets and parking and they're still getting their paychecks every week, is to give an honest effort to try and win the games. That's what they call
playing for pride
.
Behind enemy lines:
The opponent this week is as tough as it gets. The
Seattle Seahawks
are 11-2, which ties them with the Broncos for the best record in the league. They are led by dynamic young quarterback
Russell Wilson
and bruising running back
Marshawn Lynch
on offense and a deep, tough bunch of very large players on defense. They rotate defensive linemen as effectively as any team in the league, keeping their big guys fresh for late in the game. Their defensive backs are large and physical, led by cornerback
Richard Sherman
. They are likely the best team the Giants have faced this year, because they're likely the
best team anyone in the league has faced
this year.
Around the division
: Things have turned very ugly in Washington. Redskins coach Mike Shanahan now says he's considering sitting quarterback
Robert Griffin
III down
for the rest of the year
because Griffin is getting hit too much and it's important for him to be healthy next spring so he can have the full offseason program he didn't have this year. Of course, the larger question around Washington right now is about whether Shanahan will still be the coach next spring. Lots to be sorted out there, for sure.
Around the league
: Officiating continues to be a weekly source of gripes in the NFL, and the situation isn't getting better. Mike Sando thinks the league needs to train former players to be officials,
cultivating officiating crews
who don't operate out of fear of criticism or reprisal. Not a bad thought. They have broadcast "boot camp" for players either on the verge of or just starting retirement. Why not an officiating boot camp?
November, 16, 2013
11/16/13
2:00
PM ET
The
New York Giants
have won three games in a row following an 0-6 start and marching their way back toward .500 as they take on the
Green Bay Packers
on Sunday at 4:25 pm ET at MetLife Stadium. This game was originally scheduled for 8:30 pm ET, but has been moved up four hours as part of the league's flex scheduling rules. So if you're going to the game, or if you have plans to watch it, bear in mind the start time isn't the same as the one on the magnetic schedule you got at the beginning of the year.


Here are a few things besides that to watch in Sunday's Giants-Packers game:
An Andre Brown encore?
After rushing for 115 yards on 30 carries in his season debut Sunday against the Raiders, Brown is back and hoping for a big follow-up now that he's clearly the No. 1 man in the Giants' backfield. Green Bay counters with some big, mean monsters in the middle of their defensive line, and
B.J. Raji
& Co. will be tougher for the Giants' interior offensive linemen to push around than the Raiders were. Brown looked good keeping his legs moving and gaining yards after contact, but it's possible the contact could come a lot sooner this week between the tackles.
Wary of Packers' run game, too:
On Thursday after Giants practice I asked
Justin Tuck
if there was anyone of whom Packers rookie running back
Eddie Lacy
reminded him when he watched Lacy on tape. Without hesitating, Tuck said, "A bigger
Marshawn Lynch
." Pretty high praise there. We looked it up, and Lacy does actually list at 230 pounds to Lynch's 215, but Tuck said he didn't know the numbers. "All I see is a lot of broken tackles," he said. The Giants aren't spending time thinking they got a break because
Aaron Rodgers
is injured and out for this game. They're locked in on Lacy and the best rushing attack the Packers have had in years.
Who is Scott Tolzien?
On the Packers' practice squad two weeks ago, Tolzien has been elevated to the starting quarterback's role due to injuries to Rodgers and backup
Seneca Wallace
. The Giants admit they don't know much about Tolzien and haven't seen much tape on him, but what little they have seen shows them he's not afraid to throw deep and take chances downfield. A Giants secondary that feels very good about itself right now sees that as a potential opportunity to create turnovers and tilt the field position and the game in their favor.
Could Eli air it out?
Giants quarterback
Eli Manning
leads the league with 16 interceptions, 15 of which came in the first six games. Manning has appeared more cautious over the past three games, perhaps making a more conscious effort not to turn the ball over. But that's not really who he is. This week could offer him a chance to take more chances. The Packers' defense has only intercepted three passes this year -- the lowest team total in the league.
January, 16, 2012
1/16/12
12:11
PM ET
Lovely day here at Milwaukee's General Mitchell Airport, though it was kind of sad listening to the Packers fans on the sports talk radio this morning on the drive here from Green Bay. Honestly, if you've ever been to Green Bay, you need to wonder: what do those people do now?
What we do now is look ahead to Sunday's NFC Championship Game between the
New York Giants
and the
San Francisco 49ers
. It's going to be a different kind of game for the Giants. The 49ers don't have the array of passing-game weapons that recent Giants opponents such as the Packers, Falcons and Cowboys have. They will attack the Giants differently, and the best thing the 49ers have going for them is a defense that looked fast, tough and terrifying for most of the game against the Saints on Saturday night.
San Francisco finished fourth in the league in total defense, allowing just 308.1 yards per game, and first in rush defense by a mile, allowing just 77.3 yards per game. That would seem to bode ill for a Giants team that finished last in the league in rush offense. But the numbers from the head-to-head matchup between these teams in San Francisco in Week 10, even though the Giants lost it, offer some hope for the Giants.
The 395 yards of total offense the Giants had against the 49ers was the fourth-highest total any team posted against San Francisco all season. Only the Eagles (513 in a Week 4 loss), Cowboys (472 in a Week 2 overtime victory) and Saints (472 in Saturday's playoff loss) had more yards in a game against the Niners this season.
Even more encouraging, the Giants had 93 rush yards in that game, which is the fourth-highest total of rush yards any team had in a game against the Niners this season.
Marshawn Lynch
's Seahawks had 124 in Week 16,
Steven Jackson
's Rams had 111 in Week 17 and
LeSean McCoy
's Eagles had 108 in that Week 4 game in Philadelphia. All of those games were victories for the 49ers, but the Giants have run the ball considerably better over the past seven weeks, and in the Week 10 game in San Francisco they did not have running back
Ahmad Bradshaw
, who was out with a foot injury at the time.
Brandon Jacobs
had 55 yards on 18 carries, and
D.J. Ware
kicked in 34 yards on nine carries.
A healthy Bradshaw on Sunday, plus the drastic improvements the Giants have made in run blocking over the past two months, plus the film they can watch of their offense having success against this very tough 49ers defense, are all assets for the Giants as they prepare for the NFC Championship Game. The 49ers likely aren't going to miss as many tackles as the Packers did Sunday, but the Giants have proof that they can move the ball against them anyway. The key, as it always is, will be to avoid the turnovers. The Giants outgained the 49ers by 90 yards in Week 10, but
Eli Manning
threw two interceptions, and they lost by seven points.