New York Giants:

Matthew Stafford
December, 22, 2013
12/22/13
7:45
PM ET
DETROIT -- A few thoughts on the
New York Giants
'
23-20 overtime victory
over the
Detroit Lions
on Sunday at Ford Field:

What it means
: Anyone wondering whether the Giants have given up on their season or on their coaches has the answer. The Giants are outmanned and overmatched pretty much every week, and Sunday was no exception. But in spite of having their offense choked off after halftime, they pushed the game into overtime, where
Josh Brown
won it with a 45-yard field goal.
Stoch watch
:
Will Hill
, up. After reportedly being arrested Friday night on charges related to child support, the Giants safety played in and changed Sunday's game. With five minutes left in the fourth quarter, Hill intercepted Lions quarterback
Matthew Stafford
and ran in from 38 yards for a touchdown. The ensuing extra point tied the game. The Giants were doing absolutely nothing on offense in the second half behind a shredded offensive line, and scoring on defense turned out to be their best option.
Tough Tuck:
Defensive end
Justin Tuck
appeared to injure his neck in the third quarter but remained in the game in spite of being in clear discomfort. It's worth pointing out that Tuck, who is free-agent-eligible at the end of the season, wanted to tough it out in a game like this with the Giants already eliminated from postseason contention. It backs up his team-first talk. Tuck's big second half of the season has helped his chances of returning next year.
What's next:
The Giants mercifully close out their season with a 1 p.m. ET home game Sunday against
Kirk Cousins
and the
Washington Redskins
at MetLife Stadium. They beat the Redskins
24-17
in Washington in Week 13.
December, 22, 2013
12/22/13
5:45
PM ET
DETROIT -- They lost their top wide receiver to injury last week and are down to fourth-stringers on the offensive line. So of course, the
New York Giants
look as good as they've looked on offense at any point so far this year. They're showing good run/pass balance, using the run game and moving quarterback
Eli Manning
around to keep him away from pressure. They're moving the ball, they're 5-for-8 on third downs, they haven't turned it over and they didn't give up a sack until there were 27 seconds left in the half. They hold a 13-3 lead over the Lions at halftime.

Doesn't seem to make a lot of sense, considering they have been one of the worst offenses in the league and are playing this game severely shorthanded. When the inactives were announced 90 minutes prior to kickoff, right guard
David Diehl
was on the list. He was replaced in the starting lineup by untested 2012 fourth-round pick
Brandon Mosley
, who lasted only one series before breaking his hand and being replaced by
Dallas Reynolds
. So that's the third different starter they've had at right guard since
Chris Snee
's season-ending injury.
But somehow, the protection is holding up. Cruz's replacement,
Jerrel Jernigan
, is playing tough downfield against a depleted Detroit secondary and Manning is getting just enough time to find him and
Hakeem Nicks
. The Lions have turned the ball over twice on a
Reggie Bush
fumble and a
Matthew Stafford
interception. The Giants cashed in the first of those with a Manning-to-Jernigan touchdown pass, and cashed in the second with a 52-yard
Josh Brown
field goal.
The Lions obviously have a lot of problems right now. After a brutal home loss to the Ravens on "Monday Night Football," they have spent the first half of this game shooting themselves in the foot. They have squandered an opportunity to win the NFC North with division-rival quarterbacks
Aaron Rodgers
and
Jay Cutler
having missed significant time due to injuries. And while the Lions desperately need this game (and help) to keep their postseason hopes alive, New York is the team that looks as though it's playing for something. Detroit also is missing starting cornerbacks
Rashean Mathis
and
Chris Houston
and saw backup cornerback
Bill Bentley
and starting safety
Louis Delmas
head to the locker room with head and elbow injuries, respectively, that leave them questionable to return. So there's reason to believe the Giants can keep the offense coming in the second half if they can keep protecting Manning with their banged-up line. Detroit is also missing many of the playmakers who could generate turnovers in the secondary, so there remains a chance that the Giants could go turnover-free for the first time this season.
December, 20, 2013
12/20/13
10:30
AM ET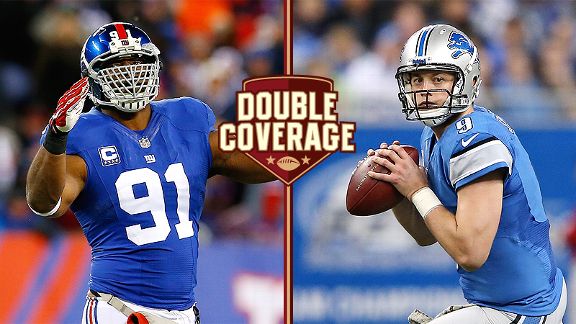 Getty ImagesJustin Tuck, left, and the Giants will be trying to end the playoff hopes of Matthew Stafford's Lions.
It is a battle of disappointments on Sunday at Ford Field: the
New York Giants
, who have been disappointing all season, against the
Detroit Lions
, who have been one of the more surprising teams over the second half of the season -- in a bad way.
The Giants have no playoff hopes. The Lions need to win their final two games and then hope for help (i.e., losses) from Green Bay and Chicago.
Taking you through Sunday's matchup are ESPN.com NFL reporters Michael Rothstein (Lions) and Dan Graziano (Giants).
Rothstein:
The Giants have struggled all season, and
Eli Manning
has been at the forefront of that. What has changed there?
Graziano:
It's basically just a complete bottoming-out on all fronts, starting with the protection. A line that wasn't great to begin with is down two starters and has been playing a rookie at right tackle all season. The blocking help the line used to get from running backs and tight ends disappeared when the Giants let
Ahmad Bradshaw
and
Martellus Bennett
leave in the offseason.
Hakeem Nicks
has had a terrible year at receiver, playing like he is more worried about staying healthy in advance of free agency than trying his best to win. There has been no run game at all for long stretches. And Manning has failed to elevate above his miserable circumstances, missing too many throws and too often looking as though it has all been too much for him. It's been a total whitewash of a season for the Giants' offense. They are the only team in the league that has been shut out even once this season, and they've been shut out twice.
What is the deal out there in Detroit? To my eyes, the Lions should have put this division away by now with
Aaron Rodgers
and
Jay Cutler
having been out for so long. What is the main reason they seem to have squandered such a great opportunity?
Rothstein:
I don't know whether there are enough words to describe all that has gone on, although the simplest way to put it would be consistent end-game meltdowns, either from turnovers, coaching decisions or a defense that suddenly faltered.
A lot of it has to do with
Matthew Stafford
, who has had accuracy issues in the second half of the season. Really, there have been issues everywhere but the lines, from turnovers to coverage breakdowns on defense.
This is a team that should be safely in the playoffs right now instead of needing to win out and get help.
That obviously leads to job-security questions for Jim Schwartz. Although that doesn't seem to be the case for Tom Coughlin, has this season given any indication as to how much longer he plans to be on the sideline?
Graziano:
No, Coughlin is really a what-you-see-is-what-you-get sort of guy. He's completely believable when he insists he's focused on only this week's game and doesn't want to address anything beyond this season. People close to Coughlin insist he won't quit as long as he feels he can still do the job, and there is no indication he feels otherwise. He has as much passion and energy as anyone else in the building (and right now, more than most!). I don't think Giants ownership would fire him, and I'd be stunned if he got into the offseason and decided he was done. As one person close to him told me, "He has no hobbies. There's nothing for him to retire TO." At 67 years old, he understands why the questions get asked, but he doesn't view himself as near the end of a career, I don't think. As of now, he plans to be part of the solution here, and it would be a major upset if he wasn't back in 2014.
One of Coughlin's biggest immediate problems is keeping his quarterback from getting killed. How is that Detroit pass rush looking these days?
Rothstein:
Eli, meet Ndamukong. He will be the guy tossing you to the ground today. In all seriousness, though, the Lions' pass rush has been interesting. The Lions have been great at applying pressure (other than against Pittsburgh) but don't have the actual numbers to show for it, which can be confusing.
What teams have done is bottle the middle on
Ndamukong Suh
and
Nick Fairley
, and have either a tight end or running back help on either
Willie Young
or Ziggy Ansah on the ends.
So to answer your question, it has been OK, but not the consistently dominant force some were expecting.
That leads into my last question. The Lions' run defense, headed by that front, has been one of the best in the league this season. Have the Giants figured any way to solve their run woes?
Graziano:
Andre Brown
was hot for a while when he came back from his injury, and the offensive line was starting to block better for the run. But the past two weeks have seen a step backward, and the way the line is configured now, with starting left guard
Kevin Boothe
playing center and backups rotating in and out at left guard, has left it very vulnerable and one-dimensional. The Giants were able to take advantage of some good matchups with Brown running well, but against tougher fronts like the one they saw against Seattle last week, they struggle. I imagine they will struggle against the Lions' front in the run game as well.
Two straight disappointing games for Stafford and
Calvin Johnson
. Do you expect Megatron to blow up this week and victimize the Giants' secondary?
Rothstein:
Kind of. As cornerback
Rashean Mathis
told me this week, if the Lions don't find their urgency now, they'll never find it this season. So I'd imagine you would see Johnson -- who is Detroit's best player -- at the forefront of that if the Lions have any shot over the next two weeks. Plus, those two drops he had against Baltimore will gnaw at him all week long. I expect he'll have a big game.
Stafford, on the other hand, I'm not as sure about because he seems genuinely rattled this second half of the season. Detroit needs to find what was working for him at the start of the season and bring that back, otherwise its season is over.
.
December, 20, 2013
12/20/13
8:00
AM ET
Your daily morning check-in on news and notes about and of interest to the New York Giants.
The news of the day
: The Giants announced Thursday that wide receiver Victor Cruz had gone to see Dr. James Andrews to have his left knee checked out and that Andrews performed a surgical procedure on the knee. It was called an "
arthroscopic debridement
," which as I understand it means a cleaning up of loose cartilage or bone in the knee. So that's much better news for Cruz than if he'd had to have a ligament repaired, and there's no reason to think he won't be able to participate in the offseason program or be ready for the start of 2014. But obviously, since he just had his knee operated on 10 days before the final game, he's out for the rest of this season. Cruz was the only player on the Giants' offense having any kind of a respectable season, and there's good reason to believe that, as a result of this news, the final two games will be even more unwatchable than the first 14 were.
Behind enemy lines
: It seems all we've been talking about with Giants defensive players this week is Lions wide receiver Calvin Johnson. But they have a pretty good running back, too, in Reggie Bush, who's
about to crack 1,000 rushing yards
and is a serious threat in the passing game as well. The Giants have been good at limiting even the best running backs between the tackles, but they have been susceptible to running backs as receivers on the outside. But the Lions have their own problems. Bush himself says the team for which he plays
lacks discipline
. And Jeff Chadiha writes that it's time for Lions quarterback Matthew Stafford to
show more
in the big spots.
Around the division:
If the Cowboys lose early Sunday, the Eagles could clinch the NFC East with a victory Sunday night against the Bears. If the Cowboys win Sunday, or if the Eagles lose Sunday night, then the NFC East will come down to one Week 17 game for the third year in a row -- Philadelphia at Dallas this time. Regardless, Eagles running back LeSean McCoy says he wants to
carry the offense
in this game. The way the Bears have defended the run this season, that sounds like a good plan.
Around the league:
I think expanding the NFL playoffs is a terrible idea, because there are enough bad games as it is and not enough really good teams to fill a 12-team playoff field. But others disagree, and
we asked around
.
September, 30, 2011
9/30/11
1:30
PM ET
»
NFC Final Word
:
East
|
West
|
North
|
South
»
AFC
:
East
|
West
|
North
|
South
Five nuggets of knowledge about Week 4:
Dallas must stop the deep ball
: According to ESPN's Stats & Information Group, without which Final Word would not be possible, Lions quarterback
Matthew Stafford
has yet to throw an interception this year on a ball thrown 11 or more yards downfield. He threw 14 of them over the past two seasons. SIG also reports that Stafford overthrew top receiver
Calvin Johnson
18 times over the past two years on balls that went 11 or more yards downfield and has only done so once this year in 10 attempts. What's it mean? That Stafford is getting better at throwing deep, especially to Johnson, and that the Cowboys must find a way to defend him deep. Whether that means
DeMarcus Ware
and the pass rush need to get to Stafford quickly enough to take away deep throws or whether
Terence Newman
and
Mike Jenkins
have to make plays in the secondary or both, the Cowboys versus the Lions' deep passing game is a key matchup to watch Sunday.
[+] Enlarge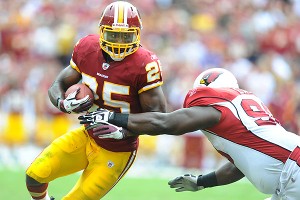 James Lang/US PresswireRedskins running back Tim Hightower is averaging 3.5 yards per rushing attempt.
Who should run the ball for the Redskins?
:
Tim Hightower
is clearly the starter and has done some good things. They particularly like him in the passing game, as a receiver and a blocker. But as a runner, he's been underwhelming so far this season, averaging just 3.5 yards per rushing attempt. Part of the issue is that the Redskins are determined to run the ball 30 times a game even if it's not always working, and so whoever's running it is going to find the going tough at times. But rookie
Roy Helu
, as Hightower's backup, is averaging 5.7 yards per carry on his 16 carries so far. If he gets into games and shows more burst and speed than Hightower, you'd have to think he's a real threat to start stealing carries, no?
McCoy's toughest test so far
: The
San Francisco 49ers
have excelled so far this year in stopping the run with their defensive front. According to ESPN Stats & Info, the Niners have held opponents to 2.97 yards per carry when using seven or fewer defenders in the box. Now, Eagles running back
LeSean McCoy
has the second-most rush yards in the league against seven-or-fewer-man fronts, and is averaging 6.39 yards per carry when teams keep seven or fewer in the box. So, something's got to give there.
Eli owns October:
Giants quarterback
Eli Manning
has a career record of 20-4 in the month of October. Among quarterbacks with at least 15 October starts since 1950, only Otto Graham (22-4) has a better record in the month. The key for Manning is always to limit turnovers, and last week's victory in Philadelphia broke a streak of seven straight games in which he'd thrown at least one interception. Over the past three seasons, the Giants are 8-1 in games in which Manning did not turn the ball over via interception or fumble. The last time they lost such a game was Nov. 8, 2009 -- a 21-20 loss to the Chargers in which Manning was sacked five times. When Manning plays a clean game, the Giants win.
Cowboys play 'em close
: Each of the Cowboys' past nine games has been decided by three points or less. Dallas is 5-4 in those nine games, including a 2-1 record so far this season. The last game they played that was decided by more than three points? Their Week 11 victory on Nov. 21 of last year, at home against this week's opponent, the
Detroit Lions
.
Shaun Hill
and
Jon Kitna
were the starting quarterbacks in that game, which the Cowboys won 35-19 in spite of being outgained 338-265. If you remember that game, you probably remember it for
Bryan McCann
's 97-yard punt return touchdown.