New York Giants:

michael sam
July, 22, 2014
Jul 22
10:00
PM ET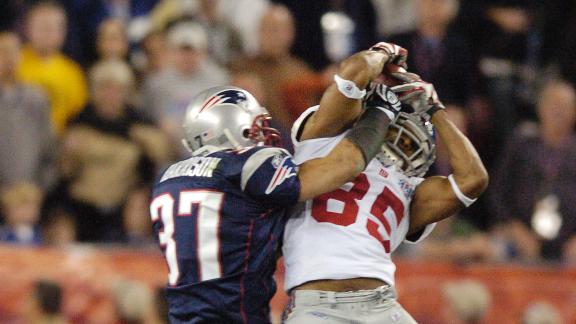 EAST RUTHERFORD, N.J. -- I wrote about the Tony Dungy-
Michael Sam
controversy on
Tuesday
, so you know where I come down on the gay rights issue. I think these are issues of human decency, not of religion or culture or the sanctity of the NFL locker room.
But if Dungy merely put his toe over the line and onto the wrong side of this issue, former
New York Giants
wide receiver David Tyree is the
mayor
of the wrong side of this issue. In 2011, Tyree said he'd trade his miracle "helmet catch," which led to the Giants winning Super Bowl XLII, in exchange for a law outlawing gay marriage. And he's publicly professed his belief that "there is no scientific data to support the claim of being born gay." Tyree has explained his views by citing his religious beliefs, which is an excuse a lot of people use and is, in my opinion, a crummy reason for treating fellow human beings poorly. You believe what you want to believe, but once you start using it as a weapon with which to mistreat other people, you have lost me.
Anyway, this comes up because
the Giants hired Tyree on Tuesday
as their new director of player development. And while I don't think wrongheaded views should necessarily prevent a person from seeking and holding a job in his chosen field, I'm surprised that the Giants would make such a tone-deaf move in the current NFL and social climate. The move was
ripped by the Human Rights Campaign
, and Tyree declined to comment about the criticism when contacted by ESPNNewYork.com.
Obviously, given the sensitive nature of the Michael Sam story, we're at an important social time in NFL history. One of the points of Sam's decision to live his life as an openly gay man trying to play in the NFL is that gay football players in the future will be less afraid to live their lives openly. Sam's story should lead us all to a deeper understanding of each other as people and to treat each other with more kindness and decency regardless of where we disagree or where we're different. People like Tyree stand in the way of that, which is why I don't think this is the right time for Tyree to hold a job like this in the NFL.
Imagine, if you will, there was a hypothetical closeted gay player on the Giants who was thinking about coming out. Maybe he was inspired by Sam, maybe not, but as of, say, Monday, he was thinking about telling the world he's gay. He was nervous but excited about finally not having to feel as though he had to hide who he is -- a great, positive thing for the player and the world in general.
And then on Tuesday, the Giants go and hire a guy to work in a position of authority in the organization, and this guy loudly and publicly believes what Tyree believes.
What does that player think now? What does that player do now? What message has his organization sent to players in that position?
Tyree might well be qualified to hold the job of director of player development. Heck, he might be great at it. And maybe his medieval views on this issue won't affect his ability to do the job or relate to players in any way. But given what's going on in the NFL and the world right now, I have to think the Giants could have made a less tone-deaf hire.
February, 15, 2014
Feb 15
10:57
AM ET
Your diligent use of the
#nygmail
hashtag on Twitter is what makes this weekly
New York Giants
mailbag possible. You complete me. Or at least you complete the mailbag. Or you start it and I complete it. Not really sure. There's too much snow.
February, 12, 2014
Feb 12
8:30
AM ET
I spoke with
Terrell Thomas
on Tuesday night. We have been working on a project for later in the week about Michael Sam, the NFL draft prospect who came out as gay Sunday, and I reached out to Thomas because I know him to be a thoughtful guy who might have something interesting to say on the topic.
He had a lot to say
, most of it about his belief that Sam could have a tough time in NFL locker rooms because of his announcement.
"I think society is ready for it and America's ready for it, but I don't think the NFL is," Thomas said. "As a player, all you want to know is if he can play. That's on the field. But in the locker room, it's different. There's a lot of talk and joking around, and some guys walk around completely naked all the time, and they might not want to do that anymore. When you add that situation to the mix, I think it's going to make some people uncomfortable."
Thomas
I was kind of surprised by Thomas' take, and told him as much, but he stood by it. My own experience in NFL locker rooms and around NFL players has led me to believe they're more tolerant than many people give them credit for being, and Thomas is the kind of guy who generally helps support that belief in my mind. But he's genuinely conflicted on this, and I believe he was speaking analytically about the locker room culture as he sees it -- not speaking in a manner angry or hurtful toward Sam specifically. That doesn't mean I agree with his take, but it's worth hearing his reasoning because, as I said, he's thought it through. I even asked him why he thought Sam's University of Missouri teammates accepted him so openly but an NFL team would not.
"That's the hardest question. If a bunch of 18-year-olds can accept him, why can't a bunch of grown men?" Thomas said. "I just think it's different when you put him in an NFL locker room with a bunch of grown men the way we are around each other, and with people who don't already know him. Their locker room accepted him, but at the same time, their locker room knew him before he came out. If he would have said it after his second year in the league, things might be different. But to come in as a rookie who nobody knows and have this be the big story, that could make it tough for some people to handle. It's going to put people on edge. Not necessarily make everybody uncomfortable, but maybe guys just might not know how to act."
Disappointing if true, but I'm not going to be one of those who jumps on Thomas' case for his opinion. It's his, and he has the right to it, and this is a discussion that's just beginning and isn't always going to go the way people want it to go. I appreciate Thomas' time and his openness.
On a Giants-related note
, Thomas is an unrestricted free agent and says he has not had any contact yet with the team. He expects his agent to talk to the Giants prior to the March 11 start of free agency, but he doesn't expect to sign prior to hitting the open market.
"I know my agent will talk to them, and if they come back with something that's extremely favorable, I'd sign it," Thomas said. "But more than likely, I'm going to hit the market. I feel I owe it to myself, and I think the Giants understand that and would agree."
Thomas played a full season in 2013 after missing the 2011 and 2012 seasons following two separate ACL surgeries on his right knee. He's had three of those in total, and they have delayed his free-agent payday. I'm not sure what the market will be for Thomas given his health concerns, but he says he's enjoying his first real, non-rehab offseason in a long time and is eager to find out. It's possible he could be back with the Giants in 2014, but as of now they appear to be focused on other of their own free agents, including linebacker
Jon Beason
, safety
Stevie Brown
and running back
Andre Brown
.
February, 10, 2014
Feb 10
4:45
PM ET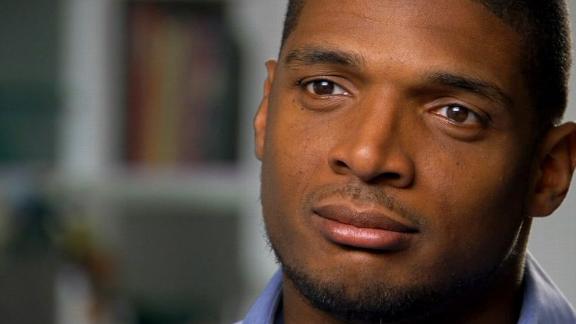 The news of the day is Missouri defensive end
Michael Sam
, who announced in advance of next week's scouting combine that he is gay. One of the many ways we are covering this story on ESPN is by taking a bit of a team-by-team
look at where Sam might fit
. So let's take a look at the
New York Giants
in that context.
First of all, I absolutely do not think the Giants would shy away from drafting Sam for non-football reasons. The Giants are confident in the people they have in leadership positions and pride themselves on being able to focus on football and winning games. If Sam is on their draft board at a spot where they believe he would represent good value (Third round? Fourth round? Fifth round? Depends on how their scouts evaluate him), then I believe they would not hesitate to take him.

The issue, however, is that we're not talking about a first-round pick here. This isn't like trying to gauge where
Johnny Manziel
or
Jadeveon Clowney
may or may not fit. Those are players for whom teams might make a move to position themselves. Sam is a mid-round pick who will find himself in a pool with other similarly rated players at various positions. The Giants could get to a point in, say, the fourth round where Sam is up near the top of their board but so is a cornerback or a running back they like just as much, and they could decide to go with another position. The story of the day is about what makes Sam unique. But if a team is evaluating him as a football player, he's going to fall into a large group of prospects with similar question marks at a point in the draft where teams are hoping to find future starters but aren't counting on it.
Within that context, however, you could imagine Sam as a player the Giants might like. He's a pass-rusher, first of all, and the old Giants credo is that you can't have too many of them. He's not a guy who's going to step in as a starter if they let
Justin Tuck
leave as a free agent, but he could conceivably be a guy they add to the pass-rush rotation behind
Jason Pierre-Paul
,
Damontre Moore
,
Mathias Kiwanuka
if he's still around and either Tuck or whoever they sign/draft to replace him. Assuming Sam is willing and capable to contribute on special teams as a rookie (and indications are that he would be), that helps convince a team that may have to be convinced to take him on as a developmental player.
The Giants tend to like guys with good college stats. It's one of the reasons they believed Moore was a strong value pick in the third round last year. Sam was productive in the SEC, and that should matter. It could be enough, in the Giants' eyes, to help him overcome his lack of elite size and speed, or the questions about whether he has a real position at the next level. He appears to be a smart, high-character guy who was a leader on his college team, and those kinds of things matter to the Giants (and other teams, of course) as well.
In conclusion, if the Giants were to take Sam at a spot in the draft where he represents reasonable value, it would look like a good pick for them. He may not be a starting-caliber defensive end in their scheme, but that doesn't mean he can't be a useful NFL player on a team that figures out a way to deploy him correctly.
February, 10, 2014
Feb 10
2:45
PM ET
One of the major questions in the wake of Missouri defensive lineman
Michael Sam
's announcement he is gay is how NFL teams will react. With the draft less than three months away and the scouting combine next week, the focus will be on how and whether Sam's coming out will affect his draft stock. To hear the owners of the
New York Giants
tell it, it shouldn't affect it at all.
"I would just echo what the league and
Zak DeOssie
, one of our captains, have said in welcoming Michael into our league and supporting him as he attempts to achieve his dream of playing in the NFL," John Mara said Monday in a statement released by the team. "Our sport, our game, is the ultimate meritocracy. You earn your way with your ability. As Patrick Burke and Wade Davis constantly remind all of us, regardless of who you are, what your background is and what your personal or sexual orientation is, if you can play, you can play. Michael's announcement will not affect his position on our draft board."
"As I said last night, Michael Sam is a gifted athlete and a courageous man," Steve Tisch said in his own statement released by the team. "I hope any NFL team would not hesitate to draft Michael if he is right for their team. Our game is the ultimate team game, and we often talk about how a team is a family. Regardless of where you are from, what your religious beliefs are, what your sexual orientation is, if you are good enough to be on the team, you are part of the family. How the University of Missouri and its football program embraced and supported Michael is a tremendous blueprint for all of us, but frankly, I think the lessons of our game also provide the same positive example."
I'll echo what
I wrote this morning
, which is that the Giants likely would be a welcoming environment for Sam due to their strong leadership. The question in the Giants' draft room will be whether Sam represents good value at the mid-round pick with which he'd be available to them. The Giants run a 4-3 defense, but while Sam played 4-3 defensive end in college, there is concern that his lack of prototypical size would inhibit his ability to do so in the NFL. That doesn't mean the Giants won't take him if they think he's a good enough player to help them on special teams and in certain roles, but it's hard to see him as the kind of player they have to have.
February, 10, 2014
Feb 10
10:20
AM ET
The news of the day in the NFL is the decision by University of Missouri defensive end
Michael Sam
to come out as gay in advance of next week's scouting combine and the draft. Sam isn't a first-round prospect, but he is a prospect. Mel Kiper had him projected as a fourth-rounder prior to the announcement. Sam was a productive 4-3 defensive end in college, but he lacks the size NFL teams look for in 4-3 defensive ends, so they stood him up at the Senior Bowl to see whether he could play 3-4 outside linebacker, and word from there was that he struggled to make plays in space.
So there are legitimate questions about how Sam projects as an NFL player, and the likely scenario is that someone takes him as a situational pass-rusher who's willing and able to make an instant impact on special teams. That's a useful player for any team in this day and age, and Sam's SEC Defensive Player of the Year pedigree should help him get drafted in spite of his size and questions about his NFL position.
Now, if you're a
New York Giants
fan reading this, you want to know whether Sam would make sense for the Giants. They're always looking for pass-rushers and could certainly use help on special teams, so if the value is there and he's sitting at the top of their board in the fourth or fifth round, why not? There are going to be teams that shy away from Sam because he's gay or because they fear the extra attention he'll bring, but I doubt the Giants would be such a team.
"Michael Sam is a gifted athlete and a courageous man," Giants co-owner Steve Tisch said in a statement to ESPN on Sunday Night. "I hope any NFL team would not hesitate to draft Michael if he is right for their team."
As you know if you read
my column on this
Sunday night, I think outside concerns over how Sam will be received in an NFL locker room are overblown. But to the extent that his coming out will create any sort of issue -- even the "extra attention" one -- for the team that drafts him, the consensus seems to be that he'd do best in an environment with strong leaders who can create an atmosphere of support and tamp down any missteps or mis-statements that might arise among the rank and file.
The Giants, with Tom Coughlin as their head coach and
Eli Manning
as their quarterback, would appear to be such a team. They're good in East Rutherford at keeping the focus on football, which is what Sam says he wants. If the Giants' scouting and player development people think he's right for their team, I don't think they'd hesitate to bring him in.