New York Giants:

Mike Tomlin
January, 28, 2014
1/28/14
10:00
AM ET
We surveyed 10 players from each NFL team and granted them complete anonymity to get their opinions on a variety of questions. We are rolling out the results of that survey piece-by-piece. Today we present the answer to the question:

Which head coach would you most like to play for?

The rules were that it had to be a current NFL head coach and that it could not be your own. The winner, with 72 votes (22.5 percent of the total) was Seahawks coach Pete Carroll. A distant second was Pittsburgh's Mike Tomlin, with 44 votes (13.8 percent). Others who cracked double digits included the Broncos' John Fox (25), the Jets' Rex Ryan (23), the Patriots' Bill Belichick (22), the Chiefs' Andy Reid (22), the Saints' Sean Payton (21), the 49ers' Jim Harbaugh (16) and the Ravens' John Harbaugh (10).

The Giants' Tom Coughlin got three votes. I expect it would have been more if the survey had been conducted a year earlier, when he was (as John Harbaugh was at the time of this survey) a defending Super Bowl champion. But I'm not sure. The Giants are a fairly insular organization. And while Giants players love and respect Coughlin, I'm not sure that reputation translates league-wide. While he's clearly mellowed as his career has gone along, he still appears from the outside to be a tough, demanding, old-school coach. And you can see that most of the coaches who got the big votes in this one do not fit that description.
December, 4, 2013
12/04/13
4:21
PM ET
EAST RUTHERFORD, N.J. --
New York Giants
coach Tom Coughlin was hit with a 15-yard penalty in a preseason game against the Colts Indianapolis in August for straying onto the playing field during the action. He was not fined $100,000, as
Pittsburgh Steelers
coach Mike Tomlin was for the dance he did with
Baltimore Ravens
kick returner
Jacoby Jones
on Thanksgiving night, but Coughlin said coaches these days are well aware of the importance of staying where they're supposed to stay.
"Right now, there's such a premium on 'You'd better stay off the white, you'd better stay off the white!'" Coughlin said. "We're all yelling and screaming that. We're reminded about that by the officials every week, too. You find yourself sometimes running down the sideline on the white, but you're not even supposed to be on the white because the officials have to have access there. And that is a most difficult penalty to absorb."
Coughlin is well known as a coach who spends as much time with his foot on the field -- either throwing a challenge flag or trying to grab the officials' attention about something -- as any coach in the league. But the parallels to Tomlin's situation aren't there because he has yet to have an incident where he's affected or nearly affected a play in progress. It may well be, for Coughlin, about knowing how to pick his spots.
October, 11, 2013
10/11/13
2:05
PM ET
Pittsburgh head coach Mike Tomlin, whose Steelers play the Jets on Sunday,
has banned all games in the locker room
after his team's 0-4 start.
Which raises the question: What should the 0-6 Giants ban?
Let us know your ideas in the comments section. And be creative.
October, 31, 2012
10/31/12
4:22
PM ET
EAST RUTHERFORD, N.J. -- The Giants and Steelers are two of the most storied franchises in the NFL. They are also two of the most successful, having won four of the past seven Super Bowls.
But Steelers coach Mike Tomlin isn't wrapped up in comparing the two organizations.
"I don't spend a lot of time thinking about it, no," Tomlin said Wednesday on a conference call with New York reporters. "I obviously see potentially how one could talk about some of the similarities, but we don't play them that often."
[+] Enlarge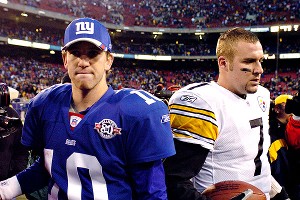 Larry French/Getty ImagesEli Manning and Ben Roethlisberger during their rookie season of 2004.
It's hard to develop a rivalry when you only play an opponent once every four years. The Giants and Steelers have played just twice since quarterbacks
Eli Manning
and
Ben Roethlisberger
both entered the league in 2004.
On Oct. 26, 2008, the Giants defeated the Steelers 21-14 in Pittsburgh. Manning led the Giants on one of his now-patented game-winning drives in the fourth quarter. Roethlisberger threw four interceptions and was sacked three times by
Mathias Kiwanuka
.
On Dec. 18, 2004, the Steelers defeated the Giants 33-30 at Giants Stadium. Manning played well in just his fifth NFL start, but Roethlisberger was better, throwing for 316 yards and leading a game-winning drive of his own.
The series returns to the Meadowlands on Sunday afternoon. "We know it's going to be tough, going to New York and playing the Giants at their place," said Roethlisberger, also on a conference call with New York reporters Wednesday.
The Steelers currently stand 4-3 on the season -- in second place in the AFC North, one game behind the Ravens. They've won two games in a row, but are just 1-3 on the road this year.
Tomlin doesn't think playing away from home has been the problem. "I don't necessarily want to equate it to venue -- I just don't think that we've been consistent in performance," Tomlin said. "Thankfully in recent weeks I think we've been moving in the right direction in that regard, but we'll continue to write that story as we move forward. This is a big challenge in front of us this week."
Pittsburgh is ranked No. 2 in the NFL in total defense (274.1 yards per game), and No. 1 in passing defense (182.6). But Tomlin knows his team has its work cut out for them against the Giants' aerial attack, the sixth-best in the league (282.1).
"I think their play-action pass game is very good. I think Eli throws a very good deep ball, he puts the ball in very playable position. I think their wideouts, the entire group collectively, does a nice job of making plays on balls down the field," said Tomlin. "It's all of em -- it's (Victor) Cruz, it's (Hakeem) Nicks, it's (Domenik) Hixon, and even (Ramses) Barden and others when given an opportunity.
"That's a challenge, because when you're getting yards in chunks, of course that eliminates a lot of execution."
As for the Giants' defense, Roethlisberger sees a challenge ahead, too.
"They've got a crazy amount of turnovers, interceptions. I think that (credit) usually goes to the back end, the guys intercepting it, the DBs and stuff," Roethlisberger said. "But I think you have to give a lot of credit, and we're gonna give a lot of attention to, the front four -- and really the front six or seven that they rotate in and linebackers -- because they're the ones that create a lot of those turnovers with pressure on the quarterback."
Giants versus Steelers. Manning versus Roethlisberger. Rivalry or not, it's must-see TV.