New York Giants:

New England Patriots
February, 8, 2012
2/08/12
11:33
AM ET
By
Greg Newman
| ESPNNewYork.com
A quick riff on the hottest topic on ESPNNewYork.com: The New York Football Giants winning the Super Bowl.
From
Champion Giants Return Home
:
"Giant fans, you all should be on your knees thanking
Ahmad Bradshaw
. If he had not gone into the end zone at the end, and had, instead, sat down at the 1, the dumbest play in sports history would have occurred. In the NFL a player must be touched by a defender to be considered 'down.' If he had just sat down, a Patriot defender could have simply knocked the ball out of his hands, and fumble, you lose. I am still stunned by how stupid everyone was at the end of that game, even
Belichick
. I mean, he LET the other team score the go ahead points in the game, with LESS THAN ONE MINUTE REMAINING. Seriously, you cannot be more stupid than that. Or actually, you could have, if Bradshaw had not gone into the end zone."
- jabbadonut
Ed.'s note -- I'm pretty sure that Bradshaw can give himself up in the same way a QB would slide. He could have just fallen on the ball and it's pretty unlikely the Patriots would have been able to cause a fumble. Statistically, Lawrence Tynes is 56 for 57 on FGs between 20 and 29 yards and he would have been able to pick exactly where he would kick from.
"
Coughlin
won't win a game this Sunday. Media will call for his head."
- 52ppPassport
Ed.'s note -- Not true! Normally the media waits until November.
From
Gisele Bundchen blasts Pats WRs
:
"Man
Brady
lets us down again bigtime. never beat winning teams.
1. safeties
2. interceptions
3. wild out of control passes
4. now second SB he's blown against giants
shoot i can't wait til brady leaves or retire. tired of all the losing"
- GAMETIME_CEO
Ed.'s note -- Wow, all the losing? He's 124-35 in the regular season and 14-6 in the postseason. What's the deal with all the Patriots fans commenting on our stories, anyway?
"Hey Gisele... Was it the receivers fault that Tom threw the ball 25 yards over everybody while in the endzone, thus causing a 2 pt. safety call?.. Was it the receivers fault that Tom threw a God -awful pass that got picked?..I suppose it was the receivers fault for the 3 batted balls, and 3 deflected passes Tom threw too huh?..Just like the 2 sacks ( one that husrt his shoulder again ), were their fault as well. I forget Gisele. Where did you play receiver at again?.. I don't remember seeing you on any high school, college, NFL, (or even the Lingerie Womens football league) team."
- Raysrock070
Ed.'s note -- Honestly, Gisele in the Lingerie Football League sounds amazing. I think it would be great if Brady and other NFL players were coaches. The Hard Knocks show would be incredible as well.
"Just saw this on the wire under NFL transactions: NEW ENGLAND -- Hired Gisele Bundchen as receivers coach."
- pacerpride35
Ed.'s note -- Hmm. This puts my women's football league plans on hold, I had already started planning OTAs!
From
Coughlin wants to keep going
:
''To better their chances of a repeat, Giants owner
John Mara
announces Tom Coughlin is on the hot seat again.''
- ChrisTophW726
Ed.'s note -- Makes sense.
From our
Facebook page
:
"Imagine..
Eli
wasn't even picked as one of the top 100 players at the beginning of the season.. That's ok.. I'm sure he prefers the rings.."

- Robert Leal
Ed.'s note -- It's really incredible how underrated Eli was. He had to make the argument that he was elite and people laughed. Well, Eli is laughing in his Corvette while admiring those two pretty rings on his fingers. What a season!
We'll run FanSpeak in this space on a regular basis, so keep commenting and make your voices heard! (Hey, at least now you know we're paying attention.)
February, 1, 2012
2/01/12
10:48
AM ET
By
Greg Newman
| ESPNNewYork.com
A quick riff on the hottest topic on ESPNNewYork.com: The New York Football Giants going the the Super Bowl.
From this
Ian O'Connor column about Eli's toughness
:
"In the early stages of his career many questioned whether he was the right guy for New York because he was not fiery or animated enough. His temperament serves him and the Giants well, because he does not let emotion control his play, he remains focus even after all the critics take shots at him."
- giantsattack56
Ed.'s note -- I like his temperament as well. When a leader is really fired up and vocal it can affect the entire team negatively, Eli really leads by example.
"just another day at the office for Easy-E is all"
- cusp24
Ed.'s note -- Please don't refer to Eli as "Easy-E," we already have one and I just can't don't want to imagine Eli Manning rapping.
From
Confident Giants arrive in Indy
:
"Chad Ochocinco gave his team mates noise canceling headphones, so they do not have to hear the Giants celebration after the game."
- EricSchlecht
Ed.'s note -- That was very nice of him.
"Breaking news - Ochocinco is changing his name for this one game to Cero Uno.
Cero for the number of catches he will have.
Uno for the number of plays he will be on the field"
- obl1
Ed.'s note -- I think he will be on the field more than that. He could let Tiquan Underwood (a Rutgers guy born in New Brunswick) have the name Uno Cero though.
"It's a done deal. No cameras for the cheaters. Didn't beat a single good team during the regular season. Belicheat resorting to transparently fake Gronkowski injury news.
"The Pats are laughable this year. Expect a blowout. And then expect the excuses from the Pats fans.
"Your Sox mailed it in, get ready for your Pats to FedEx it in"
- Dr. Martin van Nostran
Ed.'s note -- The doctor has spoken.
We'll run FanSpeak on a regular basis, so keep commenting and make your voices heard! (Hey, at least now you know we're paying attention.)
January, 25, 2012
1/25/12
11:22
AM ET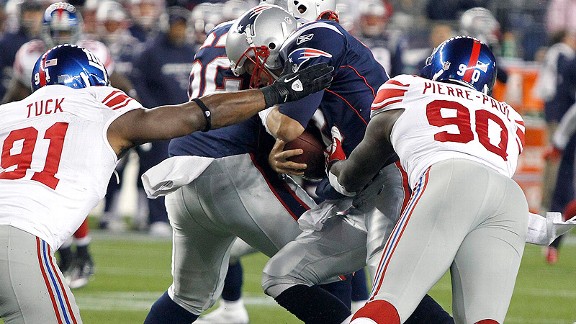 William Perlman/The Star-Ledger/US PresswireGetting pressure on Tom Brady will be important for the Giants' defense.
EAST RUTHERFORD, N.J. -- Every step
Tom Brady
takes now brings a new accolade. The
New England Patriots
quarterback is making a case as the best ever to play the game. When he faces the
New York Giants
on Feb. 5 in Indianapolis, it'll be his fifth appearance as a Super Bowl quarterback, tying
John Elway
for the most ever. If he wins, it'll be his fourth Super Bowl title, tying Terry Bradshaw and
Joe Montana
for the most ever. Those are Mount Rushmore quarterbacks, and the presence of Brady's name among them marks him as not just great but all-time great. If the Giants were intimidated, it'd be hard to blame them.
But they aren't, of course, and the main reason is their first-hand knowledge that Brady is beatable. They know this because they have done the beating. They beat him four years ago in Super Bowl XLII, when Brady and his Patriots were 18-0 and hadn't looked beatable all year. They beat him in Week 9 of this season, up in Foxborough, where no other team has beaten him in the regular season since 2006. Brady and the Patriots have won 10 games in a row since that one, which makes you wonder if the Giants have some sort of secret formula.
They say they do not.
"Every time you play against Tom, you have to go to the drawing board," Giants defensive end
Justin Tuck
said Tuesday. "He's definitely going to look at what we had success against him with the first time and come out with something to beat that. You have to do something different."
Perhaps. But there are certain basic elements of what the Giants do that have caused Brady problems in those two most recent meetings. In Super Bowl XLII, the Giants sacked Brady five times. Only once in his career has he been sacked more. In this year's Week 9 game, they got just two sacks, but the pressure they put on him led to two interceptions and a fumble. The Giants rely on their four down linemen to generate their pass rush, and Brady was a little bit less effective this year against defenses that dropped at least seven men into coverage. He averaged 8.1 yards per attempt in such situations as opposed to 9.9 when defenses rushed at least five.
Little of that matters, though, once the defense gets on the field and finds itself tasked with actually stopping Brady.
"He's tough, man," Giants safety
Antrel Rolle
said. "When I'm in zone coverage, I can just see him scanning the field and I'm like, 'Dang!' The way he scans the field, he's so good at it and so quick, it kind of stuns you for a second. He's an exceptional quarterback, man, and he gets all of the credit he deserves and then some."
But the Giants' healthy respect for Brady's abilities is part of the reason they've had success against him. Rather than relax and get comfortable in the knowledge that they've beaten him before, they remember how difficult it was, and their resolve and concentration intensify.
"We're going to have to have a few game plans in, and it's going to be a chess match," Tuck said. "I think every quarter, we'll have to throw something at him that he hasn't seen, or something we hope he hasn't seen from us, just to try to slow down his reads. Because if he gets a sense of what you want to do to him before he snaps the ball, it's pretty much impossible to stop him."
In the end, though, the Giants know it's not. And as they prepare to face Brady and the Patriots in the Super Bowl, that's one of their psychological advantages. They know he's great, and they know what he can do to a defense when he's on his game. But they also know that they have the ability to get him off of his game.
"He thrives on mismatches, and I think we match up well with them," Tuck said. "The people we have in our secondary, we have safeties that play like corners. They're going to do some things that we may not be ready for at the beginning of the game, and hopefully we'll be able to make those adjustments and keep them kind of stopped on offense."
Humble enough to know that "kind of stopped" is the best they can do against Brady, the Giants take comfort in knowing they can pull it off. They've done it in the Super Bowl. They've done it at his home stadium. If they've done it before, they can do it again. And when you're playing Tom Brady at this time of the year, the knowledge that it's even possible to beat him is no small thing.
November, 6, 2011
11/06/11
8:49
PM ET
FOXBOROUGH, Mass. –- The New York Giants and New England Patriots got together for their first meaningful game since Super Bowl XLII and it was another classic. And
Eli Manning
got the better of
Tom Brady
again.


What it means:
The Giants opened a brutal six-game stretch of their schedule by playing their best game of the season. The Giants allowed Brady to find
Rob Gronkowski
for a touchdown on a fourth-and-9 from the Giants' 14 to push the Patriots up 20-17. But Manning drove the Giants down for the game-winning touchdown with 15 seconds remaining, hitting
Jake Ballard
on a 1-yard touchdown pass, a score that was helped by a pass interference call against New England on
Victor Cruz
at the Patriots' 1.
Fantastic Finish:
The Giants have lived dangerously this season, so it was no surprised that their sixth straight game went down to the fourth quarter.
Down 13-10, Manning drove the Giants down for a go-ahead touchdown when he hit
Mario Manningham
on a 10-yard touchdown pass in the left corner of the end zone with 3:03 left. Manningham also drew a key pass interference on the drive for a gain of 35 yards.
But Brady marched the Patriots right down to the Giants' 14-yard-line and, on fourth down, he hit Gronkowski for a touchdown on
Michael Boley
with 1:36 left to push the Patriots up 20-17. Gronkowski gave Boley a slight shove to get free, but there was no flag.
But Manning did it again to the Patriots.
Terrible Tom:
The Giants' defense, which has had difficulties this season against the run and no huddle, managed to get the better of Brady for 2½ quarters. Brady threw two interceptions and was hit as he was attempting a pass, resulting in a fumble that set up a
Brandon Jacobs
' touchdown in the third quarter. That put the Giants up 10-3.
The Giants did a good job of disguising their defense, changing things up and switching defenders on receivers. But it didn't last as Brady started getting comfortable near the end of the third quarter and led the Patriots to 10 unanswered points early in the fourth.
Costly mistakes:
With a second-and-goal at the Patriots' 2-yard-line, the Giants were called for a delay of game. Two plays later on a third-and-5 at the Patriots' 5-yard-line, a backpedaling Manning lofted a ball to the back left corner of the end zone that was intercepted by
Kyle Arrington
. Instead of getting at least a field goal to add to a 10-3 lead, the Giants gave the Pats the ball.
Defensive battle:
The Giants and Patriots played to the first scoreless half in the NFL this season. While the Giants' defense played well, Brady didn't look comfortable. Part of it was due to the Giants' pass rush and
Perry Fewell
moving defenders around to give him different looks. But Brady also missed a wide open
Aaron Hernandez
in the end zone and the usually reliable
Stephen Gostkowski
missed a 27-yard field goal just before the end of the half.
The Giants were able to keep New England from hitting on big plays and they switched defenders on Brady's receivers often. Both teams combined to go 3-for-14 on third downs in the first half.
What's next:
The Giants' torturous schedule continues as they travel to San Francisco, where the 49ers are no longer a treat to face. The Niners are 7-1 under
Jim Harbaugh
, and
Frank Gore
will be difficult for the Giants to stop.
November, 6, 2011
11/06/11
6:57
PM ET
Here at Gillette Stadium in Foxborough, both the Giants and the Patriots have yet to get on the scoreboard -- the first scoreless game going into the half this season in the NFL.
Rarely does a punter get the spotlight, but Steve Weatherford's first half gave the Giants solid field position in a half without a lot of red zone action. In the first half alone, Weatherford had six punts inside the 20 and only one was returned back to the 20.
The Patriots' offense stalled, but the Giants didn't fare much better. Brandon Jacobs was effective, with 31 yards on eight carries and 20 yards on three receptions, leading the Giants in both categories. BenJarvus Green-Ellis had 36 yards on seven carries for New England.
Without a lot of scoring, the highlight for the Patriots might be bringing Jake Ballard to a dead stop after an 8-yard reception when Patriots linebacker Brandon Spikes drilled him. Given New England's woes on defense this season, it might have been the tackle of the year.
The Giants' highlight would likely be Jason Pierre-Paul's sack for a loss of 4 yards. Pierre-Paul missed Tom Brady on the first try, but spring back to get him.
The Giants' offensive line had two holding calls in the first half, one on Kareem McKenzie and the other on David Diehl. Center Kevin Boothe, starting for the injured David Baas, had an ugly snap that turned into a fumble for a loss of 8 yards.
Neither team got to the red zone until, with 55 seconds left in the second quarter, a 15-yard pass to Rob Gronkowski brought up first and 10 for the Patriots at the Giants' 11 yard line. However, Brady threw two incomplete passes and a Danny Woodhead run gained just 3 yards, leaving the Patriots to try a field goal.
Stephen Gostkowski's kick sailed wide left, leaving the game scoreless at the half.
November, 2, 2011
11/02/11
6:56
PM ET
For two guys who fought over a Super Bowl not long ago, Bill Belichick and Tom Coughlin are pretty tight.

Belichick, famous for his terse answers in press conferences, was highly complimentary of Coughlin during a chat with reporters on Wednesday.

"I will always have respect for Tom. He works hard and is a tough ... guy who puts a lot of time in," Belichick said. "I know his teams are well prepared, I know he is very thorough and demands a lot from his players and his team. I have a lot of respect for that. We try to do the same thing."

Belichick and Coughlin were on the Giants coaching staff under Bill Parcells from 1988-1990.

Belichick was the defensive coordinator in 1988 and was the coordinator and secondary coach from 1989-1990. Coughlin coached the receivers during that time.

"Tom and I had a good relationship there because we worked against each other every day in one-on-one, seven-on-seven and different passing drills. He talked a lot about how the receivers would attack different coverages with different techniques and we talked about different receivers," Belichick said. "I learned a lot during those years."

Belichick used that knowledge during his first NFL head-coaching stint with the Browns and, later, with the Patriots. Their relationship remains strong today. They catch up during the owners meetings, but usually steer clear of discussing football because, as Belichick points out, "they are the competition."

"We have gone our separate ways but we have stayed in touch," said Belichick, whose Patriots were upset by Coughlin's Giants in Super Bowl XLII. "I always admired what Tom has done, whether it was at BC, Jacksonville or with the Giants. He is a good football coach, good person and good man. He treats people fairly, he is honest and he is tough. I respect all those things."

September, 1, 2011
9/01/11
10:34
PM ET
Recap
|
Box score
|
Photos
WHAT IT MEANS:
The preseason is finally over and now the New York Giants (2-2) can start preparing for the season opener against the Washington Redskins on Sept. 11. First, they have to cut their roster down to 53 players by Saturday.
This preseason finale was basically a final audition for many of the backups trying to make the squad. The Giants rested almost all of their starters Thursday night and the second team got experience working against
Tom Brady
and the Patriots' starters.
The Giants' special teams remains a work in progress and health also continues to be an issue, as backup linebacker
Clint Sintim
became the latest defender to go down with an injury.
ANOTHER GIANT INJURY:
Sintim had to be carted off the field with a season-ending ruptured patellar tendon in his right knee. The Giants also say it is likely that Sintim tore his surgically-repaired right ACL as well.
Sintim was making his way back from a torn ACL suffered last December. He was slated to back up
Mathias Kiwanuka
this season. Kiwanuka hopes to be ready for the season opener against the Redskins despite a mild groin injury.
MAKING THE CUT:
There were several players trying to make the team on Thursday night. Sintim's injury opens up a spot for one of the several young linebackers.
Second-team linebacker
Phillip Dillard
got a chance to play against Brady. Sixth-round pick
Greg Jones
, who has done well in camp and contributes on special teams, had a sack and should have had a fumble recovery but watched the ball squirt out from underneath him. Still, Jones likely will make the team.
Spencer Paysinger
, an undrafted rookie from Oregon, has moved up to the second team.
Former Boston College star
Mark Herzlich
got a good amount of work on Thursday. He's hoping to make the squad as a backup linebacker and a starter on special teams. Same goes for sixth-round pick
Jacquian Williams
, who was credited with three sacks. There's also
Adrian Tracy
, who can play defensive end.
It will be a long Friday and Saturday for some of these linebackers with potential.
SPEED KILLS:
One rookie who may have secured a roster spot on Thursday is seventh-round pick
Da'Rel Scott
, who hasn't received a ton of work in the preseason but has shown home-run speed.
The Giants scored their first touchdown against the Patriots with trickery, faking a punt and giving a direct snap to Scott, who blazed his way for a 65-yard touchdown run early in the fourth. No Patriot came within a mile of Scott, who also had a 97-yard touchdown run against the Bears. The Giants also have tried getting Scott in space with short passes.
The Giants already have
Ahmad Bradshaw, Brandon Jacobs
and
D.J. Ware
at running back.
Andre Brown
, who is fighting for a spot as well, had 68 yards on 21 carries against New England. Scott finished with 114 yards on 12 carries.
JERNIGAN'S JOURNEY:
Third-round pick
Jerrel Jernigan
has been having a
Matt Dodge
-like rookie season so far. After muffing three punts and fumbling another against the Jets on Monday, Jernigan muffed another one right into the hands of
Gary Guyton
, who ran it into the end zone. But the Patriots were flagged for illegal formation, nullifying the play.
On the ensuing punt, Jernigan bobbled the catch before securing it and being tackled.
Tom Coughlin
admitted that he hasn't used
Domenik Hixon
as his punt returner in hopes of keeping the veteran healthy. Hixon, who started against New England, is making his way back from a torn ACL last summer.
Jernigan did display his potential when he made an impressive catch in the back of the end zone on a two-point conversion that put the Giants up 18-17 in the fourth quarter. And he later had a nifty 15-yard punt return as well.
MORE SPECIAL INCONSISTENCY:
Kicker
Rhys Lloyd
has a shown a big leg but he missed two of three field goals. He made one from 48 yards out but his misses came from 48 and 49 yards out.
Lawrence Tynes
remains out with a quad injury suffered in the preseason opener.
WHAT'S NEXT:
The Giants have to cut their roster to 80 on Friday before slashing it to 53 on Saturday. After the weekend, the Giants begin preparing for the Redskins and the season opener on Sept. 11.