New York Giants:

Opposing view
December, 19, 2012
12/19/12
8:00
PM ET
EAST RUTHERFORD, N.J. --
Baltimore Ravens
coach Jim Harbaugh had very little to say about his injured players, namely
Ray Lewis
.
"Nothing has changed with Ray," Harbaugh said on a conference call with reporters.
According to the Baltimore Sun, Lewis worked on Wednesday and could be activated off the injured reserve with a designation to return against the Giants. Lewis, who has been sidelined with a torn right triceps, has been practicing for the past couple of weeks.
[+] Enlarge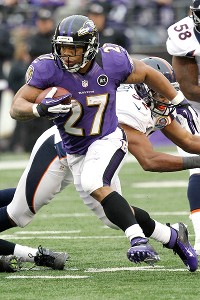 Mitch Stringer/USA TODAY SportsRunning back Ray Rice had 1,621 yards from scrimmage last year.
"I haven't thought about that," Harbaugh said of Lewis playing this weekend. "I'm just thinking about getting our team ready for the Giants right now and being the best we can be. Obviously, Ray is preparing, he's been preparing for the last couple weeks. We'll just have to see."
One Ray who will definitely be on the field is running back
Ray Rice
. The former Rutgers standout said he sees the defending champions when he looks at the Giants, and not a team that just got waxed 34-0 by the Falcons.
"First off, you see a very physical bunch," Rice said. "Obviously, they have premier pass-rushers, they have smart linebackers and they have physical safeties. I mean, when that team puts it all together, there's a reason as to why they're Super Bowl champs. You don't just become the Super Bowl champs by surprise or by accident. That's a really good football team over there."
Rice's carries have been a topic surrounding the Ravens, who recently fired offensive coordinator Cam Cameron and replaced him with former Colts coach Jim Caldwell. Rice only had 12 carries for 38 yards and three catches in a 34-17 loss to Denver last week under Caldwell as offensive coordinator.
"Looking at how we played, I know I get my touches when we're executing on third down," Rice said. "Obviously last week, we played against a great defense. I try to make the best of my touches, but we didn't execute well. That's something that we have to do better."
While the Giants need to win out to make the playoffs, the Ravens have already clinched a playoff spot. But Baltimore (9-5) is looking to halt a three-game skid.
"There's definitely a lot of urgency," Rice said. "We lost three in a row. That's the most I've lost since I've been a Raven. Obviously, there's got to be urgency for us to go out there and play a great game of football."
December, 5, 2012
12/05/12
7:30
PM ET
EAST RUTHERFORD, N.J. -- The Saints have one of the most explosive aerial attacks in the NFL this year, as usual. Through 12 games, New Orleans is ranked third in the NFL in passing yards, averaging 294.2 per game.
And yet, this has not been a good season for quarterback
Drew Brees
.
[+] Enlarge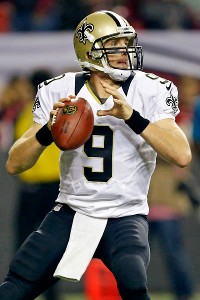 Josh D. Weiss/USA TODAY SportsDrew Brees
Yes, he leads in the NFL in touchdown passes, with 31. But he's also tied for the league lead in interceptions, with 16.
That's why nine quarterbacks are ranked ahead of him in passer rating -- including rookies
Robert Griffin III
and
Russell Wilson
.
And, Brees is coming off his worst performance of the year. In a 23-13 loss in Atlanta last Thursday, Brees threw a career-high five picks and had his NFL-record streak of consecutive games with a touchdown pass snapped at 54.
"I would say that was disappointing for me, very uncharacteristic of me and not what I'm used to," Brees said Wednesday on a conference call with New York reporters. "Mom always said there would be days like that. You're going to have a rough day and, unfortunately, it was the timing of it all at this point in the season and against a divisional opponent on the road, you kind of scratch your head."
At 5-7, the Saints' playoff chances are slim, at best. But Brees sounded eager to get back on the field Sunday against the Giants.
"I went back and I analyzed that film, and everything that happened is correctable and I can fix and I've been doing everything in my power to get that done," Brees said. "I also know this: I'm not losing any confidence. You've got to have a lot of trust and a lot of confidence to play this position, and I believe in myself and I believe in this team, in this offense and our ability to make plays and to score points."
Brees has had some big games against Big Blue. Last season, he threw for 363 yards, with four touchdowns and no interceptions, in a 49-24 Saints victory in New Orleans. In 2009, he threw for 369 yards, again with four touchdowns and no interceptions, in a 48-27 win, also at the Superdome.
But Brees knows the Giants' defense is dangerous. Big Blue is currently second in the NFL in takeaways with 30, behind only the Bears (34).
"They've got an extremely talented group of players," Brees said. "They do a great job getting pressure on the quarterback with a four-man rush. They've got a plethora of great pass rushers. Their front four has done a phenomenal job at that; always has. That's been their reputation and they live up to that."
December, 5, 2012
12/05/12
6:49
PM ET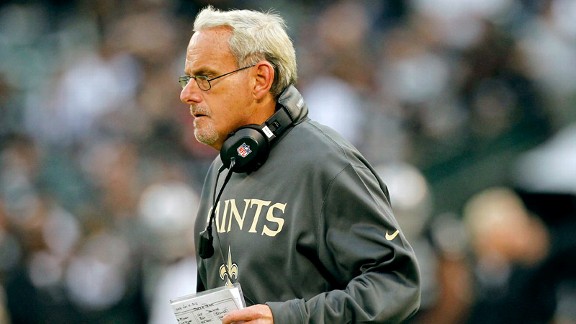 Cary Edmondson/USA TODAY SportsJoe Vitt's Saints meet the Giants on Sunday, and the coach had nothing but kind words for Big Blue.
EAST RUTHERFORD, N.J. -- The way Joe Vitt talked about the Giants on Wednesday, you'd think Big Blue was practically unbeatable -- not a team that's lost three of its past four games.
Vitt on Tom Coughlin: "Obviously after last year's Super Bowl, I think he secured his place in the Hall of Fame."
Vitt on
Eli Manning
: "I don't know of a quarterback in the National Football League right now that's really as accurate as he is."
Vitt on the Giants' pass rush: "I think they're about the most consistent pass rush over the long haul over the last four or five years."
But the Saints are also struggling -- 5-7 overall, and coming off back-to-back losses to the 49ers and Falcons, which put their postseason hopes in serious jeopardy.
(If the playoffs began today, the Seahawks would get the last NFL wild card spot, at 7-5. And there are five other teams ahead of the Saints, too. The Redskins, Cowboys, Buccaneers and Vikings are all 6-6, while the Rams are 5-6-1.)
Vitt did not want to talk about the playoffs, or potentially playing a spoiler role against the Giants, in a conference call with New York reporters. "We're looking to win a football game," Vitt said. "No more, no less."
It's been a very different year for Vitt. The Saints' linebackers coach was thrust into the role of head coach when Sean Payton was suspended for the entire season by the NFL, in the wake of the bounty scandal.
Vitt had to serve a six-game suspension himself, but has been in charge for New Orleans' past six games.
"It's been difficult. It's been very difficult," Vitt said. "Number one, (Sean's) my friend, first. Number two, he's my head coach, second. Nothing has taken the place of my relationship with him. It's like a giant hole in my chest. I think we both kind of look at the calendar and see that there's four weeks left in the regular season, and he's due to come back here at the conclusion of the playoffs, but it's been extremely difficult. I can't even imagine what he's going through."
Everyone knows about the Saints' prolific offense, led by quarterback
Drew Brees
. But the Saints' defense is ranked dead last in the NFL, having given up 5,286 total yards through 12 games.
The Saints' defensive coordinator is the Giants' former D-coordinator Steve Spagnuolo, in his first year with the team after losing his job as head coach of the Rams.
But Coughlin, Spagnuolo's former boss, was quick to point out in his Wednesday news conference that the Saints gave up just 283 total yards in last week's loss to the Falcons. And Vitt sounded optimistic about his defense, too.
"Last week was probably one of our best defensive performances of the year," Vitt said. "Spags has done a great job of keeping this team together. Spags has done a great job of keeping the morale of our defense at a high level. He's done an outstanding job of being patient teaching this defense and I think it's starting to show now."
November, 28, 2012
11/28/12
3:34
PM ET
Mike Shanahan isn't sure what to expect on Monday night when
Robert Griffin
III faces the
New York Giants
again.
This is the first time the rookie quarterback has faced an opponent for a second time in a season.
"I think it's a big challenge for any rookie quarterback to play in this league, especially going against a division opponent the second time, when they kind of get a feel for him, and the football team," Shanahan said in a conference call with New York/New Jersey reporters. "It's a big challenge."
"The Giants are very sound in what they do," Shanahan added. "They make adjustments very quickly. They're very sound, very talented. They have the ability to do a number of things, so you're really not sure until you play what direction they're going to go."
Shanahan admits this rematch is like a last stand for the Redskins. At 5-6, the Redskins have to beat the Giants (7-4) to keep hopes of winning the division alive.
"We put ourselves in a situation, starting off 3-6," Shanahan said. "We knew each game was a pivotal game, games you had to have. This game is no different."
It was only a few weeks ago that Shanahan made it sound as if the Redskins were in evaluation mode for the future.
"Now you're playing to see who obviously is going to be on your football team for years to come," Shanahan said earlier this month according to The Washington Post. "Now we get a chance to evaluate players and see where we're at.
"Obviously, we're not out of it statistically, but now we find out what type of character we've got and how guys keep on fighting through the rest of the season."
When asked about that comment and how the Redskins can be right back in the race if they beat the Giants, Shanahan clarified his statement.
"First of all, if you know me, I don't care if we're 1-14, we're going to play that last game and play the best players," he said on the conference call. "What I meant by it is that when you are down, you've got to have your football team play your best football. I think we had 46 guys on our team and 26 of those guys have been with me for one or two years. We've got 20 guys who will find out how they play their best football in the second half of the season."
One guy he does not want to see on Monday night is
Ryan Torain
, his former running back. The Giants signed Torain as a free agent on Tuesday.
"I'm hoping that he's not doing anything this weekend," Shanahan cracked. "Hopefully, he's sick, he's not playing very well. Ryan Torain is a great young man. He's got excellent running ability.
"I was kind of really surprised that he was on the street as long as he was. I think the one thing he's going to look for, is a guy that can make people miss, a guy that can carry the football and he's a great kid."
October, 24, 2012
10/24/12
7:43
PM ET
EAST RUTHERFORD, N.J. -- As Dallas beat the Giants 24-17 in the opener, linebacker
Sean Lee
and running back
DeMarco Murray
made key plays that helped spark the upset.
Sunday, the Cowboy could be without both of their playmakers. Lee is out for the season with a toe injury, and Murray did not play last week and missed Wednesday's practice with a foot sprain. The indication is that the running back will not be in action against the Giants.
Lee, a top linebacker, had the forced fumble on running back
David Wilson
in Cowboys' territory that sent the rookie to the doghouse for the next few weeks.


"Sean Lee is a great football player. Anybody who watches our team can see that," Cowboys head coach Jason Garrett said on a conference call Wednesday. "He's a heck of a young man who loves to play the game, and plays it really well. He's very good against the run, he's really good against the pass; leader of our defense, makes the calls. Guys gravitate towards him. They gravitate towards him on defense and really throughout our whole football team. It will certainly be a loss."
Murray rushed for 131 yards against the Giants, his best game of the year, and had a 48-yard scamper on a busted play that proved to be a big play in the game.
"We're hopeful it will heal up, but we're certainly taking it slow with him, and like I said, he didn't practice today and we'll just see how he progresses day to day," Garrett said of Murray's foot sprain.
NEED SOME POINTS:
The Cowboys are 10th in total yards per game but tied for 24th when it comes to points. Since scoring 24 in the opener, the Cowboys have topped that just once, against Baltimore two weeks ago, and are averaging 20.5 points per game. Cowboys quarterback
Tony Romo
sees a lack of execution when the team gets near the end zone.
"We've had some passes that we either dropped, or I missed a guy on a throw, or we just didn't block one guy when a guy was open," Romo said. "When you look at it closely, sometimes it's just coming down with the ball. Other times, when you're putting it there, it's just close."
WITTEN ISTOUGH:
Cowboys tight end
Jason Witten
played in the opener against the Giants despite suffering a lacerated spleen a little more than three weeks prior to the game. He had just two catches for 10 yards but seems to be healthier than he was to start the season.
"It was a tremendous effort on his part and I think it showed a lot (about how) committed he is to playing and to his teammates. Our team really responded well," Garrett said. "He really wasn't right in that game or in the next couple weeks and mostly because he hadn't practiced in awhile and was dealing with his injury. Since then, he really seems to be playing like himself. He seems healthy. He's caught a lot of balls the last couple, three weeks. Seems like he's playing the way Jason Witten has played throughout his career."
October, 4, 2012
10/04/12
8:00
AM ET
EAST RUTHERFORD, N.J. --
Cleveland Browns
head coach Pat Shurmur is familiar with the
New York Giants
, even if the Browns don't play the Giants often.
Shurmur spent 10 seasons with the
Philadelphia Eagles
as the team's quarterbacks and tight ends coach between 1999-2008.
Here are some snippets from his conference call with New York/New Jersey reporters on Wednesday:
Q:
After a tough loss against the Eagles last week, what is your overall impression of the Giants and, in particular,
Eli Manning
?


A:
"Ok, thanks for narrowing it down (laughs). Eli, heck, I have a great deal of respect for Eli. When I was in Philly, I was involved in over 20 of these games against the Giants. At any point in the game, Eli can get hot, and he has the confidence to lead his team to victory. I'm sure the guys in the huddle with him know that. You have to play them all the way out, and it's very important that you keep trying to get pressure on him (Manning) because, regardless of the quarterback, that's the best way to disrupt them."
Q:
With
Brandon Weeden
, although he is a rookie, does his age change the "type of rookie" that he is?
A:
"Well he's obviously unique in terms of the rookie status because he's 28-29 years old, but I will say this: There are certain things that although his age has helped him with some of the off the field things that young players deal with, you still have to go through the process of playing; first your opener, then on the road, then at home, before or after a loss, you have to go through the process. I think he's displayed, at least to me, that he's improving. I think now he has to improve and put together a winning performance, much like Eli. I have a great deal of respect for Eli because he's won football games and two championships, so he's found that right combination there in New York."
Q:
Will
Josh Cribbs
play Sunday?
A:
"Yeah, Cribbs, he'll be out there."
Q:
With
Trent Richardson
, what is something you can share with us that most people wouldn't know about him?
A:
"He's extremely tough, he's extremely competitive. I've watched how hard he works. He comes from a winning program so he knows what it takes to win, and he knows how to demand from himself. All the things about process that I just talked about earlier, and I think we've all seen that when he gets the ball in his hands, he can get in the end zone. This league is about scoring points and eliminating scores, and if you have a running back that can get the ball in the end zone, it's a big value."
Q:
Coach Coughlin started his press conference this morning by saying, "Don't be misled by the Browns' (0-4) record." Do you remind your players of that as well?
A:
"I'm pretty much a, 'you are what you are' type guy. I understand what our record is. I understand what this team has and the character that we have. We're going to continue to keep fighting. What's important is that we amp up our effort even more, and each guy feel the pressure to make one or two plays better than the week before. That's the message here. There's no moral victories in finishing close. I make sure our players are reminded of that as well."