New York Giants:

pete carroll
November, 10, 2014
11/10/14
8:00
AM ET
SEATTLE -- The
New York Giants
are 3-6, which is the same record they had at this point last season, and if you're a Giants fan you're not real happy about much of anything right now.
But whether you like it or not, this year for the Giants is about showing progress in their new offense, and rookie wide receiver
Odell Beckham Jr.
is showing quite a lot. Beckham caught seven of the nine balls that were thrown his way Sunday for a total of 108 yards. He couldn't come down with a miracle catch in the end zone on a play that ended up being a costly interception in a 38-17 loss, but he impressed his opponent quite a bit.
[+] Enlarge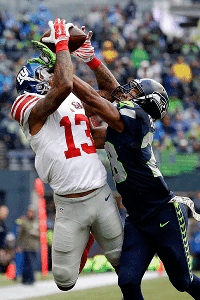 AP Photo/Elaine ThompsonOdell Beckham Jr. caught seven passes and the Seahawks' attention on Sunday.
"I thought Beckham was really good," Seahawks coach Pete Carroll said. "He really came out of there and was the big factor early on. I thought he showed that he was a really good football player today. They've got a great one in that kid."
The Seahawks clearly saw something on tape that impressed them about Beckham. They don't usually move their cornerbacks around, but they did switch up top corner
Richard Sherman
a few times to get him on Beckham. Beckham beat Sherman for a long one in the first half (with the help of a perfect throw by
Eli Manning
), but the Seahawks made some coverage adjustments in the second half to slow him down a bit.
Regardless, Beckham looks like a rising star in the Giants' offense and a player on whom Manning believes he can rely.
"He's doing some good things," Manning said. "He made some big plays for us, had a couple of third-down conversions, finding holes in the defense. He's definitely doing some good things."
For his part, Beckham seemed to enjoy the challenge of competing against Sherman, who complimented him after the game and let Beckham have his jersey as a souvenir.
"When you go up against a great defense like that, you can't just sit back and not try to attack," Beckham said. "You have to go at them. I think we did a great job of that tonight, we just didn't execute as well in the second half."
For a rookie who missed all of training camp and the first four weeks of the season with a hamstring injury, Beckham is at least meeting expectations if not exceeding them on a weekly basis. If you're a Giants fan looking for something to feel good about over the final months of this season, Beckham is where you should look.
January, 28, 2014
1/28/14
10:00
AM ET
We surveyed 10 players from each NFL team and granted them complete anonymity to get their opinions on a variety of questions. We are rolling out the results of that survey piece-by-piece. Today we present the answer to the question:

Which head coach would you most like to play for?

The rules were that it had to be a current NFL head coach and that it could not be your own. The winner, with 72 votes (22.5 percent of the total) was Seahawks coach Pete Carroll. A distant second was Pittsburgh's Mike Tomlin, with 44 votes (13.8 percent). Others who cracked double digits included the Broncos' John Fox (25), the Jets' Rex Ryan (23), the Patriots' Bill Belichick (22), the Chiefs' Andy Reid (22), the Saints' Sean Payton (21), the 49ers' Jim Harbaugh (16) and the Ravens' John Harbaugh (10).

The Giants' Tom Coughlin got three votes. I expect it would have been more if the survey had been conducted a year earlier, when he was (as John Harbaugh was at the time of this survey) a defending Super Bowl champion. But I'm not sure. The Giants are a fairly insular organization. And while Giants players love and respect Coughlin, I'm not sure that reputation translates league-wide. While he's clearly mellowed as his career has gone along, he still appears from the outside to be a tough, demanding, old-school coach. And you can see that most of the coaches who got the big votes in this one do not fit that description.
December, 12, 2013
12/12/13
8:00
AM ET
Your daily morning check-in on news and notes about and of interest to the New York Giants
The news of the day:
Will the Giants be ready for the Seahawks when the best team in the NFC comes to MetLife Stadium on Sunday? Justin Tuck thinks so, because they don't want to be embarrassed, and the Seahawks are the
kind of team that can embarrass you
if you're not careful. This is part of the reason the Giants have
no plans
to audition younger players to evaluate them for the future at the expense of players they feel offer them the best chance to win.
Behind enemy lines:
Seahawks coach Pete Carroll said Sunday's 19-17 loss to the 49ers in San Francisco has
renewed his team's focus
. It came after Seattle had won seven in a row, and Carroll said because it was a close loss to a division rival it helps him drive home a point about the importance of doing the little things.
Around the division:
Wednesday was a bizarre day even by Redskins' standards, as Mike Shanahan announced that Robert Griffin III would be benched for the final three games of the regular season and replaced as starting quarterback by Kirk Cousins. All three men spoke to the media, and
it was something
.
Around the league:
My weekly plug for
my MVP Watch column
, if you'd care to read it. This week's is set to some holiday music. I hope you enjoy.
December, 11, 2013
12/11/13
8:00
AM ET
Your daily morning check-in on news and notes about and of interest to the New York Giants
Pierre-Paul
The news of the day
: The Giants get back to work today to prepare for Sunday's game against the NFC-leading Seahawks, which will obviously be as tough a game as they've played all year. This is the first week the Giants' preparations don't come with at least some shred of mathematical hope for the postseason, and that's an unusual position for this group to find itself in at this time of the year. So I think we're all at least a little bit interested to see how they handle that. I expect they'll be professionals and conduct their business the way they always do, but I guess you never know. Also interested to see whether
Jason Pierre-Paul
can practice this week or think about playing Sunday, or if we'll learn this week that he's out for the rest of the year. I'll be there to monitor it all for you guys, because that's the kind of dude I am. And because it's my job. But mainly because I care.
Behind enemy lines:
Even as the Seahawks have rolled through a remarkably successful season, coach Pete Carroll has consistently said they've committed too many costly penalties. This past week was
no exception
.
Around the division:
The Cowboys can't seem to get their defense right, regardless of who they hire to run it, and
Todd Archer thinks
part of the season is that Jerry Jones doesn't seem to be able to decide what he wants and stick with it. Dallas still controls its own destiny in terms of the division race, but it's going to need to play well the next two weeks if it wants that Week 17 game against the Eagles to mean something. The Eagles are obviously rolling.
Around the league:
Did you miss this week's
Power Rankings
? The Giants are back down to No. 23. This week's opponent remains No. 1. And there's a video with me and Mike and Jamison if you want to watch, which would be nice, but no pressure or anything.