New York Giants:

Philip Rivers
March, 10, 2014
Mar 10
9:30
AM ET

Nicks
New York Giants
wide receiver
Hakeem Nicks
got some bad advice somewhere along the way in 2013. The manner in which he carried himself and handled his business during the Giants' disappointing season -- as a man more concerned about keeping himself healthy than about helping the team win -- seems to have been generated by the people who were representing him at the time. His act turned off Giants coaches, and when free agency opens at 4 p.m. ET on Tuesday, Nicks is likely to be heading elsewhere.
Nicks has since switched agents, and the advice he's getting now appears to be pretty good. His new agents circulated letters to teams over the weekend in which doctors assert Nicks is medically fine and that past leg injuries should not hamper him in the future, according to our man Chris Mortensen. And then on Sunday, Nicks
spoke with our Josina Anderson
and said he was looking forward to signing a long-term deal with a team for whom he could be the "missing link."
"I know if I went to a place like Indianapolis, I would be dangerous with a quarterback like Andrew Luck," Nicks said. "I can see myself catching passes from Cam Newton or even Philip Rivers."
Now, if you're a Giants fan, you're 100 percent justified in wondering why Nicks didn't feel up to performing like the "missing link" for
Eli Manning
on a struggling Giants offense in 2013. If he was looking for opportunities to show he could be a difference-making No. 1 wide receiver, the Giants this past year offered him several. But he sleepwalked through the season because health was the most important thing.
Which is fine. Health is a precious asset for these players. The NFL is tough, and you have to make sure you get your money when you can get it. I'm just saying that the Giants and their fans have every right to roll their eyes at this latest statement from a guy who does not appear to have given his all in his final season with the team.
However, as for the future, I think Nicks is doing very well for himself in this pre-free agency period. The teams he lists all could certainly use him, and now he's got fan bases and front offices in those cities imagining him as the difference-maker at wide receiver that could put them over the top. All three of those teams made the playoffs in 2013 in spite of deficiencies at wide receiver, and all three likely are looking for upgrades at the position for 2014 and beyond.
As I have believed all along, Nicks is going to get a long-term deal from some receiver-needy team, and I also think (assuming he really is healthy) that he'll perform well for his new team. But while it's important to remember that he did perform brilliantly in 2011 and help them win a Super Bowl, the fact that the Giants aren't likely to be that team is something that will annoy Giants fans for a long time to come.
December, 9, 2013
12/09/13
10:00
AM ET
SAN DIEGO --
New York Giants
quarterback
Eli Manning
said he didn't realize running back
Andre Brown
had fumbled on his second-down carry with 2:35 left in the first half, so he didn't race to the line to try to get a play off before the Chargers could challenge that Brown had. Having better information sooner, the Chargers called timeout, challenged the play and won, so they got the ball at the Giants' 39-yard line. San Diego led 17-0 at that point, but the Giants were moving the ball and believed they could get in position to cut down the lead before halftime. Instead, the Chargers covered those 39 yards in five plays to take a 24-0 lead into the halftime locker room.
Running back
Danny Woodhead
ran for 4 yards on the first play, then
Philip Rivers
hit tight end
Antonio Gates
for a 23-yard gain that moved the ball to the Giants' 2-yard line. A false start moved them back to the 7, and
Ryan Mathews
picked up 1 yard on first down. San Diego called a timeout with 24 seconds to go in the half.
On the next play, Woodhead ran a route. Defensive end
Justin Tuck
, in coverage, bumped him as he came across the line, then broke inside, presumably to cover the run. The problem was, cornerback
Trumaine McBride
also broke inside, and Woodhead was able to run, uncovered, into the end zone, where Rivers found him for a 6-yard touchdown pass. That made the score 24-0 in favor of the Chargers -- a nearly insurmountable lead, as the Giants have only exceeded 24 points in two of their 13 games this season.
December, 9, 2013
12/09/13
8:00
AM ET
SAN DIEGO -- An examination of four hot issues from the
New York Giants
'
37-14 loss
to the
San Diego Chargers
.
[+] Enlarge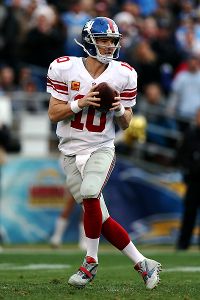 Jeff Gross/Getty ImagesEli Manning threw two more interceptions, bringing him closer to a new career high.
Penalties a killer:
The Giants were flagged for seven penalties for 72 yards. The worst may have been
Charles James
' offside penalty that gave
Nick Novak
a second chance at a field goal (he missed from 41 yards but then made it from 36), but that was just one of four offside calls against the Giants. "There's no excuse for that," Giants coach Tom Coughlin said. "Watch the ball. That's what you do all day long. If you watch us practice, we put a ball on the end of a stick, and the player doesn't move until the ball moves. There's absolutely no excuse for jumping offsides." It's easy to use a word like "undisciplined" to describe a team that gets called for too many penalties, but I think sometimes a team that feels overmatched can start jumping early in an effort to tilt the advantage back in its favor. The Giants have certainly felt overmatched at times this season, and Sunday was a strong example of such a game.
Chargers run wild:
The Chargers rushed for 144 yards on 40 carries.
Ryan Mathews
had 103 yards and
Danny Woodhead
added 42.
Justin Tuck
grumbled that the total had more to do with San Diego's number of rushing attempts than anything special they did against the Giants' defense. But the 144 was the second-highest single-game rushing yardage total against the Giants this season (Carolina had 194 in Week 3), and Mathews found holes all day. The Chargers ended up possessing the ball for 36:56, which was the second-highest time-of-possession total against the Giants this season, just behind Dallas' 37:10 in the opener.
Third-down woes:
The Chargers entered the game with a third-down conversion rate of 46.4 percent, which was second-best in the league to Denver, and they improved it, going 10-for-15 on third down Sunday. The Giants have struggled with third-down defense all season, and rank in the bottom third of the league in that department. But this was especially bad. Chargers quarterback
Philip Rivers
was 7-for-10 for 128 yards and two touchdowns on third down, and that was another huge reason for the time-of-possession edge.
Eli's rough year rolls on:
Hakeem Nicks
was able to make some plays down the field for a change, and ended up with 135 yards on five catches. But quarterback
Eli Manning
struggled again, missing some key throws and once again unable to get the offense into a rhythm. The Giants struggled to protect him early in the game, and he took two more sacks to raise his career-high total to 33 for the season. He also threw his 19th and 20th interceptions of the season, putting him five short of his career high in that department with three games to play. He threw a touchdown pass to tight end
Brandon Myers
for the third game in a row, but Nicks doesn't have a touchdown all season and
Victor Cruz
hasn't caught one since September.
December, 8, 2013
12/08/13
9:52
PM ET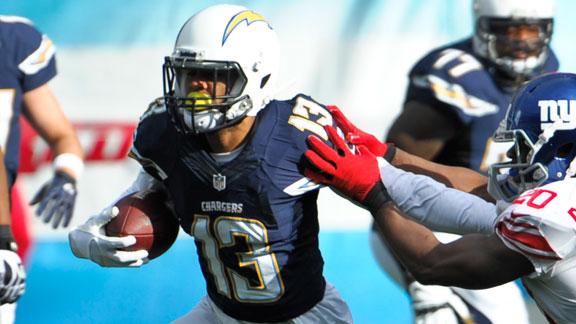 SAN DIEGO -- The public address announcer let the fans here at Qualcomm Stadium know who was starting at quarterback for the
New York Giants
. And as
Eli Manning
jogged out onto the field for the game's first series, they let him have it.
Fans of the team for which Manning famously didn't want to play when it drafted him first overall in 2004 hadn't had a chance to boo him since early in the 2005 season. But they have not forgiven Manning for spurning them, and they booed him every time he came onto the field and every time he dropped back to pass.
Having
lost the game 37-14
, Manning was in no mood to discuss the San Diego fans' treatment of him.
"Fans have never affected my play," Manning said. "I just tried to go out there and play good football."
After drafting Manning first overall in 2004, the Chargers immediately traded him to the Giants for quarterback
Philip Rivers
(whom the Giants selected fourth overall as a condition of the trade) and several other picks. Among the newspaper front pages of franchise highlights hanging on the wall in the press box is one from the 2005 game in which the Chargers beat Manning and the Giants 45-23 here in 2005. Until Sunday, that was Manning's only career game in San Diego.
Sunday, fans chanted things at Eli that we cannot print here. They held up unflattering signs. And as the teams went in for halftime with the Chargers up 24-0, the fans chanted "We love Philip" in reference to Rivers, who'd thrown three touchdown passes in the first half.
"I think that's more for you all or the fans I guess," Rivers said of the Manning issue. "I felt like I was competing, and we were competing, against the Giants' defense. I know that's a sidebar story, but I've never felt like it's me vs. him."
December, 8, 2013
12/08/13
6:06
PM ET
SAN DIEGO -- The
New York Giants
trail the
San Diego Chargers
24-0 at halftime here at Qualcomm Stadium. This is significant because the Giants have exceeded 24 points in only two games this year. So while a comeback isn't impossible, obviously, it's quite difficult to imagine.
This is the worst the Giants have looked since September, when they were in the middle of a season-opening six-game losing streak and weren't even in some of their games. They have turned the ball over twice. They cannot protect quarterback
Eli Manning
. They have been flagged for three penalties, including one that gave Chargers kicker
Nick Novak
a second try after he missed a 41-yard field-goal try. (He made it from 36.) Chargers running backs
Ryan Mathews
and
Danny Woodhead
have combined for 77 rushing yards on 17 carries, which eats at something the Giants actually have done well this year. The Giants also are struggling in coverage in the secondary, especially with Chargers wide receiver
Keenan Allen
, who has two touchdown catches and may have done more damage if he hadn't had to miss a large chunk of the first half due to a shoulder injury. He caught one touchdown pass before the injury and one since.
The turnovers are Manning's 19th interception of the season and
Andre Brown
's first fumble, and obviously they have made a difference, as the Chargers scored touchdowns on the drives that resulted from each. They're not getting enough pressure on Rivers, who is 16-for-21 for 177 yards and three touchdowns. San Diego had the ball for 19:27 of the first half to the Giants' 10:33. They seem as though they believe they can beat the Chargers deep, and
Hakeem Nicks
of all people had a 51-yard catch early in the game. But the offense doesn't have any consistency, and it's mainly because Manning doesn't have enough time. The interior of the Giants' offensive line has been a problem all year, and reserve left guard
James Brewer
has had an especially bad game so far.
If it reads as though I'm just listing things the Giants have done poorly, it's because there's not a lot more to say. This Giants' season has been over since September, and even though it's been a while since they've looked this bad, it was unreasonable to expect them not to have another stinker before it was all over. Assuming they don't come back and they fly home with a 5-8 record, the Giants could be eliminated from contention for the postseason with a 49ers victory over Seattle this afternoon.
December, 3, 2013
12/03/13
8:00
AM ET
Your daily morning check-in on news and notes about and of interest to the New York Giants
The news of the day:
The post-mortem on the Giants' fifth victory in their last six games was mostly positive Monday, as coach Tom Coughlin praised the ability of his team to recover from the early 14-0 deficit and comeback to defeat Washington on Sunday night. The defense was especially impressive, considering that they were playing thin in the secondary due to injuries and without starting defensive end
Jason Pierre-Paul
, whose shoulder injury is likely to be a problem for the rest of the season. Pierre-Paul's absence left the Giants thin at defensive end, and
Justin Tuck
and
Mathias Kiwanuka
may have handle
more of the workload
the rest of the way if Pierre-Paul can't play or if his snaps have to be limited.
Behind enemy lines:
San Diego Chargers
quarterback
Philip Rivers
is having a monster season and should pose another tough test for this improved Giants defense. But
as Eric D. Williams points out
, Qualcomm Stadium hasn't exactly been a tough place for opponents to play over the past few years. The Chargers are just 2-3 at home this year and 10-11 at home since the start of the 2011 season.
Around the division
: Under ridiculously insane pressure, all the time, to issue definitive statements about his quarterback situation in a world and a league that defy definitive statements, Eagles coach Chip Kelly pronounced red-hot
Nick Foles
the Eagles' quarterback
for the next 1,000 years
. I think I speak for everyone when I say I'd
really
like to know what Kelly's putting in Foles' personalized post-practice smoothies.
Around the league:
The Patriots say it's crazy to think they were
spying on the Texans
, as the Texans hinted after the game. Not sure where the Texans would have got the idea that the Patriots would do something like that ...