September, 14, 2014
Sep 14
6:00
PM ET
EAST RUTHERFORD, N.J. -- If you were looking for some kind of complex explanation from
New York Giants
running back
Rashad Jennings
, you're going to be disappointed.
Jennings' noncontact fumble in the final five minutes of Sunday's 25-14 loss to the
Arizona Cardinals
was about as simple as it gets.
[+] Enlarge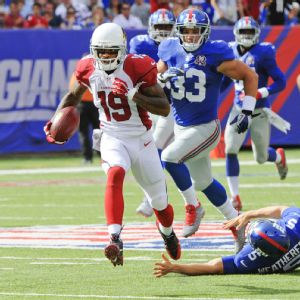 AP Photo/Bill KostrounTed Ginn's punt return for a touchdown was part of a series of miscues that saw the Giants' one-point lead turn into an eight-point deficit between touches on offense.
"I turned around. My foot didn't get set on the ground. I slipped as I took off running. My elbow hit the ground. The ball came out," Jennings said.
That is pretty much what everyone saw, and Jennings has no idea why such a thing would happen. The Giants were down by eight points and driving. This happened on the Arizona 15-yard line, with the goal line in sight and the game still attainable.
"We were moving the ball. No doubt we were going to score," Jennings said. "That one hurts."
That last part could be applied to the game itself. The Giants didn't play beautifully by any means, but their offense did look considerably more competent Sunday than it had six days earlier in the season-opening loss in Detroit. The defense had done a decent enough job bottling up Cardinals quarterback
Drew Stanton
, who started in place of an injured
Carson Palmer
. The Giants got to the fourth quarter of their home opener with a 14-10 lead against a team playing its backup quarterback, which sure sounds like a recipe for a win.
But win they did not, because of a stunning run of fourth-quarter mistakes that took them out of the game.
Up 14-13 with 10:36 to go,
Victor Cruz
dropped a third-down pass from
Eli Manning
and the Giants punted. Arizona's Ted Ginn returned the punt 71 yards for a touchdown. The two-point conversion failed, but Giants safety
Quintin Demps
fumbled the ensuing kickoff and the Cardinals would get a field goal out of that gaffe.
"We've got a one-point lead, and the next time we touch the ball, we're down eight," Manning would say when it was over.
Tough to believe, but then Jennings' blunder made it even tougher to believe -- and ensured that the Giants would start 0-2 for the second season in a row.
It boils down to this: The Giants aren't a good team right now. They're a work in progress on offense, and while the defense looked better as this game went along, the secondary was a ragged, penalty-infested mess at the beginning.
In spite of that, the Giants were in a position to win it. But when you're not a good team, you can't get away with the kinds of mistakes they made. They turned the ball over four times, forced zero turnovers and committed nine penalties.
"When you do have an adverse circumstance, you've got to fight your way out of it," Giants coach Tom Coughlin said of the way in which the fourth-quarter mistakes piled on top of each other. "But we would have been fine if we scored."
The problem is, right now, scoring is tough for the Giants. If you can't score
and
you're going to make a whole bunch of mistakes, you're going to lose. Pretty much every game. Even the ones you feel like you have in your pocket.
"We talk about winning the fourth quarter," Coughlin said. "We had the lead 14-13, and from there it was a nightmare."
Second time in as many weeks that Coughlin has used that word, "nightmare," unsolicited in a postgame news conference. That's a sign things are a long way from being fixed.