New York Giants:

Rex Ryan
January, 28, 2014
Jan 28
10:00
AM ET
We surveyed 10 players from each NFL team and granted them complete anonymity to get their opinions on a variety of questions. We are rolling out the results of that survey piece-by-piece. Today we present the answer to the question:

Which head coach would you most like to play for?

The rules were that it had to be a current NFL head coach and that it could not be your own. The winner, with 72 votes (22.5 percent of the total) was Seahawks coach Pete Carroll. A distant second was Pittsburgh's Mike Tomlin, with 44 votes (13.8 percent). Others who cracked double digits included the Broncos' John Fox (25), the Jets' Rex Ryan (23), the Patriots' Bill Belichick (22), the Chiefs' Andy Reid (22), the Saints' Sean Payton (21), the 49ers' Jim Harbaugh (16) and the Ravens' John Harbaugh (10).

The Giants' Tom Coughlin got three votes. I expect it would have been more if the survey had been conducted a year earlier, when he was (as John Harbaugh was at the time of this survey) a defending Super Bowl champion. But I'm not sure. The Giants are a fairly insular organization. And while Giants players love and respect Coughlin, I'm not sure that reputation translates league-wide. While he's clearly mellowed as his career has gone along, he still appears from the outside to be a tough, demanding, old-school coach. And you can see that most of the coaches who got the big votes in this one do not fit that description.
September, 24, 2013
9/24/13
10:07
AM ET
Our man Rich Cimini noted Tuesday morning that the
New York Giants
have
the same record
(36-31) since the start of the 2009 season as the
New York Jets
do, including the same number of postseason victories (4). That 2009 season was Rex Ryan's first as Jets coach, and he has led his team to the playoffs twice in that time, while the Giants have only reached the postseason once.
Obviously, the Giants' lone postseason appearance and all four of those postseason wins came following the 2011 season and culminated in the franchise's fourth Super Bowl title. None of Ryan's four postseason wins is a Super Bowl or even a conference title game. The significance of this is not lost on me, Rich or anyone else who might be making the comparison. It's also worth noting that a Dec. 24, 2011, victory over the Jets was the springboard for that Giants Super Bowl run. It was the first of six games the Giants won in a row to claim their title, and it was especially satisfying for them because of all of the talking Ryan and the Jets did in advance of the game.


But see, this is the one reason this point is worth making. I remember that day, and I remember how gleefully Giants owner John Mara spoke in the locker room after the game about the significance of beating the Jets after they talked so much and covered up the Giants' Super Bowl logos in the hallway outside the locker rooms. I remember thinking how unusual it was for Mara to be talking to the media in the middle of the locker room after a Week 16 regular-season game.
Since that time, I've been told by more than one person around the Giants that Giants ownership cares a great deal about being better than the Jets -- that beating the Jets is, in some ways, more important to the Maras than beating the Cowboys or the Eagles or the Redskins. They pay attention to what's going on in Florham Park, and it often annoys them the way the Jets go about their business and call attention to themselves. A feeling of superiority over the team with which they share their stadium -- justified by their franchise's more decorated history -- is a part of the Giants' self-image. So when these kinds of comparisons start getting thrown around, you'd better believe they're being noticed in East Rutherford, and not in a way that makes anyone chuckle at the irony of it all.
As I've written many times, I feel certain that Tom Coughlin's job as Giants coach is safe as long as he wants it. I think Jerry Reese's job as GM is safe, too. I do not expect the Giants to make any organizational or coaching changes in-season, and at this point it's too early to say whether they'd make any at the coordinator level even in the offseason. They believe in stability in positions of leadership, and they have stuck to that belief even when pique and frustration would have pushed other owners into rash action.
But this here? This notion that the Jets are somehow equal to them in any statistical way? I'm just telling you, this is the kind of thing that bothers the people who run the Giants more than you would expect it to. And if it continues, it's going to be a long year for a lot of people around the New York Football Giants.
September, 4, 2013
9/04/13
8:00
AM ET
Your daily morning check-in on news and notes about and of interest to the New York Giants:
The news of the day:
Barring some unforeseen development in the next day or so (i.e., a short-term injury to a more significant player), the Giants will place running back Andre Brown on
injured reserve/designated for return
with a fractured left leg. That will keep Brown out of at least the first eight games of the season. Brown had hoped to be back sooner, but in the meantime the Giants may look to bring in another running back.
Reports on Tuesday
said that veterans Beanie Wells, Jonathan Dwyer and Leon Washington were in East Rutherford for workouts/tryouts, and while it's possible the Giants would sign one of them to spell Brown while he's out, it's also possible they won't. And even if they do, it likely wouldn't be until next week, when they could sign them without having to guarantee their salary.
Behind enemy lines:
Sunday night's opponent, the Dallas Cowboys, aren't waiting until next week to add help to their offensive line. They are signing veteran guard Brian Waters, who didn't play in 2012 and will need some time to get up to speed but, Tim MacMahon writes,
will be worth the wait
. The Giants' defensive line is still facing a makeshift offensive line in Dallas on Sunday night, as the Cowboys don't know who their starting guards are going to be.
Around the division:
Looking ahead to the "Monday Night Football" season opener between the Redskins and the Eagles,
Phil Sheridan wonders
whether a summer spent practicing against Chip Kelly's up-tempo offense, which includes some option elements, will end up being a benefit to the Eagles' defense when it faces Robert Griffin III and the Redskins' multiple offense.
Around the league
: It's completely ludicrous to criticize Jets coach Rex Ryan for
going to his son's game at Clemson
on Saturday just because it was final cut-down day. If Ryan had gone to one of his son's games four days earlier, when rosters had to be cut to 75, no one would have noticed or cared. Did he owe the guys who got cut Saturday a look in the eye more than he owed it to the guys who got cut Tuesday? I agree that the absence sends a poor message about Ryan's current role in the decision-making hierarchy of the Jets organization, but since when did Ryan care what anyone thought about him? The NFL establishment makes way too much of Saturday in the first place. I have little doubt that Ryan's role in the actual cutting of the players was that big a deal that he couldn't go to his son's game. Perspective, please.
March, 20, 2013
3/20/13
7:10
PM ET
Ahmad Bradshaw
still wants to be a starting running back somewhere.
And although the Jets recently signed
Mike Goodson
to a three-year, $6.9 million deal, they would have legitimate interest if Bradshaw lowers his asking price, according to a source. Bradshaw says the Jets, Packers and Steelers have shown interest in him.
The free-agent running back is currently working out in Florida as he continues to make his way back from surgery on his foot. The former Giant hopes to find work after he shows teams how healthy he is.
"I feel great," he said on ESPN New York 98.7. "I'm getting there. I'm walking around without the boot. There are a lot of teams out there that need running backs.
[+] Enlarge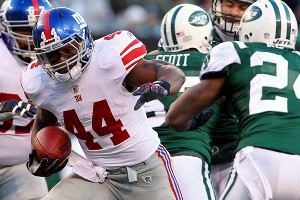 Ed Mulholland/USA TODAY SportsWill former Giant Ahmad Bradshaw join the Jets?
"I want to go to a team where I can be the number one (back) and get multiple carries every game," he added. "A couple of teams are interested. ... Pittsburgh, the Jets, the Packers, which are all teams that I feel like need a running back and I can help. It's a process and I want to take it slow."
Bradshaw wants to stay close to home and he says a return to the Giants is always a possibility.
"There's always been that chance," said Bradshaw, who mentioned after he was released that the Giants left the door open for a possible return someday.
Bradshaw reminisced about how emotional his farewell to Tom Coughlin and the Giants was when he was released in February, calling the Giants a family that he still loves.
He was asked if he could play for Rex Ryan after spending his entire career with Coughlin, since the two New York coaches are polar opposites.
"I've head from a lot of guys he is a great coach," Bradshaw said of Ryan. "It is not even about that [difference between Ryan and Coughlin] with me. He seems to get his guys going for games and for weeks."
January, 23, 2012
1/23/12
4:49
PM ET
By
Matt Ehalt & Mike Mazzeo
| ESPNNewYork.com
Following Sunday night's 20-17 win over the 49ers, the Giants official Twitter account, @Giants, posted a message that may have been a dig at their cross-town rivals. It tweeted:
Some teams are really happy getting to Conference Championship games, but #ImReallyGoodAt winning them! 5-0 all time! #ALLIN
The Jets have spent lots of time talking about their back-to-back trips to the AFC title games in 2009 and 2010, but the Jets, of course, did not win those games, falling to the Colts and Steelers, respectively. With the win on Sunday, the Giants have never lost in an NFC Championship Game and have been able to win two title games in the past four seasons.
The Giants and Jets have been engaging in verbal warfare over the course of the year. Back in May, Giants VP of communications
Pat Hanlon
responded to Jets coach
Rex Ryan
, who said the Jets would have beaten the Packers had they made it to the Super Bowl last season, via Twitter: "You gotta be in it to win it" and repeated a Giants motto: "Talk is cheap."
Hanlon later tweeted: "Tom Coughlin wrote a book, too. It was about a team and an HC that won a Super Bowl."
Ryan followed up by telling ESPN NewYork.com's
Jane McManus
: "My big thing is, I think I can whip Pat. I'm worried about him throwing a BlackBerry at me."
And then there was curtain-gate, which took place on Christmas Eve. Prior to the Giants-Jets game, the Jets covered up the "visiting" Giants' Super Bowl logos outside their locker room with curtains -- just like they do before every home game. But the Giants saw it as a sign of disrespect.
They tried to remove the curtains, but a Jets official moved them right back into place. A security guard was put into place to prevent any further tampering.
But following their 29-14 victory over Gang Green,
David Diehl, Lawrence Tynes
and
Zak DeOssie
emerged from the locker room to push the curtains aside.
"This is Giants Stadium!" Diehl yelled as he headed back inside to join his teammates. "This is Giants Stadium!"
The game proved to be the turning point in both team's seasons. The Giants ended up winning their next four games to reach the Super Bowl, while the Jets lost their season finale in Miami and ultimately failed to reach the playoffs after advancing to the AFC Championship game in both 2009 and 2010.
With all the talk from Ryan and the Jets about New York City being a Jets town, reading between the lines it seems that the Giants twitter account may have had some fun at the Jets expense. The twitter account is not run by
John Mara
or
Jerry Reese
, so it is not a dig from one of the Giants high-ranking officials.
QUESTION: Do you believe that tweet was a shot at the Jets? Let us know in the comments section below.