New York Giants:

Road to Indy
February, 5, 2012
2/05/12
11:39
PM ET
QUARTERBACK:
Eli Manning
completed 30 of 40 passes for 296 yards, one touchdown and a 103.8 NFL rating. He did not turn over the ball, which was huge for the Giants during
their 21-17 victory
. Manning's 38-yard sideline strike to
Mario Manningham
showed the raw arm talent that made Manning the first player selected in the 2004 NFL draft. Not many quarterbacks can make that throw. Manning made it when the Giants trailed, 17-15, with less than four minutes remaining in the fourth quarter. Manning completed his first nine attempts for 77 yards and a touchdown, staking the Giants to an early lead as they dominated time of possession to begin the game. Manning made effective use of his running backs and tight ends, executing a mostly conservative game plan. But the Giants settled for field goals too frequently. Both teams had trouble striking on pass plays down the field until Manning found Manningham in the clutch. The two had failed to connect deep down the right sideline earlier in the fourth quarter. Manning's pass was a bit wide. Manningham could have done a better job getting his feet down.
Grade:
A-minus.

OFFENSE:
The Giants came to life in the fourth quarter, a theme for them all season. They also avoided turnovers, a huge key. That excused their earlier offensive struggles, but we'll cover them anyway. New York twice committed drive-dooming penalties after crossing midfield. A first-half holding penalty against guard
Kevin Boothe
on a third-and-1 play proved pivotal. The infraction wasted
Brandon Jacobs
' 10-yard run, setting up third-and-1. The Giants went from driving toward likely points and a potential 16-3 lead to watching
Tom Brady
execute a 96-yard touchdown drive as New England pulled in front, 10-9. Then, with the Giants trailing 17-15 in the fourth quarter, a penalty for illegal procedure left the Giants in another third-and-10 situation, leading to another punt. The Giants did enjoy success early in the game. They were fortunate to recover their own fumbles, especially when
Ahmad Bradshaw
lost the ball deep in Giants territory. Losing tight ends
Travis Beckum
and
Jake Ballard
to injuries left New York with only one available tight end,
Bear Pascoe
.
Grade: B
DEFENSE:
Justin Tuck
's pressure on Brady forced a safety on the Patriots' first offensive play. That was a sensational start for the Giants. Tuck closed out the game with a third-down sack with 39 seconds remaining. The Giants failed to get enough pressure between those plays, allowing Brady to shred their defense for stretches. But Brady averaged only 6.7 yards per attempt. The Giants held the Patriots to 17 points, about two touchdowns below their regular-season average.
Jason Pierre-Paul
was effective batting down passes.
Chase Blackburn
made his presence felt with a de-cleater hit on
BenJarvus Green-Ellis
. He also picked off a deep pass for
Rob Gronkowski
. The Patriots' quickness in general and
Danny Woodhead
's in particular gave the Giants problems, especially with Brady having time to operate. The Giants caught a break when
Wes Welker
got wide open and dropped a pass that would have moved New England into field-goal range while leading with about four minutes left.
Grade: B-plus
COACHING:
The Giants left 57 seconds on the clock when Bradshaw scored on a run up the middle to take a 21-17 lead. Bradshaw tried to sit down at the 1-yard line, but his momentum carried him into the end zone. The points were nice, but leaving that much time on the clock for Brady carried risk. The offensive plan seemed conservative and without enough play-action passing early. That was to be expected given Tom Coughlin's philosophy. That showed up when Coughlin handed off instead of taking a shot deep down the field on an early second-and-1.
Grade: B
SPECIAL TEAMS:
Lawrence Tynes
made both field-goal attempts. The Giant did not allow a punt return. They forced New England to begin three drives inside their own 10-yard line. The Patriots never started a drive outside their own 29. No complaints here.
Grade: A
February, 2, 2012
2/02/12
11:17
AM ET
INDIANAPOLIS -- Because we have all seen what
Brandon Jacobs
can be when he's at his best, it is uniquely disappointing when he is not. At 6-foot-4 and 265 pounds, Jacobs is supposed to be a terror with the ball in his hands -- an unstoppable, line-shredding force that defenders fear to tackle. Too often over the last couple of seasons, for one reason or another, he has failed to perform that way consistently. The criticism he takes for it works off the expectations created by his uncommon physical attributes. He's so big and scary, so why can't he always play that way?
[+] Enlarge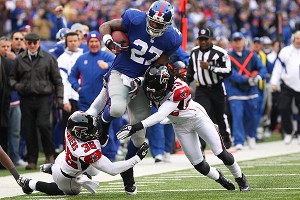 Debby Wong/US PresswireThe Giants hope to see running back Brandon Jacobs dragging defenders on Sunday against the Patriots.
In the days leading up to Super Bowl XLVI, Jacobs seems to feel the same way about himself that others feel about him. This could very well be Jacobs' last game with the
New York Giants
, and he knows that. If his head is in the right place, as it appears to be, Jacobs could end up being a surprise Super Bowl difference-maker.
"I've just got to run a little harder," Jacobs said Wednesday. "I felt like, in the last game, I ran ... OK, I guess. I've just got to run a little harder and try and get more yards after the contact. If they're a good defense, then you're going to get hit, so you may as well get ready for it. I've just got to get going a little harder and try and get a couple extra yards."
Jacobs has been a mercurial player for the Giants over the last few years. His off-field behavior and on-field effectiveness have fluctuated between maddening and exemplary. He's the guy who chucked his helmet into the stands in Indianapolis, who chased down Jets coach Rex Ryan on Christmas Eve with a "time to shut up, fat boy." He has seemed, too often, like a guy to whom football isn't that big of a deal.
But he's also the guy who agreed to restructure his contract last summer so the team could re-sign his friend and fellow running back
Ahmad Bradshaw
, who accepted a demotion two years ago when it became clear Bradshaw had become the better back, and who dished out punishment while he and Bradshaw ran all over the
Atlanta Falcons
four weeks ago in a dominant playoff performance.
"I always feel like Brandon is about to have a big game," Bradshaw said. "He's just that kind of guy. When he gets going, there's no one out there that can stop him, and we've all seen that."
Jacobs remains, however, a source of frustration for Giants fans. He's supposed to be a bulldozer who can pick up automatic first downs on fourth-and-1, yet he seldom seems to be able to get them. He's supposed to be a goal-line stud, but sometimes it looks like he's trying to tiptoe through a hole rather than just blow one up. To a certain extent, the criticism is unfair. Just because he's more huge than the typical running back doesn't mean he's supposed to accept getting hit more. Jacobs' size is his burden as well as his asset, and he has expressed frustration with that criticism.
But he's reached the point at which public perception can no longer matter to him. He's got one year left on his Giants contract, but there's a chance the team will cut him and move on, deploying that money elsewhere and working on the development of their younger backs. That means Jacobs, who won a Super Bowl ring as the Giants' lead back four years ago, might have only one more game left with the only pro team he's ever known. And there's no reason to do anything other than play it as hard as he possibly can.
"I can't worry about that," Jacobs said when asked about his Giants future. "I hope not. I want to be here. I want to be around. But right now, I just want to come out here and win this football game. After that, whatever happens happens."
A focused Brandon Jacobs can be a scary thing for an opposing defense. If the big guy has one more big Giants game left in him, there's a good chance he leaves New York with two Super Bowl rings. Which wouldn't be a bad way to go out.
January, 31, 2012
1/31/12
10:20
AM ET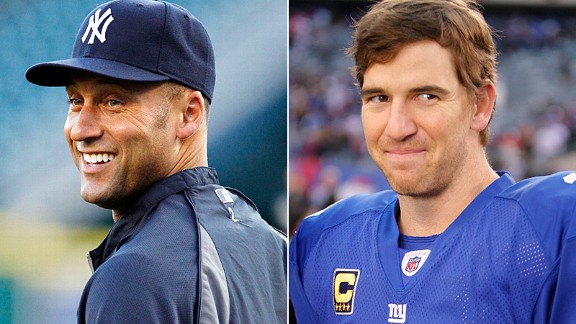 US PresswireA phone call from Derek Jeter during Eli Manning's rookie season provided inspiration.
INDIANAPOLIS -- During his rookie season, while he was in the midst of losing his first six games as the
New York Giants
' starting quarterback,
Eli Manning
got an unexpected phone call. It was from Derek Jeter, the star shortstop of the New York Yankees, and he had a simple message for Manning, who remembers it to this day.
"It was kind of right after I'd become the starter and had a couple of tough games," Manning said. "He just told me, 'Keep your head up, keep doing what you're doing and it'll get better.'"
This was 2004. Jeter was an established New York superstar, owner of four World Series rings and on a Hall of Fame path. The phone call mattered because Jeter was someone Manning had been studying carefully.
"Derek's a guy, from the time I first came here, that I definitely have paid a lot of attention to," Manning said last week after a Giants practice. "He's a great player, but he's also a guy who really shows you what you have to do to succeed in a place like New York. The way he's handled himself on the field, off the field. The way he's dealt with all of the attention without letting it affect the way he does his job. He's done that better than anybody."
As Manning prepares to play the
New England Patriots
on Sunday in his second Super Bowl, he's the focus of much attention and hype. There is an urge to rate him, to compare him, to discuss his place in the pantheon of quarterbacks -- both current and all time. He is compared to his brother, the great
Indianapolis Colts
quarterback
Peyton Manning
. He is compared to
Tom Brady
, the three-time Super Bowl winner he's trying to beat in the big game for the second time in five years. But the best comparison for Manning may actually be a guy who plays a different sport in the same town.
Jeter has succeeded as a New York superstar without once saying anything to get himself in trouble or embarrass his organization. He is a quiet leader whose entire team respects and follows him without question. At a young age, he established himself as the kind of player who excels in clutch situations, and the way he does that is by remaining exactly the same regardless of the intensity of the situation. By refusing to let the game become too big or too important at times when it feels that way to many other players, he effectively raises his game at the critical moment. All of these same things can be said about Eli Manning, and it's no accident.
"Playing in this market, you learn quickly that you've got to be immune to the distractions," Manning said. "And watching Derek and seeing how he's kept his private life private and managed to keep the focus on the field and on the job he has to do, that's a big help for someone like me. That's what you've got to do, and he's the ultimate example."
It's not a perfect comparison, of course. Jeter is a single guy who digs the club scene and has, throughout his career, been romantically linked to movie stars and Miss Universe contestants. Manning is married to his high school sweetheart. Jeter was Rookie of the Year, won the World Series in his first full season in the major leagues and three more times before the end of his fifth. Manning struggled at the start of his career and to this day continues to fight a perception that he's not one of the game's great quarterbacks. A quarterback is more integral to the success of a football team than a shortstop is to that of a baseball team. Jeter is nearing the end of his career, while Manning's appears to be taking off.
"Eli is Eli," said
Justin Tuck
, Giants defensive end and admitted Yankees fan. "If you want to make the comparison, he's more Jeter than he is Peyton. I'll give you that. But he's Eli. He's himself. He doesn't need to be compared to anyone."
But the comparison to Jeter as a clutch player and an even-keeled star is a worthy one, and it seems to please Manning and Jeter, who share a mutual respect.
"I've always appreciated the way Eli has carried himself, not only on the football field but more importantly away from it," Jeter wrote in an email through the Yankees' media relations department. "He certainly seems to me to have the perfect demeanor to handle the spotlight that comes with playing in New York. He's already had a great deal of success in his career, and I don't see any reason that won't continue for a long, long time to come."
If it does, part of the reason for it will be the example Jeter set and the intelligent extent to which Manning paid attention to it. The classy phone call from the star shortstop to the rookie quarterback seven years ago was a part of that example, and the meaning it held for Manning is part of the reason he's so determined to follow Jeter's lead. It's not easy being a star athlete and winning championships in New York. But if Manning really is about to win another one, the comparison between the football star and the baseball star will only grow closer. And you only have to ask Manning about it once to learn that it's no coincidence.
January, 31, 2012
1/31/12
8:00
AM ET
Join our ESPN.com NFL experts as they bring you all the color, quotables and craziness from Super Bowl XLVI media day.

We'll start with the New England Patriots' session at 10 a.m. and work our way through the New York Giants' session at noon. Contribute your thoughts and questions and we'll see you there!


January, 25, 2012
1/25/12
11:22
AM ET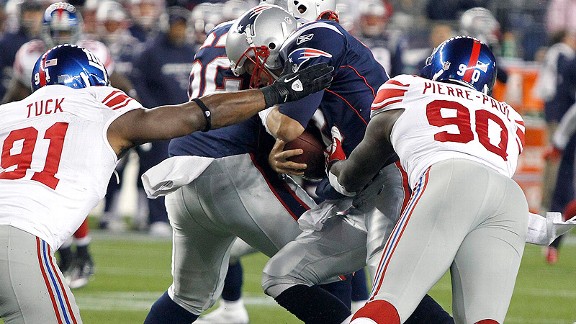 William Perlman/The Star-Ledger/US PresswireGetting pressure on Tom Brady will be important for the Giants' defense.
EAST RUTHERFORD, N.J. -- Every step
Tom Brady
takes now brings a new accolade. The
New England Patriots
quarterback is making a case as the best ever to play the game. When he faces the
New York Giants
on Feb. 5 in Indianapolis, it'll be his fifth appearance as a Super Bowl quarterback, tying
John Elway
for the most ever. If he wins, it'll be his fourth Super Bowl title, tying Terry Bradshaw and
Joe Montana
for the most ever. Those are Mount Rushmore quarterbacks, and the presence of Brady's name among them marks him as not just great but all-time great. If the Giants were intimidated, it'd be hard to blame them.
But they aren't, of course, and the main reason is their first-hand knowledge that Brady is beatable. They know this because they have done the beating. They beat him four years ago in Super Bowl XLII, when Brady and his Patriots were 18-0 and hadn't looked beatable all year. They beat him in Week 9 of this season, up in Foxborough, where no other team has beaten him in the regular season since 2006. Brady and the Patriots have won 10 games in a row since that one, which makes you wonder if the Giants have some sort of secret formula.
They say they do not.
"Every time you play against Tom, you have to go to the drawing board," Giants defensive end
Justin Tuck
said Tuesday. "He's definitely going to look at what we had success against him with the first time and come out with something to beat that. You have to do something different."
Perhaps. But there are certain basic elements of what the Giants do that have caused Brady problems in those two most recent meetings. In Super Bowl XLII, the Giants sacked Brady five times. Only once in his career has he been sacked more. In this year's Week 9 game, they got just two sacks, but the pressure they put on him led to two interceptions and a fumble. The Giants rely on their four down linemen to generate their pass rush, and Brady was a little bit less effective this year against defenses that dropped at least seven men into coverage. He averaged 8.1 yards per attempt in such situations as opposed to 9.9 when defenses rushed at least five.
Little of that matters, though, once the defense gets on the field and finds itself tasked with actually stopping Brady.
"He's tough, man," Giants safety
Antrel Rolle
said. "When I'm in zone coverage, I can just see him scanning the field and I'm like, 'Dang!' The way he scans the field, he's so good at it and so quick, it kind of stuns you for a second. He's an exceptional quarterback, man, and he gets all of the credit he deserves and then some."
But the Giants' healthy respect for Brady's abilities is part of the reason they've had success against him. Rather than relax and get comfortable in the knowledge that they've beaten him before, they remember how difficult it was, and their resolve and concentration intensify.
"We're going to have to have a few game plans in, and it's going to be a chess match," Tuck said. "I think every quarter, we'll have to throw something at him that he hasn't seen, or something we hope he hasn't seen from us, just to try to slow down his reads. Because if he gets a sense of what you want to do to him before he snaps the ball, it's pretty much impossible to stop him."
In the end, though, the Giants know it's not. And as they prepare to face Brady and the Patriots in the Super Bowl, that's one of their psychological advantages. They know he's great, and they know what he can do to a defense when he's on his game. But they also know that they have the ability to get him off of his game.
"He thrives on mismatches, and I think we match up well with them," Tuck said. "The people we have in our secondary, we have safeties that play like corners. They're going to do some things that we may not be ready for at the beginning of the game, and hopefully we'll be able to make those adjustments and keep them kind of stopped on offense."
Humble enough to know that "kind of stopped" is the best they can do against Brady, the Giants take comfort in knowing they can pull it off. They've done it in the Super Bowl. They've done it at his home stadium. If they've done it before, they can do it again. And when you're playing Tom Brady at this time of the year, the knowledge that it's even possible to beat him is no small thing.
January, 23, 2012
1/23/12
1:30
AM ET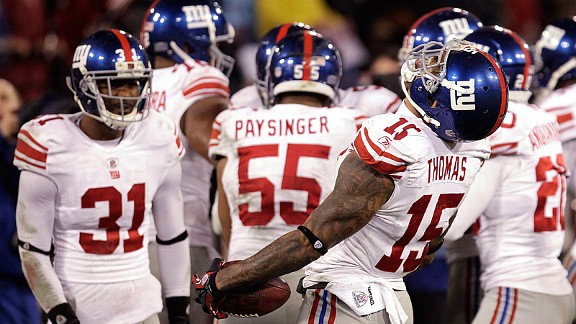 AP Photo/Paul SakumaNew York's Devin Thomas recovered two key fumbles on punt returns by Kyle Williams.
SAN FRANCISCO -- Stuck in traffic on a bus headed for rainy Candlestick Park on Sunday afternoon,
Devin Thomas
had a vision. Thomas is the No. 4 wide receiver for the
New York Giants
, and as such he doesn't get too many chances to make plays. He's a special teams guy, mainly, and not even a return man anymore after flopping in that role earlier this season. So when Thomas has a vision of himself making a huge play to help win a game, it's a special teams play -- a frantic, full-speed crazy play that no one could have seen coming.
"I knew I was going to do it," Thomas said. "I was just thinking today was one of those crazy days where something crazy's going to turn the game. And I had a vision in my mind that I would be the guy who did it."
Thomas made two such plays Sunday. He recovered two fumbles on punt returns by
Kyle Williams
, the 49ers' backup return man. The first set the Giants up for a go-ahead fourth-quarter touchdown at a time when they appeared totally incapable of moving the ball against the San Francisco defense. The second came in overtime, and a few minutes later, after
Lawrence Tynes
kicked the second NFC Championship Game-winning field goal of his career, the Giants had
a 20-17 victory
and a date with the
New England Patriots
in Super Bowl XLVI.
"Our guys never quit, never have any doubts," said Giants quarterback
Eli Manning
, who spent his night being knocked around by fearsome 49ers defenders but never flinched, completing 32 of 58 passes for 316 yards and two touchdowns. "We just keep believing and keep fighting until the very end, no matter what the circumstances are."
These Giants are as improbable a Super Bowl participant as the NFL has seen in some time. Widely predicted (especially here) to miss the playoffs during the preseason, losers of four games in a row in a tough stretch in late November and earlier December, their record stood at 7-7 after a Week 15 loss to the division-rival Redskins. They have not lost a game since. If they had -- if they'd lost even one of the five games they've played since that loss to Washington -- they would not still be playing. The defining aspect of these Giants is their toughness, but out of that over the past five weeks has grown a patience and a discipline that's rooted in intense self-belief and has propelled them to unexpected heights.
"They have grit, now," a beaming head coach Tom Coughlin said of his second Giants Super Bowl team. "We've had five straight single-elimination games. We've played an awful lot of superior football teams this year, and that has certainly helped."
But no one could have seen this coming. Not from 6-6 or 7-7 and certainly not from the preseason, when they were dealing with a major injury per week and everybody was in love with the offseason the Eagles had. Back then, there was no way to know that
Jason Pierre-Paul
would become one of the best pass rushers in the league or that
Victor Cruz
would become one of its best wide receivers. The odds against both of those things happening were astronomical.
"I think we knew, here in this locker room," said rookie linebacker
Jacquian Williams
, who stripped the ball from Kyle Williams so that Thomas could pounce on it in overtime. "You see the talent those guys have on the practice field and you know it's just a matter of when they're going to get their opportunity."
[+] Enlarge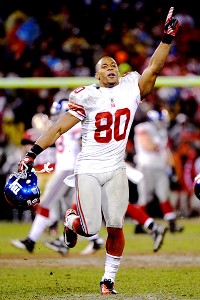 Thearon W. Henderson/Getty ImagesVictor Cruz had 142 yards on 10 catches in the Giants' win.
From October, you couldn't have seen Williams coming. But he's become a critical asset in the Giants' coverage units over the past couple of months, and as he showed Sunday, he's capable of making game-changing plays on special teams. He laughed when I asked him how this was matching up to the expectations he'd had for his rookie season.
"Rookies don't usually have an opportunity to play," he said. "Especially when you got picked in the sixth round."
But this has been an all-hands-on-deck kind of season for the Giants, and opportunities have piled up.
Brandon Jacobs
got an opportunity to be a big part of the running game again when
Ahmad Bradshaw
got hurt. Bradshaw had the bigger game Sunday, but Jacobs has been a key part of the current streak.
Osi Umenyiora
came back from a late-season ankle injury and has elevated the pass rush to teetering heights, terrorizing quarterbacks and forcing fumbles during this run and helping Pierre-Paul and
Justin Tuck
get free to wreak their own havoc.
"I love these guys. They've had my back the whole time," said Umenyiora, who's transformed from cranky contract complainer to peaceful, happy team player in a span of a few months. "So I wasn't going to come back and be selfish. I just wanted to come back and do what they need me to do, whatever that is. That's what I've done and it's had an impact."
This Giants team may have led the league in surprise clutch performances. You may be able to say you thought Cruz would be good, or that Pierre-Paul would come on quickly, or that Umenyiora would put his personal stuff aside for the good of the team. You may be able to say you knew Manning was going to play turnover-free football in the conference title game against a team that forced 43 turnovers in its first 17 games. You may be able to say you knew
Mathias Kiwanuka
was going to change positions and be a critical part of the defense, or even that you believed Williams and Thomas would be making key plays in the biggest game of the season.
But to say you saw all of that coming? You'd have to be crazy to expect anyone to buy that. These Giants represent the reason we watch sports -- to be surprised and amazed, to see human beings push their own limits and achieve things few expected of them. These Giants are overachievers, a team that has found ways to win all year when it didn't appear they should. And you can't be that without getting big-time contributions from every corner of the roster.
"I think we always believed -- in ourselves, in our coaches, in our plan, in each other," wide receiver
Hakeem Nicks
said. "And that's the reason why we're here."
There are so many reasons, and they range from the obvious to the obscure. Nobody picked Thomas to make the plays that won the NFC Championship Game, because Thomas is the kind of guy you have to work hard to remember is still on the team. But as the Giants left their locker room late Sunday night, Thomas carried the ball he'd recovered in overtime and got right back on the bus where he'd envisioned himself doing just that. It may have been a surprise to the rest of us, but it wasn't to Thomas, and it wasn't to the Giants. There are many, many people who are surprised to find the Giants still standing. But the Giants are not among them. They may not have known how they were going to do this, but they always believed they would. And it's quite a varied and remarkable collection of players that has found a way.
January, 19, 2012
1/19/12
11:01
AM ET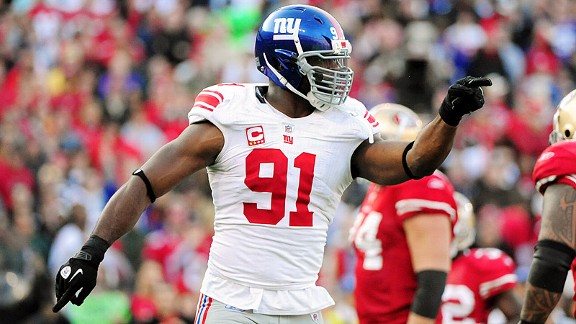 Kyle Terada/US PresswireJustin Tuck has been a big part of the Giants' late-season resurgence despite nagging injuries.
EAST RUTHERFORD, N.J. -- What do you do when your success comes before your adversity? You win the Super Bowl when you're 24 and you spend the ensuing years building on that, emerging as one of the dominant defensive players in the NFL, becoming a captain of your team, piling confidence on top of confidence, accolade on top of accolade. And then out of nowhere, at age 28, you're confronted with new, painful challenges that poke at your belief in yourself. What do you do?
Justin Tuck
sure didn't know. The
New York Giants
' star defensive end has had a rough season. Groin, shoulder, neck and foot injuries kept him from being the player he's spent his whole outstanding NFL career proving he can be and the teammate his fellow Giants expect him to be.
"The way I like to lead is by example, by going out on the football field and doing it," Tuck said Wednesday. "So this year's been tough for me in that regard, as far as leadership. It's been growing pains, learning how to get your point across without doing it on the football field, which I had previously liked to do."
Fortunately for the Giants, Tuck figured this out before it was too late. Along about Week 16, when teammate
Antrel Rolle
started making public comments about guys who weren't practicing every day but maybe could, Tuck started changing the way he felt about his nagging injuries. That same week, Giants coach Tom Coughlin and GM Jerry Reese spoke with Tuck about shaking off the pain -- of accepting that he wasn't going to feel his best, but playing and leading by example anyway.
The result has been brilliant for the Giants, and brilliantly timed. Tuck has played his best football of the season over the last four weeks. And as the Giants get ready for Sunday's NFC Championship Game in San Francisco, their defensive leader finds himself in that blissfully right state of mind that had eluded him all season.
"One thing I learned this year is that the guys respect what you've done," Tuck said. "A lot of times this year, I wasn't saying anything, and guys would come up to me and ask, 'Why are you so quiet? Why didn't you do this or that?' And I'd tell them why. And they came to me and were like, 'You don't have to worry about that. We know you're not 100 percent, but that doesn't stop you from being a leader.'"
Tuck is a smart and thoughtful guy. You see it instantly when you interview him. A lot of athletes go right to the easy sound bite, but Tuck engages his interviewer, thinks about his answer and offers helpful insight. He seems willing to consider outside points of view and differing perspectives. So it's not surprising to learn that when his teammates, his coach and his GM started talking to him about ways to change his mindset, he was receptive. It also helps that he's strong enough mentally to actually do it.
"I like the adjustments that he made," Coughlin said. "He just decided that he's not going to allow any more distractions from the standpoint of the hurts. He has made that decision and he has stuck with it, and I think it's a very smart move. He's been very productive since doing it."
We forget sometimes, as outside observers of these games, that these are actual people who play them, and young ones at that. We like to put these players in boxes and assume we have them figured out. Tuck won the Super Bowl when he was 24 years old and played great for the three years that followed. Why should we have thought he'd ever be anything other than what we already knew him to be?
But none of us is a finished product at 24, 25, 26 or 27 years old, and neither is our favorite star athlete. Compared to a lot of teams and a lot of people, things came easily for a lot of these Giants early in their careers. Tuck,
Eli Manning
,
Brandon Jacobs
,
Osi Umenyiora
... all of these guys were wearing Super Bowl rings in their mid-20s. But each had the bulk of his career still ahead of him, and growing to do. True greatness isn't measured by the title you win when you're a kid who got hot and didn't know any better. It's measured by the way you build on that, learn from the adversity sure to follow and find a way to be great again.
Those early career champion Giants all went through this. Manning with the interceptions. Jacobs with his demotion and weird behavior issues. Umenyiora with his contract dispute and ugly public feud with GM Jerry Reese. And Tuck, this year, with his injuries. Each of those players has emerged from his mid-career adversity better for the experience. Manning led the way, playing brilliantly from the start of this season. But the light has gone on for the others at the right time.
Jacobs is running as hard as in the old days, no matter what Jerry Rice thinks. Umenyiora has shoved the contract stuff to the back burner and is focused on knocking down quarterbacks again. And Tuck? Well, yeah, the nagging injuries are still there. He's still in more pain than he'd like to be, and it's still keeping him from doing everything he'd like to be doing on the field. But this year, at a still-young 28, Tuck has learned that that's OK.
"My teammates know where my heart is," Tuck said. "My coaches know where my heart is. And I just came to the realization that I'm not going to be healthy this year. I'm not going to put up the stats that I've put up. But that doesn't mean that I can't help this football team win games. And at the end of the day, that's the goal."
January, 18, 2012
1/18/12
12:12
PM ET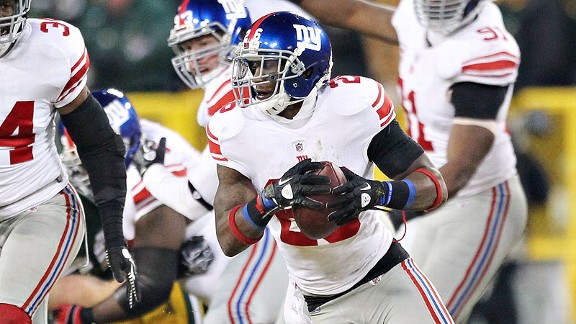 Matthew Emmons/US PresswireSafety Antrel Rolle has emerged late this season as one of the leaders in the Giants' locker room.
The wind blows, fish swim and
New York Giants
safety
Antrel Rolle
talks. Rolle is a very good football player, but talking is the activity for which he is best known. At a time when pro athletes are looking for ways not to talk the media -- specifying only one day per week on which they'll do interviews, for example -- Rolle is a nonstop talking machine.
He talks on Mondays, when players are still weary from the game and the flight home. He talks on Wednesdays and Thursday and Fridays, when the locker room fills with reporters looking for colorful quotes and insight. He talks after games, win or lose, happy or angry. Heck, he even talks on Tuesdays, which is the players' day off. He does a weekly radio appearance on Tuesdays that's appointment listening for everyone who covers the team because it almost always generates news.
"Trel likes to talk, but he's a guy you listen to," Giants linebacker
Mathias Kiwanuka
said Sunday, after Rolle turned in his best game as a Giant in the playoff victory over the Packers at Lambeau Field. "When he says something, he usually has a reason why he said it."
Of this season's Giant developments, the emergence of Rolle as a voice of locker-room reason had to be among the least likely. This is his second year in New York; he signed as a free agent from Arizona before the 2010 season. A year ago, he was complaining about Tom Coughlin and saying the playoff-bound Jets had better team chemistry. A month ago, after the loss to the Redskins that dropped the Giants to 7-7, Rolle stood at his locker and talked about how guys needed to stop sitting out practice with minor injuries.
This is stuff you're not supposed to say to the media -- stuff that stirs controversy and can injure that aforementioned team chemistry. And with the Giants' secondary playing as poorly as it was at the time, the immediate reaction was to proclaim Rolle a malcontent. Columns were written in New York suggesting that all Rolle did was talk -- first guy to the microphone, last guy to the ball, stuff like that. Outside the Giants' locker room, the first reaction to Rolle's words was concern that the team could be on the verge of a meltdown.
But inside the locker room, the reaction was much different. Rolle's words in the wake of the Redskins loss hit home with defensive end
Justin Tuck
, who had been sitting out practices with nagging injuries but playing on Sundays. Never mind that Rolle went out of his way, that day and in his radio spot two days later, to say specifically that he wasn't calling out Tuck. Tuck, a tenured Giant with a Super Bowl ring who could either have easily brushed off Rolle's perceived swipe or angrily fired back, took the words to heart. In Tuck's own words, what Rolle said "struck a chord." After that, and a conversation with Coughlin, Tuck was back on the practice field that week along with
Ahmad Bradshaw
and several other teammates whose nicks and bruises had been keeping them on the exercise bikes.
"I can't take credit for that," Rolle said Tuesday on that weekly radio appearance on WFAN in New York City. "Guys have turned things around on their own and for the betterment of this team. We have one goal in mind, and that's to compete and win a championship."
In that same interview, Rolle was asked about 49ers tight end
Vernon Davis
, who'd said a few days earlier that he'd "prayed" for the Giants to beat the Packers. Rolle's answer was this:
"If he said that, I can only hope that he was saying it just because they wanted to get a home game. You know, they'd better be careful what they ask for, because their wish has been granted and we will see those boys come Sunday."
The second part of the quote is the one being played up, because that's the way things work in this league and this business these days. But the fact is, Davis was clearly, and as he himself explained, only saying what he said because the 49ers preferred to play the NFC Championship Game at home. By now, Rolle surely knows that, and although it's possible this "Rolle vs. Davis" storyline will be kept alive this week, you can be certain Rolle won't be the one responsible for doing so. He talks, yes, but he doesn't appear to suffer nonsense. Rolle's talking has a purpose.
He may come off as a blustery yapper, but what Rolle has done over the past few weeks defies the modern sports establishments' attempts at easy categorization. This is a guy who talks -- all the time, yes -- but also backs it up. His individual performance against the Packers, which included occasional one-on-one coverage of
Greg Jennings
and
Jermichael Finley
in addition to his usual safety role, was one of the main reasons the Giants' secondary held up against Green Bay's aerial attack. Earlier this year, while they were waiting for top draft pick
Prince Amukamara
to return from injury, Rolle served as the nickel cornerback. For all of his talk, he has been an obvious and willing team player since arriving in New York. And upon further examination, all of Rolle's talk seems to have real, team-oriented purpose behind it.
Rolle's not out there bellowing about how great he is. He's not getting in the opposing coach's face and yelling, "Time to shut up, fat boy!" as a teammate of his did. He's not planting deleterious information about teammates in off-the-record interviews. Rolle is out there, playing hard, and the talking he does is intended for the good of the team. Although his personality might not appear to fit the traditional Big Blue profile, Rolle has emerged late this season as one of the leaders in the Giants' locker room.
He's doing it his own way, sure, and it's doubtful anyone saw Rolle-as-leader coming. But when he talks, even the veterans in that room listen. And leaders are judged, in the end, on results.
January, 16, 2012
1/16/12
12:11
PM ET
Lovely day here at Milwaukee's General Mitchell Airport, though it was kind of sad listening to the Packers fans on the sports talk radio this morning on the drive here from Green Bay. Honestly, if you've ever been to Green Bay, you need to wonder: what do those people do now?
What we do now is look ahead to Sunday's NFC Championship Game between the
New York Giants
and the
San Francisco 49ers
. It's going to be a different kind of game for the Giants. The 49ers don't have the array of passing-game weapons that recent Giants opponents such as the Packers, Falcons and Cowboys have. They will attack the Giants differently, and the best thing the 49ers have going for them is a defense that looked fast, tough and terrifying for most of the game against the Saints on Saturday night.
San Francisco finished fourth in the league in total defense, allowing just 308.1 yards per game, and first in rush defense by a mile, allowing just 77.3 yards per game. That would seem to bode ill for a Giants team that finished last in the league in rush offense. But the numbers from the head-to-head matchup between these teams in San Francisco in Week 10, even though the Giants lost it, offer some hope for the Giants.
The 395 yards of total offense the Giants had against the 49ers was the fourth-highest total any team posted against San Francisco all season. Only the Eagles (513 in a Week 4 loss), Cowboys (472 in a Week 2 overtime victory) and Saints (472 in Saturday's playoff loss) had more yards in a game against the Niners this season.
Even more encouraging, the Giants had 93 rush yards in that game, which is the fourth-highest total of rush yards any team had in a game against the Niners this season.
Marshawn Lynch
's Seahawks had 124 in Week 16,
Steven Jackson
's Rams had 111 in Week 17 and
LeSean McCoy
's Eagles had 108 in that Week 4 game in Philadelphia. All of those games were victories for the 49ers, but the Giants have run the ball considerably better over the past seven weeks, and in the Week 10 game in San Francisco they did not have running back
Ahmad Bradshaw
, who was out with a foot injury at the time.
Brandon Jacobs
had 55 yards on 18 carries, and
D.J. Ware
kicked in 34 yards on nine carries.
A healthy Bradshaw on Sunday, plus the drastic improvements the Giants have made in run blocking over the past two months, plus the film they can watch of their offense having success against this very tough 49ers defense, are all assets for the Giants as they prepare for the NFC Championship Game. The 49ers likely aren't going to miss as many tackles as the Packers did Sunday, but the Giants have proof that they can move the ball against them anyway. The key, as it always is, will be to avoid the turnovers. The Giants outgained the 49ers by 90 yards in Week 10, but
Eli Manning
threw two interceptions, and they lost by seven points.
January, 15, 2012
1/15/12
2:30
PM ET
Join our ESPN.com NFL experts as they break down the playoff showdown between the New York Giants and the Green Bay Packers.

Contribute your thoughts and questions beginning at 4:30 p.m. ET. See you there.


January, 12, 2012
1/12/12
12:26
PM ET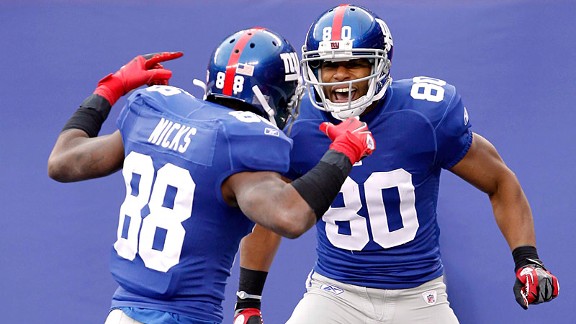 Andrew Mills/US PresswireHakeem Nicks and Victor Cruz are stars, but neither fits the cliched profile of the diva wide receiver.
EAST RUTHERFORD, N.J. -- Stars ignite quickly in New York, and when new stars get hot they burn bright enough to obscure the ones that were there already. So it is with
Victor Cruz
, the
New York Giants
wide receiver who's salsa dancing on the morning talk shows and making tabloid headlines with the birth of his first child.
Cruz is so hot right now that people have nearly forgotten about
Hakeem Nicks
, who was the budding star No. 1 receiver around these parts not four months ago. But Nicks doesn't mind. Part of the reason this all works -- and a large part of the reason the Giants find themselves preparing for a divisional-round playoff game Sunday against the Packers in Green Bay -- is that neither of the Giants' star wide receivers is the kind of guy who acts like, well, a star wide receiver.
"We're great friends," Cruz said Wednesday. "We talk all the time. We text each other all the time. When I'm watching film, I'll text him and ask him about something. And because he has a little girl himself and I just had one, I ask him for advice all the time on that. So he's a guy that I definitely look at as a friend -- a guy who's behind me and supports my career 100 percent."
Yeah, these two guys are a real coach's nightmare. Nicks spends his spare time in the film room, as he has since high school, obsessing over the finer details of his craft, because he never wants to miss an opportunity to get better. Last summer, Cruz took it upon himself to attend every one of
Eli Manning
's player workouts during the lockout, buddying up to the Giants' quarterback just in case he was going to get an opportunity. Just in case the Giants didn't bring back
Steve Smith
or sign
Plaxico Burress
or give
Domenik Hixon
the preseason reps at slot receiver or any of the other things they planned to do before giving Cruz a shot.
The Giants' star wideouts are workaholics. They're humble. They're generous and engaging and easy to like. In short, they bear absolutely no resemblance to the cliched profile of the diva wide receiver.
"I think the main thing with both of those guys is that they want to be successful, and they want to be successful as a team," Giants safety
Deon Grant
said. "They don't consider themselves individuals. They know the best way for them to be successful is if we're all successful. And that's a special thing, to have guys that think that way. That's why this is a special group of guys we have in here."
There is a remarkable lack of ego about these Giants. The quarterback doesn't carry himself like a star. The coach doesn't hold himself out as the smartest guy in the league. Even the remarkable self-confidence the Giants have been expressing outwardly over the past few weeks has rung sincere -- a genuine outgrowth of their own improved play on the field. They believe in themselves and each other, and nowhere is that more evident than in the mutual admiration society that is their wide receiver corps.
"We are a dangerous corps," Nicks said. "I feel like we're all No. 1 receivers. With our offense, if you try to take one guy away, it opens it up for the other two guys. You try to take two guys away, it opens it up for the third receiver and the tight end as well."
The third receiver is
Mario Manningham
, a player of considerable skill in his own right who began this season apparently poised for his own stardom before Cruz raced past him as well. Manningham has struggled with knee injuries through the second half of the season, but he had a big game last Sunday in the victory against the Falcons, and says he doesn't mind if people would rather talk about Nicks and Cruz.
"I hope they forgot about me," Manningham said of the Packers. "I like not being under the microscope."
Microscope, spotlight, whatever. The Giants' receivers are perfectly suited to roll with any or all of it. In a town that pumps up its stars to unsustainable levels of fame and expectation, the men who are turning Manning's short passes into long touchdowns every week remain grounded. They remain humble. They remain good friends and good teammates who believe hard work and dedication are the paths to success. For goodness' sake, they are NFL receivers who don't mind if somebody else catches the ball.
"Our coaches are always preaching the mantra of taking the names off the backs of the jerseys," Giants tackle
Kareem McKenzie
said. "Those guys, because of their personalities, they're a great example of that."
They're exactly what the Giants need. And that's a huge part of the reason the Giants are still playing.