New York Giants:

Robert Griffin
June, 5, 2013
6/05/13
2:31
PM ET
Antrel Rolle
is looking forward to getting a healthy and 100 percent
Jason Pierre-Paul
back.
Pierre-Paul
underwent back surgery
on Tuesday after laboring with back pain.
"I called [our agent] Drew Rosenhaus to get updated with Jason Pierre-Paul's injury," Rolle said on NFL Network. "I am just glad he is getting it taken care of now because 80 percent of JPP is better than a lot of people at 100 percent in this league. To get him at 100 percent, he is definitely going to play off the charts and I am eagerly anticipating him getting back with us."
[+] Enlarge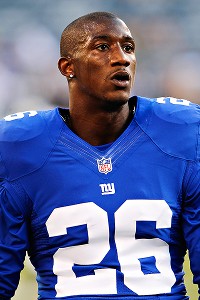 Debby Wong/USA TODAY SportsAntrel Rolle is looking forward to playing with a healthy Jason Pierre-Paul this season.
Rolle also discussed a variety of subjects that included the absence of
Victor Cruz
and
Hakeem Nicks
from voluntary OTAs. Cruz has been trying to work out a long-term extension. Nicks, who is entering the final year of his contract, has missed the last two voluntary OTAs.
"I am just hoping it is not really that serious," Rolle said about the contract situations of both receivers. "I am just hoping that this process doesn't string out too long. And hopefully we get those guys with us sooner than later because they are two of our biggest playmakers."
Speaking of playmakers, Rolle was asked about facing Redskins quarterback
Robert Griffin
III again once the speedy quarterback returns from knee surgery.
"I am not so eager to see this guy," Rolle said. "He is not the kind of guy where you are like, 'I want to go play this guy.'"
"I am going to let him take his time, get his rehab, I want him 100 percent," Rolle later added. "I don't want him 70 percent, I don't want him 80 percent, I want him 100 percent."
Another player Rolle will have to face twice a year now is good friend and former teammate
Kenny Phillips
, who signed with Philadelphia.
"For Kenny to go over there, I tell him every day I hate him," Rolle joked. "Words can't explain right now how much I hate this guy right now. You know I love him to death. [Phillips is] my little brother to the end."
The Giants, though, first have to worry about the
Dallas Cowboys
, who host the Giants in the season opener.
"Always a great rivalry and you are always going to get a great game out of those guys," Rolle said. "The Dallas Cowboys are a good team. I think maybe they are missing a couple of pieces to the puzzle. But I don't think the pieces they are missing are actually the players. They are always contenders. They are always right there in the mix and I am looking forward to meeting those guys twice a year."
Rolle later clarified his comments about the Cowboys on Twitter, tweeting, "My response about the Dallas Cowboys was not directed towards the coach or the play calling. I blame myself becuz I guess I left it open."
"I was simply saying that everything seems to be in place for them but somehow they always fall up a game short of playoff bound! #clarity," Rolle said in another tweet.
Rolle added in a third tweet: "Bottom line is no matter who says what the game still has to be played! Let the games begin becuz I am ready. It's in our backyard say no mo."
October, 21, 2012
10/21/12
6:59
PM ET
EAST RUTHERFORD, N.J. -- A couple of weeks ago,
Jason Pierre-Paul
complained that he wasn't having any fun this season.
That appears to have changed.
After getting two sacks in the Giants' win in San Francisco last week, Pierre-Paul collected another one in Sunday's 27-23 victory over Washington. He also forced a fumble on a separate play, when he took down Redskins quarterback
Robert Griffin III
on a run behind the line of scrimmage.
[+] Enlarge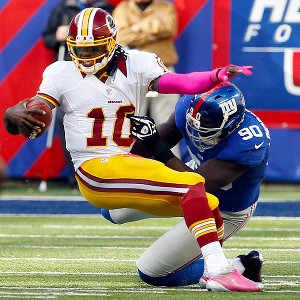 William Perlman/The Star-Ledger/US PresswireJason Pierre-Paul brings down Robert Griffin III.
And after his sack, Pierre-Paul did a "Gangnam Style" dance, to the delight of the crowd.
"It was a great win," a smiling Pierre-Paul said after the game.
All three of the Giants' star defensive ends got to Griffin, the Redskins' rookie phenom.
Justin Tuck
sacked him on a third-and-5 in Giants territory in the second quarter, forcing a Redskins field goal attempt.
Osi Umenyiora
brought Griffin down on a second-and-8 early in the fourth quarter.
For Tuck, believe it or not, it was his first sack of the season.
"Finally. It is good to get off the schneid, with Osi and JPP killing me in the meeting room and calling me the old guy," Tuck said. "It was good to make a play and help this team win a football game."
Griffin, with his speed, isn't the easiest guy to track down. And the Giants' pass-rushing trio raved about the rookie after the game.
"He's faster than I thought he was," Pierre-Paul said.
"I'm pretty mad at the football gods for putting him in the NFC East," Tuck said.
"That guy is flat-out unbelievable," Umenyiora said. "That's the best quarterback we've played this year, for sure."
The Giants will have to face Griffin again, on Dec. 3 in Washington. In the meantime, Big Blue has four games to play -- against the Cowboys, Steelers, Bengals and Packers.
Not exactly a walk in the park.
The Giants had just eight sacks in the first five games of the season. But with nine in their past two games, the pass rush appears to be revitalized -- just in the nick of time.
Tuck and Umenyiora are important. But Pierre-Paul is the one who had 16.5 sacks last year -- fourth in the NFL, in just his second season. He's the biggest playmaker the Giants have on defense, and they need him to continue to perform at a high level.
"I think he had a lot of fun today," Tuck said of Pierre-Paul. "I honestly think that whole 'not having fun' (thing) was blown out of proportion. It was good to see that he is starting to make the plays that we are accustomed to watching him make.
"Like I said, that guy, I think he is going to change the league. If he continues to do what he is doing, he is going to be good for a long time."