New York Giants:

Robert Nunn
November, 1, 2013
11/01/13
12:00
PM ET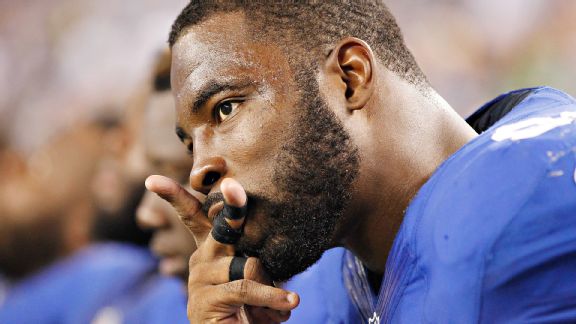 Tim Heitman/USA TODAY SportsStats all? Justin Tuck's numbers are deceiving, said defensive line coach Robert Nunn.
EAST RUTHERFORD, N.J. -- The stats don't tell the story regarding
Justin Tuck
's play this season.
Just ask Giants defensive line coach Robert Nunn.
"Justin is off to an outstanding start. A very solid first half of the season. He's healthy. He's playing really well against the run," Nunn said Tuesday. "He's hit the quarterback nine times in two games, and he's only got one sack to show for it, but if he keeps doing what he's doing it's going to show up at the end of the year. It's going to show up in wins for us."
Since recording 11 1/2 sacks in 2010, his third double-digit-sack season in four years, the sacks have not been there for one of the Giants' captains. He had just five sacks in 2011, although he did play quite well in the postseason, and he had just four last season. Entering this season, the final year of his contract, there were plenty of questions about how much Tuck had left.
Nunn is adamant Tuck is playing better than the box score indicates. He has just 1 1/2 sacks, but the Giants as a whole have just 10. His 30 combined tackles puts him on pace for his most since 2010. He's been particularly effective against the run, with six stuffs already.
Nunn believes Tuck's improved play is a result of being healthy. Tuck has been bothered by various injuries the past few seasons, including a neck injury that sidelined him for four games in 2011.
"He has played much better, comparing him to last year. He's played healthier," Nunn said. "I said that in the preseason -- I really thought if he could maintain staying healthy that he would really show up and he really has."
Tuck serves as the longest tenured Giant on the defensive line, and as he plays through his contract year, the Giants are integrating two rookies into the unit in second-round defensive tackle
Johnathan Hankins
and third-round defensive end
Damontre Moore
.
Despite Moore receiving more playing time thus far, Hankins has done better with his chances. Hankins hasn't seen the field as much as Moore because the Giants are stocked at defensive tackle, which has been their strongest defensive unit through the first half.
"We got [Moore] in there a few plays the other day and he missed a couple opportunities. He gets in there, he has to do [it]," Nunn said. "Johnathan has done a good job. When he's gotten his chance he's taken advantage and done a good job for us. Damontre has to do the same thing."
Nunn said Moore's injuries have slowed him down; Moore injured his shoulder during the preseason and recently dealt with a hamstring issue.
"He's showing up on special teams like we thought he would and he loves to play this game and we got to get him more opportunities as the season goes [on]," Nunn said. "I think as the season unfolds you're going to see him show up more in the pass rush."
February, 6, 2012
2/06/12
12:07
AM ET
All Justin Tuck could do on on the final play of the game was watch.

"I was about at the 50-yard line and the ball seemed like it was in the air for four years," the defensive end said after the game on ESPN. "I'm so glad to see that ball hit the ground. … It was up for a while and you never know how those things are going to turn out. You play a great game collectively and it's just a bounce of the ball with that thing."

That bounce would hit the ground and give Tuck his second title in four years. The defensive end once again had a stellar game in the Super Bowl, recording two sacks, including a big sack on the final drive. The defensive end recorded both of the Giants sacks in their 21-17 win.

"It feels awesome, man," Tuck said. "All glory goes to God for putting us together as a team. Another Giants team win. I had a pretty good game individually but the secondary did a great job of playing the coverage that we called and giving us time up front to go to work and we just continued to play together and when you have 11 guys that go out there and play as one, you're going to be tough to beat."

After a rough season for Tuck that involved injuries and a down season for him, as he had just five sacks during the regular season, he turned it on at the end of the year. In the biggest game of the season on Sunday, Tuck was looking like himself with his pair of sacks and plenty of other pressure on Brady in the game. He forced the safety on New England's first drive that gave the Giants a 2-0 lead which they quickly boosted to 9-0.

Tuck's effort was part of a Giants defense that kept New England's high-powered offense to just 17 points in the game and did not allow the Patriots to score over the final 26:20. While the Giants pass rush took some time to get going, it turned on in the fourth quarter and was able to keep New England from making plays down the field. Tuck also had two sacks in the Super Bowl four years ago.

"We knew that (Tom Brady) was going to a number on trying to get the ball out, trying to hit his guys on some slants, some quick digs, things like that and not allowing our rush to get to him but we didn't feel like they could beat us this way," Tuck said. "We just continue to be persistent, continue to be patient. Coach (Robert) Nunn does a great job of getting us prepared and his favorite thing to say is to go out there and put the bat on the ball, not try to hit home runs there. You just keep chipping at that rock, it's going to break after a while and basically it was. It was our game plan coming into it."

Sunday, Tuck and the Giants executed that game plan well. And they won their second ring in four years for their efforts. Tuck didn't want to talk dynasty, though. He'll just enjoy this win.

"That's for you guys," Tuck said. "We don't really care about that. Hopefully we continue to win those things. That's for you guys."