New York Giants:

scott tolzien
November, 20, 2013
11/20/13
11:55
AM ET
EAST RUTHERFORD, N.J. -- He may not have even had the best individual defensive game on his team Sunday. But the play
New York Giants
defensive end
Jason Pierre-Paul
made to intercept
Scott Tolzien
and run in for a touchdown turned the game in the Giants' favor for good. And for that effort, Pierre-Paul has been named the NFC Defensive Player of the Week for Week 11.
It's the third time Pierre-Paul has won this award. He won it in Weeks 14 and 16 of the 2011 season for performances against the Cowboys and the Jets. He is the third Giants player to win the award at least three times, joining
Michael Strahan
, who won it five times, and
Lawrence Taylor
, who won it nine times.
Giants coach Tom Coughlin said Wednesday morning that Pierre-Paul would miss practice with the shoulder injury that's been bugging him the last couple of weeks. But Pierre-Paul missed practice last Wednesday and Thursday and still played (and apparently quite well) in Sunday's game. At this point, there's no reason to fear that he'll miss Sunday's game against the Cowboys.
November, 18, 2013
11/18/13
8:00
AM ET
EAST RUTHERFORD, N.J. -- An examination of four hot issues from the
New York Giants
'
27-13 victory
against the
Green Bay Packers
:
Pierre-Paul
Anatomy of a game-changer:
Linebacker
Jon Beason
said part of the scouting report on the Packers'
Scott Tolzien
was that the ball came out of his hand on a low trajectory. So if the Packers were going to be taking three-step drops all night, as they were, the Giants' pass-rushers were instructed to get their hands up quickly to try to bat down the ball.
Jason Pierre-Paul
knew this, and he said he also knew, right before that fourth-quarter play, that Tolzien was going to throw a screen pass to his side of the field. So Pierre-Paul stayed home instead of rushing and threw his hands up in the air. But he didn't want to bat down the ball; he wanted to catch it. Which he did. And then he ran 24 yards for the game-sealing touchdown.
Don't blame Eli for this one:
Eli Manning
's second-quarter interception was his league-leading 17th of the year, but it was clearly not his fault. Wide receiver
Louis Murphy
was supposed to break inside -- Giants coach Tom Coughlin said there was no option on the route, and that Murphy just blew it. What was weirder, though, was that Murphy was on the field instead of
Hakeem Nicks
, who appeared to hurt himself on a play earlier in the drive on which
Tramon Williams
was called for pass interference. Nicks sat out a few plays, and after the Murphy blunder some teammates went over to talk to and encourage Nicks, who returned to the game on the next drive and didn't want to talk after the game about what was bothering him.
Getting the ball:
After allowing an average of only 206.3 yards per game during the first three games of their winning streak, the Giants gave up 394 to the Packers on Sunday. But they also got three turnovers, giving them a total of 11 during their four-game winning streak after forcing only seven during the first six games of the year. They have won the turnover battle in three of their past four games.
Looking ahead:
Pierre-Paul said of the Cowboys, who come to town next week, "We're going to put it on them, man."
Brandon Jacobs
said, "Playing the Cowboys is always good. That's one of the opponents I love to play more than anybody in the National Football League. It means something to our football team." The Giants moved the ball against a relatively full-strength Cowboys defense in Week 1 but lost mainly because they turned it over six times. They are eager for revenge against a Cowboys defense that will be without middle linebacker
Sean Lee
. If the Giants' offensive line can protect Manning, the game could be a shootout. That's a big "if," but Manning's 279 passing yards Sunday were his most since Week 5, his 71.4 completion percentage was by far his highest of the season and his 92.4 passer rating was his highest since the opener in Dallas.
November, 17, 2013
11/17/13
5:58
PM ET
EAST RUTHERFORD, N.J. -- I mean, the
New York Giants
should be leading this game by a considerable margin. They are not. They lead it 10-6 over
Scott Tolzien
's
Green Bay Packers
after a first half in which they possessed the ball for 19:59 of a possible 30:00. Nothing I've seen so far indicates that they should lose to a Packers team that isn't covering very well and isn't protecting its third-string quarterback and isn't opening holes for its running game, but ... in spite of it all, the Giants' lead is only four points and the Packers are getting the ball to start the second half.
Things looked very good for the Giants early. They took a 7-0 lead on their second possession, as
Eli Manning
found
Rueben Randle
open over the middle for a 26-yard touchdown catch. They held the Packers to three-and-outs on each of Green Bay's first two possessions. They went up 10-0 early in the second quarter on a 40-yard
Josh Brown
field goal and looked for all the world as though they'd run away with this game and win their fourth in a row.
Which they still might.
But that second quarter didn't continue to go well, did it? As they were going in for what looked like another touchdown, Manning threw his league-leading 17th interception of the season. It didn't appear to be his fault, as wide receiver
Louis Murphy
didn't do what he was supposed to do and the ball sailed into the hands of Packers cornerback
Tramon Williams
. Murphy was in the game because
Hakeem Nicks
appeared to get injured on a play where he got hit on a pass interference call, but after some teammates talked to him on the sideline, Nicks returned for the Giants' final possession of the half. He couldn't convert on third down, though, and the Giants punted it away with enough time for the Packers to move into position for a 57-yard field goal by
Mason Crosby
as time ran out.
So it's 10-6, as I said, and I really don't know what to make of it. At one point, I'd have told you Manning looked as comfortable under pressure as he has at any point this year, but then he started missing on throws, including one that could have been a
Victor Cruz
touchdown up the right sideline six plays before the interception. The Giants are doing a good job against the run, holding Packers running back
Eddie Lacy
to 14 yards so far on seven carries, but Tolzien has found some open receivers and begun to move the ball.
Giants running back
Andre Brown
looks fantastic again, with 40 yards on eight carries so far to go with a 12-yard reception, and
Brandon Jacobs
converted a couple of short fourth downs. So there's reason to believe the Giants can control the second half with the run game if they can hold the lead. But after a great first quarter, the second kind of shook your confidence that the Giants are good enough to put a game like this in their pocket. We shall see.
November, 16, 2013
11/16/13
2:00
PM ET
The
New York Giants
have won three games in a row following an 0-6 start and marching their way back toward .500 as they take on the
Green Bay Packers
on Sunday at 4:25 pm ET at MetLife Stadium. This game was originally scheduled for 8:30 pm ET, but has been moved up four hours as part of the league's flex scheduling rules. So if you're going to the game, or if you have plans to watch it, bear in mind the start time isn't the same as the one on the magnetic schedule you got at the beginning of the year.


Here are a few things besides that to watch in Sunday's Giants-Packers game:
An Andre Brown encore?
After rushing for 115 yards on 30 carries in his season debut Sunday against the Raiders, Brown is back and hoping for a big follow-up now that he's clearly the No. 1 man in the Giants' backfield. Green Bay counters with some big, mean monsters in the middle of their defensive line, and
B.J. Raji
& Co. will be tougher for the Giants' interior offensive linemen to push around than the Raiders were. Brown looked good keeping his legs moving and gaining yards after contact, but it's possible the contact could come a lot sooner this week between the tackles.
Wary of Packers' run game, too:
On Thursday after Giants practice I asked
Justin Tuck
if there was anyone of whom Packers rookie running back
Eddie Lacy
reminded him when he watched Lacy on tape. Without hesitating, Tuck said, "A bigger
Marshawn Lynch
." Pretty high praise there. We looked it up, and Lacy does actually list at 230 pounds to Lynch's 215, but Tuck said he didn't know the numbers. "All I see is a lot of broken tackles," he said. The Giants aren't spending time thinking they got a break because
Aaron Rodgers
is injured and out for this game. They're locked in on Lacy and the best rushing attack the Packers have had in years.
Who is Scott Tolzien?
On the Packers' practice squad two weeks ago, Tolzien has been elevated to the starting quarterback's role due to injuries to Rodgers and backup
Seneca Wallace
. The Giants admit they don't know much about Tolzien and haven't seen much tape on him, but what little they have seen shows them he's not afraid to throw deep and take chances downfield. A Giants secondary that feels very good about itself right now sees that as a potential opportunity to create turnovers and tilt the field position and the game in their favor.
Could Eli air it out?
Giants quarterback
Eli Manning
leads the league with 16 interceptions, 15 of which came in the first six games. Manning has appeared more cautious over the past three games, perhaps making a more conscious effort not to turn the ball over. But that's not really who he is. This week could offer him a chance to take more chances. The Packers' defense has only intercepted three passes this year -- the lowest team total in the league.
November, 15, 2013
11/15/13
10:00
AM ET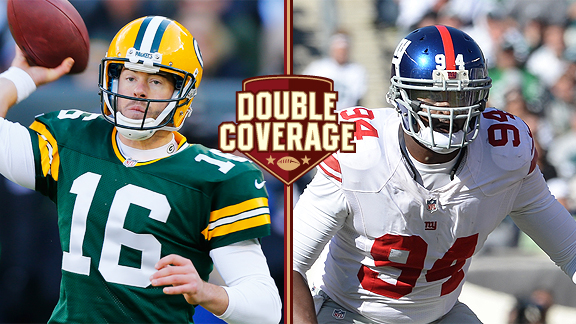 Gregory Shamus/Getty ImagesNew Packers quarterback Scott Tolzien will face Mathias Kiwanuka and an improved Giants pass rush.
The
New York Giants
will be looking for their fourth win in a row following an 0-6 start. The
Green Bay Packers
will be trying to snap their first two-game losing streak since 2010. The two teams square off Sunday at MetLife Stadium in East Rutherford, N.J.
ESPN.com Giants reporter Dan Graziano and ESPN NFL Insider Matt Williamson (filling in for Packers reporter Rob Demovsky) break down the matchup for you.
Dan Graziano:
Hey, Matt. Thanks for filling in while Rob's on the inactive list this week. The big question the Giants have this week is: Who is
Scott Tolzien
and what can we expect to see from him? So let's start with that one.
Matt Williamson:
Well, Dan, that's a good question! I don't think we really know the answer, but he did move the team well in relief of an injured
Seneca Wallace
and was generally a smart distributor of the football. And we know Green Bay has weapons to get the ball to. We don't have a lot of tape to evaluate, but I think the Packers are better off with Tolzien over Wallace while
Aaron Rodgers
recovers from a broken collarbone.
While we are talking quarterbacks, what on Earth is going on with
Eli Manning
? Despite this winning streak, he really has not played well.
Graziano:
Matt, my theory on Eli is that the protection issues at the beginning of the season were so egregious that he just fell into this zone of discomfort from which he's been unable to extricate himself. He just doesn't look right back there, and while the protection issues have improved some, they're still present. The Giants have had no blocking help from the tight-end position at all. They're vulnerable in the middle of the line, and I'm not sold on either tackle, to be honest. They haven't had reliable blitz pickup help from the running backs.
Downfield,
Hakeem Nicks
isn't playing wide receiver the way he used to play it. A lot has gone on around Manning to make him far less comfortable with his surroundings, and I'm not sure what it's going to take before he starts playing with that old Eli confidence again. Great quarterbacks make the best of bad situations, and Manning has not done that this year. As the Giants' situation improves, they will need him to play much better if they're really going to make this miracle run they still believe they can make.
They get another break this week with Rodgers out and Tolzien in, but they are already talking about that improved Packers running game. What do you see from
Eddie Lacy
& Co. and how do you think they'll attack the Giants, who have generally been pretty good against opposing running backs this season?
Williamson:
This Packers' running game is terrific and should continue to excel even with less of a passing threat. The left side of the offensive line is playing great, but isn't healthy on the right side and has had to do a lot of shuffling of personnel there. Still, the rushing attack isn't easy to prepare for, as the Packers can run a wide variety of plays out of a wide variety of personnel groupings and formations. Lacy is quick to get downhill and is a punishing runner who can wear a defense down, and he also excels at reading his blocks and showing patience with the ball in his hands -- rare traits for a rookie running back. The Packers' ability to run the ball will probably be the most crucial component of this game.
Along those lines, I feel like the Giants might actually have a respectable rushing attack of their own now with
Andre Brown
carrying the rock. Do you agree?
Graziano:
Yeah, the 30 carries and 115 yards for Brown on Sunday in his first game back off a twice-broken leg were eye-opening. I think the workload they gave him showed that the Giants knew just how much they were missing this season at running back.
David Wilson
never got going and then got hurt, and they patched it together with
Brandon Jacobs
and
Peyton Hillis
. But watching Brown run with vision and power and gain yards after contact Sunday, it was obvious that he's the Giants' best option going forward and the best they've had all season.
The injury risk has to be considered, given Brown's history, but at this point the Giants need to win pretty much every game, and they're going to have to lean hard on Brown to do it. Even if he can't be as productive every week as he was against the Raiders, the legitimate threat he poses on film should open up the play-action passing game as a way for Manning to combat those protection issues.
So the Giants feel they can offer a balanced offensive attack against a Packers defense that couldn't get the ball back from the Eagles in the final 9:32 of Sunday's game. Was that a
LeSean McCoy
issue, or are the Packers really struggling on defense right now?
Williamson:
The Packers are struggling on defense and allowing too many big plays. I expected last week's return from injury by
Clay Matthews
to pay off much more than it did. However, we know Matthews is a great player, and maybe he just needed a week to get back into the swing of things. I still expect Matthews to torment the Giants' tackles this week.
On the inside of their defensive line, the Packers have a lot of sheer mass and power with guys like
B.J. Raji
,
Johnny Jolly
and
Ryan Pickett
. I also expect the Giants' interior offensive line to have a difficult time moving this group in the running game. This could be a bounce-back week for Green Bay on this side of the ball.
The Packers' run defense had a difficult time when the Eagles stacked both of their offensive tackles on the same side of the formation. While I expect the Giants could use some personnel groupings with six offensive linemen, I don't see them duplicating what Philadelphia did to make room for McCoy.
Watching the Giants game from last week, I noticed they had a difficult time getting the Raiders'
Pat Sims
blocked. Sims is a big-bodied and powerful defensive tackle in much the same mold as the Packers' group. I think that bodes well for Green Bay this week.
And expect the Giants to have a difficult time blocking little-known
Mike Daniels
in the passing game. Daniels has taken over the
Cullen Jenkins
role -- a spot Green Bay drafted
Datone Jones
for in the first round -- as an interior pass-rusher, and he has excelled.
The Giants' defense is based entirely on great defensive line play. This is a deep group with a ton of important resources tied up in it, but it hasn't been an elite group. It is improving, however. Where do you see this unit right now and this week against the Packers?
Graziano:
Well, the sack numbers have come up. The Giants had only six sacks in their first seven games, but then got eight in their past two games. So they've moved from last in the league in sacks, where they spent most of the season, to a tie for 30th in that category. Odd thing is, of the eight sacks in their past two games, only four have come from defensive linemen. Safety
Antrel Rolle
has as many sacks (two) in the Giants' past two games as defensive end
Jason Pierre-Paul
has in their past 16.
The line has been very good, as I mentioned, against the run this year. But over the first seven games of the season, opposing quarterbacks did a good job of unloading the ball before the Giants' pass-rushers could stop them from doing so. Not sure they get the full test this week against Tolzien, but at some point we're going to find out whether the front four really has improved, or whether it has just been feasting on lesser competition.
Thanks again, Matt. Catch you online in one of our game chats soon, I'm sure.
November, 14, 2013
11/14/13
8:00
AM ET
Your daily morning check-in on news and notes about and of interest to the New York Giants.
The news of the day:
Early in the day Wednesday, Tom Coughlin expressed optimism that defensive end
Jason Pierre-Paul
would recover from his shoulder injury in time to return to practice Thursday and certainly play Sunday. After sitting out practice Wednesday, Pierre-Paul said he
didn't share his coach's optimism
, didn't expect to practice Thursday and couldn't say whether he'd be ready Sunday for the Packers. So you know what the top story line is for us to watch the rest of the week, now, don't you?
Behind enemy lines
: Packers coach Mike McCarthy said on his conference call with Giants writers Wednesday that "everybody in the building" felt good about
Scott Tolzien
at quarterback when he went into Sunday's game in relief of
Seneca Wallace
. This week's practice time in advance of Tolzien's start Sunday against the Giants at MetLife Stadium has folks around the Packers
backing up McCarthy's words
.
Around the division
: The Redskins' offense stalled out and blew a lead last Thursday against the Vikings, which was obviously bad. But in the big picture, Washington's run-driven offense has been good for the past month or so and is the reason
Washington is optimistic
about its chances to rescue its season from a 3-6 start as it did a year ago.
Around the league:
It has nothing to do with the Giants, who don't see the Cardinals this year, but
Josh Weinfuss' story
on Arizona defensive back
Tyrann Mathieu
is more than worth your time. Lot of debate about this young man pre-draft, but Arizona took the risk and it appears to be paying off for them.
November, 13, 2013
11/13/13
8:00
AM ET
Your daily morning check-in on news and notes about and of interest to the New York Giants.
The news of the day
: The Giants return to work to look at tape on Packers third-string quarterback Scott Tolzien, about whom they know little if anything in advance of his start against them Sunday at MetLife Stadium. The players on the Giants' defense have begun to feel good enough about themselves to believe they can handle anyone. They say they're not going into games thinking about limiting damage anymore, but instead thinking about
shutting teams out
.
Behind enemy lines:
Here's our man Matt Williamson's
scouting report on Tolzien
, who Matt says won't be afraid to try tough throws and could have an opportunity to hit some plays downfield if the Giants key on the Packers' vastly improved running game.
Around the division:
The Dallas Cowboys are off this week before facing the Giants in Week 12, but the bye may not be enough to get them healthy on defense. They'll surely be without linebacker Sean Lee, who's probably the best player on their team and is out for a few weeks with a
pulled hamstring
. Fellow starting linebacker Justin Durant is also out for that game, and it remains to be seen whether the Cowboys' defense can expect to get linemen DeMarcus Ware and Jason Hatcher back in time for the Giants game. Big mess down there in Big D.
Around the league
: No, I do not expect the Giants to try to sign veteran safety Ed Reed following his
release from the Texans
. From what little I've seen, my impression is that Reed is done or close to it. And safety is one of the positions at which the Giants actually look very good, with Antrel Rolle and Will Hill and Ryan Mundy. They have no cap room and bigger problems. If Reed could play center, that'd be one thing.
November, 12, 2013
11/12/13
8:00
AM ET
Your daily morning check-in on news and notes about and of interest to the New York Giants
.
The news of the day:
Lots of talk these days about the 3-6 Giants being "back in the race" for the NFC East title since the first-place teams are only 5-5 and the Giants are on a three-game winning streak. But you won't find the Giants themselves engaging in much of that talk, as they realize they
still have a ton of work to do
before any of that is even close to a reality and they're working hard to maintain their week-to-week focus on the game at hand... Matt Ehalt also spoke with punter
Steve Weatherford
about
his tough year
.
Behind enemy lines:
The Packers are signing former Packers (and Seahawks and Raiders and Bills) quarterback
Matt Flynn
to
serve as the backup
this week to third-stringer
Scott Tolzien
, who will start against the Giants with
Aaron Rodgers
and
Seneca Wallace
both out with injuries. Flynn obviously knows the offense and had that one great game for the Packers at the tail end of the 2011 season that ended up making him a lot of money. But word is he has an elbow problem, and he's unlikely to factor into things Sunday against the Giants. It's the Tolzien show, folks.
Around the division:
One of the 5-5 teams in that first-place tie in the NFC East is the
Philadelphia Eagles
, who have four home games and only two road games left. That sounds fantastic until you realize that the Eagles haven't won a home game since Sept. 30, 2012 and have lost 10 straight at Lincoln Financial Field.
As Phil Sheridan writes
, the Eagles can't consider themselves a legitimate contender until they figure out how to win home games.
Around the league:
In case you missed it,
this is my column
on how the rotten state of the NFC East speaks to a larger issue of creeping mediocrity in the NFL. To answer some of the more polite questions that came my way on Twitter on Monday, yes, this is a new phenomenon. Only four of the first 41 Super Bowl champions won fewer than 11 games in the regular season. Four of the last six have.
November, 11, 2013
11/11/13
4:55
PM ET
EAST RUTHERFORD, N.J. -- The narrative intrudes from the outside, breathlessly, from week to week. Players in NFL locker rooms face cameras and notebooks wielded by people in need of comment on whatever latest turn the story has taken. This week with the
New York Giants
, who have won three straight games after an 0-6 start to push their way onto the fringe of one of the worst division races in sports history, the story is supposed to be "They're in it!"
But the Giants themselves don't seem all interested in playing along.
"I wouldn't say, necessarily, that we're back in it," defensive tackle
Cullen Jenkins
said Monday afternoon. "We're taking steps. We're building. We have some wins and we have some momentum going, but there's still a long way to go to the point where we feel like we're right back there, or tied, or something like that. We can't get too caught up in that."
[+] Enlarge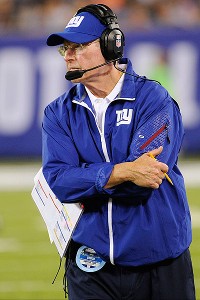 AP Photo/Bill KostrounTom Coughlin's Giants have maintained their usual calm, professional approach during
an up and down season.
This is one of the great strengths of the Giants' locker room: Walking in there Monday, nothing felt different than it did when the team was 0-4, 0-5 or 0-6. Throughout the losing streak, the Giants maintained professionalism and perspective, never ducking reporters or shouting at us or venting their frustration in any obvious way. So it's little surprise that they're handling their sudden prosperity with the exact same attitude and demeanor. It says a great deal about their head coach, who was asked Monday what he thought about his players' cool reluctance to engage in the we're-still-in-this-thing storyline.
"It's smart," Tom Coughlin said. "It's one game at a time. Obviously, you keep your dreams alive, but you focus on the task at hand. And we've got enough things that have to improve on our team than to worry about that right now."
In truth, the Giants have not played especially well during their current win streak.
Eli Manning
and the offense are way out of sync, and the special teams are a complete nightmare. The defense has been excellent, allowing just one short-field touchdown over the past 14 quarters, but while praise is justified, it has to come with a disclaimer about the level of competition they've faced and whether they can perform as well in December against the Seahawks, Lions and Chargers as they have against the Raiders and the unprepared backup quarterbacks of the Vikings and Eagles.
The good thing for the Giants is that they get that. They understand exactly where they are -- and where they are not -- in the NFL picture right now. Yes, they can look at the standings and see that the two teams tied for first place in their division are only 5-5. But those same standings remind them that they are not one of those two teams. Though their next two games are at home against the
Scott Tolzien
Packers and a
Dallas Cowboys
team that right now doesn't have 11 healthy NFL-quality defensive players, they're not concerning themselves with the problems of their opponents.
"We're 3-6," safety
Antrel Rolle
said. "We're in no way, shape or form in position to underestimate anyone. We know exactly who we have ahead of us. I think they have something they haven't had there in a long time, and that's a running game. We're looking forward to playing those guys."
The focus for the Giants this week is not the standings, but the Packers. Just as, when they were losing every week, the focus was not on the standings, but on the next week's opponent. There's nothing they can do this week about the Cowboys or the Eagles or the Redskins, and so they put that out of their minds and do their work, just as they have every week this season, whether things were going well or not.
"This is a pretty serious bunch, and they were like that today," Coughlin said. "Mondays have been serious and fairly quiet, to be honest with you. They're well aware, as I told them yesterday, that the reason for the outcome was because we believed. We kept believing. And that's a process."
The Giants' belief in themselves isn't new and it isn't the result of their win streak. It's the same belief they kept while it was being challenged and battered throughout those miserable first six weeks of the season. It comes from the top, and from a veteran coach who knows that preaching focus and simplicity works with this team, and continues to preach it while the players continue to buy in.
There's no way to know at this point how this season will end up for the Giants. The odds they face continue to be extremely long. They need to win five of their final seven games just to finish .500, which is unlikely to get them into the playoff field. But all of that is for us to discuss among ourselves. The Giants are happy to let us do it. You'll just have to excuse them if they don't want to join in.