New York Giants:

Seattle Seahawks
November, 5, 2014
11/05/14
4:05
PM ET
New York Giants
receiver
Odell Beckham Jr
. had his best game yet Monday night, with eight catches for 156 yards against the
Indianapolis Colts
.
Now he faces his biggest challenge so far -- a matchup with the Seattle Seahawks, and more specifically the Legion of Boom.
Beckham
Seattle's secondary was the primary reason the team won the Super Bowl last season, and it's a strong unit again this year -- headlined by cornerback
Richard Sherman
.
Sherman may be lined up opposite Beckham frequently on Sunday, but Giants quarterback
Eli Manning
believes the rookie is up to the challenge.
"Yeah, I think Odell Beckham has done some really good things," Manning said Wednesday, on a conference call with reporters. "I think he is up for whatever challenge is thrown at him. And he is still growing as a player, but I think he definitely does some good things and we need him to keep getting better and keep making plays for us."
Beckham has only played in four NFL games, missing the first four of the season because of a hamstring injury that also sidelined him for the entire preseason. But he's obviously a fast learner. He already has three touchdown catches, in addition to the breakout game against the Colts, and appears to be Manning's best weapon now that
Victor Cruz
is out for the rest of the year.
Sherman
And Beckham is looking forward to facing Sherman & Co. this weekend.
"These are the games you live to play for, the moments you live to play for -- to go against the best of the best, to go against Richard Sherman, the Seattle Seahawks and the L.O.B." Beckham said. "Why not embrace that opportunity? Why not take the challenge, accept it and face it?"
It won't be easy. The Seahawks' defense is ranked sixth against the pass this season (221.9 yards per game), and fourth against the run (83.0). Starting cornerback
Byron Maxwell
and safety
Kam Chancellor
both missed last week's win against the Raiders due to injury, but at least Chancellor is expected to return this week. Meanwhile, Sherman currently sports the fourth-highest rating of all cornerbacks in the NFL, according to Pro Football Focus.
"I am never going to back down from anyone," Beckham said. "He has some experience. He is a big, athletic guy that wants to press at the line. Those are all things he does well, so you have to try to find, as few as there are, you have to try and find those weaknesses that he has. At the end of the day, it is football. You have to go out and play football and give it your best. Whatever happens, happens."
Neither player lacks confidence, that's for sure. This will certainly be a fun matchup to watch.
December, 15, 2013
12/15/13
10:00
AM ET
Join our ESPN.com NFL experts as they break down the Seattle Seahawks' visit to the New York Giants. Contribute your thoughts and questions beginning at 1 p.m. ET. And, be sure to visit our
NFL Nation Blitz page
for commentary from every game, as well as fan photos and the latest buzz from Twitter. See you there.
December, 12, 2013
12/12/13
10:00
AM ET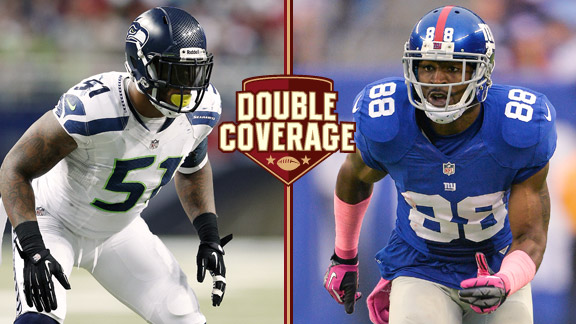 AP PhotoBruce Irvin and the Seahawks are beatable on the road. Can Hakeem Nicks and the Giants win?
The 11-2
Seattle Seahawks
have had their playoff spot wrapped up for a couple of weeks already and have their eyes on the top seed in the NFC. The 5-8
New York Giants
were eliminated from playoff contention Sunday and openly admit that they're playing for pride from this point forward. These two teams meet Sunday at MetLife Stadium -- a place the Seahawks hope to return to in early February for the Super Bowl.
ESPN.com Seahawks reporter Terry Blount and Giants reporter Dan Graziano break down the matchup between the league's best team and one of its most disappointing teams.
Graziano:
Terry, let's start with Seattle's exciting young quarterback. The Giants this year have seen
Terrelle Pryor
,
Cam Newton
and
Robert Griffin III
, who are the only quarterbacks with more rushing yards than
Russell Wilson
has. From your standpoint, what sets Wilson apart from those other mobile quarterbacks?
Blount:
Dan, there are so many intangibles about him that defy description. Some obvious ones are his character, his attention to every detail in his preparation and his underrated skills as a passer. But more than anything else, Wilson has the unusual ability to perform at his best when things appear to be at their worst. I've never seen him rattled, and he rarely makes a careless mistake. He has led the team to nine game-winning drives in his short career, and he almost did it again Sunday at San Francisco. As for his mobility, one thing that clearly sets him apart is his ability to make accurate throws downfield while he's running in either direction.
Speaking of quarterbacks,
Eli Manning
got off to a really rough start this season. What happened, and where is he now compared with seasons past when he was playing at a Pro Bowl level?
Graziano:
Manning's biggest problem at the start of the season was his protection. The offensive line, never great to begin with, was hit with injuries to key starters and never got the kind of blocking help it received in past years from supplemental positions like running back and tight end. Manning has already taken more sacks (33) than he has ever taken in a full season, and there are three games to go. He also had no running game whatsoever for the first half of the season until
Andre Brown
got healthy. And top wide receiver
Hakeem Nicks
has had an awful season in the final year of his contract. Manning obviously could play better, and he'd admit he has missed his share of throws. But I think he's a quarterback who really needs to be comfortable with his surroundings, and this year that hasn't been possible for him.
The Seahawks are so dominant at home, but while they've been good on the road they are clearly not
as
good. We know about the home crowd and the advantage it gives them, but are there on-field things they don't do as well on the road?
Blount:
One noticeable difference in the past three road games is that Wilson hasn't run much because defenses are trying to keep him in the pocket. Wilson had one carry for 2 yards last week at San Francisco, and only 38 yards on seven carries in the past three road games combined. They won two of those three games, however. Still, after Wilson ran for 102 yards at Indianapolis in Week 5 (ironically, one of Seattle's two road losses) teams have focused on not allowing him to beat them with his feet. He's running well at home (he rushed for 47 yards against New Orleans two weeks ago) but not so much on the road.
If the Giants pull off the upset Sunday, they'd send a message that despite a disappointing season, they still have the ability to get it done against the best of the best. Do you get the sense that they'll have a little added fire against a team that many people believe is Super Bowl-bound?
Graziano:
I do. A few of the Giants have already talked about that in the wake of the loss Sunday that eliminated them from postseason contention. There's a lot of talk around East Rutherford about "playing for pride," and that's not hollow with this group. They held together after the 0-6 start and have been professional in their play and their preparation since. This isn't a team that has or will quit on its season. It's just a team that's not very good. I don't think they have the personnel to hang with the Seahawks on Sunday, but if they lose it won't be for a lack of effort.
They do have a tendency to seek and drum up external motivation, and Seattle's excellent record will provide some of that. Tom Coughlin said Monday that they looked forward to measuring themselves against a team like this. The only dissenter so far is wide receiver
Victor Cruz
, who said he'd be "even more disappointed" if the Giants won this game, since it would tell him they had the capability to play with top teams all year and just didn't.
San Francisco had a strong game on the ground Sunday, and the Giants' run game has been considerably better in the second half. Is it possible to run on the Seahawks, or was that a one-game fluke by
Frank Gore
?
Blount:
Some Seattle fans might say it was a one-play fluke, the 51-yard run by Gore on the final drive that set up the game-wining field goal. Take that off the table and the Seahawks did OK against the 49ers' rushing game. However, one stat is a little scary. Of San Francisco's 163 yards on the ground, 137 were before contact, including Gore's big run. The Seahawks have been up and down on this all season. They held
Adrian Peterson
to 65 yards and allowed only 30 yards rushing at Arizona, but also had back-to-back games in which they allowed 200 yards rushing. Now they have to get it done without linebacker
K.J. Wright
, who had 80 tackles this season. He's out with a broken foot. It's hard to predict, but the Seahawks are so focused on the pass rush that they can get burned sometimes on the ground.
The Giants have struggled to stop the run, and
Marshawn Lynch
is one of the best backs in the league. I'm guessing the Seahawks are going to give him the ball early and often, especially if the weather is bad. Will the Giants load the box to try to stop Lynch?
Graziano:
Actually, stopping the run is one of the few things the Giants have done well. They've held down some top backs, such as Peterson,
LeSean McCoy
,
Alfred Morris
and
Eddie Lacy
. Until the Chargers got 144 yards on 40 carries against them Sunday, this had been a fairly consistent strength. So they'll be keyed on Lynch for sure.
Before the Packers game a few weeks ago, I asked
Justin Tuck
if Lacy reminded him of anyone. He said, "a bigger Marshawn Lynch," and then complained that they had to deal with Lynch again a few weeks later. They stacked the box against Lacy that day, but they weren't scared of
Scott Tolzien
's ability to beat them downfield even if they used single coverage on his receivers. Wilson is likely to make them think twice about committing as much to the run as they did that day, and they'll likely rely on the guys in their strong defensive-tackle rotation to get off of blocks better than they did in San Diego.
October, 9, 2011
10/09/11
4:29
PM ET
EAST RUTHERFORD, N.J. -- The Giants' fourth-quarter magic disappeared as the Seahawks
stunned Big Blue 36-25
.


What it means:
The Giants lost a game that they simply should not have. Credit the Seahawks for coming to play but the Giants started the game slow and allowed a Seattle offense that hadn't done much this season to come to life. The Giants had a three-game winning streak snapped and their schedule won't get any easier come November.
Cruz up and down:
On a third-and-13 at the Giants' 32,
Eli Manning
threw a ball into double coverage and
Victor Cruz
answered the prayer with a bobbling, one-handed catch for a 68-yard touchdown off a tip to erase a 19-14 deficit with 12:37 left. The Giants went for two and got it to go up 22-19.
Cruz, though, lost a fumble in Giants territory that led to a Seattle field goal that tied the game at 22.
But trailing 29-25, Cruz delivered with yet another scintillating 41-yard catch to put the Giants at the Seahawks' 24-yard line with 1:55 remaining. He followed that up with a 19-yard catch but then slipped and could not gather a short pass that bounced off his hands and into the hands of
Brandon Browner
, who returned it 94 yards for the game-sealing touchdown.
Ugly start:
The Seahawks could've had 28 points in the first half but fumbled twice in the red zone. The first time,
Marshawn Lynch
was stripped by
Osi Umenyiora
at the Giants' 13 not long after Manning had fumbled to give the Seahawks the ball deep in Giants territory.
Then the Seahawks, up 14-7, turned the ball over again as
Michael Robinson
fumbled at the Giants' 2-yard line in the second quarter. The Giants were sloppy with the ball, as well. Manning fumbled twice, losing one, while also throwing an interception in the first half.
Where's the defense?
The Giants entered this game intent on stopping the run after being gashed in consecutive weeks by
LeSean McCoy
and
Beanie Wells
.
But in the first half, the Giants had trouble with the no-huddle. Lynch had 68 yards rushing on his first five carries. The Seahawks had 242 yards of offense in the first half. Seattle came into the game last in the NFL in total offense, averaging 254 yards per game.
The defense played much better in the second half, in part due to
Tarvaris Jackson
leaving in the third quarter with a shoulder injury and being replaced by
Charlie Whitehurst
. But Whitehurst led the Seahawks on an 80-yard drive for a touchdown to go up 29-25 late when he found
Doug Baldwin
open for a 27-yard touchdown.
Injury report:
The Giants played this game without defensive end
Justin Tuck
(neck/groin), running back
Brandon Jacobs
(sprained MCL) and center
David Baas
(neck/burner).
Long-snapper
Zak DeOssie
left the game with a head injury and fullback
Henry Hynoski
left with a burner. Guard
Chris Snee
also left late in the game with an injury.
What's next:
The Giants face a much stiffer test next week when the much-improved
Buffalo Bills
come to town. Perry Fewell will get a crack at the team he briefly coached as interim head coach.
October, 9, 2011
10/09/11
2:36
PM ET
Consider the Giants lucky. If they weren't playing the Seahawks, things wouldn't be tied right now.

Nevertheless, here's the good, the bad and the ugly during what was clearly an ugly first half of football at MetLife Stadium.

The Good: Not much. ... Big Blue's red-zone defense has forced two turnovers -- otherwise this would be way worse. ... Osi Umenyiora deserves to be paid. The defensive end already has a sack and a forced fumble. ... Jake Ballard had two catches and 40 yards on the Giants' open drive -- the second one a 12-yard TD reception in which he dragged three Seahawks into the end zone. ... Jason Pierre-Paul has two sacks. ... Aaron Ross' interception led to Hakeem Nicks' ridiculous, one-handed, 19-yard TD catch with 11 seconds left in the first half that tied the game.

The Bad: The Giants' offense after the opening drive (especially the run game), as well as their defense between the 20s. They've also dropped at least three interceptions (Deon Grant, 2; Michael Boley, 1).

The Ugly: The Giants' run defense -- again. Marshawn Lynch went off the first half, amassing 68 yards on the ground. After Steve Weatherford shanked a 34-yard punt, Lynch went off right end for 47 yards -- the longest run allowed by the Giants this season -- and scored from a yard out on the next play. ... Also, Eli Manning's interception before the half. He clearly didn't see Earl Thomas at all. In his defense, though, it was his first interception in 99 passes. ... Kevin Boothe has been terrible replacing David Baas. One of his low snaps almost got Mannilng killed, while the other was nearly a turnover if Boothe didn't recover it himself.