New York Giants:

Super Bowl XLVIII
February, 2, 2014
Feb 2
12:20
PM ET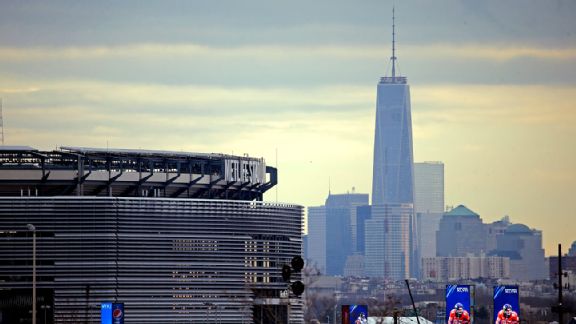 AP Photo/Charlie RiedelNew York Giants co-owner John Mara would like to see the Super Bowl return to MetLife Stadium.
You know how you make deals with your kids and you know they're going to take advantage but you do it anyway because they're your kids and you just love 'em so doggone much? Like, it's bedtime and you're having fun playing video games with them and they say, "Daddy, pleeeeeease, just one more game and we'll go right to bed?" And then you say yes, and you play the one more game and they ask for another one?
This is John Mara. He's the kid in this story. Roger Goodell and the NFL's other owners are the duped parents who think their kid can do no wrong. And Mara's going to keep getting his way as long as they're all too scared or myopic to put their foot down.
Mara said on the "Ian O'Connor Show" on Sunday morning on ESPN Radio that
of course he thinks the Super Bowl should return to MetLife Stadium
in future years, because, wow, yeah, the week's been great and look how great the weather is on this one random early-February weekend in 2014.
Asked if he wanted a Super Bowl sequel at MetLife, Mara said, "Based on everything that's happened so far, yes. If we can be assured that we'd get the same cooperation from all the different government entities that were involved, which has been tremendous so far, I don't see any reason why we shouldn't consider doing it again.

"I think that when the NFL owners that are here, when they leave MetLife Stadium tonight after this game, I'm pretty confident that most of them will say to themselves that it was a great idea to have this event in this area, New York and New Jersey, and why not come back here again. It's good for the league."
What a pile of garbage. It's good for John Mara, and for the New York/New Jersey area that hosted all of the events leading up to Sunday night's game. But it's whatever for the NFL, which could stage the Super Bowl on the moon and find a way to make a zillion dollars off of it.
What no one's calling these guys on is that they promised this was a one-time deal.
Go back and read what they were saying in 2010
, when they decided the game would be here. Asked specifically about this, Goodell and Mara's fellow owners insisted this would be a one-time exception to the NFL's longstanding rule requiring the game to be held in places that had either a dome or an average high temperature of at least 50 degrees. Goodell categorically shot down the idea of other cold-weather, open-air-stadium cities hosting the game because New York is special. No one came right out and admitted that the Super Bowl was a reward condition for Mara's Giants and Woody Johnson's Jets building a new stadium with more luxury boxes and better premium seating options than Giants Stadium had, but everything everyone said made it clear that that's what this was, and that once it was over it wouldn't happen again.

But we all know these guys don't always tell the truth, and so there was never any reason to believe this exact thing wouldn't happen. And now that the area got through the early part of the week with frigid-but-not-incapacitating weather, and now that it appears game conditions will be the absolute best anyone could have hoped for when this whole cockamamie idea was conceived, they want to go back on this.
They shouldn't press their luck. For goodness' sake, another winter storm is scheduled to hit this area mere hours after the game ends Sunday night. They got lucky by one day. And that's just game day we're talking about. Every time they have the Super Bowl here or in Chicago or in Philadelphia (and you know that's going to come up as long as Mara keeps pushing), the NFL is going to be taking a major risk that its biggest week (not just its biggest day, but its major convention
week
) gets ruined due to weather. And I continue to fail to understand the reasons for inviting that risk.
No, you can't predict the weather. It snowed in Atlanta and New Orleans early last week, which means the Super Bowl would have been a mess this year if it had been in either of those warm-weather, dome-stadium towns. Three years ago Dallas was crippled by an ice storm. I get that you can't predict weather years in advance. But you can minimize risk, and you can decide to hold your gargantuan event in places where it's more likely to go well. The NFL should do this, and the fact the weather in New Jersey on Feb. 2, 2014, is good does not qualify as a good reason to invite the game back here -- or to Philadelphia or Chicago or Foxborough -- in 2018. It's madness. It always was madness. And just because they got away with it one time doesn't mean it makes sense to push their luck and try it again.
But they will. Because they're just like spoiled kids. If you always give them everything they want, then they never stop asking for more.
January, 29, 2014
Jan 29
3:20
PM ET
NEW YORK --
New York Giants
quarterback
Eli Manning
appeared on
SportsCenter on Wednesday
to discuss the Super Bowl, which will be played Sunday at MetLife Stadium. Manning, who plays his home games at MetLife and whose brother,
Peyton Manning
, will be the starting quarterback for the
Denver Broncos
on Sunday in Super Bowl XLVIII, doesn't think the winter weather will have an effect on the game.
"In the new stadium, the conditions should be good," Manning said. "I saw maybe only 7 mph winds, and that won't be a factor. The new stadium isn't as windy as the old Giants Stadium, and it sounds like the weather is about as good as it can be for this time of year. If it was going to 5 degrees with 25 mph winds, it might be different. It might affect Denver's offense and the passing games of both teams. But I think with it being close to 30 degrees and not much wind, Peyton's played in a lot of cold-weather games this year and been fine. So I don't see it affecting either team, and I think it'll be a great game."
Eli Manning is a two-time Super Bowl MVP and will be on hand Sunday to watch his older brother try to win his second Super Bowl title. Pressed for a prediction about the game, Eli Manning said only that he was rooting for his brother's team.
January, 28, 2014
Jan 28
8:15
PM ET
By
Lyle Crouse
| ESPNNewYork.com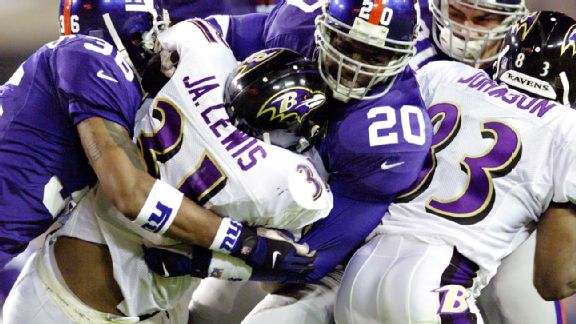 Brian Bahr/ALLSPORT Sam Garnes (20) and the Giants fell behind quickly and never recovered in Super Bowl XXXV.
NEWARK, N.J. --
Sam Garnes
is trying to help the
Denver Broncos
win a Super Bowl, yet he was asked Tuesday about his experience losing the NFL's championship game.
And the former safety didn't backpedal from the line of questioning.
"No, no," he insisted. "That's
real
."
In five trips to the Super Bowl, the
New York Giants
have lost only once. Garnes, a Bronx native, was the starting strong safety for that team, which fell 34-7 to the
Baltimore Ravens
in January 2001.
So Garnes, Denver's assistant secondary coach, imparts a clear message to the Broncos as they prepare for Super Bowl XLVIII against the
Seattle Seahawks
: You don't want to know what it feels like to lose this game.
[+] Enlarge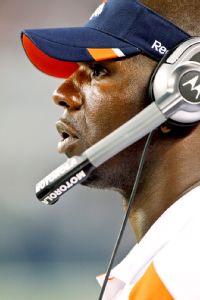 AP PhotoGarnes is in his third year on the Broncos' coaching staff.
"I tell my players, we're not interested in having fun for two weeks between the AFC Championship Game and the Super Bowl," Garnes said at Super Bowl media day. "We want to have a great time for several months [afterward]."
That approach has remained constant for Super Bowl teams through the years. Other aspects of the experience have changed, including media day.
"It's amazing. You've got fans here," he said as he surveyed the scene. "We didn't have fans in Tampa Bay's stadium [13 years ago].
"And now we're playing a cold-weather game, which at that time was unheard of."
Ah, yes, the cold-weather Super Bowl in East Rutherford, N.J. Cold, hot, whatever -- Garnes, 39, is just happy to be home.
"Selfishly, I wanted to be here when they said the Super Bowl was in New York," said Garnes, who attended DeWitt Clinton High School in the Bronx and played for both the Giants and
New York Jets
during his seven-year playing career.
"Selfishly, I wanted to be here, and I will admit that, because this is a place I love. All my players and coaches, they know much I love where I'm from."
Garnes -- who was quick to clarify that the Super Bowl is in the "Greater New York area; there's no disrespect to Jersey" -- looks forward to making the short trip to the Bronx from the Broncos' hotel in New Jersey.
"Right now we're busy," he said, "but as the week winds down, I'll have time to go over there and get me some of that good ol' Bronx pizza and get me some Chinese food."
He'll likely get a warm welcome wherever he goes. "I have a lot of family still in the area," he said. It's the perfect setting for Garnes' return to the NFL's marquee event.
"To come back to your home area and be a part of the Super Bowl," he said, "is a great feeling."
January, 28, 2014
Jan 28
5:55
PM ET
NEW YORK -- Michael Strahan retired after helping the
New York Giants
win the Super Bowl six years ago, going out a champion even though he says he was still capable of playing. Though some have imagined a similar ending for quarterback
Peyton Manning
should he lead the
Denver Broncos
to victory in Super Bowl XLVIII this Sunday, Strahan doesn't foresee it.

Strahan
"He shouldn't. Have you seen the way he's playing?" Strahan said Tuesday. "I think we all would feel cheated if, win or lose, Peyton decided to stop playing, because we'd be saying, 'Think what we all missed.'"
Strahan said he takes pride in his belief that he was productive and excellent right up until the end of his career.
"No one looked at the end of my career and said, 'He should give money back. He's not earning it anymore,'" said Strahan, who is a finalist in Saturday's Pro Football Hall of Fame election. "When your heart's not in it, that's when you have to go. My heart quit before my body did. That's why I decided it was time. If [Manning's] heart is still in it, then I'm sure he'll keep playing."
Manning said as much Sunday when asked whether he was considering that this could be his final game, but he has also said his final decision rests on the results of a postseason physical that includes an examination of his surgically repaired neck. Regardless, you can put Strahan in the camp that doesn't think Manning needs to win Sunday to cement his place in NFL history.
"When it's all over, I think we need to realize we may be looking at the greatest ever to play the game," Strahan said. "Maybe he doesn't have the rings that
[Joe] Montana
has, or my man [Terry] Bradshaw, or even
[Tom] Brady
. But I think everything else he's done is pretty remarkable."
January, 26, 2014
Jan 26
7:45
PM ET
JERSEY CITY, N.J. -- As brothers who are NFL quarterbacks,
Eli Manning
and
Peyton Manning
compare notes. With older brother Peyton and the
Denver Broncos
in New Jersey this week to play the Super Bowl in the
New York Giants
' home stadium, little brother Eli has said he's trying to offer as much local-knowledge help as possible. But when the topic turns to how to beat the
Seattle Seahawks
, Peyton joked Sunday, Eli's not going to be much use to him.
"Yeah, he told me he couldn't help much with Seattle," Peyton Manning said in his news conference shortly after the Broncos arrived Sunday afternoon. "That wasn't one of the Giants' best games."
Eli Manning threw five interceptions in a 23-0 Giants loss to the Seahawks at MetLife Stadium in Week 15.
July, 30, 2013
7/30/13
7:25
PM ET
EAST RUTHERFORD, N.J. -- The motivation to make the Super Bowl this season is everywhere for the
New York Giants
.
Every time the Giants practice, the team doesn't need to look further than across the parking lot at MetLife Stadium for inspiration, since it's the home of Super Bowl XLVIII. But for
Corey Webster
, inspiration lies in the Giants' locker room at their practice facility.
[+] Enlarge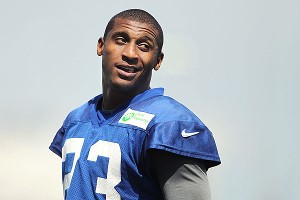 John Munson/The Star-Ledger/USA TODAY SportsCorey Webster doesn't want to see another team in the Giants' locker room for the Super Bowl.
In addition to a Super Bowl countdown calendar in the locker room, some Giants are motivated by the idea of another NFC team making the Super Bowl and occupying their locker room and practice facility for a week.
"If you don't make the Super Bowl and some other team uses your locker room ... it [ticks] you off," Webster said. "It should [tick] you off. That motivates you."
"We've used somebody's locker room [during the week of the Super Bowl] so we don't want it to happen to us," Webster later added. "We'll do everything in our power, work hard, all the little things in between and hopefully that will help."
A motivated Webster should bode well for the Giants. Last season, the defense struggled, finishing 31st in total defense. The Giants allowed 6,134 yards for an average of 383.4 yards a game -- both franchise records. Perry Fewell's defense surrendered a league-high 29 passes of at least 30 yards and 13 passes of 40 or more yards -- second-most in the NFL.
Webster had his struggles last season but believes he will bounce back this season.
"I still think I'm one of the best," a confident Webster said when asked if he's still one of the best corners in the league. "I think I'm a great cornerback. I go out there and compete and work like the best. [But] you're only as good as your last game. I hope we get off to a good start and hopefully I will make people better around me."
Webster, who broke his hand early last season but kept playing, is still considered the Giants' top corner and Jerry Reese is hoping he will play like it. Last year, according to ProFootballFocus.com, the veteran allowed eight touchdown receptions, tied for second-most among cornerbacks.
Webster took a pay cut to remain with the team in the offseason and he is one of several veterans who could be playing in his final season as a Giant.
Webster says he and the defense are highly motivated to turn things completely around.
"When you fall to one of the worst defenses in the league... we want to be a top-5 or even one of the best defenses in the league," Webster said. "There's an attitude to come in and be the best defense."
Webster said part of the problem with the secondary last season was a combination of poor communication, injuries and meshing with new pieces.
"We had flashes last year, turning over the ball," Webster said of the Giants, who finished fourth in the NFL in takeaways (35). "But then sometimes guys were wide open down the field. That's easy, that's not physical. That's all mental. We can put ourselves in a much better situation than last year."
The Giants focused on fortifying their run defense in the offseason by loading up at defensive tackle. In the secondary, the Giants brought back
Aaron Ross
and added depth at safety but didn't make any major additions at cornerback.
If Webster bounces back,
Prince Amukamara
continues to improve and another corner steps up like Ross,
Jayron Hosley
or
Terrell Thomas
, the Giants will be more improved.
"I think we have the pieces to be a great defense as well as a great team," Webster said. "I think we got all the pieces of the puzzle."
"This will be a dominant defense this year if we continue to work like we've been working these last few days and continuing to get better."
May, 21, 2013
5/21/13
10:15
AM ET
By
Mike Rodak | ESPNBoston.com
BOSTON -- With a little more than eight months until the New York City area hosts the NFL's first cold-weather Super Bowl,
New York Giants
co-owner Steve Tisch discussed the region's preparations at the NFL spring meetings on Tuesday.
"I would like a cold, blue sky, great, sort of beautiful New York/New Jersey evening," Tisch said. "I think it could be great."
Yet that sort of weather is far from a sure bet in February, and Tisch noted that other owners with teams in cold-weather cities will be closely watching how New York handles Super Bowl XLVIII.
"I think we're going to be ready for any contingency," Tisch said. "The one thing that I think would hurt us is a serious midweek blizzard."
One of the hurdles facing the league is planning for the game with an outgoing New York City mayor, Michael Bloomberg, who will be replaced in office by February.
"The challenge of an outgoing mayor in New York is something we have to deal with and work with," Tisch said. "Bloomberg won't be mayor Super Bowl week. So we have been talking to the potential mayoral candidates, bringing them up to date."
Beyond needing to play the field in the mayoral election, Tisch noted the NFL also has to coordinate the event between two states and numerous agencies.
"Both states are cooperating. There's a lot to organize, a lot of coordination. State agencies and city agencies have to agree to agree," Tisch said. "The city is going to be ready. I think the fans are going to be into it. I think it's going to build even more towards the kickoff and really the first cold-weather Super Bowl ever."
Tisch spoke Tuesday against a backdrop of heavy fog on Boston Harbor, a reminder that weather in the Northeast does not always cooperate, even in late spring.
"It's tough to predict the weather in May," Tisch joked. "But [February's weather] is going to become a preoccupation once we get into the football season."
January, 29, 2013
1/29/13
3:26
PM ET
Super Bowl XLVIII is barely one year away.

The big game will be played on Feb. 2, 2014, at MetLife Stadium in East Rutherford, N.J.

In the week leading up to kickoff, several events will be held in the New York/New Jersey area. Let's take a look:

• Super Bowl Boulevard, the sports and entertainment hub of Super Bowl week, will stretch from 44th Street -- in the middle of Times Square -- down Broadway to 34th Street from Jan. 29-Feb. 1. It will be a free festival open to fans from around the world.

Thanks to an assortment of interactive activities, fans can throw a touchdown, catch a pass or kick a field goal. Fans also will be able to see the Lombardi Trophy on display, attend nightly concerts, take part in football clinics and competitions, obtain autographs from players and visit NFL-themed exhibits.

• The Super Bowl Media Center will be held at the Sheraton Hotel in midtown. More than 5,000 media will be credentialed for the event.

• The Friday Night Party and the annual NFL Honors awards show will take place in New York on Jan. 31.

• The NFL will work out of its league headquarters on Park Avenue.

• In New Jersey, there will be a series of activities. Media Day will be held at Prudential Center in Newark on Jan. 28. The NFL's Tailgate Party will be held at the Grandstand at the Meadowlands Racetrack in the final hours before kickoff.

• Both teams will stay at hotels in New Jersey. The NFC team will practice at the Giants' facility in East Rutherford, while the AFC team will practice at the Jets' facility in Florham Park.
September, 27, 2011
9/27/11
2:58
PM ET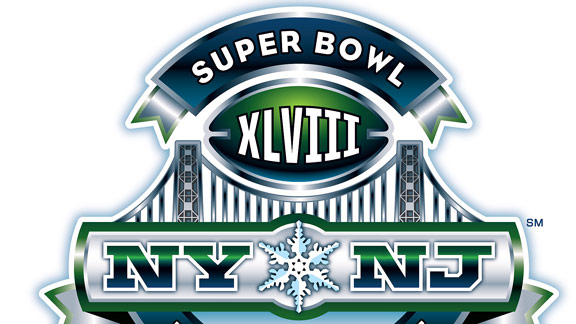 AP Photo/NFL
This is the new logo for the 2014 New York/New Jersey Super Bowl Host Committee. The actual official Super Bowl logo itself will be unveiled later. But in the meantime, what do you guys think of the SB Host Committee logo with the GW Bridge there? Leave your comment below. Thanks!