New York Giants:

Tim Tebow
September, 14, 2013
9/14/13
10:54
AM ET
May, 13, 2013
5/13/13
1:27
PM ET
New York Giants
co-owner Steve Tisch says
Tim Tebow
would have been better off playing anywhere but with the
New York Jets
.
Tisch told TMZ he thinks Tebow, who was released last month, might still be playing if the Jets had not traded for him in March 2012.
[+] Enlarge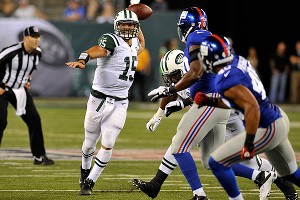 AP Photo/Bill KostrounTim Tebow threw 14 passes in a preseason game against the Giants, but he attempted just eight passes during the regular season.
"I feel badly for the guy," Tisch said Sunday night in Los Angeles when stopped by TMZ as he was getting into his car. "Had another team picked him up after the Broncos, maybe he'd have a career. I think him going from the Broncos to the Jets was not in anybody's best interest."
Tebow attempted a total of eight passes and played sparingly with the Jets last season. The Jets never seemed to know how to use Tebow, who managed to consistently make headlines and back pages.
The Giants -- players and owners -- were amused with how Tebow garnered so much of the media attention in training camp last year while the Giants were the defending Super Bowl champions.
Less than a year later, Tebow is looking to get back in the NFL.
"I do feel badly for him," Tisch said. "I hope he plays football. I think he's got talent and I think he is probably a decent guy and not a bad quarterback. I sincerely wish him all the best."
A game-changer:
Tisch said he also likes the Giants' recent addition of linebacker
Aaron Curry
. Tisch thinks the fourth overall pick in the 2009 draft can reach his potential with the Giants.
"He's got such an athletic talent," Tisch said. "I think he is going to do a really good job. I know he is going to be very focused in these [OTAs] through training camp. I'm glad we got him. I think he can be a real game-changer."
Tisch also is thrilled with the Giants' draft.
"I'm very happy with the draft," Tisch said. "We don't draft sexy but we draft for the positions we feel that we need players. [Tom] Coughlin is a great coach and Jerry Reese is a great GM, so I am very happy. It all comes out in training camp."
August, 17, 2012
8/17/12
3:20
PM ET
By
Dan Graziano | ESPN.com
If you live within 100 miles of where I live, you're well aware that the
New York Giants
' preseason game Saturday is against the
New York Jets
. They play every year in preseason, which is sensible because it eliminates a trip for each of them. But this year, I don't know if you've heard, the Jets have
Tim Tebow
on their team. Yeah, I know. It's hard to find any information about it. I had to dig and dig.
[+] Enlarge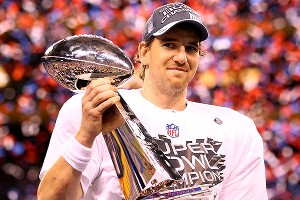 Al Bello/Getty ImagesEli Manning has delivered peace of mind and titles to the Giants, while the Jets endure a media circus.
Anyway, as a result of the foolish acquisition of Tebow to cast a massive, undeserving shadow over their already-insecure young starting quarterback,
Mark Sanchez
, the Jets have become a full-blown circus this offseason. Every move Tebow makes, shirtless or otherwise, is the topic of relentless debate. The media have been charting and reporting on each throw Tebow and Sanchez have made during training camp practices, in spite of the team's denial that they're in a competition with each other. The public appetite for Tebow is insatiable -- he's a ratings-driver and a page-views-driver -- and so the coverage has consumed the Jets' preparations for their 2012 season. We all knew it would. The Jets were either too ignorant to believe it, or too arrogant to care.
Either way, my point here on the NFC East blog about all of this is that one look at what the Jets are going through should make the Giants and their fans grateful for
Eli Manning
. Sure, his two Super Bowl titles have made them grateful enough already, but the Giants' proximity to the Jets' situation underlines the dramatic difference between the peace of mind Manning offers the Giants, and the sheer insanity that can envelop your franchise when you're unsettled at quarterback.
We've discussed this many times. If you get your quarterback situation right, you are set up. You're a perennial playoff team and, if the guy's got the right stuff, a championship contender. If you get quarterback wrong, you're flailing. Nothing else seems to work. You can't get your feet set and run the rest of your organization, because the most important part of it is a question mark.
The Giants have Manning, a former No. 1 overall pick who's been everything they could have imagined and more. The Jets have Sanchez, who was the No. 5 pick in the draft and has actually had some success at the NFL level, but they've mismanaged him horribly. After reaching the AFC Championship Game in each of his first two seasons, Sanchez saw his team allow his offensive line, running game and wide receiving corps to erode. Then, when blame for a disappointing third season was falling on his shoulders, they brought in a backup quarterback whose cult following is intense enough to make him the focal point of a team whether he's playing or not.
So as a result either of Sanchez not being as good as they'd hoped or their own mismanagement of him, the Jets have a murky mess at quarterback. And as a result of Manning being everything they'd hoped and their own development of him and the group around him, the Giants have one of the most solid and reliable quarterbacks in the league. It really can be that simple. And when you watch the Giants and the Jets play Saturday, if you're a Giants fan, you're going to be looking at Tebow and Sanchez and thinking, "I'm glad that's not my team." It's worth looking at Manning as the reason you're glad the Giants are.
August, 12, 2012
8/12/12
5:48
PM ET
ALBANY, N.Y. -- The Giants returned to their the SUNY Albany campus to resume preparing for the regular season. Given that the team's next opponent is the Jets on Saturday at MetLife Stadium, the name Tim Tebow came up during Antrel Rolle's news conference.
Isn't the Giants safety a little curious to see the Jets' backup quarterback?
"No," Rolle answered. "Just go out there and play the game. It's not going to be about Tebow. It's about us."
What the Giants do have are some reliable skill players. Domenik Hixon, who has been out with a hamstring issue but was back Sunday, caught a 35-yard pass from quarterback Eli Manning over Corey Webster. Later, during some trick plays, Hixon threw his own 35-yard pass, all air.
The Giants had 5,430 fans at practice, up from past years. The Super Bowl champions have drawn more fans to practices in Albany this season.
But there were quite a few guys still banged up after the first preseason game. Center Jim Cordle had his leg wrapped as he worked out on the bike. Other injuries include: DT Shaun Rogers (swollen leg), WR David Douglas (quad), Justin Trattou (heel), CB Terrell Thomas (knee), WR Jacquian Williams (hip) and LB Michael Boley (hamstring).
James Brewer was carted off during practice, and coach Tom Coughlin later said the tackle's back was acting up. Michael Coe also appeared to be injured during punt team drills and limped off the field.
On the positive side, tackle Will Beatty worked in team drills a bit after a back injury.
Coughlin also praised WR Isaiah Stanback, WR Rueben Randle, free-agent acquisition Will Hill, and a certain defensive tackle who he liked watching against the Jaguars.
"Anyone that goes against Dwayne Hendricks -- he is going full speed every play, OK? so if you're foolish enough to think he's not going to make you look bad, you're ridiculous," Coughlin said. "So he goes out and plays the game just like he practices and he does very well for himself."
Update: S Janzen Jackson was waived by the team.
August, 8, 2012
8/08/12
2:30
PM ET
ALBANY, N.Y. --
David Carr
has marveled at the incredible hype and attention surrounding Jets quarterbacks
Mark Sanchez
and
Tim Tebow
.
"I don't envy their situation at all," Carr said.
Like Tebow, Carr is a backup with first-round pedigree. The former 2002 top overall pick, though, is firmly entrenched as
Eli Manning
's backup. The dynamic between Sanchez and Tebow could be a full-blown quarterback controversy in a matter of weeks.
Carr
"I don't think it will be easy," Carr said when asked how it might impact Sanchez. "You can say what you want when you're in that position in front of the media, but when it comes down to it there's going to be a lot of pressure. The first time the guy throws an incomplete pass, people are going to be cheering for the other guy. It's just the nature of the business. That's why quarterback is so interesting because one guy plays.
"Wide receiver, you can have five or six guys who are good players and you're all going to find a spot," Carr continued. "But as soon as you take the starting quarterback off the field and you put in another guy for a certain situation, it causes a lot more drama. It's a tough situation to be in, but like I said, I'm glad it's not our situation."
Manning joked in an appearance on ESPN New York 98.7 that he tried to get Carr to do sprints on the field with his shirt off after seeing the buzz Tebow created when he jogged in the rain shirtless. Carr couldn't believe all the attention Tebow.
"Tebow has his shirt off and he is running and I am just like, 'Who cares?'" Carr said, laughing about the media hype. "The guy got hot. He took his shirt off. So what? It is pretty intense."
Don't expect Carr to go topless anytime soon.
"Yeah, he was feeling a little excited that day," Carr said of Manning egging him on to go shirtless one day after practice. "He wanted to take some shots. So I deflected, that's for sure."
July, 25, 2012
7/25/12
12:58
PM ET
Osi Umenyiora has advice for NFL players who have been arrested this offseason, and even for those who have stayed out of trouble: Be more like Tim Tebow.

"I know that everybody likes to make fun of Tim Tebow and talk about him, but he sets an outstanding example for people," Umenyiora told reporters at the M&M World store in Times Square, according to the New York Daily News.

"I think if more people would focus and try to be like him and carry themselves the way he does, I think things would be better."

Thirty-one NFL players have reportedly been involved in off-the-field legal issues this offseason, including the Giants' own David Diehl, who was charged with DUI in June.

"For the life of me I can't understand it. It's just ridiculous," Umenyiora said, according to the Bergen Record, when asked about the numerous arrests around the NFL. "People need to be more focused and more grateful for what it is that they have."

Umenyiora recently returned from a trip to Nigeria.

"Coming from where I came from and seeing what I saw, all that poverty, people who have nothing, they would cut off both their legs to be given the opportunity that (NFL players) have," he added. "To be messing around like that is real unfortunate."