New York Giants:

Tyron Smith
October, 24, 2014
Oct 24
2:00
PM ET
Jason Pierre-Paul
didn't have his best game two weeks ago against the
Philadelphia Eagles
and star left tackle
Jason Peters
, but he rebounded well enough Sunday against the
Dallas Cowboys
and star left tackle
Tyron Smith
that
New York Giants
coach Tom Coughlin singled him out in a team meeting Monday morning.
Pierre-Paul
"Coach Coughlin mentioned him specifically as having a great game, and when we went back and watched the film, we were amazed," Giants cornerback
Prince Amukamara
said. "He dominated."
Pierre-Paul had two sacks in the Giants' 31-21 loss in Dallas, getting the better of Smith, who the previous week had become the first offensive lineman in 10 years to a win a conference Player of the Week award. Pierre-Paul was complimentary of Smith prior to the game, but he did note Friday, "I've won a couple of those [Player of the Week] awards too, you know."
He has indeed, and after he struggled through injuries that limited his production the last two years, that was easy for some to forget. But so far this year, Pierre-Paul has been a force for the Giants on the defensive line.
"He's always been an outstanding run player," Giants defensive line coach Robert Nunn said Tuesday. "He's been as good as there has been in the league. When he's healthy, he's as good a run player as I've been around. And with the pass rush, if he continues to stay healthy, it will show up. I think he has a better plan in the pass rush than he has ever had. He came into training camp and that plan developed for him. He's doing a good job attacking offensive tackles."
His 3.5 sacks put him on pace for just eight this year, which is not a number that would make a defensive end in search of a big free-agent contract very happy. But Pierre-Paul knows those sacks can come in bunches. In the meantime, if he continues to play well against the run, he knows the Giants (who've been preaching the importance of that to him since he was a rookie) will appreciate it come contract time. The Giants will have it in their budget to sign Pierre-Paul long term next offseason, and if he continues to play the way he's played so far this year, they'll be happy to give him the kind of deal that stamps him as the cornerstone of their pass rush for the present and the future.
October, 18, 2014
Oct 18
3:00
PM ET
The 3-3
New York Giants
travel to Dallas for a 4:25 p.m. ET game on Sunday against the 5-1
Dallas Cowboys
. Here are three things we'll be watching:
1. Another tough matchup for Jason Pierre-Paul.
The Giants' top pass-rusher had a tough time Sunday in Philadelphia against Eagles left tackle
Jason Peters
. Things get no easier this week against Dallas left tackle
Tyron Smith
, who last week became the first lineman to win an Offensive Player of the Week award since 2004. Defensive coordinator Perry Fewell raved about Smith on Thursday, calling him "the lynchpin of the offense."
This ESPN Insider piece from Christopher Harris

this week ranked "
DeMarco Murray
behind left tackle kick-out" as the second-most unstoppable play in the NFL right now, and the left tackle in that equation is obviously Smith. Pierre-Paul is sound against the run and won't be overly aggressive as is the pass-rusher in Christopher's example (
Robert Quinn
), but that doesn't mean he'll have an easy time winning one-on-one against Smith, who's playing his position as well as anyone in the league.
2. Can the Giants get the offense in rhythm?
The Eagles' pass rush so overwhelmed the Giants' offensive line Sunday night that
Eli Manning
and the offense couldn't get anything going. Their offense is rhythm-driven and must be on the field collecting first downs at a steady clip in order to operate effectively and score points. The Cowboys aren't likely to attack them as fiercely, but the way they slow down an offense is by boring it to death on the sideline. Dallas' average per-game time of possession is 34:02, which is the fourth-highest in the league. If they can run the ball with Murray as effectively as they have been, they can keep Manning and the Giants' offense off the field -- as they did to
Russell Wilson
and the Super Bowl champion Seahawks on Sunday in Seattle -- and knock them out of their rhythm that way.
3. Who replaces Victor Cruz?
With starter
Rashad Jennings
out last week, the Giants used a combination of
Andre Williams
and
Peyton Hillis
at running back to little effect. Cruz, the Giants' top receiver, is out for the year due to a knee injury suffered in Sunday's game. The Giants are going to have to mix-and-match with some combination of
Preston Parker
,
Kevin Ogletree
and
Corey Washington
to replace Cruz's production while
Rueben Randle
and
Odell Beckham Jr.
serve as primary receiving weapons along with tight end
Larry Donnell
. It's not going to be easy, and the passing game is likely to suffer for the absence of Cruz and Jennings. Manning just doesn't have as many short-range options as he did two weeks ago.
October, 16, 2014
Oct 16
4:30
PM ET
EAST RUTHERFORD, N.J. -- Left tackle
Tyron Smith
of the
Dallas Cowboys
just became the first lineman in 10 years to win an Offensive Player of the Week award.
New York Giants
defensive end
Jason Pierre-Paul
is not among those who might be surprised by that.
"He's that good, definitely," Pierre-Paul said of the 23-year-old Smith. "He's as tough as there is in the whole league."
[+] Enlarge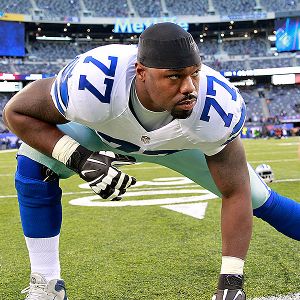 AP Photo/James D. SmithTyron Smith, the first offensive lineman in 10 years to win player of the week honors, is just one Cowboy who presents the Giants with matchup challenges.
This will be the second week in a row that Pierre-Paul faces a tough test in the opposing left tackle. He had his worst game of the year last week against
Philadelphia Eagles
left tackle
Jason Peters
. And things don't get easier Sunday in Dallas against Smith, who's a huge part of the reason the Cowboys and
DeMarco Murray
are leading the league in rushing.
"He's playing at such a high level, JPP and our defensive linemen will have to play at their best to neutralize this guy," Giants defensive coordinator Perry Fewell said. "And that's what you want to do -- neutralize him."
It won't be easy, but you can look all over the two depth charts for Sunday and find matchups that aren't going to be easy for the Giants.
The Cowboys are 5-1 and playing extremely well. The Giants (3-3) are without their best wide receiver, best running back and maybe their best cornerback and are coming off an ugly 27-0 loss. A list of Dallas' offensive personnel includes wide receivers
Dez Bryant
and
Terrance Williams
, tight end
Jason Witten
, league-leading rusher Murray and Smith, who's one of three recent first-round picks starting on their impressive offensive line. Line up the Giants' offensive depth chart against that, and on paper it clearly looks outmanned.
Which is why, when it comes to the Pierre-Paul/Smith matchup, Fewell may have summed up the key to the Giants' chances in this game.
"Our best guy is on him," Fewell said. "So I think it'll be a heavyweight battle."
It has to be. If Pierre-Paul loses his matchup with Smith the same way he lost Sunday's to Peters, the Giants are going to have a hard time overcoming that. All over the field, there are Giants who have to play as big as possible in this game. It's possible cornerback
Dominique Rodgers-Cromartie
won't be able to play, and even if he can he's obviously not himself. (He estimated himself at "60 percent" Thursday). That could mean
Prince Amukamara
needs to cover Bryant and deliver a flawless performance if he's to stop him. Quarterback
Eli Manning
-- assuming his line can keep the pass rush off of him for at least a couple of seconds this week -- needs to play the way he did in Weeks 2-5, and to outperform a very comfortable
Tony Romo
.
In short, the Giants' top players have to be at the very tops of their respective games for this one, because there aren't going to be enough of them there. On offense, they're without
Victor Cruz
,
Rashad Jennings
and
Geoff Schwartz
, who represent more than 18 percent of their offensive salary cap spending. On defense, they're without
Walter Thurmond
,
Trumaine McBride
and possibly Rodgers-Cromartie, who make up more than 13 percent of their defensive cap spending. These are players to whom the Giants have committed major resources, and they're not available to them. That means the other big-resource guys -- Manning, Pierre-Paul, Amukamara,
Jon Beason
, etc. -- have to excel to make up for the losses.
It won't be easy, but the Giants believe in the players they're running out there Sunday. This is a chance for many of them to justify that belief and deliver a win that would qualify in almost anyone's eyes right now as an upset.
April, 18, 2014
Apr 18
9:30
AM ET
In the NFL news lately, you've no doubt seen a lot about fifth-year options for players drafted in the first round of the 2011 draft. This is a new phenomenon, because it's part of the CBA that went into effect in 2011 and governs players drafted that year. The rule in question states that every player selected in the first round of the NFL draft, starting in 2011, has an automatic fifth-year option added to his contract. The team has to decide by May 3 of the fourth year whether to exercise the option. At the time it's exercised, the option becomes guaranteed only against injury until the first day of the option-year season, at which point it becomes fully guaranteed.
So the reason you're seeing news about guys like
J.J. Watt
and
Tyron Smith
getting their options picked up (and about whether the 49ers will do the same for
Aldon Smith
) is because May 3 of this year (a little over two weeks from now) is the deadline for the decision on guys picked in the first round of that 2011 draft. The Texans picked up Watt's option for 2015. They can still work on a long-term deal with him in the meantime, but they at least know they have him under their control for a fifth year if they want him, which they surely do.
Amukamara
The
New York Giants
player to whom this applies is cornerback
Prince Amukamara
, who was selected with the No. 19 pick in that 2011 draft. To this point, the Giants have not made a decision about Amukamara's option, and it's not a slam-dunk decision.
For players drafted after the top 10, the option-year salary is the average of the third through the 25th highest-paid players at that player's position from the prior year. Working off of 2014 salary numbers, I estimate that figure to be about $7.13 million for cornerbacks. So if the Giants wanted to, by May 3 of this year, they could exercise an approximately $7.13 million option on Amukamara for 2015.
Tough call. That number is slightly higher than the average annual salary on the contract of fellow Giants cornerback
Dominique Rodgers-Cromartie
, whom Tom Coughlin described last month in no uncertain terms as the team's new No. 1 cornerback. Amukamara is a good player, but if he were on the market this offseason it's hard to imagine he'd have been paid according to that option number. So the Giants have to make a decision about a player they like at a price that's likely too high for him.
What helps them is the nature of the option-year guarantee at this point. It's guaranteed only against injury. So if they pick up the option and Amukamara has a healthy but otherwise not-so-great season, they could still cut him prior to 2015 and not be on the hook for the money. They also could continue to talk to him about a long-term deal in the meantime, especially if they get into the 2014 season and like what they see.
The Giants like Amukamara. He plays hard, is a sound technician, keeps himself in shape and pays attention to detail. But they also brought in a bunch of new cornerbacks this year.
Walter Thurmond
, for instance, is in on a one-year deal, but it's not out of the question that they could get to the end of 2014 believing Thurmond is a better choice than Amukamara is going forward.
Players such as Watt and Tyron Smith are easy calls -- Pro Bowl caliber guys who are delivering big returns on their teams' first-round investments. Players such as
Christian Ponder
and
Danny Watkins
are easy calls the other way -- no chance those options get picked up. But Amukamara falls into a gray area as a player who's played well but hasn't necessarily cemented himself as a must-keep, franchise-cornerstone player. My guess is they pick up the option and hope he does that this year, while all along keeping open discussions about an extension at a more reasonable rate.
September, 5, 2012
9/05/12
10:14
AM ET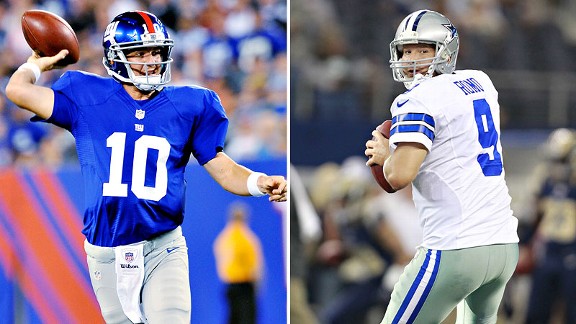 US PresswireThe performances of Eli Manning, left, and Tony Romo will go a long way in deciding the outcome of Wednesday's season opener.
The
Dallas Cowboys
and the
New York Giants
are set to kick off the NFL season on Wednesday night at MetLife Stadium in East Rutherford, N.J. It's a rematch of last year's regular-season finale, which the Giants won to clinch the NFC East title before going on to win the Super Bowl. As always, both teams enter the season with high expectations. But which of these two division rivals is primed to have the better year? ESPN.com NFC East blogger Dan Graziano and ESPNDallas.com's Todd Archer debate.
DAN GRAZIANO:
Well, Todd, we've got to stop meeting like this. It doesn't seem that long ago that the Cowboys rolled in on New Year's Day with hopes of winning the division title, only to give up the first 21 points and help launch the Giants on a Super Bowl run. They tell me the Cowboys have fixed their defense, and given what they spent on their two new cornerbacks, they'd better hope so. But when I look at these Giants, what I see reminds me a lot of last season. They're really strong at quarterback, wide receiver and pass-rushing defensive end but have questions elsewhere on the roster. Their hope, once again, is that
Eli Manning
and that pass rush are good enough to overcome their deficiencies. The division picks I made last week had the Giants going 12-4 and repeating as division champs, and the Cowboys finishing in third place at 8-8. So it's clear what I think about it. Both of these teams have flaws; I just feel like the Giants have shown they're better at overcoming flaws and adversity better than other teams are.
TODD ARCHER:
Wow, 12-4 and you see a team with questions? There can't be that many questions to finish 12-4. But it's hard to go against the Giants just because of their two Super Bowl wins in the last five years. They've done it and they get the benefit of the doubt. The Cowboys haven't done it and they don't get the benefit of the doubt. Winning at MetLife Stadium is difficult anyway, but it will be even more difficult because of what happened in training camp. Maybe
Jason Witten
and
Jay Ratliff
play, but that's pushing it.
Miles Austin
didn't play in the preseason.
Dez Bryant
missed the last week-plus in camp. The offensive line hasn't taken a snap together. So, other than that, the Cowboys are in great shape. But I'm not sure I see the Giants finishing 12-4. I think the Cowboys go 10-6 and make a wild-card run, but I'll admit I felt better about it before camp started.
DG
: When I look at the Cowboys, the last thing I worry about is the Austin/Bryant/Witten crew. If any of those guys is out, they're in big trouble anyway. My thing with them is that I don't think they're strong enough on the offensive line, or up front on defense, to overcome a significant injury to one of their star players. They feel a little flimsy to me in too many spots still. And I'm not 100 percent sold on the idea that the improvements at cornerback will automatically help the pass rush. I feel like it works better in the other direction -- i.e., a great pass rush supports the secondary. I think the Giants are built on that philosophy, and that they really lean hard on those strengths, especially in big games.
TA:
Man, I hate having to agree with you on this, but I think the Giants and other teams have shown a pass rush can cover up for an average/mediocre secondary. I can't think of too many great secondaries that make a pass rush. But that's the way the Cowboys have gone in signing
Brandon Carr
, trading up for
Morris Claiborne
and keeping
Mike Jenkins
. Carr was great in the preseason and he gives the Cowboys a physical presence on the outside that they have lacked. The Cowboys' offensive line is a huge question and I know I'm going to commit heresy in your eyes here, but
Tyron Smith
had some issues at left tackle this summer. The interior is a huge question, too, but the Cowboys believe in Bill Callahan. He has a great reputation and I think eventually the line is OK this year. Maybe not versus the Giants, though. But I will say this: The Giants' line is a little suspect, too, so that could be a push if Rob Ryan has figured out a way to defend
Victor Cruz
and
Hakeem Nicks
.
DG:
No doubt the Giants' line is suspect, and where that really shows up is in the run game, which ranked 32nd in the league last season. I don't see how it's improved, which means once again it'll be up to Manning and the receivers to get it done on offense. I know from talking to Redskins people, after they beat the Giants twice last year, they feel you have to shut down one side of the field against Manning and limit his range of decisions, or else he'll pick you apart. You think these Cowboys are built to do that this year? At the very least, I can't imagine we see too many Giants fullbacks hurdling Cowboys cornerbacks this time around.
TA:
I was surprised
Henry Hynoski
was not invited to the Olympic hurdle trials after what he did in January, but, yes, I think the Cowboys are better suited at cornerback to shut off one side of the field this year. Doesn't mean they're going to do it, but they have a better chance to do it. And I think Nicks' foot injury helps them, too. He's not going to be 100 percent for this game and not moving as well as he usually moves. But Cruz in the slot could be a major issue, as he was last January. I can still see his leaping grab on third-and-7 after the Cowboys made it interesting there for a bit. One guy who will make a difference for the Cowboys this year won't even take a snap. It's secondary coach Jerome Henderson. To me, he has future head coach written all over him. He has changed the attitude of this secondary. Defensive backs were more aggressive in camp. Maybe it's because Dallas has Carr, who likes to play press coverage, but I think Henderson has brought a swagger built on productivity and not just bravado.
DG
: Good point on Nicks, and if he's limited that not only helps the Cowboys but probably gives them the advantage at wide receiver (assuming, of course, that both of their guys are healthy). I'm also interested to see whether Witten plays and, if he does, how he looks after his spleen injury. But I think this is a big game for
Tony Romo
. Last year's opener, when he turned the ball over against the Jets, just fed into his (I believe largely unjustified) reputation as a guy who can't get it done in big games. A win here against the champs would at least delay the "same old Romo" stuff for a few weeks, if not set him on the path to wiping it out. Manning doesn't have to worry about such things after his second Super Bowl MVP award, but games like these are the ones Romo has to win if he wants to combat the popular perception of the kind of quarterback he is.
TA:
I have a column up on Romo talking about
how he can change the narrative
so many have of him by winning, specifically his lack of leadership. I don't believe there is a player who catches more grief in the NFL than Romo. Everything gets distorted with the guy. I asked Manning on the conference call if he is aware of all the garbage Romo receives and, paraphrasing, he said yeah and you have to ignore all of the outside voices. I think Romo does a good job of that. If the Cowboys beat the Giants, then Romo will get a reprieve, but it'll be short lived if they lose at Seattle. He has to walk a tightrope that other quarterbacks don't. But if you're asking me who wins this one, I have to go with the Giants, but it'll be closer than people think.
DG:
I'm taking the Giants to win this game, too, but the only thing we know about an NFL season before it starts is that we don't know anything. I think everyone can agree that it'll be great to see a real game again after so long, and that the NFL picked a pretty juicy matchup to start its season. I know I'm looking forward to it and you are, too. Thanks for the chat, and I'll see you in the press box in a few hours.
August, 20, 2012
8/20/12
1:30
PM ET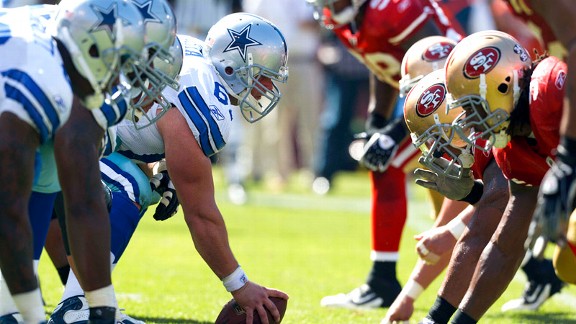 Jason O. Watson/US PresswireLike its NFC East rivals, Dallas is shuffling and searching for ways to solidify its offensive line.
The NFC East leads the league in hype. The huge media markets in which the teams play, the history of success, the rivalries ... all of it combines to create a perception that the NFC East is the best, most competitive and toughest division in the NFL. That the defending Super Bowl champion
New York Giants
play in it -- and are not the clear-cut favorites to win it again this season -- only adds to the perception, as does the growing excitement over an NFL regular-season opener between the Giants and the
Dallas Cowboys
16 nights from tonight.
But while Giants-Cowboys is fun, and each of those teams has something pretty intense going with the division's other two teams -- the Giants' recent struggles with the
Philadelphia Eagles
and the Cowboys' longstanding rivalry with the
Washington Redskins
-- the stats don't back up the NFC East as the league's toughest division anymore. The division is, by many measures, coming off its worst season ever. Last season was the first regular season in NFC East history in which no team won at least 10 games. Only the Giants finished over .500, and they gave up more points than they scored. Their Super Bowl run might have saved the division's honor, but it also disguised the troubling fact that the NFC East is no longer the Beast it used to be.
A large part of the reason for this, I believe, is the state of the division's offensive lines. We all know offensive line play is important, but in the NFC East these days, concern about the lines affects too many things. Teams that are strong on the line can control games. Teams that aren't cannot.
Eli Manning
and the Giants have been talking for months about wanting to not have to come back in the fourth quarter as much as they did last season, and the best way to avoid that is to control games from the start. Given the issues with their offensive line, they could find that a challenge once again.
But they're not alone. As we look ahead to 2012 and start assessing everyone's biggest questions, offensive line stands out as an issue for each of the NFC East's four teams. To wit:
The NFC has no shortage of star power. It has three great quarterbacks and one, Washington rookie
Robert Griffin III
, who's getting as much hype as any of the other three these days. It has some of the great wide receivers in the league in veterans such as
Hakeem Nicks
,
Miles Austin
and
DeSean Jackson
as well as rising stars such as
Victor Cruz
,
Dez Bryant
and
Jeremy Maclin
. The Eagles'
LeSean McCoy
ranks with the game's great running backs. And on defense, of course, the division is known for its great pass-rushers. Each team can rattle off names that give opposing quarterbacks heartburn.
DeMarcus Ware
.
Jason Pierre-Paul
.
Justin Tuck
.
Trent Cole
.
Jason Babin
.
Brian Orakpo
.
All of that makes the NFC East very exciting. But very often in the NFL, excitement and hype can conceal issues of quality. And if the NFC East really wants to be the best division in football again, it's not the quarterbacks or the wide receivers or even the pass-rushers that will bring it there. The NFC East's teams all need to start paying more attention to their offensive lines, because as those continue to erode, so will the division's annual claim to Beastliness.
February, 17, 2011
2/17/11
2:36
AM ET
The NFL Combine is a week away and our draft experts have released their latest mock drafts.
In no particular order, the New York Giants can use another offensive lineman, cornerback, linebacker, tight end, running back, a speedy playmaker for special teams and possibly another safety.
Here are
Mel Kiper's and Todd McShay's second look
at who the Giants might draft at 19, with their analysis.
Kiper: Nate Solder, OT, Colorado
"Solder is another tackle defined by his athletic frame and ability to move for the position. Probably not an immediate starter at left tackle because of developing pass-blocking skills, Solder still is a good value here. A player with a massive 6-foot-8 frame who manages good leverage at the point of attack, he gets good surge as a run-blocker and works well to the second level. No injury history and very smart, he should become a solid NFL starter in short order."
McShay: Tyron Smith, OT, USC
"The Giants can use this pick to solidify QB
Eli Manning's
protection for the next several years. Current LT
David Diehl
can move inside to guard,
Will Beatty
can play either tackle position and RT
Kareem McKenzie
is entering his 11th season and will be a free agent after the 2012 season. Smith has great potential as a left tackle, but he started two seasons at right tackle at USC and is still a bit unpolished."
Ohm's take:
In
his previous mock draft
, McShay had the Giants taking Illinois defensive tackle
Corey Liuget
. Kiper had the Giants drafting Florida's G/C
Mike Pouncey
. Now both draft experts have the Giants going offensive tackle.
It certainly makes sense, since the Giants' offensive line can use an injection of youth, athleticism and depth. Despite numerous injuries, the line played terrific with several bodies filling in superbly. Despite starting six different combinations last season, the Giants' offensive line allowed only 16 sacks.
GM
Jerry Reese
has depth and versatility on the line, but center
Shaun O'Hara
(foot), guard
Rich Seubert
(kneecap) and backup center
Adam Koets
(knee) will all be coming off surgeries. Tackle
Shawn Andrews'
surgically repaired back was problematic this past season.
The Giants currently have Andrews, Diehl and Beatty as candidates at left tackle. Diehl can play left guard, although he rather play left tackle. Right tackle McKenzie, 31, is coming off a solid season and Pro Bowl right guard
Chris Snee
is in his prime.
Rookie
Mitch Petrus
awaits his turn for playing time and
Kevin Boothe
, who was a valuable contributor this past season, will be looking for a new contract.
O'Hara and Seubert are as tough as they come and can never be discounted. Both veterans will rehab their tails off to be ready for the season. But with a potential lockout looming and so much uncertainty surrounding free agency, the Giants must cover themselves and add more depth and youth on the offensive line at some point in the draft.
Personally, I'd love to see the Giants add playmakers. They need more athleticism and speed since they must keep up with the Eagles' speedy trio of
Michael Vick
,
DeSean Jackson
and
Jeremy Maclin
and are starving for help on special teams. But that type of player might not be available at 19, so the Giants need to take whomever they feel is the best player on their board at that time, and that may be an offensive lineman.
Who do you guys want at 19? Pouncey? Alabama running back
Mark Ingram
? UCLA linebacker
Akeem Ayers
? Tell us who you want below.