Giants reporter Dan Graziano and Redskins reporter John Keim discuss the state of their teams after Sunday's game.
Join our ESPN.com NFL experts as they break down the New York Giants' visit to the Washington Redskins. Contribute your thoughts and questions beginning at 8:30 p.
EAST RUTHERFORD, N.J. -- Giants defensive tackle Linval Joseph was fined $7,875 for his stomp on Redskins lineman Will Montgomery, according to an NFL spokesperson.
EAST RUTHERFORD, N.J. -- Martellus Bennett insists he did not cry at MetLife Stadium last Sunday night.The Giants tight end took a big hit from Packers safety Jerron McMillian in the fourth quarter, and was slow to get up.
EAST RUTHERFORD, N.J. -- The Giants have a two-game cushion in the NFC East heading into Monday night's clash with the second-place Redskins.But defensive end Osi Umenyiora spoke Friday about a sense of urgency regarding this game, despite the disparity in the standings.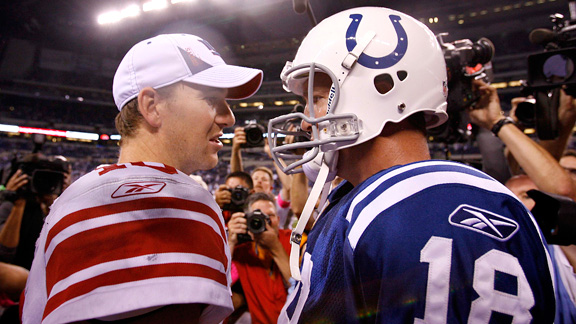 EAST RUTHERFORD, N.J. -- Of course Eli Manning knows which quarterback's 208-gamer is the longest active consecutive-games streak in the NFL. That would be his big brother, Peyton, and you don't have to be a member of the Manning family to have heard something about that streak coming to an end this weekend.