New York Jets:

2014 NFL Draft
May, 12, 2014
May 12
2:00
PM ET
One of the lingering questions involving the
New York Jets
is whether they adequately addressed their wide-receiver need in the draft.
Amid the endless pre-draft hype, they were linked to big-name prospects such as
Odell Beckham
Jr.
,
Brandin Cooks
and
Marqise Lee
. They went hard after receivers on the third day, selecting three wideouts, but it's never a sure thing when you're relying on middle- and late-round picks. ESPN draft analyst Todd McShay agrees, claiming the Jets' draft strategy underscores their belief that
Eric Decker
-- the No. 2 receiver with the
Denver Broncos
-- will be their top dog for the foreseeable future.
"Outside of (the three picks), I don't think they were really able to solve their problem at wide receiver," McShay said Monday on a media conference call. "You have to believe Eric Decker is your No. 1 if you're going to spend that money" -- meaning the five-year, $36.25 million contract.

Amaro
The Jets drafted
Jalen Saunders
(fourth round),
Shaq Evans
(fourth) and
Quincy Enunwa
(sixth), but their key draft pick is tight end
Jace Amaro
(second). McShay described Amaro as a "big wide receiver" who needs to make an immediate impact. To me, he's the key to the draft.
"Ultimately, you need Amaro to come in and contribute, and you need more from
Stephen Hill
and you need Eric Decker to play the way he was paid," McShay said. "Hopefully, between Saunders, Evans and Enunwa, if you hit on one of those guys, you'll fill out the depth a little bit."
McShay believes the Jets got good value with their first two picks, safety
Calvin Pryor
and Amaro, but he wonders if they reached for need in the third round, taking cornerback
Dex McDougle
. No matter how team officials try to spin it, this was a "need" draft for the Jets. It's the kind of strategy that results in reaches, which end up being bad picks.
"Could they have gone wide receiver there? Yeah, sure, there were some better players at wide receiver available (in the third round), but they're still trying to fill in that secondary and get the right guys there," McShay said.
Pryor
McShay offered a few other takeaways on the Jets' draft. He sees Pryor as a great fit in Rex Ryan's defense, but he wonders if he'll have to dial back his aggressive ways to conform to the new safety rules.
"I know some Jets fans were frustrated they went with (him) at 18, but he was just a really good value and he fits what they want," McShay said. "They want a guy who's going to set a tone physically, who's tough. He's got enough range to cover the deep third and the deep middle of the field. He's never going to be a matchup safety, but he can cover in zone, he's capable of playing in the box and he's going to fill the alley hard. I mean, he knocked some guys out. He's probably going to wind up with some fines in the league, and he may have to adjust his mentality a little bit, but he's a perfect Rex Ryan-type football player."
The criticism of Amaro is he's a below average blocker. Doesn't matter, according to McShay.
"He can block a little bit, but ultimately all they did was draft a big wide receiver they can flex out and put in the slot, even split out wide at times and try to create some mismatches," he said. "I really like that pick for the Jets."
McShay's take on the next three picks:
McDougle: "I like his tape. He has durability issues, but I thought he was one of the under-rated players in this draft. When you studied what he did in 2012 and his first couple of games this season, he's got a lot of potential. They obviously love drafting defensive backs."
Saunders: "He's quick. He's a good slot receiver, he makes plays and he create after the catch."
Evans: "We had him in that fourth/fifth-round range. He doesn't have explosive burst. He's not going to stretch the field much vertically, but he has good hands and I thought he had a really good performance at the Senior Bowl. He's got a chance to stick maybe as the No. 4 or No. 5."
May, 9, 2014
May 9
2:00
AM ET
FLORHAM PARK, N.J. -- Jon Gruden owes me.
A week ago, the former coach-turned-ESPN analyst conducted a pre-draft conference call with reporters from across the country. I was one of them, hoping to hear his unique insights on the draft -- specifically, the quarterback prospects.
When it was my turn on the call, I asked Gruden, "If
Johnny Manziel
happens to slip to 18 to the Jets, what would you do?"
Gruden replied ever-so-confidently: "If Johnny Manziel is there at No. 18, I'll give you my cell phone number and take you out to a steak dinner."
I'll be honest, I didn't think Johnny Football would be around for the Jets, although I did think he'd go lower than expected. Sure enough, there he was, sitting there for the Jets at 18. They passed, selecting safety
Calvin Pryor
. Manziel tumbled to 22, where his fall was stopped by the
Cleveland Browns
, who traded up.
I'm expecting to hear from Coach Gruden, and I'm starting to scout out steak houses in Manhattan. ESPN's Monday Night crew will be in town for Week 3, Jets vs. Bears, so that'll be a good time to break bread. My appetite will be waiting.
May, 9, 2014
May 9
12:45
AM ET
FLORHAM PARK, N.J. -- Three months after he rocked
Demaryius Thomas
in Super Bowl XLVIII,
Kam Chancellor
's big hit still was reverberating in the state of New Jersey -- specifically, in the
New York Jets
' draft room.
On Thursday night, the Jets
used their first-round pick

on safety
Calvin Pryor
, in part, because he reminds them of Chancellor, the
Seattle Seahawks
' sledgehammer. The NFL is a copy-cat league, as we all know, and general manager John Idzik -- a former Seahawks executive -- wants to incorporate Seattle's best into his own team.
[+] Enlarge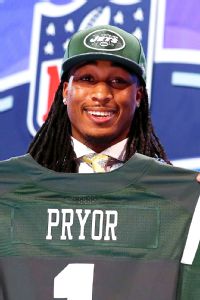 Elsa/Getty ImagesCalvin Pryor can be the enforcer in the Jets' secondary that they've lacked in recent seasons.
Commenting on Pryor, Rex Ryan mentioned the Seahawks' stud safety tandem, Chancellor and
Earl Thomas
, specifically noting Chancellor's tone-setting tackle from the Super Bowl. Ryan is an old-school defensive coach, and he still gets amped by rock 'em, sock 'em football -- an element that was missing last season in his secondary.
"You can see how those plays and those hits can impact a game," Ryan said. "All you have to do is look at the Super Bowl, the play of Chancellor back there and Earl Thomas. It's how we want to play defense. ... Big hits win games. They'll flip the momentum of a game faster than anything, in my opinion."
Pryor is a good prospect, a solid value at 18, but was he the best choice for the Jets? They should've taken
Darqueze Dennard
, the best man-to-man cornerback in the draft. The Jets are shy on talent at cornerback, and that's a concern because Ryan's defense relies on cornerback play. At least they didn't go for a wide receiver at 18; that would've been a reach. Quarterback
Johnny Manziel
still was on the board, but they didn't want to buy a ticket to that circus.
So, in a surprise, the Jets went for the safety, an indication Ryan is catching up to the rest of the NFL. Previously, he never placed a high value on safeties, preferring the front office spend the big bucks on the corners. Under Ryan, they've filled the safety spots with modestly priced free agents and low draft picks. The biggest splurge came in 2012, when they gave
LaRon Landry
a one-year contract for $3.5 million.
Now they have a Landry-type safety in Pryor, who isn't the biggest (5-foot-11, 207 pounds) or the fastest (4.58 in the 40) but provides a physical presence in the secondary. He's not exactly what they need -- they need a ball hawk -- but he's better than what they had.
Dawan Landry
and
Antonio Allen
were invisible for long stretches last season, contributing to a subpar pass defense. No team intercepted fewer passes on throws of at least 15 yards than the Jets (two). No team produced fewer takeaways over the past two seasons than the Jets (38).
Pryor caught Idzik's eye during the season. After scouting a Louisville-Central Florida game, Idzik told Ryan, "Hey, I just saw a guy you're absolutely going to love." He popped in a DVD. It showed Pryor making three big plays in one series. Ryan's eyes popped.
"We pride ourselves on being a physical football team and he fits that profile," Ryan said. "This young man is an enforcer."
Now all the Jets need is a
Richard Sherman
replica ... and
Russell Wilson
... and
Percy Harvin
.
May, 7, 2014
May 7
6:00
PM ET
The hottest wide receiver in the draft not named
Sammy Watkins
is
Odell Beckham Jr.
, who reportedly has multiple teams (including the
New York Jets
) trying to trade up for him. A not-so-hot receiver is
Marqise Lee
, whose disappointing season may have hurt his stock.
There they were Wednesday, standing about 50 feet apart during a pre-draft interview session in Lower Manhattan. They're believed to be on the Jets' target list, along with fellow receiver
Brandin Cooks
. There's a good chance Lee and Cooks will be available with the 18th pick -- if the Jets keep the 18th pick.
Lee could turn out to be a bargain at 18. Going into the 2013 season, the former USC star was projected as a top-10 pick, coming off a monster year (118 catches for 1,721 yards) in which he won the Biletnikof Award as the top receiver in the country. But he injured his knee, missed three games and was hampered in others.
"I wasn't able to do the things I did in the 2012 season," said Lee, who finished with only 57 receptions for 791 yards. "I was kind of restricted as far as movement-wise. It was something I couldn't control. If I could control it, I'd never be in a situation where people are having that debate, 'Is Marqise as good as he was in 2012?'"
The Jets have done a lot of homework on Lee. Offensive coordinator Marty Mornhinweg attended his pro day, and they had him to Florham Park to meet with team officials. As for Beckham, the Jets have plenty of intel on him. His former special-teams coach at LSU -- Thomas McGaughey -- is now the Jets' special teams coach. They got a chance to reminisce on his recent visit to the Jets' facility.
Asked if he expects McGaughey to lobby on his behalf, Beckham smiled. He'd rather stay out of the prediction business.
"Every team seems interested. They all say they're going to take you," he said. "You never really know who's looking at you."
Beckham passed on an opportunity to proclaim himself the best receiver in the draft, as others have done. Scouts are smitten with his NFL-ready skills, his explosiveness and fluidity as a route runner.
"My film speaks for itself," he said. "It's really all about what a team needs and what a team likes."
The Jets need a receiver. And, make no mistake, they like Beckham. A lot.
April, 12, 2014
Apr 12
6:00
AM ET
From now until draft day (May 8), we'll provide a draft factoid, courtesy of ESPN Stats & Information. We'll keep it New York Jets-centric, sticking to team needs, possible selections, trends, etc.
Florida State's
Kelvin Benjamin
made a lot of big plays last season, none bigger than the final play -- his game-winning touchdown catch in the final seconds of the BCS title game. It was that type of year for the 6-foot-5, 235-pound wide receiver; he was Mr. Clutch.
Benjamin gained a first down or touchdown on 83.3 percent of his receptions, tied for the third-highest percentage of any FBS wide receiver. Many of those came on long passes. When targeting Benjamin on passes of 15 yards or longer, Heisman Trophy-winning quarterback Jameis Winston completed 23-of-41 (56 percent), averaging 16.5 yards per attempt. Benjamin's eight touchdown receptions on passes of that distance were tied for the most of any player from an automatic-qualifying conference.
He's projected as a mid-first-round draft pick.
March, 6, 2014
Mar 6
11:00
AM ET
Todd McShay's third NFL mock draft for 2014 is out on ESPN Insider today.
For a team picking 18th overall, the
New York Jets
sure have a lot of needs right now. That is a testament to the job coach Rex Ryan did with a limited talent base and an erratic rookie quarterback in
Geno Smith
.
This is another roster that will look much different on draft day than it does right now, but the only positions I can't see New York considering with this pick are quarterback, running back, center, left tackle and the defensive line. There is still much rebuilding to be done, but with the extreme strength of this draft, the Jets should find a very useful piece with the 18th pick.
Whom does McShay have the Jets drafting at No. 18? ?
Let's take a look

: