New York Jets:

2013 preseason reaction Week 4
August, 30, 2013
8/30/13
10:59
AM ET
Ten takeaways from the Jets' 27-20 win over the Eagles:
1. Looking like Geno:
I left the stadium early Friday morning thinking it'll be
Geno Smith
at quarterback when the Jets open against the Bucs.
Mark Sanchez
(shoulder) still hasn't resumed throwing, and I know there was some thought that he'd already be throwing by now. He has five days to make a rapid recovery, because I think the powers-that-be will want to make a decision by Wednesday. If Smith starts, he'll need every practice rep.
[+] Enlarge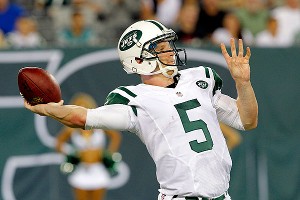 Hunter Martin/Philadelphia Eagles/Getty ImagesJets QB Matt Simms completed a strong preseason with his effort on Thursday against the Eagles.
2. Son of Phil shines
:
Matt Simms
was so good that Rex Ryan hinted after the game he could keep four quarterbacks. I think that might be more about the injuries to Sanchez and
Greg McElroy
(knee) than a reflection of awesome quarterback depth. Listening to sports radio on the way home, it's amazing to me that so many people want Simms to be the Week 1 starter. Yes, it was a strong preseason, but it came against second- and third-string players. Simms hasn't taken a first-team rep all summer. Perspective, please.
3. Tone's dress rehearsal
: Not only did
Santonio Holmes
participate in another pre-game warmup, but he did it in full uniform -- another baby step. The sense I get is that the Jets are hoping Holmes (foot) can play in the opener. As we've come to learn, Holmes may have a different opinion.
4. Hold on, Vlad
: OK, I admit it, I drank some of the Kool-Aid on
Vladimir Ducasse
. After his start against the Giants, and the subsequent release of
Stephen Peterman
, the Jets gave the impression that Ducasse finally realized his potential. But against the Eagles, rookie
Brian Winters
started at left guard, with Ryan later revealing that Ducasse and Winters are locked in a competition for the starting job. So let me get this straight: Ducasse, a three-year veteran, is neck-and-neck with a rookie who's played only two preseason games? I think we know where this is headed.
5. Safety dance
: Ryan said the safety competition between
Antonio Allen
and
Jaiquawn Jarrett
is "too close to call." Both made plays Thursday, including an interception for a touchdown by Allen. It sounds like Ryan may not declare a winner, noting it could go week-to-week based on the opponent. But here's the trouble with that: Allen and Jarrett are similar players, both "box" safeties. So, too, is
Dawan Landry
. This could be trouble against a spread offense.
6. Good grief, Jason
: Everybody is entitled to a bad night, but this was a really bad night for LT
Jason Smith
, who let more people pass him than a crossing guard. He made
Wayne Hunter
look like Anthony Munoz. Speaking of Hunter, he's available and the Jets need a backup swing tackle. Kidding.
7. Making a late push
: Players that really helped themselves heading into the final cut -- Simms, RB
Kahlil Bell
, LB
Ricky Sapp
, LB
Nick Bellore
, LB
Danny Lansanah
and DE
Leger Douzable
. CB
Mike Edwards
played well on kick coverage, but he was too tentative on kickoff returns.
8. Head scratcher
: It was strange to see
Kyle Wilson
in this game, considering Ryan bubble-wrapped almost every starter and key reserve. In theory, Wilson could be an opening-day starter, considering first-round pick
Dee Milliner
(calf) still is recovering from an injury. Milliner said he expects to play, but they'd still need Wilson in the nickel. Ryan said he used Wilson because he wanted to give him a chance to return punts and kickoffs, and he figured he might as well let him play cornerback, too. Something smells fishy.
9. Oh, Zach
: The
Wes Welker
wannabe had a solid camp, but
Zach Rogers
may have cost himself a chance by muffing a punt and alligator-arming a perfect pass. Still think he has a chance for the practice squad.
10. Not-so-chipper Chip
: If you're Eagles coach Chip Kelly, how can you feel comfortable with your backup QBs?
Nick Foles
and
Matt Barkley
were a combined 19-for-44. Simms threw 44 passes, too, except he completed 33.
August, 29, 2013
8/29/13
10:13
PM ET
EAST RUTHERFORD, N.J. -- The
New York Jets
' quarterback competition took a night off, as neither
Mark Sanchez
nor
Geno Smith
played Thursday night in the final preseason game.
Matt Simms
got the call and led the Jets to a
27-20 victory
over the
Philadelphia Eagles
at MetLife Stadium.

What it means:
The Jets finished the preseason at 3-1. Big deal. No one will remember their record in 24 hours. The focus shifts immediately to opening day and the Tampa Bay Buccaneers. There are a myriad questions for the Jets, starting with the quarterback position: Smith or Sanchez? Sanchez (shoulder) remains day-to-day and should know more about his status when he meets with the medical staff over the weekend.
No Geno:
That the Jets didn't play Smith suggests they believe there's a good chance he will be the opening-day starter. The rookie could've used the work -- his preseason consisted of 3½ quarters -- but it would've been too risky to expose him to potential injury. Coach Rex Ryan bubble-wrapped almost his entire starting lineup. The only projected starters/key reserves that saw action were
Vladimir Ducasse
(started at right guard), cornerback
Kyle Wilson
and safety
Antonio Allen
. Why play Wilson, a virtual starter? It was very curious and, no doubt, will fuel speculation about his future. Were the Jets showcasing him for a trade? Wilson has been a first-round disappointment, but he has value because of his versatility.
Tough dude, Simms:
Battling for the No. 3 QB job, Simms was absolutely terrific. Undaunted by a seven-sack first half, Son of Phil completed 33 of 44 passes for 285 yards and no turnovers, although there were a couple of near-interceptions. He went 25-for-27 in one stretch, shades of his dad in Super Bowl XXI. He showed toughness, poise and accuracy. How can he not make the team?
Greg McElroy
(knee), who didn't play, should be worried about his roster spot. Newly signed
Graham Harrell
didn't play, but could factor into the equation.
Porous pass protection:
The Jets had better hope their starting offensive linemen stay healthy, because the backups are shaky -- and that's being kind. They could be in the market for a backup swing tackle because veteran
Jason Smith
, who re-signed last week, played quite possibly one of the worst games ever by a lineman. Facing the Eagles' backups, Smith -- the No. 2 overall pick in 2009 -- allowed at least three sacks. He was pulled at halftime, the best thing to happen to Simms all night.
Defensive stand:
The Jets' No. 2 defense dominated Chip Kelly's No. 2 offense. LB
Ricky Sapp
, LB
Danny Lansanah
, DE
Leger Douzable
, LB
Nick Bellore
and S
Jaiquawn Jarrett
were among the standouts.
Kicking competition:
It was a draw between incumbent
Nick Folk
and challenger
Dan Carpenter
. Folk was good from 28 yards, Carpenter from 43. Each recorded a touchback on his only kickoff.
What's ahead:
Now comes the bloody part of the business. Teams must pare their rosters to 53 by 6 p.m. ET Saturday, meaning the Jets have to slice 22 players over the next 48 hours.