New York Jets:

2013 Week 15 NYJ at CAR
December, 15, 2013
12/15/13
11:35
PM ET
CHARLOTTE, N.C. --
Geno Smith
has played only two turnover-free games. He desperately wanted to make Sunday the third.
He did it for 52 minutes. Then came disaster, an interception return for a touchdown -- one of the key plays in the
New York Jets
'
30-20 loss
to the
Carolina Panthers
.
"I feel as though I let Rex [Ryan] down today, man," he said. "He talked to me about not having a turnover, playing a game without a turnover. On one occasion, I got sloppy with it and forced it, and I just didn't get it done, man."
Smith's big mistake came with 8:17 remaining in the game, the Jets trailing 23-13. He forced a pass into the teeth of a Cover 2 zone, targeting
Santonio Holmes
. Cornerback
Captain Munnerlyn
made the interception and returned it 41 yards for a touchdown. It was Smith's fifth pick-six, tying Joe Namath's mark (1967) for the most in a single season in Jets history.
"Bad throw," Smith said. "Forced it. Should have checked the ball down."
Holmes took no responsibility.
"I did what he wanted me to do," he said of Smith. "I tried to get open and tried to make a play for the team."
Smith completed 15 of 28 passes for 167 yards, including a late touchdown pass to
Jeff Cumberland
.
How to mess up a screen pass:
The Jets continued their alarming trend of allowing big plays. This time, the killer came on a screen pass to
DeAngelo Williams
, who bolted 72 yards for a touchdown. The Jets have allowed eight plays of 50 yards or longer.
This one was a well-designed play.
Cam Newton
faked a screen left, drawing safety
Ed Reed
out of position. He went right with the screen. Williams outraced linebacker
David Harris
, who appeared to be responsible for the man-to-man coverage. Reed arrived late and took a bad angle. Cornerback
Dee Milliner
couldn't get off a downfield block.
"The screen pass, obviously, was a back-breaker," Ryan said.
Ryan felt he made the right defensive call because he was man-to-man. In theory, they shouldn't have been affected by Newton's fake. But it sure looked like they were.
"It's the same old stuff," linebacker
Calvin Pace
said. "It's tough to play against the opponent and yourself."
Historic touchdown:
Sheldon Richardson
became the first defensive lineman in Jets history to score on a run or reception, according to the Elias Sports Bureau.
Injury report:
Richardson was evaluated after the game for a shoulder injury. He declined to comment on it. He has been playing with an injured shoulder for most of the season. ... Special-teamer
Ellis Lankster
injured his jaw.
Odds and ends:
The Jets ran for 157 yards against the league's top-ranked rush defense. At the same time, the Panthers gashed the Jets (ranked No. 2) for 131 yards. ... Wide receiver
Saalim Hakim
made his NFL debut. He gained 8 yards on an end-around and was targeted once, an overthrow on a deep route. ... Hard to believe, but tight end
Kellen Winslow
was targeted only once. ... Pace recorded his ninth sack, a career high. ...
Nick Folk
kicked a 54-yard field goal, his season long.
December, 15, 2013
12/15/13
11:15
PM ET
CHARLOTTE, N.C. -- Mathematically, the
New York Jets
are alive. But their playoff situation is dire.
"This one would be Ripley's if we pull this off," Jets coach Rex Ryan said Sunday after their
30-20 loss
to the
Carolina Panthers
.
Ryan has been known to be premature with his elimination scenarios -- see 2009 -- but he's right about this. It would take a miracle for the Jets (6-8) to qualify as a wild card. This is what they'd need to happen:
" The
Baltimore Ravens
(7-6), who play Monday night against the
Detroit Lions
, have to lose their remaining three games. If they beat the Lions, the Jets will be officially eliminated.
" The
Miami Dolphins
(8-6) have to lose their final two games. They finish with the Jets.
" The
San Diego Chargers
(7-7) have to lose one of their final two games.
Yes, that's all. They've got a better chance to win the lottery. Afterward, they were realistic. They talked about playing for pride.
"This is one of those situations where we'll find out about the individuals on this team,"
David Nelson
said. "We'll find out about what they're here for and what they're all about. Are they here for the game of football or are they here for ulterior motives?"
It would be three straight seasons out of the playoffs. The loss clinched their third straight non-winning season. Reminded they can't finish above .500,
Antonio Cromartie
said, "Whoa, whoa, we still have two games left."
Finally, he did the math.
"I mean, we can finish at .500," he said, adding, "The biggest thing is, we don't want to go 6-10 again."
If Ryan survives, he'd be the first Jets coach since Walt Michaels (1977-1980) to keep his job after three straight seasons out of the tournament.
"Hell, it's not our intent going into the season or any other time," Ryan said. "We want to win it all. That's been clear from the day I took the job."
December, 15, 2013
12/15/13
10:30
PM ET
By
Joe Menzer
| Special to ESPN.com
CHARLOTTE, N.C. --
Sheldon Richardson
usually uses his 6-foot-3, 294-pound frame to wreak havoc on opposing NFL offenses. But for two plays during the
New York Jets
'
30-20 loss
to the
Carolina Panthers
, he turned the tables and used his body to try pounding the ball into the end zone.
Lining up in the backfield behind quarterback
Geno Smith
, Richardson ran the ball on consecutive plays from the Carolina 2-yard line. He gained a yard each time, which was good enough in the end for the rookie defensive lineman's first NFL touchdown.
[+] Enlarge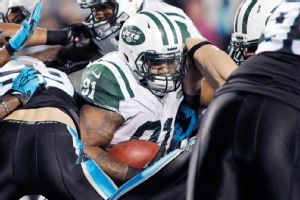 AP Photo/Bob LeveroneRookie D-lineman Sheldon Richardson rushed for a 1-yard TD run -- yes, you read that right -- to pull the Jets within three points late in the third.
Richardson, 23, admitted it was the first time he had touched the ball on offense or scored a touchdown since high school, when he "played everything."
Running back? Check.
But that was a long time ago. He admitted that he wasn't surprised to get the chance Sunday, because the Jets "practiced it a few times" last week. And when he didn't get into the end zone on his first attempt (although both he and coach Rex Ryan thought he did), there was no question he was going to get another attempt.
Not in Richardson's mind. Not in Ryan's. Not in offensive coordinator Marty Mornhinweg's.
"Marty wanted it in there, so I told him to give it back to me. He had already relayed the call," Richardson said. "I thought I scored the first time. But [the officials] needed to be reassured, so I did it again."
Ryan added: "We've been working on it and thinking they shouldn't be able to deny that guy down there, and we just kept running it. We thought we scored the first time, but we were a little short. And I'm like, 'Well, we'll just run it again.' And that's what we did."
The touchdown with 3:04 remaining in the third quarter drew the Jets to within 16-13, and cornerback
Antonio Cromartie
later admitted the unconventional score brought smiles to the faces of Richardson's defensive teammates on the sideline.
"He looked good. That's just something that we practiced," Cromartie said. "We knew it was going to happen if we got down there to the goal line. We practiced it with him, giving him the ball. We got him his touchdown and he pulled us to within three."
Even in the wake of the disappointing loss, Cromartie couldn't help grinning at the thought of Richardson doing a fine William "The Refrigerator" Perry imitation. When asked if he would be able to take down a guy Richardson's size in a similar situation, Cromartie was candidly honest.
"No, man. I don't ever want to try to tackle a 300-pound person like that," said Cromartie, who is 6-foot-2 and 210 pounds.
Richardson was in no jovial mood after the loss, despite his offensive heroics. He said he knew of Perry and that it "was cool" to be mentioned in the same breath as the former Chicago Bears defensive tackle who occasionally ran the football back in the day. But he admitted that none of that really mattered under Sunday's circumstances.
"It was a touchdown. But it means nothing. We lost," Richardson said.
December, 15, 2013
12/15/13
10:00
PM ET
By
Joe Menzer
| Special to ESPN.com
CHARLOTTE, N.C. -- Momentum seemed to swing in favor of the
New York Jets
heading into the fourth quarter Sunday at Bank of America Stadium.
Then, it flipped on the Jets in the instant that Carolina's
Jason Williams
burst through the Jets' line untouched and blocked a
Ryan Quigley
punt just over three minutes into the fourth quarter. The block gave the Panthers the ball at the Jets' 14-yard line, setting up a 1-yard touchdown run by
Mike Tolbert
four plays later that turned a narrow 16-13 Panthers' lead into a comfortable 23-13 advantage.
The Jets never recovered as the Panthers went on to win,
30-20
.
[+] Enlarge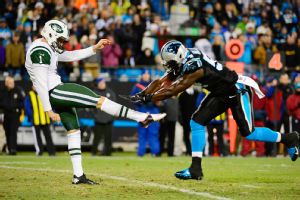 Bob Donnan/USA TODAY SportsRyan Quigley had his punt blocked in the fourth quarter, quickly changing the Jets' momentum.
"They just made a good call. We had gone into a certain formation that they adjusted to, and he just got a good jump off the ball," Jets long-snapper
Tanner Purdum
said of Williams.
Coach Rex Ryan admitted the Jets got caught in a vulnerable formation, going with an extra gunner -- Ryan referred to it as "a flyer" -- on the outside that permitted the Panthers, by NFL rule, to place a rusher over center. Having been burned in the past by Carolina punt returner
Ted Ginn
, Ryan put an extra coverage man in play to prevent a big return by Ginn -- who in 2009, while with Miami, returned a pair of kickoffs for touchdowns against the Jets, from 101 and 100 yards, no less.
"We were trying to take advantage of our speed," Ryan said. "Obviously they have one of the premier returners in the game in Ted Ginn. But when you do that, you obviously cover up the center. The guy had a good rush on us. That's exactly what happened."
A dejected Purdum insisted there wasn't much he could have done to stop Williams in that situation.
"There was nothing we could have done differently in that formation. Not that I know of," Purdum admitted.
Quigley tried to shift some of the blame onto himself.
"It's on me. When it comes down to it, you've got to get the ball off faster," Quigley said.
But then he said Williams was upon him so fast that it would have been very difficult. He also pointed out the Jets had not previously had a punt blocked all season.
"We've been using different formations all year. We've been mixing it up, and obviously we've run that formation this season, so they might have seen it," Quigley said. "And obviously whatever they did, it worked. ... It's just unfortunate that it happened at that point in the game, where it switched the momentum.
"Anytime that happens, it's tough. That was a very tough spot for us to put our defense in."
Quigley said mishaps on special teams are always magnified, and understandably so.
"I was out there four times tonight, and you've got to be perfect all four times," he said.
December, 15, 2013
12/15/13
7:09
PM ET
CHARLOTTE -- A few thoughts on the
New York Jets
' 30-20
loss
to the
Carolina Panthers
:

What it means
: The Jets dropped to 6-8, ensuring their third straight non-winning season -- a fairly large stain on Rex Ryan's résumé. As a result, they have a better chance of winning the Mega Millions lottery than making the playoffs. They will be mathematically eliminated if the
Baltimore Ravens
beat the
Detroit Lions
on Monday night. This was actually a three-point game in the fourth quarter, but the Jets came unglued in spectacular fashion, allowing 14 unanswered points until they responded with a late touchdown pass. They still haven't won two in a row. Hard to believe.
Stock Watch
: This was a step back for quarterback
Geno Smith
, who struggled against the Panthers' secondary -- the so-called "weakest link" of their defense. Smith (15-for-28, 167 yards) didn't commit a turnover for 52 minutes, but then came his fifth pick-six of the season. He forced a pass into double coverage and it was returned for a touchdown by cornerback
Captain Munnerlyn
, who also made two sacks. Smith completed only six passes to his wideouts, giving the Panthers' defensive backs plenty to chirp about.
Santonio Holmes
, he of the weakest-link quote, wore the dunce cap by dropping the first pass thrown to him. He finished with only two catches.
Two major breakdowns
: For the most part, the Jets went toe-to-toe with the Panthers, but they were ultimately doomed by two huge mistakes -- a 72-yard screen pass for a touchdown by
DeAngelo Williams
and a blocked punt that set up the Panthers' second touchdown. On the Williams play, the Jets were fooled badly by a fake screen to the left.
David Harris
and
Ed Reed
were slow in pursuit and
Dee Milliner
couldn't get off a downfield block. The defense was woefully slow. On the punt,
Jason Williams
came clean through the A gap, an inexcusable blunder.
A touchdown for ... Richardson?:
The Jets made quite a statement, rushing for 157 yards against the league's top-rated rush defense.
Chris Ivory
(66 yards) did most of the damage, but the highlight was
Sheldon Richardson
's 1-yard touchdown plunge. It was a Refrigerator moment, with the 295-pound defensive tackle scoring on his second consecutive carry. The Jets had used Richardson twice as a blocker in previous games, but this was his first actual rushing attempt. It was a clutch play, cutting the Panthers' lead to 16-13 in the third quarter. Overall, the Jets did a nice job of using misdirection plays to gash the Panthers' defense.
What's ahead
: The Jets close their home schedule against the
Cleveland Browns
(4-10), a dismal late-season matchup.
December, 15, 2013
12/15/13
3:05
PM ET
CHARLOTTE -- Wide receiver
Saalim Hakim
, who was signed Friday from the practice squad, is expected to return kickoffs Sunday against the
Carolina Panthers
. He will be the
New York Jets
' third kickoff returner in as many weeks. It will be his NFL debut.
Running back
Darius Reynaud
, who handled the job last week, was declared inactive. Previously, the kickoff returner was
Josh Cribbs
, but he suffered a season-ending pectoral injury.
In other pre-game news, cornerback
Antonio Cromartie
, listed as questionable with a concussion, is active and will start. The Jets' inactive players are quarterback
David Garrard
, linebacker
Jermaine Cunningham
, guard
Will Campbell
, tackle
Ben Ijalana
, tackle
Oday Aboushi
, and tight end
Chris Pantale
.