New York Jets:

2013 Week 2 NYJ at NWE
September, 13, 2013
9/13/13
3:03
AM ET
FOXBOROUGH, Mass. -- The
New York Jets
played one of their best defensive games ever against
Tom Brady
-- except for one play, a breakdown that proved costly in the 13-10 loss to the
New England Patriots
on Thursday night at Gillette Stadium.
On the Patriots' first possession, the Jets busted a coverage, leaving rookie wide receiver
Aaron Dobson
wide open for a 39-yard touchdown catch. On a third-and-2, the Patriots used heavy personnel, making tackle
Nate Solder
an eligible receiver. That must have confused the Jets, who bit hard on a play-action fake. Dobson, in a tight-wing formation, was uncovered.
Rex Ryan was ticked.
"That's hard to deal with," the Jets coach said. "We thought we had a heck of a game plan going in, thought we had a chance to win. To give a freebie like that to Brady ... we talked about it all week long. I mean, you can't afford mental mistakes against Brady."
Said defensive tackle
Sheldon Richardson
: "We thought it was a run, simple as that. There was a miscommunication. The linebackers have to read their keys and they read run."
Otherwise, the defense was terrific, holding the Patriots to 232 yards, 4-for-18 on third down and only 26 minutes of possession time. Brady completed only 19-of-39 passes, his first sub-50 percent game since 2009.
September, 13, 2013
9/13/13
2:50
AM ET
FOXBOROUGH, Mass. --
Geno Smith
's final throw of the night came as he walked through the tunnel on the way to the
New York Jets
' locker room. Frustrated by three fourth-quarter interceptions, equaling
Mark Sanchez
's total from last season, Smith fired a towel toward the wall.
And, miraculously,
Clyde Gates
wasn't there to drop it.
Smith showed accountability, accepting full responsibility for the
13-10
loss to the
New England Patriots
on Thursday night at Gillette Stadium. Yeah, he was bad, but his teammates were worse. At least Smith had an excuse; he's a rookie, and there will be more games like this as we watch the Education of Geno over the next few months. For his offensive teammates, there was no excuse.
The Jets dropped six passes, including three by Gates, and came unraveled in a fourth quarter that included a melee in the final seconds.
D'Brickashaw Ferguson
and
Willie Colon
, a couple of seasoned pros, were ejected, typifying the night for the Jets.
[+] Enlarge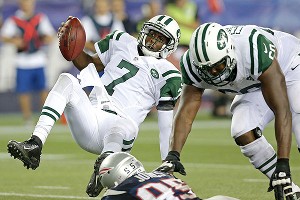 Barry Chin/The Boston Globe via Getty ImagesGeno Smith was sacked four times on a rain-soaked night in Massachusetts.
They lost their cool and self-destructed. You could almost hear Bill Belichick laughing from the sideline.
Smith took it hard. When he got to the locker room, he was so down that fellow rookie
Sheldon Richardson
felt the need to walk over and give a mini pep talk. "Gotta let it go," Richardson told him. He saw the disappointment in Smith's face.
The NFL is a humbling league. Four days ago, Smith was being hailed for his fourth-quarter cool in the Jets' gift win over the
Tampa Bay Buccaneers
. On this night, he was a mess in the fourth quarter, completing as many passes to the other team as he did to his own -- three.
"There were costly mistakes that were completely on me," Smith said. "I didn't get it done. I take full responsibility for it. I will get better."
It's no wonder Sanchez is hoping to return, hinting that he'll postpone shoulder surgery until after the season. He probably thinks he will have an opportunity to get his old job back. We know how he feels about the quarterback situation, telling the NFL Network before the game, "I won the competition, no doubt."
Sanchez would've won it by default because Smith threw three interceptions against the
New York Giants
in a preseason game. Basically, he replayed the same nightmare against the Patriots, costing his team over and over.
"Obviously," Rex Ryan said, "he wishes he had a few back."
The first interception was a classic rookie mistake. In range for a potential game-tying field goal, Smith was flushed to his left and forced a third-down pass across his body to
Santonio Holmes
. It was intercepted by
Aqib Talib
.
"During that time of the game, I have to be more mindful of the situation," said Smith, who completed only 15 of 35 passes for 214 yards and a horrible passer rating of 27.6. "I made a decision that ultimately cost my team."
This was no easy task, facing the Patriots on a short week. In fact, no rookie quarterback had ever defeated a Belichick-coached team in Foxborough. Smith was the fifth to fail, but you know what? At least he had a shot in the fourth quarter.
Then came an interception by
Alfonzo Dennard
, who stepped in front of an off-target throw to Gates. Then, with less than a minute to play, Smith received another chance to pull it out. This time, there were no gifts from
Lavonte David
. Smith served up another interception to Talib on a bad throw to
Stephen Hill
.
"A terrible mistake," Smith said. "It hurt. I can't lie, it hurt, but it's only the beginning. We've got to get better from it."
Smith accepted too much responsibility, but he wasn't about to call out his butterfingered receivers. Aside from Gates,
Bilal Powell
,
Ryan Spadola
and Hill also dropped one apiece. Hill also lost a fumble, which set up a Patriots field goal.
If the Jets hope to be competitive this season, the supporting cast has to elevate its play to compensate for Smith's inevitable growing pains. That's how they did it in 2009, when Sanchez was a rookie. He benefited from the top-ranked running attack and the top-ranked defense.
The defense did its job, forcing
Tom Brady
into
Tim Tebow
-like passing numbers. He actually completed less than 50 percent of his attempts (19-for-39) for the first time since 2009, thanks to a supporting cast of practice squad talent. If Smith had a modicum of help from his teammates, the Jets would've won the game.
A great quarterback surrounded by kids, even on an off night, was good enough to beat a kid surrounded by veterans.
"I don't like to look at it as a learning experience, because I think I'm ready for this," Smith said. "I know I'm ready for this."
Can his teammates say the same?
September, 13, 2013
9/13/13
2:39
AM ET
FOXBOROUGH, Mass. -- Rookie cornerback
Dee Milliner
, the ninth pick in April's draft, was benched at halftime of the
New York Jets
' 13-10 loss to the
New England Patriots
on Thursday night at Gillette Stadium. And this was on a night on which
Tom Brady
was human; imagine if he was actually hit.
Milliner
Jets coach Rex Ryan was upset with Milliner because he made a couple mental mistakes and was beaten on an apparent 25-yard touchdown pass to
Kenbrell Thompkins
-- a play that was reversed because the ball touched the ground.
"The young man is going to be a tremendous player, there's no doubt, but I said to him, 'I want you to watch on the sideline,'" Ryan said. "Sometimes when you do that, it's the best thing for you. ... I'm trying to win a game and put in who I think has the best chance to win it. The young man, he's going to be a great player. But at that time, I went with the veteran."
Kyle Wilson
and
Darrin Walls
split the duties at Milliner's spot.
This has been a shaky start for Milliner, the former Alabama standout. In the opener, he allowed a touchdown to Tampa Bay's
Mike Williams
. Milliner missed two preseason games because of a strained Achilles tendon.
Milliner took the benching in stride.
"I was fine with it," he said. "It was a coaching decision. I'll always back him up on any decisions he makes. He just felt like he needed to pull me out and watch."
Milliner said he made "simple mistakes" -- with costly ramifications.
September, 13, 2013
9/13/13
1:17
AM ET
FOXBOROUGH, Mass. --
Observed in the locker room after the New York Jets' 13-10 loss to the New England Patriots:
1. Muttering Rex
: Rex Ryan walked to the interview podium in the bowels of Gillette Stadium, looked down and whispered one word under his breath: "Damn." That pretty much told the story of the game. The Jets outgained the Patriots 318-232, held them to 4-for-18 on third down and finished with an eight-minute possession advantage -- and still found ways to lose.
Wilkerson
2. Oh, no, Mo
: Defensive end
Muhammad Wilkerson
, arguably the best player on the team, walked out of the locker room with a bulky ice pack wrapped around his right ankle -- not a good sight for the Jets. Earlier, Wilkerson was seen walking around the locker room in flip flops, showing no apparent limp. Ryan mentioned the possibility of a high ankle sprain, which could sideline Wilkerson for multiple games.
3. New England fog:
As he spoke to reporters in the hot and sticky locker room, cornerback
Antonio Cromartie
kept having to wipe his black-rimmed glasses because they kept fogging up. You might say it was a metaphor for the Jets' performance. They fell apart in the fourth quarter and, afterward, didn't have the foggiest explanation.
September, 13, 2013
9/13/13
12:01
AM ET
FOXBOROUGH, Mass. -- A few thoughts on the Jets'
13-10 loss
to the
New England Patriots
on Thursday night at Gillette Stadium:
What it means
: The Jets blew a wonderful opportunity to upset the vulnerable Patriots, whose offense was completely out of whack with a depleted cast around
Tom Brady
. In the end, a savvy quarterback surrounded by a kiddie corps proved better than a kid quarterback (
Geno Smith
) surrounded by veterans. The Jets had a chance in the fourth quarter, but they made far too many mistakes in crunch time. Making things worse,
Jets defensive lineman Muhammad Wilkerson was carted off with a foot injury late in the game.

Stock Watch
: This week, Smith imploded in the fourth quarter. No one said there wouldn't be growing pains for the rookie. He was turnover-free for nearly 50 minutes, but he threw three interceptions in the final 11 minutes. The first interception was a bad decision in the red zone, probably costing his team three points in a three-point game. Having to face the Patriots on a short week is a tall order for any quarterback, let alone a rookie. Smith missed some vertical passes, throwing behind receivers. Coordinator Marty Mornhinweg did him no favors, calling too many downfield passes. Mornhinweg gave up on the run late in the game.
Careless mistakes
: It takes a near-flawless performance to beat a team like the Patriots. The Jets were anything but. They put themselves in a 10-0 hole because of a mental mistake (a blown coverage on
Aaron Dobson
's 39-yard touchdown catch) and a physical mistake (a fumble by
Stephen Hill
after a 33-yard reception). Early on, the defense was confused by different personnel packages from the Patriots, and that was the case on Dobson's touchdown. That was just Bill Belichick outcoaching Rex Ryan in those situations. Hill is maddening -- so talented, yet so inconsistent. This is his house of horrors. No Jets fan will forget his killer drop in last season's meeting here.
Implosion
: The Jets lost their cool with 38 seconds left, when
Willie Colon
and
D'Brickashaw Ferguson
were ejected for throwing punches in a scrum triggered by
Nick Mangold
, who took a cheap shot at
Aqib Talib
on an interception return.
The not-so-good-hands people
: Smith was victimized by a butter-finger receiving corps -- at least six dropped passes.
Clyde Gates
had three, including one in the end zone. Hill,
Bilal Powell
and rookie
Ryan Spadola
also had drops. The lack of a big-time receiver was blatantly obvious. The Jets' pedestrian wideouts couldn't get much separation against the Patriots' press coverage, forcing Smith to hold the ball and putting extreme pressure on the offensive line.
Santonio Holmes
made a few nice plays, but he's still not back to his old form.
Dominant D
: Save for the busted coverage on Dobson, Ryan's defense was brilliant. It's hard to imagine a defense playing much better against Brady, who completed only 19 of 39 passes for 185 yards. The Jets held the Patriots to 4-of-18 on third-down conversions. If it weren't for
Julian Edelman
(13 catches for 78 yards), Brady would have been lost. Cornerback
Dee Milliner
was benched in the second half.
What's next
: The Jets return home to face the
Buffalo Bills
(0-1) in a battle of two rookie quarterbacks, Smith versus
EJ Manuel
.