New York Jets:

Aqib Talib
September, 18, 2013
9/18/13
2:05
PM ET
FOXBOROUGH, Mass. -- Patriots cornerback
Aqib Talib
said Wednesday that he didn't have an issue with the low tackle by Jets center
Nick Mangold
that sparked a melee at the end of Thursday's 13-10 New England win.
Talib
"I thought he kind of dove a little early. He started to dive when I was in bounds and I kind of went out of bounds at the end of his dive. I didn't see it as dirty," Talib told ESPN. "I haven't seen it too many times, but I'm good. I ain't worried about it."
When Talib wasn't present for the Patriots' Monday practice, some wondered if perhaps he had sustained an injury on the play. But Talib told ESPN on Wednesday that he was tending to a family emergency.
"I came out of the game healthy," he said.
On the play that sparked the end-of-game melee that ultimately led to ejections for Jets linemen
Willie Colon
and
D'Brickashaw Ferguson
, and a 15-yard personal foul penalty for Mangold, Talib had intercepted a pass and returned it along the sideline when Mangold lunged toward his legs.
Talib had slowed a bit, spun around, so Mangold ended up making contact with him from behind around the knees.
That sparked a reaction from Patriots coach Bill Belichick and others as the play happened in front of the team's sideline. Soon enough, there was a scrum between several members of both teams that is
currently under review by the league office
.
September, 13, 2013
9/13/13
4:50
PM ET
The NFL will be looking into the melee at the end of Thursday night's 13-10 Patriots win over the Jets, according to ESPN's Adam Schefter.
The conflict started after center
Nick Mangold
dove to tackle cornerback
Aqib Talib
, who had intercepted
Geno Smith
with 48 seconds left in the game. Patriots players thought it was a cheap shot, while Mangold and coach Rex Ryan said in was a legal and unintentionally low tackle. Mangold was issued a 15-yard personal foul, and took heat from Patriots coach Bill Belichick on the sideline.
[+] Enlarge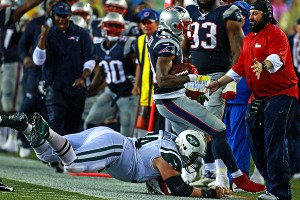 Photo by Jim Davis/The Boston Globe via Getty ImagesNick Mangold's hit on Patriots cornerback Aqib Talib following an interception set off a scrum that ended with two Jets players getting ejected.
On Friday, Jets coach Rex Ryan said Belichick should have known Mangold wouldn't take a cheap shot on another player.
"Look, I've yelled at his players, too," Ryan said on 98.7 ESPN New York. "That's part of it. A lot of that stuff happens. Yelling at my player that he did something intentional, that's not the case. Nick wasn't trying to injure the guy or hit him out of bounds or anything else. That wasn't the case. Mangold isn't that kind of player and Belichick should know better than that. I promise you he does."
The league will also look at the ensuing scrum, in which LT
D'Brickashaw Ferguson
and RG
Willie Colon
appeared in replays to throw punches at Patriots players, and Colon was cited for shoving a referee. The two, who were just a small part of the fracas, were ejected. No Patriots players were disciplined and Ryan later complained that, "apparently our team was the only one involved in it."
Both Colon and Ferguson claimed not to remember exactly what happened in the scrum. Both could be subject to a fine or possibly a suspension from the NFL this week. The league's VP of football operations will evaluate the tape.
In the less-likely event that an offensive lineman is suspended, it could be tricky for the Jets to replace him.
Chris Ivory
cited solid line play as the reason the Jets had more success running the ball in Week 2, but after the starting five there is a bit of a drop-off in experience.
Brian Winters
, Will Campbell,
Caleb Schlauderaff
and rookie
Oday Aboushi
are the backups.
There haven't been a lot of incidents like this one in recent Jets history, so the chances that one of them will be harshly disciplined seems more remote. Ryan likes to get his players fired up. He once sent offensive lineman Rob Turner into a training camp practice to tangle with
Vernon Gholston
as documented by "Hard Knocks" that year, but the waning seconds of the fourth quarter may not offer the same kind of emotional return.
There was no place to take that energy, except the Gillette Stadium visiting locker room after a loss.