New York Jets:

Arizona Cardinals
December, 2, 2012
12/02/12
8:55
PM ET
EAST RUTHERFORD, N.J. -- It was a good day for the Jets' defense in a 7-6 win over the visiting Cardinals, and one stat that player after player kept pointing to was that Arizona was 0-for-15 on third down.
"I'd have to say it's probably our best defensive game of the year," Jets safety
Yeremiah Bell
said. "I think they were 0-for-15 on third down, so that's a nice improvement from where we came from."
[+] Enlarge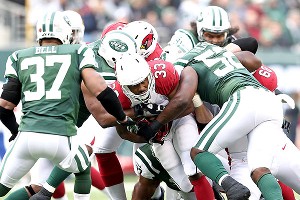 Debby Wong/US PresswireYeremiah Bell (37) and David Harris (52) helped the Jets swarm William Powell on this play.
Bell and other players got that stat from Jets coach Rex Ryan during his postgame address to the team. The Jets said it was the most failed conversions for an opponent since Tampa Bay went 0-for-14 on Dec. 13, 2009.
"We knew coming into the game that they were going to try to keep the game conservative and run and take their shot at the passing game," linebacker
David Harris
said. "We did a good job of stopping them on first and not allowing any big plays."
Harris (three solo, three combined) and cornerback Kyle WIlson (five solo, one combined) led the defense with six tackles each. Harris also combined with
Bart Scott
(five tackles) for a sack. Safety
LaRon Landry
(three tackles) had an interception.
"I think our defense has made strides during the season," Ryan said. "That's what I saw and that's what I know to be the truth, but it really showed today.
"I'm really proud of all the defensive coaches: (defensive coordinator) Mike Pettine, (defensive backs coach) Dennis Thurman, (linebackers coach) Bob Sutton, (defensive line coach) Karl (Dunbar), (assistant defensive backs coach) Jim O'Neil and (outside linebackers coach) Mike Smith. The communication over the headset was great. We were dialed in. The adjustments we needed to make were spot on. I thought they did a tremendous job."
December, 2, 2012
12/02/12
8:15
PM ET
EAST RUTHERFORD, N.J. -- Of course
Kerry Rhodes
would have liked his Cardinals to get the win in his return to New York. Since the Jets eked a 7-6 win, Rhodes will just have to console himself with his two interceptions and a forced fumble.
The Jets could have used a safety like Rhodes this season, but instead Rex Ryan sent him packing after the 2009 season and then tweaked him in his book, "Play Like You Mean It," calling Rhodes a "Hollywood type." It was one of the few times Ryan has publicly called a player out.
[+] Enlarge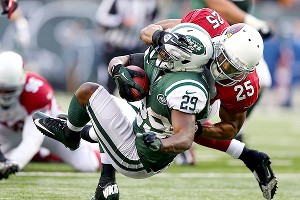 Elsa/Getty ImagesKerry Rhodes brought Bilal Powell down on this play.
Cardinals kicker
Jay Feely
was Rhodes' teammate on the Jets.
"I'm sure there was something extra in this game," Feely said. "When a coach calls you out you want to respond, and you want to prove him wrong -- and you want to do it against his team."
Rhodes caught the first pass of the game from Jets quarterback
Mark Sanchez
. When Rhodes nabbed another interception in the first half, he briefly led all of Sanchez's receivers in yards.
Although Rhodes took the high road for the most part, he admitted he was glad to have a good showing in his return.
"I had a little fun with it," he said.
Even former teammate
Eric Smith
had to give Rhodes his due.
"Nice plays -- he was right where he needed to be and caught the ball," Smith said.
"There's very few safeties that have better ball skills than him," Feely said of Rhodes. "And he's a playmaker. He gets interceptions and he gets fumble recoveries and scores touchdowns and I'm happy he's my teammate."
Interestingly, Rhodes said he talked to Sanchez after he was benched in the third quarter. Sanchez and Rhodes played together for a year and were friendly even after Rhodes left.
"I just told him to keep his head up," Rhodes said. "That he's a good young man and he tries his best. When you play here in New York, they are very demanding of you."
That's one thing that Rhodes certainly knows first-hand.
December, 2, 2012
12/02/12
4:10
PM ET
EAST RUTHERFORD, N.J. -- The Jets
rallied to beat the Cardinals 7-6
on Sunday at MetLife Stadium, but they created a quarterback controversy -- and, surprise, it doesn't involve
Tim Tebow
. A struggling
Mark Sanchez
was benched for the first time in his career, and
Greg McElroy
-- in his NFL debut -- sparked the team and the crowd. He led the game's only touchdown drive.
What it means
: The Jets (5-7) kept their faint playoff hopes alive with an ugly win, but the larger issue is the quarterback situation. This was a bombshell decision by Rex Ryan, and it will have long-term ramifications. Remember, Sanchez is owed $8.25 million in guarantees for 2013, so his return is highly likely. In the short term, who starts next week? It's a multiple-choice question for Ryan.


The Decision
: Ryan was justified to pull Sanchez (10-for-21, 97 yards) with 4:48 remaining in the third quarter. In 10 possessions, Sanchez threw three interceptions and failed to put any points on the board. The first two interceptions, made by former Jets safety
Kerry Rhodes
, were bad decisions and horrible throws.
Patrick Peterson
made a terrific play on the third interception, a deep ball to
Chaz Schilens
. The crowd was chanting for McElroy. Ryan had been fiercely loyal to Sanchez, but something had to be done.
He-e-e-e-re's Greg
: McElroy was active for the first time because Tebow (fractured ribs) didn't dress. McElroy, a former seventh-round pick from Alabama, didn't do anything spectacular, but he didn't make any turnovers, he managed the game and he led a 69-yard drive for the go-ahead score. He hit
Jeff Cumberland
for a 1-yard scoring pass, a well-executed bootleg on play-action. The kid is smart and has moxie, if not a rifle arm.
Conspiracy theory
: That Tebow sat one week after dressing with the same injury will fuel speculation that the Jets did it to move McElroy up the depth chart without demoting Tebow. Clearly, Ryan doesn't see Tebow as the answer at quarterback. Maybe this was his way of getting McElroy one step closer to the starting job.
Regards to Hollywood
: Ryan's worst nightmare played out before his eyes. Rhodes, whom Ryan called a "selfish-ass" player with a Hollywood attitude, made two interceptions -- both in the first quarter. Rhodes also forced a fumble, setting up a field goal by another ex-Jet,
Jay Feely
. The Jets traded Rhodes before the 2010 season, a deal that looks terrible now. GM Mike Tannenbaum used the two draft picks acquired from the Cards to select
Joe McKnight
and McElroy. Interesting, huh?
Fooled again
: The once-vaunted special-teams unit continues to embarrass itself on a weekly basis. This time, the Jets got suckered on a fake punt, setting up a field goal. It was a gutsy call by the Cards -- fourth-and-7 from their own 25 with 1:11 left in the first half -- but it appeared to be an audible based on the "overload" look on the Jets' punt-rushing front.
Rashad Johnson
took a direct snap and raced 40 yards.
Great defense
: Facing overmatched rookie
Ryan Lindley
(10-for-31, 72 yards), the Jets' defense pitched a near-perfect game. They held the Cards to 0-for-15 on third down. Lindley was hopeless, often missing receivers by several yards.
Tebow takes a seat
: As expected, Tebow was inactive. He was medically cleared, sources said, but he sat based on a coach's decision.
What's ahead
: The Jets hit the road to face the struggling Jaguars (2-10). The storyline will be Tebow's return to his hometown, but it could feature a new starting quarterback for the Jets.
December, 2, 2012
12/02/12
2:50
PM ET
EAST RUTHERFORD, N.J. -- The return of
Kerry Rhodes
, the safety who was traded after Rex Ryan's first season with the Jets, was a nightmare scenario for his old team from the very first throw.
Embattled quarterback
Mark Sanchez
, author of a Jets offense that coaches insist is improving each week, sent his first pass of the game to Rhodes. The boos rained down from the sparsest MetLife Stadium crowd of the season.


But it was only the start of a house of horrors that paused at halftime with the Cardinals up 3-0. The only points came courtesy of a 48-yard field goal from another former Jet, kicker
Jay Feely
, as time elapsed.
Before the half was over, Rhodes had another interception and returned it 30 yards, and
Patrick Peterson
grabbed a deep ball from Jets wide receiver
Chaz Schilens
, tracking the ball in tandem with Rhodes.
Despite all the defensive help, the Cardinals offense led by young quarterback
Ryan Lindley
couldn't manage to covert field position into points. The Cardinals got in the red zone on their second possession, but couldn't produce a yard on fourth-and-1 and turned the ball over.
The Jets had an opportunity to score in the first quarter when they got within range of a field goal, but
Nick Folk
's 46-yard attempt hit the left upright and rebounded back into the field. In the second quarter, Folk got a 52-yard try, which bounced off the right upright.
With just a few minutes in the half, Jets tight end
Dustin Keller
appeared to injure his left ankle as he chased a pass toward the Cardinals sideline. A play later, he left the game and was taken to the locker room. He was announced with an ankle injury and his return is questionable.
Sanchez finished 9-of-16 for 95 yards and three interceptions, while the rookie Lindley is 6-of-20 for 48 yards and one interception, grabbed by Jets safety
LaRon Landry
.
Bilal Powell
, who started the game at running back, had four carries for 17 yards while
Shonn Greene
had nine carries for 29 rushing yards.
Greg McElroy
was the backup quarterback in the game after
Tim Tebow
, with two fractured ribs, was declared inactive. It was McElroy's first regular-season NFL game in uniform. He didn't get into the game, but after a few Sanchez interceptions, McElroy did get to hear an NFL stadium chanting his name.
November, 30, 2012
11/30/12
7:00
AM ET
FLORHAM PARK, N.J. -- Cue the laugh track, the Jets are ready to take the field again.
Coming off one of the most embarrassing losses in franchise history, a game in which the phrase "butt fumble" was introduced into football vernacular, the Jets face the Cardinals on Sunday at MetLife Stadium. It's 4-7 versus 4-7, featuring two of the worst offenses in the league.


The Jets have dropped four of their past five, and the Cards have lost seven in a row, becoming the first team in history to drop seven straight after a 4-0 start. This should be a classic.
Kickoff is 1 p.m. What to watch for:
1. The Sanchez audition
. With $8.25 million in guaranteed money for 2013, QB
Mark Sanchez
is a virtual lock to be on the team next season, but his status as the starter could hinge on how he plays over the final five games. If he doesn't improve, the Jets almost certainly will bring in a challenger.
Alex Smith
?
Michael Vick
?
Matt Flynn
? Those are some of the names that will surface as possibilities.
Sanchez has improved his accuracy over the past two games (73 percent), and he has only one interception in his past 68 attempts, but most of it came against non-blitzing teams. That won't be the case against the Cards, who like to bring extra pressure. Sanchez, who has 41 turnovers in his past 27 games, has to avoid big mistakes in scoring territory. Six of his 10 interceptions this season have come inside the opponents' 37.
[+] Enlarge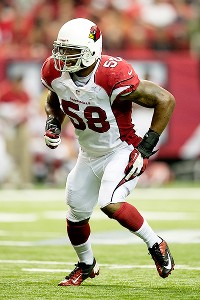 AP Photo/Paul AbellThe Jets need to account for Daryl Washington at all times.
2. Desert Storm
. The Cards are a bad team, but don't blame the defense. This is a unit that intercepted
Matt Ryan
five times, a defense with the second-best opponent passer rating in the league (74.3). The Cards are fast, opportunistic and create pressure with a variety of blitz packages. They've held opposing passers to a league-low 47 completion percentage when sending five-plus rushers.
The Cards have playmakers at all three levels of the defense, but their top guy is
Daryl Washington
, who has nine sacks from an inside linebacker position -- unheard of. The Jets will go after CB
William Gay
, the weak link in an otherwise solid secondary. They'd better watch out for ex-Jet
Kerry Rhodes
, a deep safety who'd like nothing better than to haunt his former team.
3. From Brady to Lindley
. In a span of 10 days, the Jets will have seen both ends of the NFL quarterback spectrum -- from one of the best (
Tom Brady
) to quite possibly the worst (
Ryan Lindley
). With
Kevin Kolb
(ribs) still banged up, the rookie is expected to make his second straight start. Lindley, a sixth-round pick from San Diego State, has only seven quarters of NFL experience -- and they haven't been pretty. He threw four interceptions last week against a Rams defense that hadn't produced a turnover since Week 5. So what does that tell you?
Lindley has more skill-position talent around him than Sanchez, with WR
Larry Fitzgerald
and RB
Beanie Wells
, but the Cards' line is awful (a league-high 46 sacks allowed). Lindley is 0-for-10 on throws of more than 20 yards downfield, according to ESPN Stats & Information. Fitzgerald can take over a game, but he can't do that unless he gets the ball.
4. The Sad Sack Exchange
. If the Jets can't put some meat on their bare-bones sack total this week, their pass-rushers should make like Fireman Ed and just leave the building. The Cards just placed C
Lyle Sendlein
on injured reserve, and they're starting two rookies at tackle, LT
Nate Potter
and RT
Bobby Massie
. Massie has allowed a league-high 13 sacks and 36 QB hurries, according to ProFootballFocus.com. Can you say "turnstile"?
The Jets invested three high draft picks in defensive linemen the past two years, and yet
Muhammad Wilkerson
,
Quinton Coples
and
Kenrick Ellis
have combined for only four sacks. Their leading sacker is LB
Bryan Thomas
(2.5), who was actually unemployed for a few days in September before re-signing.
5. Protect the damn ball
. Key words around the Jets' facility this week: "Ball security." That's what happens when you treat the ball like a wet bar of soap. The Jets turned it over five times against the Patriots, including four fumbles. They took a back-to-basics approach, studying video on proper ball-carrying technique. The Jets have a total of 22 fumbles, including 12 lost (five by Sanchez). The easiest way to lose to a team like the Cards, who can't score on their own, is to give the ball away.
November, 29, 2012
11/29/12
6:35
PM ET
By
Dan Riccio | ESPN Stats & Information
Despite a disappointing season to this point, the Jets begin the easiest remaining schedule in the NFL. The Jets will not play a team that currently has a record of .500 or better and their opponents are a combined 17-33 beginning with the
Arizona Cardinals
.
The Cardinals have started three different quarterbacks this year including rookie
Ryan Lindley
who threw four interceptions last week. Lindley has a Total QBR of 10.4 in two games, the worst rating of any player with at least 25 snaps at quarterback.
Wide receiver
Larry Fitzgerald
has not been able to produce as a result because he has been under or overthrown on the highest percentage of targets among qualified NFL players.
Arizona enters this game in a tailspin, losing their last seven games after beginning the season a perfect 4-0.
Let's analyze three keys to this Sunday matchup in New York:
1. Ryan Lindley has gotten in trouble by forcing throws downfield with an average pass length of 9.5 yards. Among quarterbacks with at least 50 total attempts, that is the second longest average in the NFC.
On throws that traveled 10 yards or fewer in the air, Lindley has a completion percentage of 68.8 percent, which is better than the NFL average. However, on throws that travel 11 yards or more, Lindley has completed 29.2 percent which is the worst rate of any player with as many attempts.
While it may sound surprising, since losing
Darrelle Revis
the Jets rank fifth among NFL defenses in lowest completion percentage and Total QBR allowed on passes thrown 11 yards or more.
2. Despite a struggling offense, the bread and butter for the Cardinals has been their defense which ranks second in lowest Total QBR allowed among NFC teams. The Birds have been disruptive near the line of scrimmage with the most interceptions and the lowest completion percentage allowed of any NFC defense on throws that traveled 14 air yards or less.
As a result, if
Mark Sanchez
needs time to let deep receivers get open, the big men up front will be a problem where the Cardinals lead the conference in fewest opponent dropbacks between sacks.
3. The Cardinals are particularly effective with their aggressive pass rush which uses five or more defenders on 39.7 percent of dropbacks, the second-highest rate among NFC defenses, and if there's any player in the NFL prone to added pressure, it's Mark Sanchez who has faced it on 38.2 percent of dropbacks, the highest rate in the NFL.
The Arizona secondary has helped the front seven create pressure by clamping down with the third-most defended passes in the league on such plays. That's compared to 32nd in defended passes when sending four defenders or fewer.
The Jets may need to keep an extra blocker in the backfield to protect Sanchez against the inevitable blitz since he ranks 31st out of 34 qualified passers in Total QBR against it.
November, 28, 2012
11/28/12
5:00
AM ET
The Jets host the Cardinals Sunday at MetLife Stadium, another 4-7 team searching for answers. A quick look:
1.
The Cards are on a historically bad run -- a seven-game losing streak. In fact, they're the first team in NFL history to fall to 4-7 after a 4-0 start, according to ESPN Stats & Information. They hope to avoid their first eight-game losing streak since 2006.
2.
They feature two former Jets -- S
Kerry Rhodes
and PK
Jay Feely
, both of whom played on the 2009 team that reached the AFC Championship Game. Rhodes has two interceptions and Feely is 18-for-21 on field goals. Coach Ken Whisenhunt is a former Jets tight end and assistant coach under Al Groh (2000).
[+] Enlarge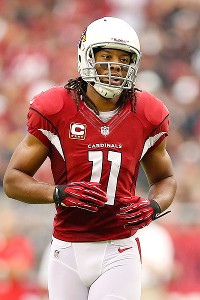 Christian Petersen/Getty ImagesLarry Fitzgerald is tough to stop -- when the Cardinals' QBs can actually get the ball to him.
3.
The Cards have the worst quarterback situation in the league. With
Kevin Kolb
(ribs, shoulder) banged up, rookie
Ryan Lindley
is expected to make his second straight start. It can't be worse than the first -- four interceptions against the Rams, including two returned for TDs. They also have former Fordham standout
John Skelton
, who was benched.
4.
Kolb suffered three detached ribs in Week 7 against the Bills. It came on a botched running play. See, the Jets aren't the only team that can turn an aborted running play into headline news, but at least Kolb didn't run into a lineman's backside.
5.
The Cards' offense makes the Jets resemble the Greatest Show on Turf. They've scored only eight TDs in their last seven games, failing to surpass 19 points in any of those games. How they upset the Patriots in Week 2, 20-18, truly is one of the mysteries of the 2012 season. The Cards are 31st in total offense and 31st in scoring offense. They just lost C
Lyle Sendlein
, who was placed on IR with a knee injury.
6.
They still have one of the great players in the sport, WR
Larry Fitzgerald
, who leads the team with 55 receptions. His numbers are down, but it's because of a horrible QB situation. Last week, Lindley was 0-for-6 with two interceptions when targeting Fitzgerald at least 15 yards downfield, with all six incompletions resulting from off-target passes, per ESPN Stats.
7.
Despite their woes, the Cards can play defense. In fact, they're No. 7 in total defense and 11th in scoring defense. ILB
Daryl Washington
(team-high nine sacks) is having a Pro Bowl-caliber season and DE
Calais Campbell
is expected to return this week from a calf injury. The Cards like to bring pressure, and they're good at it. They've held opponents to a league-low 47-percent completion percentage when sending 5-plus pass rushers, according to ESPN Stats.
8.
The Cards are 3-4 against common opponents; the Jets are 4-4.