New York Jets:

Ben Kotwica
February, 5, 2014
Feb 5
10:50
PM ET
The
New York Jets
filled the last opening on their coaching staff on Wednesday night, hiring former LSU special teams coordinator Thomas McGaughey for the same position. He replaces Ben Kotwica, who left after the season to become the
Washington Redskins
' special teams coach.
The Jets identified McGaughey as their man more than a week ago, but they agreed to keep it under wraps until national signing day was complete on Wednesday, so it wouldn't hurt LSU's recruiting effort.
McGaughey, 40, becomes the Jets' third coordinator in three years. He has no NFL experience as a special teams coordinator, but he's not a newbie to the pro game. He served as an assistant for the
New York Giants
(2007-2010),
Denver Broncos
(2005-2006) and
Kansas City Chiefs
(2002). In 2007, he won a Super Bowl ring as a member of the Giants' coaching staff.
At LSU, McGaughey's special teams were dynamic, but he was blessed with tremendous talent. His returners included
Morris Claiborne
,
Tyrann Mathieu
and Odell Beckam, Jr. LSU scored six special-teams touchdowns in three seasons under McGaughey. In 2013, the Tigers allowed a 100-yard kickoff return.
This hiring is a bit unusual because Rex Ryan went outside his coaching tree, but he took that same leap last year by hiring Marty Mornhinweg as offensive coordinator. The Jets' special-teams job was kept in the family, so to speak, from 2001 to 2012, with Mike Westhoff (2001 to 2012) and Kotwica, an assistant under Westhoff. Ryan's decision to hire McGaughey, as opposed to a recycled NFL coordinator, shows he was seeking someone with fresh ideas.
January, 17, 2014
Jan 17
2:10
PM ET
Aside from kicker
Nick Folk
, there wasn't anything special about the
New York Jets
' special teams in 2013. Then again, maybe there was.

In the annual
Dallas Morning News special-teams rankings
, produced by football writer Rick Gosselin, the Jets finished a surprising ninth. Perhaps this explains why new
Washington Redskins
coach Jay Gruden was so determined to hire Ben Kotwica, the Jets' former coordinator. Kotwica, whose contract with the Jets was expiring, spurned a two-year extension.
As Gosselin writes, the league's 32 teams are ranked in 22 categories and assigned points according to their standing — one for best, 32 for worst. Aside from a 10th-place finish in field-goal percentage, the Jets didn't crack the top-10 in any of the major categories, but they evidently racked up enough points to land at No. 9.
Gosselin's top 10 (with point totals):
1.
New England Patriots
, 229
2.
San Francisco 49ers
, 250
3.
Kansas City Chiefs
, 274.5
4.
Dallas Cowboys
, 294.5
5.
Baltimore Ravens
, 298
6.
St. Louis Rams
, 300.5
7.
Jacksonville Jaguars
, 302
8.
Miami Dolphins
, 321.5
9. New York Jets, 321.5
January, 17, 2014
Jan 17
8:00
AM ET
We're counting down the 10 most important plays of the
New York Jets
' season. After presenting numbers
six through 10 in one post
, we'll take it one at a time from five to one.
Quigley
No. 3:
The blocked-punt fiasco in Carolina
The Jets picked a bad time to have a major breakdown on special teams. In a must-win game against the Panthers in Week 15, the Jets suffered a fourth-quarter collapse and lost, 30-20. It all started when
Jason Williams
blocked a punt by
Ryan Quigley
.
For 47 minutes, the Jets went toe-to-toe with the heavily-favored Panthers, trailing only 16-13 at the start of the fourth quarter. Punting from his own 30, special teams coach Ben Kotwica employed a tactic he used twice earlier in the game. Concerned about speedy punt returner
Ted Ginn
, Jr., Kotwica used three gunners instead of two. It was a calculated gamble. Not only did it leave one less player in protection, but it allowed the Panthers to line up over the center -- by rule, a no-no when there are only two gunners.
Exploiting the alignment on the third try, Williams rushed the center/left-guard gap.
Zach Sudfeld
, the left guard, failed to slide and block Williams, who had a free path to the punter. The Panthers recovered the block at the Jets' 14, marched in for a touchdown a few plays later and scored again a few minutes later on a
Geno Smith
interception that was returned for a touchdown. In less than five minutes, a close game turned into a blowout.
The loss left the Jets on the verge of mathematical elimination. On Wednesday, Kotwica left the Jets to become the
Washington Redskins
' special teams coach.
January, 15, 2014
Jan 15
4:15
PM ET
Now that special teams coach Ben Kotwica is off to the
Washington Redskins
, people want to know: Could Mike Westhoff come out of retirement to replace the man who replaced him?
Westhoff, reached by phone shortly after Kotwica-to-the-Redskins became official, said he hadn't been contacted by the Jets.
"I'd certainly listen to them," he said, "but I'm happy with what I'm doing."
Westhoff, 66, the Jets' special teams coach from 2001 to 2012, is working in the media world as an analyst for ESPN New York 98.7 and SNY television. If you haven't seen or heard him, you should make it point to do so, because he's very good. He told me he has spurned feelers from other teams, adding that he's enjoying his current gig too much to actively pursue a coaching opportunity.
"I'm no youngster, but I know I could [return to coaching]. I didn't like the way it ended up," said Westhoff, alluding to the Jets' special-teams struggles in 2012. "But I'm very happy with what I'm doing, my decision to retire. I'm not looking to get back into coaching, but I'll always look at everything. I'll never say 'never.'"
Westhoff is one of the most competitive people I've ever met, and I could see him back on the sideline. But I just don't think it will be the Jets' sideline. Yes, he's a brilliant coach, one of the best in his field, but my hunch is they will look for a younger coach with a fresh approach.
January, 15, 2014
Jan 15
3:30
PM ET
Ben Kotwica, who spent six seasons with the
New York Jets
as a special-teams assistant and last season as the coordinator, has left the team to become the special teams coach of the
Washington Redskins
.
The Redskins confirmed the move Wednesday afternoon.

Kotwica was one of at least six assistants on Rex Ryan's staff with an expiring contract. Kotwica received a contract offer from the Jets, according to a league source, so his departure is a bit puzzling. It's possible he felt there was more security with the Redskins, who will have a new staff under recently hired head coach Jay Gruden.
Kotwica, a West Point graduate, interviewed for Army's head-coaching job in late December. That job went to Jeff Monken, formerly the Georgia Southern head coach.
Ryan's uncertain contract status could be a concern for members of his staff. He has only one year remaining on his deal and, although there has been speculation about a one-year extension, nothing has been finalized. Ryan has told friends that he'd like to keep his staff together, and it's believed that most, perhaps all of the soon-to-be-free-agent assistants have received contract offers.
Kotwica, originally hired by Eric Mangini in 2007, took over the special teams after the venerable Mike Westhoff retired after last season. The one bright spot was place-kicker
Nick Folk
, who enjoyed a career year. Otherwise, the special teams were fair to middling, based on league rankings. The lowpoint came in Week 15, when the Jets suffered a blocked punt that changed the momentum in a 30-20 loss to the
Carolina Panthers
. Kotwica used a strategic wrinkle -- three gunners instead of two -- to contain punt returner
Ted Ginn Jr.
, but it left them vulnerable in the line, resulting in the block.
Westhoff, 66, held the job from 2001 to 2012. Now the Jets will have their second special teams coach in as many years.
What about a Westhoff comeback? He's said to be happy in retirement, working as a football analyst for local media outlets (including ESPN New York 98.7). He has received feelers from other teams, but it sounds like he'll continue his post-coaching career. Then again, he's always been a never-say-never guy, so you never know.
January, 9, 2014
Jan 9
8:00
AM ET
For the first time since 2001, the
New York Jets
didn't return a punt or kickoff for a touchdown. The special teams lacked explosiveness under first-year coordinator Ben Kotwica, who replaced the venerable Mike Westhoff.
There was a decline in production for the punt- and kickoff-return units, perhaps because they cut top kickoff returner
Joe McKnight
in the preseason. Things started to perk up with
Josh Cribbs
around midseason, but they fell off again when he suffered a season-ending pectoral injury. Because of the growing pains on offense, the Jets needed a better return unit to shorten the field, but that didn't happen.
The bright spot was
Nick Folk
, who improved by 13 percentage points in field goal accuracy. Here's the breakdown of 2013:
Punt-return average
Final '13 ranking
: 16th (9.0 yards)
Final '12 ranking
: 12th (10.3 yards)
Kickoff-return average
Final '13 ranking
: 18th (22.7 yards)
Final '12 ranking
: 6th (26.2 yards)
Field goals made
Final '13 ranking:
10th, tie (91.2 percent)
Final '12 ranking
: 27th (77.8 percent)
Net punting average
Final '13 ranking:
27th (38.1 yards)
Final '12 ranking:
20th (37.6 yards)
Punt-return average allowed
Final '13 ranking:
27th (11.3 yards)
Final '12 ranking
: 27th (12.1 yards)
Kickoff-return average allowed
Final '13 ranking:
11th (22.3 yards)
Final '12 ranking
: 5th (21.9 yards)
October, 24, 2013
10/24/13
6:00
PM ET
FLORHAM PARK, N.J. -- Special teams coordinator Ben Kotwica, commenting for the first time on the
New England Patriots
' illegal "push" play, refused to confirm or deny he warned the officials beforehand to watch out for the tactic. Kotwica was more expansive on Bill Belichick's accusation that the
New York Jets
used it, too.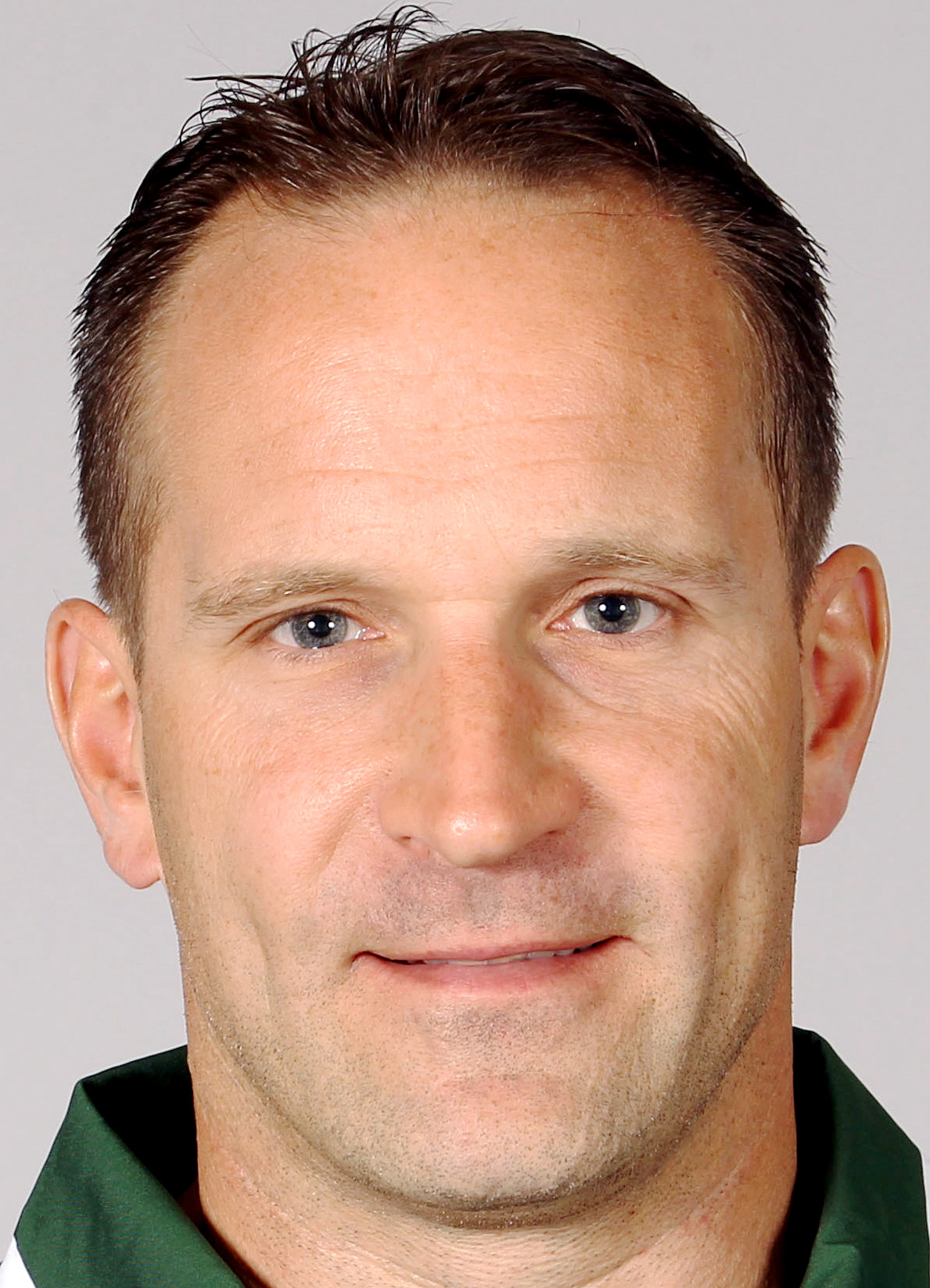 Kotwica
No way, Kotwica said.
"We don't coach pushing or anything along those lines," said Kotwica, adding: "I don't know what they were trying to do. I just know this: We teach a technique and a scheme on how to block field goals and it's within the regulations of the game."
Kotwica echoed Rex Ryan, who fired back at Belichick Wednesday by saying the allegation is "not true." It appeared that
Quinton Coples
gave teammate
Muhammad Wilkerson
a one-armed push on
Stephen Gostkowski
's field goal at the end of regulation. It was "incidental contact," according to Kotwica.
Kotwica said he took no offense to Belichick calling out the Jets.
"No, I don't take it personally," he said. "I've got a lot of respect for Coach Belichick and what he's done for the game. That's his opinion. I wouldn't take it personally."
On Tuesday, ESPN.com reported the Jets' sidelined tipped off the officials during the game. It probably was Kotwica, who routinely speaks with officials during the week and before each game. Publicly, the Jets haven't confirmed that they alerted officials to the Patriots' previous use of the push play.
Kotwica cleverly danced around questions, saying he always communicates with the league office during the week to discuss rules and points of emphasis. He also speaks with the umpire before every game to discuss "different formations you have, different guys that are eligible ... and anything else that might happen during the game."
Asked point-blank if he brought up the subject last Sunday, Kotwica he preferred to keep those conversations private.
Everybody knows what happened.
Nick Folk
's field-goal miss from 56 yards in overtime was nullified because the Patriots'
Chris Jones
was penalized 15 yards for pushing a teammate into the Jets' formation. On his second try, from 42 yards, Nick was successful, lifting the Jets to a 30-27 upset.
"My initial reaction (to the penalty) was, 'I hope it's on them,'" said Kotwica, claiming he had no idea it would for pushing.
October, 11, 2013
10/11/13
6:00
AM ET
FLORHAM PARK, N.J. -- Overshadowed by
Geno Smith
's late-game heroics Monday night was the performance of the
New York Jets
' special teams.
In many ways, it was the breakout game under new special teams coordinator Ben Kotwica.
There was
Antonio Allen
's blocked punt in the first quarter (the Jets' first since Week 1, 2011), there was
Clyde Gates
' 36-yard kickoff return (a season best) and there was
Jeremy Kerley
's 24-yard punt return (another season best). And, of course, there was
Nick Folk
, who was 3-for-3, including the game-winning field goal.
The Jets' once-vaunted special teams (save for last season's blooper reel) had been unusually quiet in the first four games, not counting Folk, who hasn't missed a field goal. Maybe Monday night was a turning point under Kotwica, who has the huge task of replacing Mike Westhoff.
"I was happy for the guys in that we could have a positive impact on the game," Kotwica said.
The Jets need more of those games from the special teams, which can help offset the growing pains of the offense by winning the field-position battle. ESPN Stats & Information has a category called "total expected points added by special teams," based on a complicated formula that incorporates all aspects of special teams. Right now, the Jets rank 26th in the league -- minus-8.14 points. At least they're on the climb.
Then again, anything has to be better than last season, which turned into a comedy of errors.
ICYMI
:
David Garrard
-- remember him? -- is back,
claiming his balky knee feels fine
. Can he help Geno Smith as a mentor? ... Check out the Week 6 edition of "
Gang Green Report
," breaking down Sunday's game against the
Pittsburgh Steelers
. ... Veteran G
Willie Colon
is preparing to
face his former team
-- and he has a colorful way of expressing his feelings.
July, 4, 2012
7/04/12
11:45
PM ET
Jets assistant special teams coach Ben Kotwica is one of the current and former coaches representing the NFL as part of a joint NFL-USO trip to the Persian Gulf to celebrate the Fourth of July with members of the armed forces.

Kotwica went to West Point, where he was a linebacker and a captain in 1996. He is also a veteran, having been sent to Iraq in 2004 as a helicopter commander. He has a Bronze Star, among other decorations, for time served in the Army.

"I'm just really grateful that I was asked to be part of their wonderful experience in giving back to the soldiers," Kotwica said in an NFL news release. "I know how special it is, as a former officer and soldier myself, when people from the NFL and the USO come over to support the troops. I consider myself lucky to have this opportunity."

The other coaches on the trip are former Jets coach and ESPN analyst Eric Mangini, CBS analyst and former coach Bill Cowher and Minnesota coach Leslie Frazier.