New York Jets:

Ben Roethlisberger
November, 3, 2014
Nov 3
6:15
PM ET
By
Danny Knobler | Special to ESPNNewYork.com
FLORHAM PARK, N.J. -- So now it's
Ben Roethlisberger
against the
New York Jets
' secondary.
This should be fun.
OK, maybe not so much fun for a New York secondary that has looked overmatched against passing offenses that are much less in sync than the one Roethlisberger and the
Pittsburgh Steelers
will bring to MetLife Stadium on Sunday. The Jets' secondary is still such a mess that coach Rex Ryan announced he'll again be conducting an open competition all week for the chance to start at cornerback against Roethlisberger and the Steelers.
That's assuming any of the Jets' cornerbacks really wants that chance.
Roethlisberger has thrown six touchdown passes in back-to-back games. No one in the NFL is hotter right now -- not even the teams that have already had a chance against the Jets.
"They're on fire right now," Ryan said Monday after watching a couple of Steelers game films. "Clearly, there's a major concern there. The other thing is they're an outstanding rushing football team. To say we have our work cut out for us I think is an understatement.
"Right now, they're carving people up."
The Jets have used five different starting cornerbacks already this season. Ryan started
Antonio Allen
and
Marcus Williams
on Sunday against the
Kansas City Chiefs
, and then benched Allen at halftime and replaced him with
Josh Thomas
.
He praised the work by Williams, an undrafted rookie out of North Dakota State who was playing in his first NFL game. But Ryan wouldn't commit to anyone for this week, and he said the Jets will likely use all four of their healthy cornerbacks -- Williams, Allen, Thomas and
Phillip Adams
-- in the game against Pittsburgh.
Stopping Roethlisberger, or even slowing down the Steelers' offense, obviously will fall on more than just the Jets' cornerbacks.
"We all know Ben," Ryan said. "This is a Hall of Fame quarterback. It's always a challenge. He goes about his business differently than some of the other quarterbacks. He'll hold it, he's hard to bring down. We know all those things he brings.
"It's impressive, to say the least."
Ryan said he has already watched tape of the Steelers' Week 6 game against the
Cleveland Browns
. The Browns held Roethlisberger to 228 yards and just one touchdown and won the game 31-10.
But Ryan doesn't have the same players available that the Browns did. He has what he has, and he has so little certainty that he's not even sure who he wants to start.
With all that, Ryan tried to project some confidence.
"Will our corners be up to it?" Ryan said, repeating a question. "Yeah, they'll be up to it."
Perhaps they will be, but the truth is closer to what Ryan said before:
"Obviously, it's a huge concern."
And, perhaps for Roethlisberger, a huge opportunity for a third straight huge week.
October, 13, 2013
10/13/13
8:05
PM ET
EAST RUTHERFORD, N.J. -- The
New York Jets
tried to make the day all about their defensive line.
Marty Lyons, a former member of the New York Sack Exchange,
was inducted into the Ring of Honor
at halftime. An honorary captain, he participated in the coin toss, flanked by former "New York Sack Exchange" teammates Mark Gastineau and Joe Klecko. Every member of the current defensive line joined the group, a link to then and now. It was as if the Jets were trying to send a message to the
Pittsburgh Steelers
, who had been struggling with pass protection.
But the Steelers got the last laugh.
Wilkerson
The Jets finished with four sacks, but the
19-6 loss
will be remembered for the one that got away. On the Steelers' second possession,
Muhammad Wilkerson
blew a chance to get a safety. He had
Ben Roethlisberger
in his clutches in the end zone, but Big Ben slithered away and threw a harmless incompletion.
"That's a big guy," Wilkerson told ESPN New York 98.7 FM. "We talked about it all week. I went up high on him, knowing I should've kind of went low. But he's a great quarterback. He slipped away and made the play for them."
It was a scoreless game. The Jets missed a great opportunity to seize the early momentum.
"If we get a safety there, we're up, 2-0, and those plays usually result in a nine-point turnaround," coach Rex Ryan said.
The Jets got good pressure on Roethlisberger in the second quarter, sacking him twice on one series. It looked as if they were going to dominate the Steelers' rebuilt offensive line, which included a new starter at left tackle,
Kelvin Beachum
. But the Steelers adjusted nicely, shifting to a quick-passing game. That offset the Jets' pass rush.
Roethlisberger finished 23-for-30, with 264 yards and a touchdown pass.
"They were trying to get the ball out of his hand pretty quickly, there's no question," Ryan said. "If you look at the start of the game, they had four or five screens almost in the first 10 plays. They were trying to slow us down a little bit."
And it worked. Wilkerson finally dropped Roethlisberger for a late sack, but it was too late.
October, 11, 2013
10/11/13
3:00
PM ET
This game screams "letdown" for the
New York Jets
.


Before we get into the particulars, let's pause for a moment to consider the incongruity of the previous sentence. That we're talking about the Jets in that context, not the
Pittsburgh Steelers
, is crazy. But crazy is reality in Week 6 of the NFL season.
For the surprising Jets (3-2), it has all the ingredients of a trap game: an emotional win Monday night ... a short practice week ... a winless and well-rested opponent, the Steelers (0-4), coming off their bye week ... and the first-place
New England Patriots
looming ahead.
What's more, the Jets don't know how to handle prosperity. Over the last 24 games, they've compiled only one two-game winning streak -- Weeks 13 and 14 last season. There's no rule against winning two in a row, Rex Ryan has told his players.
We'll see if they listen. Kickoff is 1 p.m. Sunday at MetLife Stadium. What to watch for:
The rookie vs. the master:
Geno Smith
attended school in Morgantown, W.Va., only a couple of hours from Pittsburgh, so he knows all about the Steelers' venerable defensive coordinator, Dick LeBeau. Giving a quick scouting report of LeBeau to reporters, Smith mentioned the coach's famous recitations of "'Twas the Night Before Christmas." That's called doing your homework. LeBeau won't be in the holiday spirit for this game. His once-formidable defense has turned pedestrian, and he'll be looking to change things by unleashing his creative genius on the young quarterback.
This is a scary combination: LeBeau has had two weeks to tweak his defense and cook up new stuff to throw at Smith. And Smith lost a day of preparation because of the Monday night game. He'll see the usual array of fire-zone blitzes from LeBeau, but there will be new looks that will force Smith to think on his feet. He'll be tough to beat if he plays with the poise he demonstrated against the
Atlanta Falcons
.
Not the Steal Curtain
: Perhaps the most mind-blowing defensive stat of the season is the fact that the Steelers have yet to record a single takeaway. Consider: no interceptions and no fumble recoveries in four games. That would be hard to fathom for any team. Because it's the Steelers, who have arguably the greatest defensive tradition in the league, it's even tougher to explain. No team in history has taken an oh-fer for the first five games, according to the Elias Sports Bureau. This is one of the main reasons why the Steelers are off to their worst start since 1968.
Why the takeaway drought? The Steelers have been playing from behind, reducing the opportunities for turnovers. They also have an ancient secondary, led by S
Ryan Clark
(34), CB
Ike Taylor
(33) and S
Troy Polamalu
(32). The once-vaunted pass rush has turned benign. LeBeau is blitzing a decent amount (35 percent of the drop-backs, 14th in the league), but there are only four sacks to show for it. In other words, Jets DE
Muhammad Wilkerson
has as many sacks as the Steelers.
Big Ben is big assignment
: The Jets' chances of winning will hinge on how they defend one player -- QB
Ben Roethlisberger
. With no running game, the Steelers are more Roethlisberger-reliant than ever. He's putting up big numbers -- 308 passing yards per game -- but he's also had a handful of "Geno" moments -- four lost fumbles, five interceptions and 15 sacks. He'll hold the ball longer than most quarterbacks, trying to make a play. Sometimes it works, sometimes it leads to careless ballhandling. The Jets are aware of it, and they will be focused on ball stripping.
Coverage is key
: The Jets view the Steelers the way they did the Falcons: It's all about containing the passing game. If Jets CB
Antonio Cromartie
(knee) doesn't play, the degree of difficulty will increase. If they don't have Cromartie to cover WR
Antonio Brown
, who's averaging eight catches and 103 yards per game, it'll put tremendous stress on the rest of the secondary. Just watch, Roethlisberger will throw 45 times for 350-plus yards in this game. We know they can't run the ball, as the Steelers are averaging only 58 yards per game. The return of rookie RB
Le'Veon Bell
has helped, but the offensive line -- sans star C
Maurkice Pouncey
-- is a jumbled mess. Mike Tomlin benched struggling LT
Mike Adams
in favor of
Kelvin Beachum
or recently acquired
Levi Brown
. The Jets' front seven should be able to control the line of scrimmage.
Act like grown-ups
: This game will test the Jets' maturity level. They're feeling good about themselves, but this team is still young and tends to lose focus (see the turnovers and penalties). This won't be a walkover. The Steelers are a proud, physical team that recognizes the urgency of the moment. Tomlin set the tone by benching a couple of starters and banning games in the locker room. They've been outscored by 10.2 points per game, the third-largest margin in the league, according to ESPN Stats & Information. The Steelers are better than that; the Jets should prepare for a street fight.
October, 11, 2013
10/11/13
12:00
PM ET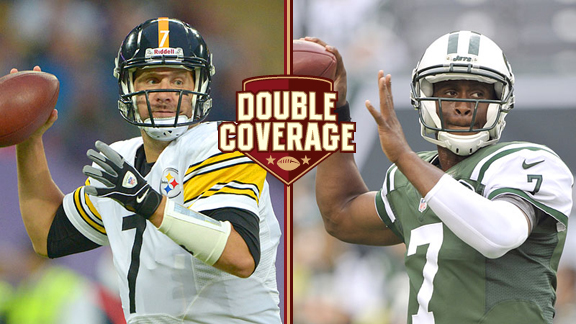 USA TODAY SportsBen Roethlisberger and the 0-4 Steelers take on Geno Smith and the surprising Jets.
Things you didn't expect to see in the standings when the NFL released the schedule last April: The
New York Jets
at 3-2, the
Pittsburgh Steelers
at 0-4.
The rebuilding Jets were supposed to struggle under a coach who already was being called a lame duck, and the Steelers ... well, they were supposed to be the Steelers, a model of consistency.
The two teams meet up Sunday at MetLife Stadium. The Steelers are off to their worst start since 1968, the year of the Jets' only Super Bowl season. If the Steelers lose this game, they're pretty much done in terms of playoff aspirations. The Jets played a similarly desperate team Monday night, and that didn't seem to faze them, as they stunned the
Atlanta Falcons
on the road. The Steelers should be well-rested coming off a bye week.
ESPN.com Jets team reporter Rich Cimini and Steelers reporter Scott Brown break down the matchup:
Cimini
: Scott, I look down the Steelers' roster and I still see a lot of those familiar names --
Ben Roethlisberger
,
Antonio Brown
,
Troy Polamalu
,
LaMarr Woodley
, etc. It's hard to imagine how the Steelers could be this bad. I'm sure you could write 5,000 words on why they're 0-4, but how 'bout a few thoughts on what has gone wrong?
Brown
: Rich, I think I have written triple that amount on everything that has gone wrong. Turnovers have been the biggest problem for the Steelers, and that is on both sides of the ball. The Steelers have committed 11 of them with six coming in the last two games by Roethlisberger alone, and they are still without a takeaway, which is unbelievable when you think about it.
Playing from behind has a lot to do with the Steelers' turnover problem, especially on defense. The defense is at its best when it puts opposing quarterbacks in obvious passing situations and forces them into the kind of mistakes that lead to turnovers. Would you believe the Steelers have had exactly two leads this season and those were 2-0 and 3-0 in the season opener against the Titans and in the second game at Cincinnati, respectively?
Rich, this defense usually confuses and frustrates rookie quarterbacks, but
Geno Smith
has hardly played like a first-year signal-caller. Has his play surprised you, and is it sustainable?
Cimini
: I was surprised by how well he played Monday night in Atlanta because he had been a turnover machine -- 11 in his first four games. All of a sudden, something clicked. I don't know if it was a one-game thing or the start of a trend.
I know the Steelers' defense isn't what it used to be, but Dick LeBeau will have had two weeks to cook up something to confuse the kid. How Smith responds to new looks from the defense will decide this game. The Jets leaned a bit more on the running game last week, taking some pressure off Smith, and I suspect they'll take a similar approach on Sunday. Blitz pick-up will be a key, as will the receivers' ability to gain separation. I remember the Steelers were very aggressive last season in Week 2 with the Jets' wideouts. While on the subject of quarterback play, how would you assess Big Ben's play to this point?
Brown
: It has been fine other than the turnovers, and I think it will get better with tight end
Heath Miller
back and running back
Le'Veon Bell
giving the Steelers a legitimate threat in the ground game. Roethlisberger is on pace to throw for almost 5,000 yards this season, which would obliterate his career-high of 4,328 yards (2009). But Roethlisberger is also averaging just over 40 pass attempts per game. That number is way too high, especially given how leaky the Steelers' offensive line has been through the first quarter of the season.
The emergence of Bell should restore balance to the Steelers' offense. My question for you is, will such balance have to wait a week? The Jets' defensive line looks awfully physical and it is hard to envision the Steelers having much luck running the ball against it.
Cimini
: You're right, Scott, the Jets have been very good against the run. They've faced some good backs --
Chris Johnson
,
C.J. Spiller
,
Doug Martin
-- and they're allowing only 76.2 yards per game and 3.0 per carry. I'd be surprised if the Steelers have much success on the ground.
The Jets' front seven is much improved from last season. They added more athleticism at nose tackle (
Damon Harrison
), tackle (
Sheldon Richardson
), weak inside linebacker (
DeMario Davis
) and rush linebacker (
Quinton Coples
). They're no longer vulnerable on the perimeter, as they were last season. I think they will make the Steelers one-dimensional, which should allow the Jets to get good pressure on Roethlisberger. Speaking of pressure ... four sacks for the mighty Steelers? What happened to that defense?
Brown:
Man, depends on who you ask. The easy answer is to say that age has finally collared a once fearsome defense, but that is not entirely accurate. Defensive end
Brett Keisel
, strong safety Polamalu and cornerback
Ike Taylor
are among the most tenured Steelers, and they have played well this season.
Age has caught up with the Steelers a little bit, and the defense needs to get more out of younger players such as cornerback
Cortez Allen
and outside linebacker
Jarvis Jones
. Jones, the Steelers' No. 1 pick last April, is going to be really good, but he has not made much of an impact as a pass-rusher. The Steelers desperately need Jones to emerge opposite Woodley, who has three of the team's four sacks.
.
September, 16, 2012
9/16/12
7:37
PM ET
PITTSBURGH -- The Jets flipped the script from the 2010 AFC Championship Game. This time, it was a good start and a lousy finish, adding up to another
loss to the Steelers, 27-10, at Heinz Field
.
What it means
: The Jets dropped to 1-1, falling into a four-way tie in the AFC East. The outmanned Jets, minus three starters, were outplayed in all three phases by a hungrier team. And, by the way, the Steelers didn't have two of their best players, S
Troy Polamalu
and LB
James Harrison
. They found a way, the Jets didn't.


Deep freeze
: The Jets opened as if they were still playing the Bills -- a 90-yard touchdown drive on their first possession -- but they disappeared on offense. QB
Mark Sanchez
was 4-for-5 for 80 yards and a touchdown on the opening drive, but he completed only six of his next 22 passes for 58 yards for the rest of the game.
What happened?
Santonio Holmes
, who scored on a 14-yard reception, dropped two passes. Rookie
Stephen Hill
, unable to beat the Steelers' aggressive press coverage, couldn't get open -- he had no receptions. Injured TE
Dustin Keller
was missed badly. The running game was nonexistent. The pass protection broke down. Shall we go on?
Sanchez struggled, too. To rebound from a performance like this, the offense has to do a much better job of handling pressure, from the receivers to the quarterback. The wide receivers had no catches after the first quarter.
The Invisible Tebow
: Surprisingly, the Jets used
Tim Tebow
for only three plays on offense. It made no sense, especially with the running game struggling. Tebow would've been the ideal change of pace -- he torched the Steelers last year in the playoffs -- but he was kept in moth balls until the third quarter. Finally, he got in for three plays, ripping off a 22-yard run on the first play. So what happened? He was sent back to the bench.
The Revis factor
: Did the Jets miss
Darrelle Revis
(concussion), or what? Without the NFL's top corner, the Jets played more zone than usual, hoping to minimize big plays and trying to protect the vulnerable areas in the secondary. It worked -- for a while.
Ben Roethlisberger
is too good and too smart to keep down. The Steelers went to a quick-passing game and Big Ben found his rhythm, completing passes to 10 different receivers. More often than not, he found the best matchup.
The Jets didn't get much pressure on Roethlisberger (24-for-31, 275 yards, two TDs) with a conventional rush, and when they got close with a blitz, he found a way to brush off the rushers and located the open man. His biggest play came against the Jets' most accomplished cornerback,
Antonio Cromartie
, who got burned on a 37-yard touchdown pass in the third quarter. He misplayed the ball in the air, letting WR
Mike Wallace
establish position in the end zone.
LaRon is LaBad
: After an impact performance in the opener, S
LaRon Landry
received effusive praise from fans, media and his own coach. Rex Ryan compared him to Hall of Famer Night Train Lane. Well, Landry crashed to reality. He committed two 15-yard penalties (a late hit and a horse-collar tackle) and he missed a would-be sack of Roethlisberger, one play before Roethlisberger threw a touchdown pass. Landry received a humble pie in the face. Leading into the game, he said the Jets have better defensive personnel than the Steelers. It sure didn't appear that way. Fellow S
Yeremiah Bell
also had a critical penalty.
Heroes to goats
:
Jeremy Kerley
was among the stars in Week 1. Not this week. Kerley, who scored on a punt return in the opener, muffed a third-quarter punt, costing the Jets a valuable possession. It was the only turnover of the game.
What's ahead
: The Jets hit the road again, facing the Dolphins (1-1) in a game that features the return of former Miami coach Tony Sparano.
September, 13, 2012
9/13/12
3:02
PM ET
By
Dan Riccio | ESPN Stats & Information
The Jets quickly erased any preseason concerns and set a franchise record for points scored in a season opener against the Bills on Sunday.
Mark Sanchez
posted a Total QBR of 97.1, a career-best for one game, and Gang Green improved to 6-0 all-time when he passes for at least three touchdowns.


While the
Pittsburgh Steelers
may have looked rusty against
Peyton Manning
and the Broncos (94.4 Total QBR-allowed, 30th in Week 1), the return of
Ryan Clark
and possibly
James Harrison
could create a tougher test for the Jets. Pittsburgh should look a lot more like the defense that allowed a 35.1 Total QBR last season, tops in the NFL.
In a rematch of the 2010 AFC Championship Game, Rex Ryan and the Jets will be looking for a different outcome while the Steelers try to avoid their first 0-2 start in 10 years. Let's break down three areas to watch during this week's game:
1. It was a tale of two offensive lines in Week 1.
The Steelers were one of seven teams to use at least three offensive line combinations, while the Jets used the same five-man unit on all 63 plays. As a result, Sanchez was one of two passers with 15 dropbacks who did not take a sack. Pittsburgh's
Ben Roethlisberger
was sacked a league-high five times. Sanchez was forced to throw under duress or hit while throwing only twice; Roethlisberger was forced to do so 10 times. Pittsburgh has a shot at redemption against one of the two defenses without a sack in the opener.
2. Keep an eye on air space near the sidelines.
On pass attempts thrown outside the painted field numbers, the Steelers allowed two touchdowns and a nearly perfect 99.3 Total QBR against the Broncos. Sanchez opened the season with a career-high three touchdown passes toward the sideline, including both scores for
Stephen Hill
. On defense, the Jets' cornerbacks were at it again as all three interceptions came on sideline passes, one each for
Kyle Wilson
,
Darrelle Revis
and
Antonio Cromartie
, who returned his for six.
3. Both teams rushed the passer aggressively without success.
The Steelers used five or more pass rushers 44.4 percent of the time in Week 1, ranking fifth in the NFL, but allowed an AFC-worst 13.8 yards per attempt and two touchdowns. The Jets sent added pressure 43.8 percent of the time to rank sixth, but recorded all three interceptions when they dropped seven in coverage. Based on Week 1 quarterbacking, Gang Green is in a better position to try the blitz again this week.
January, 24, 2011
1/24/11
2:03
AM ET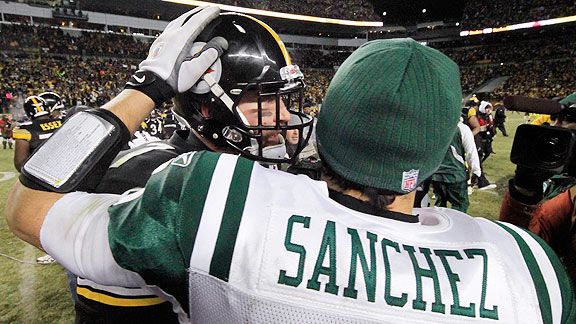 AP Photo/Gene J. PuskarBen Roethlisberger goes to his third Super Bowl while Mark Sanchez goes home.
After the Steelers beat the Jets in the AFC Championship Game, Jets quarterback
Mark Sanchez
stood in a Heinz Field hallway, being interviewed by a Spanish-language broadcaster when Steelers quarterback
Ben Roethlisberger
walked out of his locker room and down the hall.
Roethlisberger saw Sanchez and, as he passed, leaned over and gave Sanchez a playful slap on the shoulder. The two embraced and spoke for a few seconds before Sanchez returned for his interview.
It was a tough night for Jets players. The locker room was quiet, and some players slipped in and out without wanting to talk to reporters.
Mike DeVito
was somber. Asked about the trouble the team had stopping Steelers running back
Rashard Mendenhall
in the first half, DeVito said he thought he had a lot of trouble with his own matchup against
Ramon Foster
and
Chris Kemoeatu
.
"I need to learn and get better and these are the type of games you can't blow like that," DeVito said.
Center
Nick Mangold
said everyone in the locker room was feeling the loss acutely, and he described the feeling he had the moment Roethlisberger converted a third down on the final drive of the game, winning the ability to eat up the rest of the clock and keep the Jets offense off the field.
"Think about the worse thing that can happen to you, whatever that might be," Mangold said. "That's the feeling."
January, 24, 2011
1/24/11
1:33
AM ET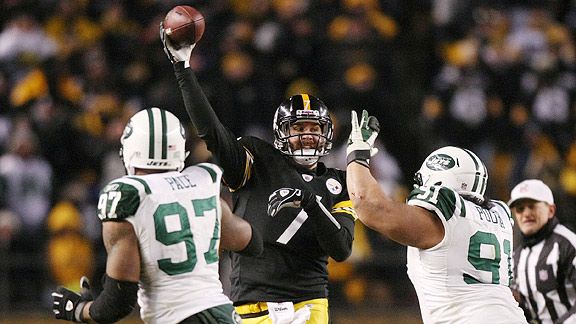 Jason Bridge/US PresswireBen Roethlisberger was able to complete his final pass, despite pressure from Sione Pouha.
It was a gutsy call by Pittsburgh Steelers coach
Mike Tomlin
-- gutsy because it worked. If it had failed, they'd be calling it a stupid decision in the Steel City.
With two minutes to play, the Steelers clinging to a five-point lead, Tomlin called a third-and-6 pass even though the New York Jets were out of timeouts. The Jets came oh-so-close to breaking it up, but there were breakdowns on the play.
First, the Jets' edge rushers let QB
Ben Roethlisberger
out of the pocket. That could be because they were playing for a run.
Rex Ryan
admitted that he was "shocked" the Steelers didn't run the ball in that situation. You let Big Ben out of the pocket, and he will make you pay more often than not.
Nose tackle
Sione Pouha
pressured Roethlisberger and got in his face.
"I hit him right when he threw the ball," Pouha said. "I tried to affect the throw, but obviously Ben is Ben. Right when I hit him, I was hoping to deter the throw somehow, but he's been in that situation so many times that it's second nature to him."
It was a brilliant throw on the run. The Jets dropped into a Cover-3 zone. Once Big Ben escape the pocket, the Jets applied their "plaster" coverage rules -- play man-to-man against the closest receiver in your zone. For linebacker
David Harris
, that meant wide receiver
Antonio Brown
. But that's a tough cover for a 250-pound linebacker.
"He was in my zone, so I pretty much had to match him," Harris explained. "I tried to stay with him the best I could, but he's a good athlete and he made a heck of a play. There was too much separation."
Brown made a sliding catch for 14 yards, giving the Steelers the first down they needed to run out the clock.
April, 20, 2010
4/20/10
8:54
AM ET
Today we look at a high-need position for the Jets: safety. Here is the story and a look at the three top candidates at the spot.
Tonight at 7 the NFL releases the 2010 schedule, so you can check it out here and open another browser window with your preferred travel website and get a choice flight and hotel in Miami in (is it too much to hope?) December. We will have that fully covered with the news and analysis.
Jason Taylor could make a decision today. I was so bored just writing that, it's been a long wait.
And finally to the Pittsburgh quarterback.
NFL commissioner Roger Goodell said he will announce the decision on suspending Ben Roethlisberger when he comes to it, whether or not it conflicts with the NFL Draft or the schedule being made public. He said he thinks he owes it to everyone to make it public rather than try to hold the news.
"You're a role model whether you like it or not," Goodell said on the ESPN's Mike & Mike this morning.
April, 16, 2010
4/16/10
9:50
AM ET
Mike Tannenbaum was asked yesterday if he would be trading up this year, and he didn't even try to be cagey about it.
"I told these guys we are not trading up this year," said Tannenbaum, flanked by head scout Joey Clinkscales and Terry Bradway. "No matter what happens, grab the phones! I don't want to trade up, but we'll see what happens. I think we're happy with where we are, but we'll let the board dictate what we do. I like where we are. I want to keep our first two picks where we are.
"We should get two good football players that can help us. We know what their salaries reasonably should be. We try to put that into the budget the next two or three years. As we make these other acquisitions, those picks are going to be important for us for strategic planning purposes moving forward."
But can Tannenbaum help himself? For the right pass rusher? For the right safety?
There are certain players we identify as guys that within reason if they got to a certain point we'd consider to try to go up and get," Bradway said. "So you play that out in the first round, because you don't know who is going to be there in the second or third round. It's interesting. We have some good conversations. Mike's done a great job in being aggressive and getting players. I think at one point he was a quantity versus quality guy, now he's come around to the other side."
In other news, The Smoking Gun documents from the Ben Roethlisberger investigation are disturbing. If Pittsburgh dropped WR Santonio Holmes for his substance and other off-the-field issues, it's hard to think they keep their QB given what's in there.
Fans can be pretty tolerant regarding the misbehavior of their own players (see Barry Bonds), but Roethlisberger may have crossed even that line.