New York Jets:

Brad Smith
February, 26, 2014
Feb 26
8:00
AM ET
When it comes to drafting quarterbacks, the
New York Jets
take more shots than most. In fact, only one team has drafted more quarterbacks over the last 10 years than the Jets -- the
Denver Broncos
.
ESPN.com colleague Paul Kuharsky, our
Tennessee Titans
team reporter, did the research and came up with this nugget on the number of
quarterback selections since 2004
:
Denver Broncos: 7
New York Jets: 6
Philadelphia Eagles
: 5
Green Bay Packers
: 5
Cleveland Browns
: 5
Baltimore Ravens
: 5
San Francisco 49ers
: 5
Washington Redskins
: 5
During his run as general manager, 2006 to 2012, Mike Tannenbaum subscribed to the Ron Wolf theory on quarterbacks: It never hurts to draft one every year because of the value in the position. There's also the need factor. You could argue the Jets haven't had a true franchise quarterback since Joe Namath. Tannenbaum selected five quarterbacks, and his successor, John Idzik, took one in his first draft. It wouldn't be a surprise if they add another in May. A look at the six:
Geno Smith, 2013, second round
: He went 8-8 in an up-and-down rookie year. He hasn't been anointed yet, but he's the likely opening-day starter.
Greg McElroy, 2011, seventh round
: He started only one game for the Jets (it was ugly) and was released last preseason. He's on the
Cincinnati Bengals
' roster after spending last season on their practice squad.
Mark Sanchez, 2009, first round:
He was the Sanchize for two seasons, but it fell apart and now he's a likely salary-cap casualty. His career record is 33-29, plus four playoff wins.
Erik Ainge, 2008, fifth round
: He never played a down for the Jets. His career was derailed by substance-abuse problems and he's out of the league.
Kellen Clemens, 2006, second round
: He was drafted as
Chad Pennington
's heir apparent, but he played poorly in 2007 and never regained the confidence of the organization. He will be a free agent after spending the last three years as a backup for the
St. Louis Rams
.
Brad Smith, 2006, fourth round
: The Jets converted him to wide receiver, used him in the Wildcat and made him a kickoff returner. His quarterback days are over, but he's still hanging around, playing for the Philadelphia Eagles.
January, 4, 2014
Jan 4
8:00
AM ET
Several former
New York Jets
will be playing this weekend in playoff games. In fact, there's at least one ex-Jet on seven of the eight teams. Remember these names?
•
LaRon Landry
, S,
Indianapolis Colts
: 12 games, 62 solo tackles, no interceptions, no sacks.
•
Mike DeVito
, DT,
Kansas City Chiefs
: 14 games, 18 solo tackles, no sacks, no forced fumbles.
•
Mike Nugent
, PK,
Cincinnati Bengals
: 16 games, 18-for-22 on field goals.
•
Nick Novak
, PK,
San Diego Chargers
: 16 games, 34-for-37 on field goals.
•
Danny Woodhead
, RB, Chargers: 16 games, 76 catches for 605 yards, 429 rushing yards, eight total touchdowns.
•
Brad Smith
, WR,
Philadelphia Eagles
: 6 games, two receptions for 27 yards, two rushes for 2 yards, four kickoff returns for 106 yards.
•
Kahlil Bell
, RB,
Green Bay Packers
: 3 games.
•
Jonathan Goodwin
, C,
San Francisco 49ers
: 16 games.
September, 5, 2012
9/05/12
2:04
PM ET
It's not easy to prepare for something you haven't seen.
That's the situation the Bills are facing as they get ready to battle the Jets and try to defend against a Wildcat formation the team did not showcase in the preseason.
"It's tough because you really haven't seen it up to this point with the preseason and being that you are facing them the first game, you kind of don't know what to expect," Bills defensive end
Mario Williams
said on a conference call Wednesday. "They could do anything. It's one of those things you just kind of have to get your feet wet in a certain area, or multiple areas, and then come out and try to adjust to it and see what's going on and see what they are trying to do and how they attack you."
While the Bills have seen how other teams have used the Wildcat, such as the Miami teams coached by new Jets offensive coordinator Tony Sparano and even the Jets in years past, they don't know how the Jets plan to use their package with their current personnel.
Tim Tebow
gives the team a dual threat at quarterback to run the Wildcat.
Buffalo coach Chan Gailey said his team has to pay attention to it, knowing the success Tebow had with it in Denver, and is thankful his team has extra time to prepare. He's picked the brains of ex-Jet
Brad Smith
and quarterbacks coach David Lee, who used to be the quarterbacks coach for Miami when Sparano was a Dolphin.
"I think he has a fairly good idea of what Tony wants to do and what he likes to do and believes in but there will be some new wrinkles as well," Gailey said of Lee. "So you're trying to cover all your bases and trying to make sure you have your base concepts down defensively because you're going to see something you haven't seen."
While the Wildcat will be a new package for the Jets to utilize, Gailey added that there are also questions about what the Jets offense will be with a new coordinator.
Mark Sanchez
, who had a shaky preseason, will be running a new system with new responsibilities that may be different from what the Bills have seen from him in the past.
"He's definitely being a vocal leader and he's trying to get the team in the right direction," Williams said of Sanchez. "Any time you have a competitor like that you know you have to be careful because at any given moment he can come out and play lights out and come out and be that guy that can lead them to touchdowns and lead them down the field. You have to go out there and be on top of your game to try to contain him."
And if Tebow decides to throw? Williams believes his defense can track him down.
"That's the plan," Williams said. "We wouldn't be on the field if we didn't."
February, 16, 2011
2/16/11
9:53
AM ET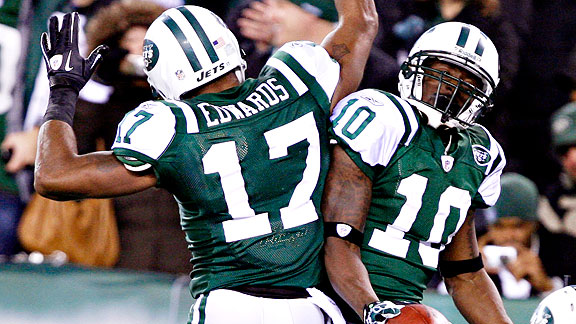 Aristide Economopoulos/US PresswireThe Jets would have to dig deep to keep both Braylon Edwards and Santonio Holmes.
This is the seventh part in our daily, position-by-position breakdown of the Jets' roster. Tomorrow: Defensive tackle
.
Focus
: Wide receiver.
Depth chart
:
Braylon Edwards
,
Santonio Holmes
,
Jerricho Cotchery
,
Brad Smith
,
Patrick Turner
,
Logan Payne
.
Expiring contracts
: Edwards, Holmes, Smith.
Rear-view mirror
: Edwards and Holmes didn't put up monster numbers, but you have to consider they played on a run-oriented team with a young quarterback. Between them, they caught 105 balls and averaged 15.7 yards per reception. Edwards was the team's most consistent receiver. He came to the Jets with a reputation for dropping passes, but he had only two drops, according to Stats, LLC. His YAC was a healthy 5.5 and he blocked like a madman, helping the perimeter running game. If there was a negative, it's that he was undisciplined at times -- seven penalties for 68 yards (including one on special teams), plus two declined. His drunken-driving arrest was the lowlight.
Holmes missed the first four games due to his drug suspension, but he had an unbelievable November, making the pivotal play in three straight victories. Projected over 16 games, his receiving yardage would've been at about 1,000. He brought a playmaking dimension to the offense, yet his YAC was an ordinary 4.4. He showed occasional lapses in concentration, dropping five passes -- including two potential game-changers. But his season will be remembered for his ability to perform in the clutch, highlighted by his acrobatic touchdown in the playoff win over the Patriots.
Cotchery accepted his demotion to No. 3 like a true professional, which didn't surprise anybody. In terms of production, it was a disappointing season. He failed to gain consistent separation against defenders (only 48 percent of the balls thrown to him were completed) and he dropped a team-high eight passes -- uncharacteristic for him. Smith was a non-factor as a receiver, making his mark as a kickoff returner and in the Wildcat.
Numbers game
: Edwards became the first Jets receiver since
Don Maynard
and
George Sauer
in 1968 to average at least 17.1 yards per catch with at least 50 receptions. ... Holmes scored a touchdown in four of the last five games, including playoffs.
Crystal ball
: The receiving corps could have an entirely different look in 2011. Holmes, Edwards and Smith are free agents, and it's unlikely that all three will return. League insiders say Holmes is the No. 1 priority. Why Holmes over Edwards? Scouts say Holmes is harder to defend because of his route running, quickness and separation skills. Edwards has an impressive skill set, too, but it's hard to imagine the Jets doling out two major deals at the same position. Smith probably will return as long as he's reasonable with his contract demands. Don't be surprised if the Jets fill a hole by taking a one-year flyer on
Plaxico Burress
or someone of his ilk, minus the prison record and gunshot wound.
Hot seat
: Right now, it's impossible to say. Let's see who's seated when the music stops.
Positional rating
(scale of 1 to 10): 9.0
December, 24, 2010
12/24/10
4:41
PM ET
Friday's official practice report:

NEW YORK JETS

OUT
DL Trevor Pryce (limited participation) (hip)
T Damien Woody (did not participate) (knee)

DOUBTFUL
S Eric Smith (limited participation) (concussion)

QUESTIONABLE
S James Ihedigbo (limited participation) (knee/ankle)

PROBABLE
CB Drew Coleman (full participation) (groin)
CB Antonio Cromartie (full participation) (groin)
WR Santonio Holmes (full participation) (turf toe)
C Nick Mangold (full participation) (shoulder)
CB Darrelle Revis (limited participation) (hamstring)
QB Mark Sanchez (limited participation) (right shoulder)
WR Brad Smith (full participation) (hand)

CHICAGO BEARS

PROBABLE
WR Earl Bennett (full participation) (ankle)
LB Pisa Tinoisamoa (full participation) (knee)

November, 19, 2010
11/19/10
2:04
PM ET
Here's the Jets official injury report for Sunday's game vs. Houston.

OUT
WR Jerricho Cotchery (Groin)--Did not practice
DB Dwight Lowery (Concussion)--Did not practice
DB Marquice Cole (Hamstring)--Did not practice

PROBABLE
LB David Harris (Calf)--Limited in practice (New addition)
WR Brad Smith (Back)--Limited in practice (New addition)
C Nick Mangold (shoulder)--Full practice
LB Josh Mauga (Hamstring)--Full practice
LB Calvin Pace (Foot)--Full practice
DB Darrell Revis (Hamstring)--Full practice
QB Mark Sanchez (Calf)--Full practice
OL Damien Woody (Ankle)--Full practice
October, 2, 2010
10/02/10
7:56
PM ET
The Bills always have one of the best special teams units in the game and will provide a good challenge for Gang Green this weekend. First-round pick C. J. Spiller returned a kickoff for a touchdown against New England last weekend and Roscoe Parrish is one of the best punt returners in the game. Punter Brian Moorman is also one of the best in the league.

Special teams coordinator Mike Westhoff met with the media Friday and discussed a variety of topics. While he didn't delve into much about Buffalo's special teams, other than talking about their tendency to draft top returners from college and praising Buffalo's returners and unit as a whole, here are some of the highlights from his talk.

OH SNAP: Westhoff praised second-year long snapper Tanner Purdum's technique, saying he could always snap, but the questions were always whether he could block. He also applauded his work habits.

"He's got better and better and we've really challenged him going all the way back to the minicamps," Westhoff said. "We made it very difficult for him, every day and he's reacted very well. He's got stronger. We have him on a special program to get him stronger and he's improved it."

UP AND AWAY: Westhoff said that punter Steve Weatherford has improved his directional punting, his hang time is better and he's been more explosive this year. Weatherford is averaging 46.2 yards per punt, and he has a long of 61 yards in 14 attempts.

While Westhoff didn't make a direct correlation, he said he's seen a more explosive Weatherford this offseason following his cardiac ablation procedure. Weatherford had the procedure done in the offseason to prevent irregular heartbeats, as he missed Jets Wild Card round victory over the Cincinnati Bengals because of the medical condition.

Westhoff said Weatherford has been able to move forward with his workout regiment, compared to previously "take two steps forward and a step back." He started noticing in March that his punter "looked different" in the offseason. Westhoff said Weatherford has gone from averaging 4.3 seconds of hang time in practice to 4.65 to 4.7 seconds.

"He's able to maximize his abilities and he's done it in the games and he did in the preseason so hopefully he'll continue," Westhoff said. "But to me it's a matter of I see how he's improved physically, that's what I've seen but the whole package has been a good package. (The punts) not all perfect, he doesn't hit them all perfect, but he's done a nice job.

PRACTICE MAKES PERFECT: Eric Smith's blocked punt against Miami on Saturday was the result of practice, practice and more practice. The special teams unit had seen that the Dolphins were a little aggressive and the Jets practiced that scenario and Smith ended up with the block. Westhoff said Brad Smith set it up for Eric Smith.

"Eric Smith is a very gifted athlete. He just has a knack and I don't think I've been around anybody that worked harder at practice of doing it every single day when he rushes," Westhoff said. "He gives our guys fits. Who ever we try to get to block him has a hard time. Every day he works at it. "

JOKE TIME: Speaking of Brad Smith, Westhoff had the line of the day about the Jets Mr. do-it-all.

Said Westhoff: "Brad leaves, I'm leaving."

Westhoff added that Brad Smith allows the team to do to a lot of things, and any time he has a football in his hands, he's a dangerous weapon. He also praised him as a return man.
September, 24, 2010
9/24/10
3:30
PM ET
Rex Ryan said he is closer to deciding how much playing time Braylon Edwards will receive Sunday night against the Miami Dolphins, but would not divulge the process of deciding the punishment for his troubled receiver.

"There's factors involved," Ryan said. "But that's all I'm going to say."

Other than saying that Edwards, who was arrested Tuesday morning on a charge of DWI, will not start Sunday's game, Ryan has been tight-lipped on the subject.

At Friday's press conference, though, he did admit that Edwards' benching, however long it may be, will increase the pressure on several of the team's other receivers.

"They're excited to get opportunities, everybody is," Ryan said. "It's probably more pressure on Brad Smith, [David] Clowney and people like that."

Clowney, just like the media, has not been told how much playing time Edwards will receive Sunday, and just wants to be ready when his name is called. He's hoping for a repeat performance of his four-catch, 72-yard performance against the Dolphins last year, in a 31-27 loss Oct. 29 in in Miami.

While the circumstances leading to his potential increase in playing time are not what he had hoped for, Clowney is still thankful for the opportunity.

"Any time you step on the field you're going to relish the opportunity just to take advantage of it," Clowney said. "Of course, everybody would like it to happen in certain way, but if [Braylon's] here for the rest of the season, every game, I'm going to be there, waiting until they call my number."

Smith, who is expected to be the starter Sunday opposite Jericho Cotchery, seemed more excited about the matchup of the top two teams in the AFC East battling it out for first place than how much playing time he will be allotted.

"Of course, there's a great opportunity any time you get to start out a football game. We're all going to be playing, we're all going to have the opportunity to make plays," Smith said. "I'm just excited about the game in general, just being out there, Sunday night football and everything like that. I'm not really reading too much into that, just going out playing."
April, 19, 2010
4/19/10
12:46
PM ET
The Jets addressed their needs on offense through free agency in getting WR Santonio Holmes and RB LaDainian Tomlinson.
That won't stop the Jets from drafting a running back and perhaps even a wide receiver.
The Jets have five picks in the 2010 NFL Draft, and they have a glaring need for a pass-rusher and a safety. That said, if the player they identify for those spots isn't available at No. 29, it's conceivable Jets general manager Mike Tannenbaum could trade back and get a few more picks.
Last year the Jets got three players in the seven rounds. To get QB Mark Sanchez and RB Shonn Greene, the Jets traded away the store. Although the team has found gold in undrafted free agents before, like DT Mike DeVito, it's not a good long-term strategy.
Extra picks would allow the Jets to address a pressing need at running back. You look at the roster and see Greene, LaDainian Tomlinson and Leon Washington, but which one of those players takes the preseason games?
The Jets aren't going to exhaust their No. 1 back in Greene. Tomlinson isn't at a point in his career where he needs the extra wear and tear. Washington is coming back from an injury so severe that few have even attempted a return. That leaves one Chauncey Washington for the bulk of four games.
Add to that contract issues. Tomlinson is here on a two-year contract but Leon Washington's situation would change if the league and players association come to an agreement that makes the 2006 draft class free agents. Again, there could be a lockout next season which would render it all moot, but I'm assuming there is no lockout.
Getting a young back out of a lower round would protect the Jets' top three running backs and allow Tomlinson's mentoring potential to be fully used.
The Jets are set for wide receivers for this season, but next year could have a problem at the position. Both Holmes and Braylon Edwards will be free agents. Depending on how well they play, it will probably be too expensive for the Jets to pay them both. (Like with the lockout, I'm making the assumption here that Holmes doesn't incur additional substance policy violations.)
That leaves you with Jerricho Cotchery as a solid returner. Also on the roster at the position are Brad Smith, David Clowney, Danny Woodhead, Aundrae Allison, Marcus Henry, Britt Davis, S.J Green and Larry Taylor. That's a crowded field but, aside from Smith and Clowney (go ahead and debate), is there a lot of potential? Last spring Jets coach Rex Ryan was high on Davis, but he fizzled at camp.
There's the offensive line. I'll take a look at that in a future post. And lastly a backup quarterback. Ryan clearly doesn't have a ton of faith in Kellen Clemens given the fact that they brought in veteran QB Mark Brunell earlier this spring, but that's a need they are better off addressing through free agency.
If Jason Taylor decides to stick with the Dolphins, the Jets could use Jay Feely's vacated spot to bring in Brunell or another veteran QB.
The Jets have five picks late 20s in the 1st, 2nd, 4th, 6th and 7th rounds. The third went to Cleveland for Edwards and the fifth to Pittsburgh for Holmes. Although the defense is a bigger focus of Jets draft-watchers, there could be a few offensive picks as well.
April, 13, 2010
4/13/10
10:40
PM ET
When Jets wide receiver Jerricho Cotchery heard that his team had traded for Santonio Holmes Sunday night, he was stunned. But it didn't take long for him to smile.
"A fifth pick? That's unheard of to get that type of player for a fifth pick," Cotchery said. "Instantly I knew that we had gotten better as a team."
He enumerated the players in the wide receiver corps now; himself, Holmes, Braylon Edwards, Brad Smith, David Clowney and a few other younger guys.
"I think we're complete now," Cotchery said.
Several Jets attended a Gatorade party to introduce a formula specifically designed for professional athletes. It was held in a SoHo penthouse belonging to Jordan DeLuca, but turned into a site-specific art space complete with tacking dummies in the living room, shells and cleats in the closet.
LaDainian Tomlinson conducted an interview on a patio where the grass was painted like a 50-yard line.
"I obviously think it's a great move by the organization," Tomlinson said. "The Jets have proven that they want to win now and they're bringing in guys that are big-play guys and guys that can help them win now. And Santonio, a Super Bowl MVP, he's proven what he can do on the field."
The Jets' new running back — another of those potential impact players — addressed Holmes' off the field issues, which includes a four-game suspension for violating the NFL's substance policy to take place at the start of the season.
"If you're raising a teenager, there are certain things a teenager messes up," LaDainian said. "He may make some bad decisions, but that doesn't mean they're a bad kid. I think that's definitely the case with a lot of our young players in the league today. It's the first time they're exposed to fame, to money, they're single some of them.
"Sometimes when something happens, you learn from it. And his next step, for Santonio, he has to say — and I'm sure he will — he has to say, 'This is it, this is my chance to make it right.'"
On of the players who will block for Holmes, offensive lineman D'Brickashaw Ferguson, remembered Holmes from the time they worked out together before being drafted.
"I think he's awesome. I had a chance to train with him before the NFL," Ferguson said. "I met him, he was a great guy there and he's really blossomed into an incredible player."