New York Jets:

Brandon Flowers
June, 17, 2014
Jun 17
6:30
PM ET
FLORHAM PARK, N.J. -- The speculation started as soon as
Brandon Flowers
was released last Friday by the
Kansas City Chiefs
: Could the
New York Jets
make a play for the Pro Bowl cornerback?
What say you, Rex Ryan?
"I'm happy with what we have, but I'm not going to shut the door on any player that we think could possibly help our football team," Ryan said Tuesday at the Jets' mandatory minicamp. "We'll certainly look at it, for sure."
It should be pointed out that Ryan gives the same response for every free agent, so don't assume it means the Jets will be sending a contract proposal to Flowers anytime soon. As of Tuesday afternoon, they still hadn't reached out to Flowers, according to a source.
Yes, the Jets have the cap room (about $22 million) and, yes, there is a perceived need at cornerback. But general manager John Idzik has done a lot of repair work on the cornerback position in the offseason, signing free agent
Dimitri Patterson
and drafting
Dexter McDougle
in the third round, and he probably wants to evaluate his handiwork before rushing out to sign a veteran.
On Day 1 of minicamp, the Jets' new-look secondary was whole for the first time. Cornerback
Dee Milliner
returned after sitting out a few practices with hamstring tightness. McDougle, who missed much of the offseason as he recovered from a college shoulder surgery, impressed in his second practice since being cleared for contact. The starting secondary looked like this:
Milliner and Patterson at corner, with rookie
Calvin Pryor
and
Antonio Allen
at safety.
Kyle Wilson
was in the slot. McDougle worked with the second-team defense, along with corner
Darrin Walls
and safeties Dewan Landry and
Jaiquawn Jarrett
.
"He's all business on the field," Ryan said of McDougle. "I think you saw a little bit of why we're so excited about him and optimistic about him. He is physical. He's able to press and able to get both hands on you in press. He'll compete, and I think those are things we're looking to see, and I think we saw today. All of us saw it."
June, 16, 2014
Jun 16
9:45
PM ET
The
New York Jets
open a three-day, mandatory minicamp Tuesday, the final phase of their offseason program. Their next time on the field will be July 24, the first training-camp practice in Cortland, New York.
A few of the top minicamp storylines:
1. Geno's exclamation point:
Geno Smith
can cap a positive offseason with a strong performance over the next three days. Rex Ryan loves the way the Smith-
Michael Vick
dynamic is working out, with Smith benefitting from Vick's presence and experience. Of course, it's only June. The landscape changes in training camp, when the scrutiny (and pressure) become more intense.
2. Kiddie corps:
Fourth-round pick
Shaq Evans
returns to the team after missing organized team activities due to school obligations. Obviously, he's behind his fellow rookie receivers, fourth rounder
Jalen Saunders
and sixth rounder
Quincy Enunwa
. Evans has the most complete skill set of the three (scouts say he plays faster than his 40 time), so it'll be nice to get an extended look at him. The rookies are being hit with a lot of new material from the playbook, so there will be plenty of hiccups. Wide receiver is the quintissential John Idzik position because of the intense competition; so many roles and jobs are up in the air.
3. Mystery man:
Troubled running back
Mike Goodson
, who skipped the voluntary portion of the offseason, is expected to attend, according to Ryan. According to the CBA, any player that skips the mandatory minicamp is subject to nearly $70,000 in fines. A cryptic Ryan said last week he hadn't heard from Goodson, who still faces a gun-possession charge stemming from his arrest last May. Goodson is eight months removed from major knee surgery, so he probably won't be cleared until training camp -- if he's still on the team.
4. Revamped secondary
: There have been rumors about the Jets pursuing former
Kansas City Chiefs
cornerback
Brandon Flowers
, but don't hold your breath, folks. Idzik prefers young, homegrown players that don't eat up a lot of cap space. It's possible that four of the top six defensive backs this season will be first-, second- and third-year players --
Dee Milliner
,
Antonio Allen
,
Calvin Pryor
and
Dexter McDougle
. Maybe, if the kids stink it up in minicamp, he'll consider Flowers, but it probably would take an injury to projected starter
Dimitri Patterson
. Curious to see if Pryor and Allen continue to take first-team reps in minicamp, with
Dawan Landry
backing up.
June, 15, 2014
Jun 15
5:00
AM ET
A few thoughts on the
New York Jets
as we head into the final week of the offseason:
1. Song remains the same:
Rex Ryan's remarks the other day about the
New England Patriots
(in response to
Calvin Pryor
's "hate" quote) triggered a memory. Ryan's comments -- "[Pryor] knows who the enemy is" -- came almost five years to the day in which he uttered his famous line: "I never came here to kiss Bill Belichick's rings." The takeaway: Five years later, not much has changed.
No one knows how the rest of the Ryan era will play out, but it's quite possible he could be remembered one day as a good coach who failed to rise above also-ran status because he was in the same division as the winningest coach-quarterback combination in history. Ryan hasn't been able to conquer Belichick and
Tom Brady
. No one has, as the Patriots have won the AFC East every year since Ryan took over the Jets in 2009 -- and a whole bunch of years before that. The same thing happened to the New York Knicks in the 1990s; they had some terrific teams, but couldn't get past Michael Jordan.
The Jets have been respectable under Ryan (42-38), the eighth-best record in the AFC over that span, but the Patriots are a league-best 61-19. The Jets finished four games behind the Patriots last season, and there's no reason to think they will overtake their longtime nemesis this season. With Brady expected to play a few more years, Ryan could be playing catch-up for the rest of the Brady-Belichick era -- if he lasts that long. Lousy timing for Ryan? Yeah, you could say that, but he also knew what he was signing up for in '09.
[+] Enlarge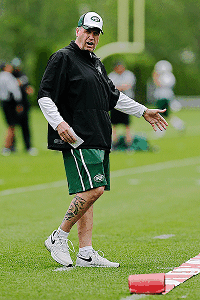 AP Photo/Julie JacobsonRex Ryan took some heat this past week after skipping the Jets' final OTA session in favor of taking his team on a bowling excursion.
2. Misplaced criticism
: Ryan's decision to cancel the final OTA practice in favor of a trip to a bowling alley fueled some mild backlash on social media. Actually, it's not unusual for a coach to skip the last day. Belichick, of all people, canceled his final OTA practices in 2012 and 2013.
He also took the Patriots to the movies late last season
. The criticism of Ryan is off base. It's June, for crying out loud! It's not like he took the team to Dave & Buster's on the eve of a big game. Oh, wait ...
3. A delivery of Flowers?:
Despite all the happy talk from the Jets about their cornerback situation, I think they should explore the possibility of signing
Brandon Flowers
, who was released Friday by the
Kansas City Chiefs
. The question is, will they? As of Saturday morning, they hadn't reached out to Flowers, according to a league source. Then again, John Idzik isn't a hurry-up kind of general manager, so you never know. In the end, I'd be surprised if the Jets show serious interest despite a need (in my opinion) at the position.
Despite a Pro Bowl appearance, Flowers is coming off a disappointing season in which he was demoted to nickelback. He was rated 87th out of 110 cornerbacks last season, according to ProFootballFocus. That he struggled under former Jets defensive coordinator Bob Sutton, whose system is similar to that of Ryan's, is worth noting. We also know Idzik is reluctant to spend significant money for another team's trash. But we're also talking about a 28-year-old player with a substantial body of work, someone who could benefit by a change of scenery. If they paid $3 million for the injury-prone
Dimitri Patterson
, why not make a run at Flowers, who would be an upgrade? They have about $21 million in cap room.
4. Goodson's future:
Flowers may have sealed his fate by not attending OTA practices, which are voluntary (wink, wink). The Jets'
Mike Goodson
did the same, prompting some fans to wonder why the Jets haven't cut ties with the troubled running back. Goodson's situation is complicated by his legal problems and perhaps personal issues. Remember, he was slapped with a four-game suspension last year for violating the league's substance-abuse policy. I find it hard to believe he'd deliberately stay from the team, jeopardizing his roster spot, unless there's an extenuating circumstance. His agent hasn't returned calls or emails seeking comment, and the Jets have been tight-lipped, except Ryan saying he hasn't heard from Goodson. Ryan said he expects Goodson to attend next week's mandatory minicamp.
5. New kid on the block
: Right tackle
Breno Giacomini
has spent his entire career on zone-blocking teams -- the
Green Bay Packers
and the
Seattle Seahawks
, his most recent team. The Jets run a mix of zone and gap blocking schemes, which will require a transition for Giacomini. Before signing him as a free agent, the Jets studied tape of how he fared against common opponents, and they came away convinced he could adapt to the specific style they use against certain teams.
6. Big Mike
: To improve his oft-questioned durability, quarterback
Michael Vick
added four pounds of "solid muscle," he told The Daily Press of Newport News, Virginia, his hometown. He told the newspaper he felt great throughout OTAs, proudly noting he scored a rushing touchdown last week.
"Still can move," Vick said. "Doesn't seem like any of my skills have diminished. … I still feel like I can play at a high level. That may be tested at some point this season, and I look forward to it."
Vick described himself as a "trendsetter," saying the mobile quarterbacks of today are continuing the style he brought to the league more than a decade ago. He added: "I was kind of the originator. That's something I can take to the grave."
7. Sheldon wants 'Mo money for Wilkerson
:
Muhammad Wilkerson
is taking a low-key approach to his looming contract negotiations, refusing to make public demands. Teammate
Sheldon Richardson
is doing the talking for him, telling the New York Post, "Hopefully, they do the right thing and pay the man." Oh, they will. The question is when. After exercising a fifth-year option, the Jets have Wilkerson under contract through 2015, so there's no sense of urgency.
Richardson has a personal stake in the matter because in two years, he'll be in the same boat as Wilkerson. If the Jets renegotiate with Wilkerson before his fourth season, it'll set a precedent for Richardson and other former first-round picks.
8. Picture of the week
: Here's
soccer star Cristiano Ronaldo receiving a throwing lesson
from wide receiver
David Nelson
. No Tebow jokes allowed.
9. The anti-Rex:
Can there be two coaches more dissimilar than Ryan and Jurgen Klinsmann? Klinsmann says it's not possible for his team -- the United States -- to win the World Cup. Ryan goes into every game telling his team they
will
win -- and I honestly think he believes it. Call me traditional, but I like Ryan's approach. Klinsmann might be right, but no one wants to hear that jive. It's a good thing we didn't have a guy like him coaching the 1980 U.S. hockey team.
10. Farewell to a champion
: The NFL lost a legend Friday night with the passing of former
Pittsburgh Steelers
coach Chuck Noll, who won four Super Bowls. Two Noll disciples became important figures in Jets history -- the late Bud Carson and retired personnel director Dick Haley. Carson, the Jets' defensive coordinator from 1985-88, ran the defense for Noll during the iconic Steel Curtain era. Haley, who worked for the Jets from 1991-2002, was one of the architects of the great Steeler drafts in the 1970s.