New York Jets:

Brandon Moore
July, 11, 2014
Jul 11
10:00
AM ET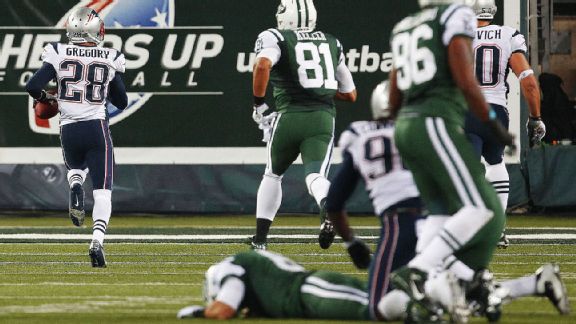 William Perlman/USA TODAY Sports
Score
: New England Patriots 49, New York Jets 19
Date
: Nov. 22, 2012.
Site
: MetLife Stadium
The people have spoken. The voters picked the Butt Fumble as the
New York Jets
' most memorable play. My take? Give yourselves a round of applause.
"Memorable" doesn't mean the best, it means something that will be remembered. If the objective was to determine the best play, it would've been Joe Namath-to-Don Maynard in the 1968 AFL Championship Game or
Ken O'Brien
-to-Wesley Walker in the 1986 classic against the
Miami Dolphins
. Those were tremendous plays displaying great skill and poise under pressure. We could probably add a few more to a great-play list. Truth be told, the franchise's most iconic image is that of Namath, flashing the No. 1 sign as he trots off the field at Super Bowl III -- a picture that transcends a simple photo caption.
But like I said, we're talking memorable plays here, folks.

The Butt Fumble will be talked about for years, decades probably. It will have a permanent place in blooper lore. Who knows? Maybe some day you will see it featured on an ESPN Films "30 for 30" documentary. The play contained the necessary ingredients to endure the test of time. You had a big-name player (
Mark Sanchez
), a slapstick moment (Sanchez crashing into the buttocks of guard
Brandon Moore
), a significant outcome (a fumble recovery for a touchdown), a national stage (Thanksgiving night, 2012) and two bitter rivals, the Jets and the
New England Patriots
.
The ramifications of the Butt Fumble were significant. It fueled an epic meltdown in the second quarter, which led to an embarrassing loss, which all but ruined the Jets' playoff hopes and led to the demise of general manager Mike Tannenbaum.
Oh, did we mention the hilarity of the play?
In many ways, the legend of the Butt Fumble was enhanced by the social-media landscape. It blew up on Twitter and YouTube, and ESPN contributed by playing it over and over and over. It topped the "Not Top 10" list for 40 consecutive weeks before it was mercifully retired. Of course, the fans voted, so don't place all the blame on us. The point is, if Namath had run into Randy Rasmussen's rear end in 1968, the fallout wouldn't have been anything close to the Butt Fumble.
I was there for the other two nominees,
Dan Marino
's fake spike in 1994 and
Jumbo Elliott
's improbable touchdown catch in 2000. The impact of Marino's play can't be overstated because it shattered the psychologically fragile Jets, who never won again that season, costing Pete Carroll his job. I was happy for Carroll when he won the Super Bowl last February at MetLife Stadium in East Rutherford, New Jersey, where the fake spike occurred in the old Giants Stadium. Elliott's touchdown was a terrific moment, no doubt, but I don't consider it an all-timer.
Anyway, the fans got it right. It had to be the Butt Fumble. Anything else would've been a butt ... well, you know.
December, 29, 2013
12/29/13
5:00
AM ET
MIAMI -- Wrapping up another
New York Jets
season:
1. Stay of Rex-ecution?
: Although signs point to Rex Ryan's return, as first reported Saturday by ESPN NFL Insider Adam Schefter, the team has yet to make anything official. Let me say this: It's the right move. Owner Woody Johnson would be making a mistake if he signs off on Ryan's ouster. Most supporters point to his work this season as the biggest reason to keep him, but let's take a step back and look at the wider view. Consider:
a
. He's the second-winningest coach in Jets history, trailing only Bill Parcells in winning percentage -- .604 to .519. That doesn't include Ryan's four playoff victories, a franchise record. An organization that has lost Pete Carroll and Bill Belichick should know better than to turn its back on promising coaches.
[+] Enlarge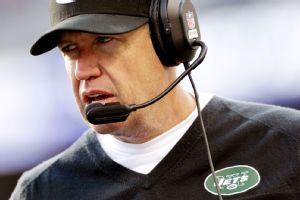 AP Photo/Patrick SemanskyMany people with ties to the Jets feel that coach Rex Ryan brought much more than just wins to the franchise. He brought a sense of belief.
b
. There are no slam-dunk upgrades among the usual suspects/candidates. Darrell Bevell or Dan Quinn or Ken Whisenhunt won't excite the fan base, and GM John Idzik knows it. That's probably one of the reasons why he's interested in retaining Ryan. Despite three straight non-playoff seasons, he's still good box office.
c
. Ryan provides endearing intangibles. To explain them, listen to retired Jets guard Brandon Moore, who played under Herm Edwards, Eric Mangini and Ryan.
"He changed the culture in the building," Moore said of Ryan. "Before he got there, they talked about winning championships, but no one believed it. With Rex, you believe it's possible."
Moore also said, "If they fire Rex, they'll never find anyone who wants to win a championship for that organization as much as Rex does. He truly loves the Jets. You can't put a price on that."
Your move, Woody.
2. Making it hard to say goodbye
: If something goes haywire and Ryan ends up getting fired, it would be a fascinating news conference, especially if the Jets beat the
Miami Dolphins
to finish 8-8. What would Idzik give for a reason, that Ryan did a bad job?
3. Cloud of uncertainty:
Ryan and his staff have had to work this season under the toughest of circumstances -- little or no job security. At least seven assistants, an unusually high number, are in the final year of their contract. A situation like that can create a huge distraction, but Ryan & Co. have done an admirable job of focusing on the job at hand.
4. Rex vs. Tom
: Ryan's record is 41-38. Tom Coughlin's record over the same span is 42-37. I get it, Coughlin won two championships. I'm just throwing the numbers out there.
5. Pace setter
: Strong words the other day from LB
Calvin Pace
, who was asked about the prospect of having to start over with a new coaching staff. "As a player, it's not ideal. ... It's chaos. Because then you're seeing bodies, people getting cut and what-not." Thing is, to an outsider like Idzik, who has his own ideas, that might be appealing.
6. MartyBall
: I think OC Marty Mornhinweg has done a credible job this season, considering the paucity of skill-position talent. But doggone it (one of his pet expressions), how can you not notice how well the
Philadelphia Eagles
are doing without him? His previous team, with pretty much the same skill-position players as last year, is ranked No. 2 in total offense and No. 2 in scoring under first-year coach Chip Kelly. A year ago, it was 15th and 29th, respectively.
7. What a kick
: You can bet PK
Robbie Gould
's four-year, $15 million contract ($9 million guaranteed) with the
Chicago Bears
opened some eyes in the
Nick Folk
camp. Folk, due to become an unrestricted free agent, has produced numbers over the past two seasons eerily similar to those of Gould, now the highest-paid kicker in history.
Field goal percentage in 2012 and 2013: Gould 87.0, Folk 86.7.
Percentage in the 40-49 range: Gould 81.3, Folk 81.0.
Percentage in the 50-plus range: Gould 83.3, Folk 85.7.
Interesting, right? If the Jets think they can re-up with Folk for the usual one-year deal, they will lose him.
8. Nnamdi and the Jets
: I guess it's a good for the Jets that CB
Nnamdi Asomugha
turned down their five-year, $50 million offer in 2011. Asomugha, whose career declined steadily from 2011, announced his retirement this week. Even though he spurned them, he made an impact on the Jets -- in a bad way. His $16 million-a-year contract with his first team, the
Oakland Raiders
, became the negotiating threshold for
Darrelle Revis
in talks with the Jets -- a price they considered ridiculous and, obviously, never were willing to meet.
9. Speaking of Revis ...:
For all the talk about his surgically repaired knee, he ended up having a very good season for the
Tampa Bay Buccaneers
. He hasn't missed a game and he's the top-rated corner in the league, based on the statistical metrics used by ProFootballFocus.com. On Friday night, he was named to the Pro Bowl. No one on the Jets made the Pro Bowl. That's a hanging curve if you want to take a shot at the Jets.
10. A full Nelson
: As Kristian Dyer of Metro New York pointed out, WR
David Nelson
actually signed a two-year deal when he arrived early in the season. Most in-season acquisitions sign for one year. This was a nice pickup by the Jets. Nelson has played more snaps (508) than any receiver on the team since his Week 5 arrival. He has 31 receptions, third on the team.
November, 28, 2013
11/28/13
6:00
AM ET
Happy Thanksgiving.
Sorry to remind you, but ...
One year ago, on Thanksgiving night, the
New York Jets
introduced the term "Butt Fumble" into sports lexicon.
Mark Sanchez
ran into
Brandon Moore
's rear end, coughed up the football and ... you know the rest.
For fans watching at home, the moment of slapstick created a serious case of post-turkey indigestion. A lot has happened to the Jets since then. Consider:
Their record since the Butt Fumble is 7-10. But they've actually become a good home team -- 5-2.

Only 23 players from the game remain on the Jets' roster, a stunning turnover for one year. One player from the

New England Patriots

is a member of the Jets -- linebacker

Jermaine Cunningham

, who started that night in the Patriots' 49-19 win.

The Jets haven't stopped committing turnovers -- a league-high 44 turnovers from then until now. One of them was a Behind-the-Butt Fumble, courtesy of

Geno Smith

.

A disgusted Fireman Ed left the building at halftime -- and still hasn't returned.

The Butt Fumble has its own

Wikipedia page

. Try to Google "Butt Fumble," and there will be 685,000 results.
ICYMI
: Several players, including G
Willie Colon
, believe Sunday's game against the
Miami Dolphins
is a must-win. ...
Antonio Cromartie
's hip injury is a big concern. There's
a chance he may not play
. ... Speaking of Fireman Ed, S
Ed Reed
said he wants the former super fan to come out of retirement for Sunday's game.
November, 1, 2013
11/01/13
3:48
PM ET
FLORHAM PARK, N.J. --
Brandon Moore
was known as the guy who always kept his composure, even in the most emotional of moments, but the former Jets offensive guard didn't even get through the first few sentences of his retirement news conference without needing to pause.
"For a guy that was undrafted and came in through the back door to be escorted out the front door at the end of your career is a great accomplishment," Moore started, and then he needed a moment.
Among the reporters in the room sat Moore's wife and coach Rex Ryan, who watched with red eyes.
[+] Enlarge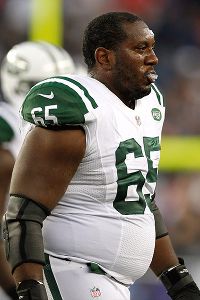 Greg M. Cooper/USA TODAY SportsBrandon Moore, who announced his retirement in August, will make it official Friday.
"Some of my best years were here playing for Rex," Moore said. "All you want to do is win. We didn't quite finish it but we were going to die trying. I just want to tell him, 'Thank you.'"
The Jets brought Moore back to the facility to formally retire. Moore spent the day with his old teammates, and Ryan took a moment after practice to tell his current team just what Moore meant to the team.
"In my opinion he'll go down as the best guard in the history of the Jet franchise," Ryan said.
Moore played right guard for the Jets for 10 years, He was signed by the team as an undrafted free agent in 2002 and had a streak of 142 straight starts at one point. The Jets decided not to bring him back after last season. During the offseason, he briefly agreed to play for Dallas before deciding he didn't want to keep playing.
"I just wasn't willing to commit all the things that go into being the Brandon Moore, the player I thought I was in my head," Moore said. "That means film, working out, pills, treatment, stretching, doctors, surgeries, offseason, all those things. There was no point in doing it. The game deserves more respect than that."
He's had a few offers from teams since, he said, but isn't interested.
"I'm done, I've lost a few pounds I couldn't play anyway," Moore said.
The 6-foot-3 Moore was listed at 305 pounds when he played for the Jets, and he has worked to lose weight since he stopped playing.
"You see some guys who have put on weight and they're not healthy," Moore said. "You don't see a lot of 70-plus-year-old 300-plus-pound men walking around. I remember
Pete Kendall
used to say that all the time, and I used to laugh then, but you need to lead a decent life -- a healthy, comfortable life. You need to get the weight down and that's something I'm trying to do."
Austin Howard
stood in the back of the room as Moore spoke. Earlier, Howard told ESPNNewYork.com that Moore had taught him how to prepare and maintain his health for the duration of a 16-game season during the one season they played together on the line.
"At that time it was my third year in the league, but that one year being with him, I learned more in that one year with him than I had in my entire three years," Howard said.
"Brandon was a great teammate," wide receiver
Jeremy Kerley
said. "He was everything you look for in an older guy coming into the league. You look at him like, 'OK, when I'm a vet that's how I want to conduct myself."
Willie Colon
, who didn't play with Moore but said he has learned how much Moore meant to
Nick Mangold
and the other longtime linemen, said it's extremely unusual for a player to be with one team for an entire 10-year career.
"It speaks volumes about the love he had for the organization and the organization respected him and his loyalty," Colon said.
Moore said he wakes up without pain, a blessing after a career so long, and has made it to a few games this season. He said he had the time of his life and loved being a Jet.
"Now that I'm done playing, I root for the Jets even more than I did when I was running out the tunnel Sundays," Moore said.
October, 31, 2013
10/31/13
5:55
PM ET
Moore
FLORHAM PARK, N.J. -- Former
New York Jets
guard
Brandon Moore
, who announced his retirement in August after spurning a free-agent offer from the
Dallas Cowboys
, will make it official Friday. He will be at the Jets' facility for a retirement news conference.
On Sunday, Moore will lead the Jets' player walk from the team bus, through the parking lot and into MetLife Stadium, where the Jets face the
New Orleans Saints
.
Moore was one of the most durable linemen in Jets history. He spent 10 seasons with the Jets, working his way up from a practice-squad defensive lineman. He ended up starting the final 137 games of his career. The Jets didn't offer him a contract last offseason. He became a free agent and gave serious consideration to playing for the Cowboys. Initially, he accepted their offer, but decided he didn't want to leave his family in New Jersey.
September, 10, 2013
9/10/13
10:45
PM ET
FLORHAM PARK, N.J. -- They happened in a span of 52 seconds, three calamitous plays that changed the season and probably changed the franchise.
Boom! Boom!! Boom!!!
You've heard of the Minute Waltz? This was the Minute Faults, three mistakes that bordered on mind-boggling.
[+] Enlarge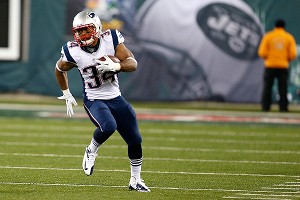 AP Photo/Julio CortezShane Vereen's 83-yard score gave the Pats a 14-0 lead with 9:43 left in the second quarter.
It was 7-0 last Thanksgiving night, the
New York Jets
trailing the
New England Patriots
, when the madness started. Suddenly, it was 28-0, because for only the third time in modern football history, a team scored three touchdowns in a 52-second span.
"Un-[bleeping]-believable," Jets coach Rex Ryan muttered on the sideline after the third touchdown, his reaction easy to decipher for a nation of television viewers.
The Jets and Patriots meet Thursday night for the first time since the Thanksgiving debacle and, even though the Jets refused to look back -- "It's very hazy," tackle
Austin Howard
said with a straight face -- it's impossible not to reflect on that ill-fated night. The Jets are who they are now, in part, because of what happened in those 52 seconds.
They actually went into the game with a 4-6 record, coming off a road victory, thinking they had a chance to get back into playoff contention.
The 49-19 loss
, which included the infamous Butt Fumble, made them a laughingstock. Owner Woody Johnson was disgusted by the performance, according to sources, some of whom believe he made up his mind that night to fire general manager Mike Tannenbaum and start a rebuilding process with a new front office.
"It was the beginning of difficult times," retired special-teams coach Mike Westhoff said Tuesday. "In reality, was it the beginning of the end? I'm not sure if I believe that. But in the big picture, yeah, it probably was."
It's probably an eerie coincidence, but three players directly involved in the three touchdowns are out of football. Linebacker
Bart Scott
and guard
Brandon Moore
are retired, and running back
Joe McKnight
is looking for a job after being released in training camp. A fourth, quarterback
Mark Sanchez
, is injured and could be finished with the Jets.
[+] Enlarge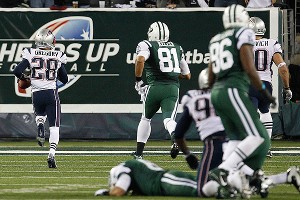 William Perlman/USA TODAY SportsForty-three seconds later, Steve Gregory scooped up the "Butt Fumble" and raced 32 yards for a score.
Could it be some kind of karmic justice?
Scott was supposed to cover running back
Shane Vereen
on a wheel route, but he didn't get to his spot on time and Vereen took a short pass and went for an 83-yard touchdown. There was 9:43 left on the second-quarter clock.
It would be Scott's final game versus the Patriots, against whom he enjoyed perhaps the highlight of his career. After the Jets' stunning win over them in the 2010 playoffs, Scott delivered his famous "Can't Wait!" rant.
Forty-three seconds after
Tom Brady
-to-Vereen, Sanchez aborted a running play after turning the wrong way on the handoff. He tried to run, the right move, but he ran into Moore's backside, hitting it with such force that Sanchez lost the football. It took a fortuitous bounce for the Pats'
Steve Gregory
, who made the scoop and returned it 32 yards for a touchdown.
The Butt Fumble was born, becoming part of the sports lexicon.
"It wears thin," Westhoff said of the seemingly endless references to the Butt Fumble. "I don't want to hear about it anymore."
On the ensuing kickoff, McKnight, a home-run threat, was blasted by
Devin McCourty
. The ball came flying out and hung in the air, as if being held up by an invisible string.
Julian Edelman
grabbed it on the run and sprinted 22 yards for another touchdown.
[+] Enlarge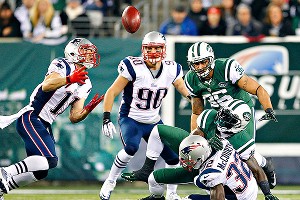 Rich Schultz/Getty ImagesOnly nine seconds elapsed before the Pats' next touchdown, as Julian Edelman plucked a fumble out of the air and raced to pay dirt.
There was 8:51 on the clock. Patriots 28, Jets 0. It was so embarrassing that the Jets' most famous fan, Fireman Ed, couldn't take it anymore and left the building. For good.
Sanchez later referred to his fumble disaster as a "car crash," meaning the randomness of it. There were three car crashes in 52 seconds or, as Westhoff called them, "crazy negative plays." The probability of three fluke plays occurring in rapid-fire succession is incalculable. That each unit -- offense, defense, special teams -- was responsible for giving up a touchdown was fitting, because it was a true team meltdown.
This week, the Jets have made it a point to avoid any references to last Thanksgiving. But there's some relevancy because it's another short week. Obviously, they need to be better prepared, mentally and physical, than the last time.
"We don't even think about that one," wide receiver
Stephen Hill
said. "We haven't even talked about it. It hasn't been brought up at all. We're just ready for 2013 and ready to get it kicked off with the Patriots."
There are 57,600 seconds in a 16-game season. For the Jets, 52 seconds of epic failure will remain timeless.
August, 7, 2013
8/07/13
11:30
AM ET
CORTLAND, N.Y. -- After a 24-hour flirtation with the Cowboys, former Jets G
Brandon Moore
decided Wednesday to retire from the NFL after 10 seasons -- all with the Jets.
Moore told ESPNNewYork.com he agreed to a one-year, $2 million contract on Tuesday, but he had a change of heart after a sleepless night. After a decade with one organization, Moore said he didn't want to uproot his family this late in training camp.
"I was wrestling with it all day, going back and forth with my wife and family," Moore said by phone. "Finally, we decided, 'Let's go ahead and do it.' I didn't sleep at all. I was wrestling with it. I realized it was too late in the game to uproot my family. I called my agent and said, 'I can't do it.'"
In his heart, Moore was leaning toward retirement throughout the offseason. He said he'd consider the right offer. There was no contact with the Jets. When the Cowboys called, he listened because of his deep admiration for coordinator Bill Callahan, formerly the Jets' offensive line coach. In the end, Moore -- financially secure -- picked family over football.
"The only reason I considered Dallas was because of Bill -- and the Cowboys' name," he said. "It would've been cool to play for the Cowboys, but my heart wasn't 100 perent into it."
It was a magnificent career. Moore made the Jets as an undrafted free agent, switching to the offensive line after playing defense in college. He cracked the starting lineup in 2004 and never left. He was the Jets' Iron Man. He started 142 games, including 137 in a row. He made one Pro Bowl and was part of one of the best offensive lines in recent memory, 2009, when the Jets led the league in rushing.
Moore got choked up as he tried to put his career in perspective.
"I've been truly blessed," he said. "I don't have any regrets about my career."
He paused, struggling for words.
"I gave it my all," he continued. "I'd like to be known as a dependable guy who showed up for work every day and gave it his all. ... I bleed green and white. I was proud to be a Jet. I'll always be a Jet."
Unfortunately, part of his legacy will be the Butt Fumble, when QB
Mark Sanchez
ran into an unsuspecting Moore last Thanksgiving on national TV.
"It's amusing to me to me that people think it's so amusing," Moore said. "The way I look at it, I don't think it should have any link to my career. I don't think it stands for what I was as a player for 10 years. I really don't give it much thought."
Moore is part of a small fraternity. He spent his entire career with one team, enjoying personal and team success. The highlights, he said, were the playoff runs in 2009 and 2010, when the Jets reached the AFC Championship Game.
He could've returned for one last ride, a last shot at a Super Bowl, but he resisted the lure of the Cowboys' star.
"I played the game for 10 years. I lived in a house. I didn't have to go from team to team, so this would've been a big transition for me,'" he said. "You really don't grasp it until you actually agree to something. Then it was like, 'Wow, I have to leave tomorrow for California.'"
December, 7, 2011
12/07/11
1:24
PM ET
Starting RGBrandon Moore was absent from Wednesday's Jets practice with a hip problem, although a spokesperson said he was expected to arrive after the portion of practice open to the media was over.

Moore's injury probably explains why they worked out free-agent G Chester Pitts on Tuesday. Pitts (6-4, 308) has 119 career starts, but he hasn't played this season. Pitts, 32, started five games last season for the Seahawks. That they flew him to New Jersey for the workout is an indication the Jets are concerned about Moore.

Rex Ryan will be asked to update Moore's condition during his press conference this afternoon.

Moore played the entire game last Sunday, a 34-19 win over Washington. He was at his locker after the game and answered questions from reporters. Generally when players are injured, they get treatment immediately after a game.

Backup offensive lineman Caleb Schlauderaff appears to have an edge over Vlad Ducasse with Moore unavailable.

Moore had hip surgery in February and didn't start practicing with the team until training camp was well underway.

The Jets' offensive line struggled at times this season, particularly at the start, but the line has not allowed Mark Sanchez to be sacked for two straight games. Nick Mangold missed two games earlier with a high ankle sprain, and the center was replaced by rookie Colin Baxter, who is no longer on the Jets roster.

July, 26, 2011
7/26/11
9:13
PM ET
From Nick Mangold's revelation that he was afraid he'd have to cancel a trip to wine country with his in-laws, to Dwight Lowery's assertion that planning his wedding didn't get in the way of following CBA negotiations like a hawk, there was a lot to discuss today in Florham Park.
Players discussed summer vacations, work uncertainty, and where the Jets stand to be when free agency is in full bloom.
"Whatever it takes," said QB Mark Sanchez. "Mr. (Mike) Tannenbaum's, Mr. (Woody) Johnson's and Rex (Ryan's), that's like their third-down conversion. That's them trying to throw a touchdown pass. That's them getting a sack. What we do on the field, well, this is what they do in the offseason. So, I know they'll position us, and acquire the best talent we possibly can, with the finances we have. But whatever it takes, whether it's adjusting contracts, delaying payment, whatever we have to do, our team will do it. I know that. We'll be unselfish with it. We'll get it figured out."
He followed that up by revealing that he'd already talked with his agent about reworking his contract this season. We have the full story here.
Sanchez talked about his regrets from last season, and Mangold added that it was very difficult to be aware of mistakes they made in the AFC championship lost and not be able to fix the problems in the spring. The Super Bowl is still the goal.
"We feel very strongly that we can do that and we feel the same way," tight end Dustin Keller said. "As Rex said, we are going to win the Super Bowl and we have all the ability in the world to do it. It's just a matter of getting over that hump, winning that game and hopefully winning a Super Bowl for the second time, but we definitely have the ability to do that."
Mangold said he wasn't tired of the Super Bowl talk at all. Said Mangold, "I'd be really disappointed if he came out here and said, 'We'd really like to get to .500.'"
Brandon Moore, the Jets player representative to the NFLPA, talked about the new settlement and what it means in terms of player safety. He said that Ryan has always been a player's coach in that regard.
"We took a stance that player health and safety was non-negotiable," Moore said. "That was the stance we kind of took going into that. I think the new rules will help change the cultural makeup of football. You set the standard on that, with all of the medical research that's out there, as far as the head trauma and the continuous hits to the heads, through the helmets and things like that."
He also addressed the fact that Jets linebacker Bart Scott has been 0concerned about head trauma and will step away from some of the harder contact drills in practice.
"Nobody's really technically gotten rid of two-a-days," Moore said. "I think it's getting cleaned up, and players' health and safety is a big part of that. Now, Bart, I think he's cleaned it up himself. That may have been taken a little out of context. But, in this system, here with Rex, we haven't had a problem with that. Rex takes care of his guys. But there are a couple of systems out there that maybe weren't coming up with the times, as far as taking care of the guys, and protecting them in the best way they could.
Sanchez felt that the new rules, as he understood them, struck the right balance.
"I'm still hearing a lot of it and still learning what we can and can't do this week, what practice is going to be like, what we're not allowed to do anymore at practice," Sanchez said. "But I think overall, it hit a lot of the points that the players were concerned about."
Although most of the players admitted there is something to be said for the bonding that comes from the isolation of training camp in Cortland, at least one Jet was more practical.
"There is not much to do in Cortland," Lowery said, "as you guys know."
December, 17, 2010
12/17/10
5:48
PM ET
The Jets will head to Pittsburgh for Sunday's game. There are a lot of uncertainties here — the Jets have never won at the Steelers, the field is such a mess that it's a home field advantage, the Jets offensive problems have gone on for two straight weeks and the Sal Alosi tripping scandal expanded from an isolated incident to a scope that has other coaches questioning Rex Ryan's denial that he was involved.
The team may not be back to normal on the field either. What was practice like this week?
"I thought it was solid, it wasn't perfect," Brandon Moore said. "it wasn't a normal week where everything was clicking but we haven't been clicking in general during the whole game for a while now. I think it was clean and things were cleaned up mistakes that happen in practice are addressed and you get them fixed."
The Jets can expect cold, and although quarterback Mark Sanchez might don the full black face mask during outdoor practices, OL Rob Turner goes out in shorts. And running back Shonn Greene said he can handle Pittsburgh no problem.
"I played in Iowa so it's pretty much the same thing," Greene said.
He also said the Jets have a sold game plan against the AFC opponent.
"We got a lot of schemes and things that we think can work against their defense, very aggressive," Greene said. "Going to try to hit at some of their weaknesses like the flats. It looks like they have a hard time covering the flats so we have a lot of routes going into the flats."
The offense may not have to face Troy Polamalu, who is listed as doubtful on the injury report with an ankle, but the Jets are preparing to meet the Steelers safety.
"He's playing," said WR Jerricho Cotchery. "He's one of the toughest guys in the league. I expect him to be out there, everyone on this team expects him to be out there. Whatever is in question right now, I got a feeling come game time he'll be out there."
WR Braylon Edwards said it doesn't matter whether or not he plays if the Jets can't catch the ball.
"They could have five or six missing starters," said Edwards, "but if we don't execute, or we don't do the things that we've been coached to do, or the things we designed against these guys, it won't matter if he plays or not.''
Ryan made no bone about the importance of this game. Asked if they were desperate — a word Edwards doesn't like to use — Ryan said yup.
"Pretty much," Ryan said. "We need to win. There's no question about it. The odds don't look real good of us winning our division, clearly. Let's just get in the playoffs."
Greene said the team is approaching this game knowing just how important it is.
"Obviously we want to treat these games like we should, like they're playoff games, like it's one and done," Greene said. "So we're going to treat them like that and try to get the job done."