New York Jets:

Brian Schottenheimer
November, 19, 2012
11/19/12
10:57
AM ET
A look back at the Jets' 27-13 win over the Rams:
THREE UP
Mark Sanchez
. Well, well, well, look what we have here: Sanchez, the most inaccurate passer in the league, completed 75 percent of his attempts. It could've been 85 percent, if not for drops by
Stephen Hill
and
Joe McKnight
. Sanchez managed the game wonderfully, committing no turnovers (for a change) and making good run checks at the line of scrimmage. He needed it; another poor performance might have put his job in jeopardy.
[+] Enlarge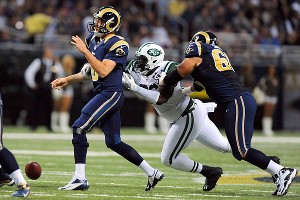 Jeff Curry/US PresswireMuhammad Wilkerson stripped the football from Sam Bradford on this second-quarter sack.
Muhammad Wilkerson
. Big Mo changed the mo' with his second-quarter strip sack of
Sam Bradford
. It changed the complexion of the game, putting some life into the Jets after a lethargic start. Wilkerson, who scored on a fumble return last week, has elevated his game in recent weeks.
Chaz Schilens
. We could go with
Bilal Powell
, who scored the first two touchdowns of his career, but Schilens gets a coveted spot on our list because of his all-around play. He caught a 25-yard touchdown pass, made two tackles on special teams and drew a holding call that nullified a 98-yard kickoff return. He did a nice sell job on the penalty, throwing his hands in the air. Hey, whatever works.
THREE DOWN
Stephen Hill
. The rookie's struggles continued. He didn't catch a ball for the second straight week, dropped another pass, committed a pass-interference penalty and lost a deep ball in the lights. Hill is experiencing a severe case of growing pains.
Tim Tebow
. He played in virtual anonymity. Get it? After a difficult week in which he was harshly (and unfairly) criticized by unnamed teammates in a newspaper story, Tebow deserved more than only three snaps on offense -- three ineffective plays. He completed a pass on a fake punt, but it lost a yard. Hey, look at the bright side: Tebow has completed six of seven passes, albeit for only 39 yards.
Brian Schottenheimer
. We usually don't mention opponents, but we'll make an exception because he spent six seasons with the Jets. The Rams' OC had his former team reeling on the first possession, but it turned real bad real fast for Schottenheimer. A third-and-1 pass out of an empty backfield? Really?
November, 15, 2012
11/15/12
12:52
PM ET
FLORHAM PARK, N.J. -- The Jets are preparing to face their old offensive coordinator, Brian Schottenheimer, who holds the same title for the Rams. On Thursday, Rex Ryan declined to revisit Schottenheimer's departure from the team after last season.

"I don't even want to get into it because several things went into it -- this person's decision, that person's decision," Ryan said, cryptically. "I'd rather not re-visit it. I will say this: We won a lot of football games together. I admire and respect Brian."

Schottenheimer was the Jets' coordinator from 2006 to 2011, the last three seasons under Ryan. He was signed through 2013, but he left the team in what was described as a mutual parting. The Jets were hoping he'd land the Jaguars' head-coaching vacancy. As soon as Schottenheimer lost out on that job, the Jets announced the decision to part ways. That night, they hired Tony Sparano, a curious bang-bang development.

The Jets' offense has sputtered under Sparano, but Ryan backed his new coordinator even though they're ranked 30th in total offense and 24th in scoring offense.

"I'm happy with the job he's done," Ryan said. "I'm not happy with the results. To say I'm pinning it on Tony, there's no way."

Ryan lauded Sparano's work ethic and determination. But in seven of their nine games combined, the Jets have managed only six touchdowns.

During the latter stages of last season, with speculation swirling that Schottenheimer was in trouble, Ryan also consistently backed him with public votes of confidence. And then Schotty was gone, the announcement coming in the form of a late-night press release.

Ryan said he will enjoy the "cat and mouse" game with Schottenheimer on Sunday.

November, 14, 2012
11/14/12
1:44
PM ET
FLORHAM PARK, N.J. --
St. Louis Rams
head coach Jeff Fisher took a small jab at Jets quarterback
Mark Sanchez
on a conference call Wednesday, acknowledging that getting the ball to the receivers can be an issue for New York.
"So the (wide receivers) can make plays, and it's just a matter of getting the football to them," Fisher said.


The Jets' wide receivers have come under fire this year for failing to make big plays. That's part of the problem when a group is as raw as the Jets' unit, but the quarterback hasn't been helping them either.
Sanchez is completing just 52 percent of his passes, a career low for the fourth-year player. While it could certainly be argued that his receivers aren't creating space for Sanchez to throw to them, the heat always falls on the quarterback for not making plays.
While it's rare for an opposing coach to criticize a team it's playing in an upcoming week, Fisher seemed higher on the Jets' receivers than most.
"They're productive. Young, but productive with different types of abilities," said Fisher, who specifically praised
Jeremy Kerley
and rookie
Stephen Hill
. "You've got guys with a run-after-catch ability, you've got good route-runners, and I think that they've probably been unfairly criticized because this is a group that can make plays."
HERE'S SCHOTTY:
The Jets will face former offensive coordinator Brian Schottenheimer on Sunday. He now serves in that role for St. Louis.
Schottenheimer served as the Jets' offensive coordinator from 2006-11 before leaving the team following the end of the last year's 8-8 campaign. His play-calling and offensive schemes came into question last season as it seemed Sanchez regressed.
"What I was excited about was that he was available," Fisher said about hiring Schottenheimer. "What happened in the past is the past. Brian's moved on. We've moved on together. We have a great staff that has a great working relationship and we expect to have a lot of success in the future."
Fisher added: "He's done an outstanding job thus far. I was very excited when I found out that he was available. We hit the ground running. He's a big influence, I say, to this early turnaround of this football team."
WAYNE WATCH:
The Jets will also get to see former right tackle
Wayne Hunter
, who they traded for tackle
Jason Smith
in August. Hunter drew the fans' ire for his poor play before the team sent him to St. Louis. He has been replaced by
Austin Howard
, and Smith is an extra tackle who plays sparingly.
Hunter has played in seven games for St. Louis and has battled a back injury.
"This was a good deal for all four parties," Fisher said. "For Jason, for Wayne, for the Rams and the Jets. And that's why we did it."
December, 30, 2010
12/30/10
5:58
PM ET
FLORHAM PARK, N.J.--Joe McKnight has been waiting for this opportunity all season.

The chance to play some meaningful snaps on offense, to showcase his talents out of the backfield. To atone for his training camp blunders.

For McKnight, Sunday's season finale against Buffalo could finally be his moment to shine.

"I'm not going to worry about how many carries I get or how long I'm going to be in," McKnight said. "I just want to go out there and play hard."

After a long season abiding time on special teams, defense and even scout teams, with a limited role in the offense, McKnight is excited for the projected increased offensive workload that he will receive Sunday. Jets head coach Rex Ryan and offensive coordinator Brian Schottenheimer both said they believe that the fourth-round pick from the University of Southern California will be more involved offensively against the Bills.

"I think he's going to get a ton of playing time," Ryan said. "I think he's ready for it, so we're going to find out. I expect him to play a lot."

McKnight is not surprised that he's had a very limited role in the offense up to this point after his disastrous preseason. He failed a conditioning test in training camp and his game results weren't any better. In four games, he lost three fumbles, earning the scorn of Ryan and almost failing to make the active roster. McKnight said he wasn't playing like a Jet.

While he was on the active roster, he was primarily riding the bench, which left an impression on him. He hated it. He had never had to sit back and watch others shine before. That had been a role reserved for him. He was getting a harsh taste of reality in his first season.

"You sit on the bench, I had to take the time out," McKnight said. "Just check myself and see what I did wrong and just try to change it and correct it.

"I had never problems like that (fumbling) and once that happened, it was a real big thing for me and I got real down on myself. I had to just convince myself that I could do it."

That bitter taste of failure motivated McKnight and he has since worked his way back to relevance on the team by helping the team out in several areas. He's played on defense and scout teams in practice, and developed a role on special teams, even now earning himself a regular role on special teams coverage. He has eight total special teams tackles on the season.

He's also had a brief chance on offense, rushing seven times for 31 yards and catching one pass for five yards. Sunday against Chicago, he returned three punts for 60 yards.

"Every coach has said Joe has probably been one of the hardest working rookies because he's down scout team defense, he's done offense, special teams," Fullback Tony Richardson said. "I do think the stuff he's been doing during practice has helped his process come along."

With Sunday's game against Buffalo not having much effect on the Jets postseason, and an opportunity to rest the starters before their Wild Card game, McKnight's in line to get his first true shot in an NFL game. His previous two times where he carried the ball were both blowout games.

While McKnight doesn't care about how many carries he gets, his offensive coordinator is looking forward to potentially seeing McKnight first prolonged action. Schottenheimer described McKnight as a player with a ton of natural ability who is great with the ball in his hands and can score on any play.

Said Schottenheimer: "I think when he gets his number dialed we're all excited to see what he does."
October, 14, 2010
10/14/10
9:27
AM ET
It might be midnight, or some crazy early hour in the morning, but Jets quarterback Mark Sanchez will text wide receiver Braylon Edwards with something he saw on film. It might be about something he saw on film, a way Edwards could wrest another two or three yards out of a play.
"He's been what they drafted him to be and he's still getting better," Edwards said.
Once Sanchez thinks of something that might help on the field, he can't wait to get it out to the receivers. It's part of embracing the leadership role, something offensive coordinator Brian Schottenheimer has been trying to get the puckish quarterback to do since last year's rookie season.
The week wide receiver Santonio Holmes returned to the Jets after his four-game suspension, Sanchez sent a motivational text.
"I'll bring the popcorn, you bring the show. Let's go."
August, 25, 2010
8/25/10
11:41
PM ET
As previously reported, Darrelle Revis doesn't have any camera time in Episode 3 of "Hard Knocks," which aired Wednesday night on HBO. There are a couple of passing references to the holdout cornerback, but the latest show provides no insight into the state of the Revis negotiations.

But there is humor, courtesy of quick-witted Bart Scott. On the team's final night in Cortland, N.Y., the annual rookie show is staged. This year, it includes a professional magician, who starts his act by using Mark Sanchez in a card trick. Sitting in the back of the auditorium, Scott says to no one in particular, "Make Revis show up. That would be a hell of a trick."

Other notable moments in the show:

• It's a rough show for WR David Clowney, whose roster spot appears in serious jeopardy. In a staff meeting, O.C. Brian Schottenheimer is critical of Clowney. Special teams coordinator Mike Westhoff, too, rips Clowney on the practice field. Westhoff seems to be pushing smurf WR/PR Larry Taylor for a roster spot.

• Funny scene in the coaches' office, when Rex Ryan's assistant negotiates a $2,500 fee for the magician -- about half his usual price for a show.

"Anything else you want me to negotiate?" she asks.

"Call Revis," Ryan replies.

• The show highlights the plight of DE Ropati Pitoitua, who impresses the coaches with his athletic ability and raw power. D.C. Mike Pettine: "He's fast becoming a varsity player." Later, the cameras show a devastated Pitoitua in the locker room after the Carolina game, being told that his Achilles' tendon is torn.

• Weird scene. Ryan, GM Mike Tannenbaum, owner Woody Johnson, WR Braylon Edwards and RT Damien Woody working out on treadmills in a Cortland gymnasium.

• Speaking of Edwards, he was supposed to be featured in this show. In fact, he tweeted earlier Wednesday about how much he was looking forward to his "Hard Knocks" debut, but he apparently ended up on the cutting-room floor. Wonder if he got bounced for C Nick Mangold, whose contract extension (Tuesday) makes the show as an 11th-hour add.

• Classic stuff from Westhoff, who gives a bleeping performance that probably won't make him too popular in the Tony Dungy household. Best line from Westhoff, on injury-plagued LB Brashton Satele: "Let him open up his freakin' pizza shop in the Bronx and leave me alone."

• We get an up-close view of the rookie-hazing scene in which rookie CB Brian Jackson is tied to a goal post and doused with Gatorade, baby powder (Johnson & Johnson, no doubt) and Icy Hot. You almost feel bad for him. Later, Jackson is voted "King Ugly" by his teammates.

• Ryan and Tannenbaum, looking at the depth chart, seem certain about 51 or 52 roster spots. Who will get the last spot? They mention Clowney, Taylor, RB Danny Woodhead, TE Matt Mulligan, FB Jason Davis and LB Lancy Laury as candidates.

• We see genuine anger from Ryan and Schottenheimer during the Carolina game. At halftime, Schottenheimer tears into his misfiring offense, saying they will run every time until they get a first down. "That's bull ----," he says of the first-half performance. Ryan, disgusted with the performance of his third-string defense later in the game, is positively livid and re-inserts some second teamers just so they can win the game. Great line from Ryan on his third stringers: "Some of those guys can't play dead in a B Western."

• Ryan gushes about RB Chauncey Washington, who runs hard and delivers a crushing blow that forces a fumble on a Carolina punt return. Ryan exclaims, "Holy ----, was that a hit! Holy ----, was that a hit!" He says it so often that he sound like Russ Hodges: "The Giants win the pennant! The Giants win the pennant!" Afterward, he announces that Washington wins a game ball. They don't show Washington's late-game fumble. Why spoil a good storyline with a fact?

• After Joe McKnight's 67-yard punt return, the coaching staff has the same reaction: "Is he gonna puke?" That, of course, is a reference to McKnight's vomiting episode during a minicamp practice.

Overall, a solid show, better than the second, not quite as good as the first. And Revis still isn't in camp.
August, 3, 2010
8/03/10
2:20
PM ET
It didn't take long for things to get chippy. Wayne Hunter got a few too many late hits from Kenwin Cummings and it was on. Pretty soon, Jets offensive coordinator Brian Schottenheimer and defensive assistant Bob Sutton were firing R rated words around.
"It's going to happen in camp sooner or later," said Hunter, "for us it happened sooner."
He added that Cummings is a friend of his off the field, and he should have expected something knowing how competitive the backup linebacker can be. The backup tackle said he got the last word on the field, blocking Cummings on a blitz to finish in a tie.
This kind of back and forth makes Rex Ryan smile. After practice, the Jets coach noted that he was happy with the intensity level of today's morning practice at Jets training camp in Cortland as opposed to Monday when everyone was relatively cordial. He even joked that he'd go through the league to request a fine for the cursing.
"There was a little competitive spirit out there, and it got a little sensitive, I thought. That's always great to see. You love watching it when coaches go at it and all that jazz."
The day offered a few dramatic plays to get the fans into it as well. David Clowney, a wide receiver who had his share of drops and misses, had a 30 yard catch from quarterback Mark Sanchez and would have run it in for a touchdown in a game situation. Clowney got a hug from Jerricho Cotchery as he jogged back upfield with the ball.
Marcus Henry had a nice one-handed catch from Kellen Clemens, who was very limited in practice after reporting with a calf injury. TE Jeff Cumberland got a hold of a ball over safety Emanual Cook — who also got a piece but Cumberland came down with it. In the press conference Ryan said he needed to do a better job of blocking.
Matthew Mulligan had some nice catches, two with Brunell and another with O'Connell. Brunell looked rusty, and would've been sacked three times in the scrimmage drills. He also threw away a few balls under pressure.
DE Vernon Gholston got reps with the first team defense, and Lowery knocked down a pass from Sanchez intended for Cotchery. Calvin Pace grabbed a ball popped up by Braylon Edwards, and Antonio Cromartie had a leaping pick on a ball intended for Clowney. Kris Jenkins (hamstring) didn't practice for a second day.
Damien Woody said that the practice was good, and several players mentioned feeling sore after roughly five hours of practice on Monday. This afternoon is a special teams practice, so the veterans should get some rest.
"The first day, that's probably the best you're going to feel all year," Woody said.
As far as Darrelle Revis' holdout, veteran Bart Scott said it's hard to miss him on the field right now because so much of the time is devoted to learning plays with newer parts.
"In games when guys catch a pass it counts," Scott said. "Out here we just coach a guy up for what he did wrong and get better."
More coaching up at 4:20 when special teams practice starts.