New York Jets:

Calvin Johnson
August, 9, 2013
8/09/13
1:30
PM ET
DETROIT -- In Wednesday morning's wide-receiver meeting, Sanjay Lal highlighted a video clip from the previous day's practice --
Stephen Hill
catching a long TD pass in a one-on-one drill. Hill beat the cornerback so badly that the defender wasn't even in the frame at the time of the catch.
Lal, the receivers' coach, picked that play to show his players because he believes it demonstrates two areas in which Hill has improved from his rookie year:
[+] Enlarge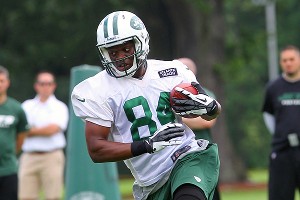 Ed Mulholland/USA TODAY SportsA former Jets scout said that the team considers WR Stephen Hill, a 2012 second-round draft choice, a "four-year project."
1. His release from the line
: On this play, Hill ran a stutter-and-go, beating press coverage -- an issue last year. "He was sudden with his press release," said Lal, describing Tuesday's play. "He showed good change of direction, kept his shoulders down. It wasn't a casual, lazy stutter, out of control. It was sudden."
2. His body mechanics:
A year ago, Hill had a tendency to turn his shoulders on vertical routes, causing him to lose speed. On Tuesday, Hill kept his shoulders square, something Lal pointed out with two different camera angles -- upper and rear views. "His body plane was parallel and he didn't lose any form," Lal said. "I tell the players it's like track. You'd never run 60 meters with your shoulders pointed sideways."
Hill, coming off a disappointing rookie year, is one of the most improved players in camp because he has refined his fundamentals. Because of his college background in a triple-option offense at Georgia Tech, he arrived with little knowledge of a pro-style passing attack.
"Compared to last year, he's really starting to understand
why
," Lal said. "Last year was getting him from A to B -- and everything in between was new to him. With his God-given gifts, he can do things other guys can't. He's finally starting to use his suddenness and his burst within a route. It's clicked to him the last couple of weeks that, 'Hey, if I do this, look what happens to the DB.'"
Hill acknowledged, "I feel like a different receiver," saying he feels quicker in and out of his breaks. As a long strider, it can be difficult to run some of the routes in a West Coast offense. For instance, there's a triple-move route that requires quick, choppy steps. Hill went to Lal with a question, wondering how he can cut down his stride lengths. Lal suggested that he drop his hips on the second move.
"He's starting to understand his body," Lal said. "He's starting to understand what he can do with his tools."
On Friday night, Hill will be on the same field as fellow Georgia Tech alum and Lions star
Calvin Johnson
, arguably the best receiver in the sport. The Johnson comparison came up last year when the Jets picked Hill by trading up in the second round -- a move that caused some grumbling in the organization. On draft day, former VP of college scouting Joey Clinkscales was asked about Hill and Johnson.
"He's a 6-foot-4 kid that's 215 [pounds] and runs a 4.32. He's a unique athlete, he really is," he said of Hill. "I mean ... Calvin Johnson, maybe. I'm not going to put that label on him, but from a height, weight, speed [standpoint] ... he's just a unique athlete."
A more realistic comparison might be
Demaryius Thomas
, another ex-Tech receiver. He caught only 54 passes in his first two seasons with the Broncos, but exploded last season -- 94 receptions for 1,434 yards. Of course, going from
Tim Tebow
to
Peyton Manning
might have had something to do with that.
November, 8, 2010
11/08/10
4:10
PM ET
It was the battle of the nicknames and when Revis Island was able to hold Calvin "Megatron" Johnson to a single catch for 13 yards, score one for the tropics. But Darrelle Revis said it wasn't easy.
"It was tough for me because how big he is. The guy could be playing in the NBA," Revis said.
The Jets cornerback said that Johnson doesn't get the credit he deserves, saying that Johnson deserves to be thought of in the top five receivers in the NFL.
To anyone watching the game, it was obvious that Revis was back. After a hamstring issue that kept him limited in practice and out of a few games, Revis didn't appear to hold back at all.
"I felt healthier than any other game that I've played this year," Revis said.
He added that the issue is in the past for him.
Both Nick Mangold and Dustin Keller felt that the Jets ability to pull out this game had a lot to do with the maturity of second-year quarterback Mark Sanchez.
"You keep grinding and you keep fighting and you keep scrapping," Mangold said. "You don't know when the moments going to come and that's why you've always got to be prepared and be at your finest and for us it came in the last five minutes or so."
The Jets were able to wrench a victory out of Denver and Detroit despite not dominating either team for the majority of the game.
"You can tell there's a difference with us in the fourth quarter finishing out plays," Revis said.
A few other items of note off of Rex Ryan's press conference.
Ryan plans to evaluate how coaching duties are distributed in order to avoid the two timeouts for 12 men on the field. It was too chaotic, so as a staff they discussed how to improve it and will give more responsibilities to coaches in the booth.
"Our guys do a great job up top," Ryan said. "We're going to add some more responsibilities. We're going to go in with the game plan of really being able to handle those situations a little better."
In an attempt to be funny, Ryan joked that Santonio Holmes held onto the ball really well, unlike former Jets safety Kerry Rhodes. He then said a brief sorry to PR head Bruce Speight and added that Rhodes has two touchdowns.
Rhodes read about it on Twitter and wasn't perturbed. In a text, he noted that Ryan was keeping tabs on his progress.
Ryan thought it was funny that Nick Folk didn't realize he was kicking the game winner in overtime. Folk was under the impression that the Jets needed a touchdown to win on the opening drive of overtime, a rule that will go in effect in the postseason.
"I think we'd go for the touchdown if that was the case," laughed Ryan.
Ryan said he thought the Jets stayed with the run a little bit too long, "Maybe (offensive coordinator Brian Schottenheimer) was trying to appease me a little bit." Last week Schottenheimer got a good deal of criticism for sticking with an ineffective passing strategy in a 9-0n loss to the Packers.
Ryan also lamented that the Jets are 27th in the league in penalties.