New York Jets:

Danny Woodhead
January, 4, 2014
Jan 4
8:00
AM ET
Several former
New York Jets
will be playing this weekend in playoff games. In fact, there's at least one ex-Jet on seven of the eight teams. Remember these names?
•
LaRon Landry
, S,
Indianapolis Colts
: 12 games, 62 solo tackles, no interceptions, no sacks.
•
Mike DeVito
, DT,
Kansas City Chiefs
: 14 games, 18 solo tackles, no sacks, no forced fumbles.
•
Mike Nugent
, PK,
Cincinnati Bengals
: 16 games, 18-for-22 on field goals.
•
Nick Novak
, PK,
San Diego Chargers
: 16 games, 34-for-37 on field goals.
•
Danny Woodhead
, RB, Chargers: 16 games, 76 catches for 605 yards, 429 rushing yards, eight total touchdowns.
•
Brad Smith
, WR,
Philadelphia Eagles
: 6 games, two receptions for 27 yards, two rushes for 2 yards, four kickoff returns for 106 yards.
•
Kahlil Bell
, RB,
Green Bay Packers
: 3 games.
•
Jonathan Goodwin
, C,
San Francisco 49ers
: 16 games.
March, 17, 2013
3/17/13
9:58
AM ET
[+] Enlarge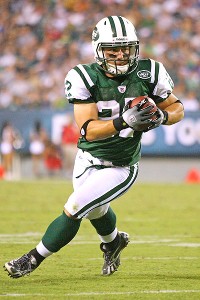 Hunter Martin/Philadelphia Eagles/Getty ImagesWoodhead last played for the Jets during the 2010 preseason.
Nearly three years after cutting
Danny Woodhead
and watching with regret as he thrived with the Patriots, the Jets made an attempt to sign the popular running back as a free agent,
according to Mike Reiss of ESPNBoston.com
.
There was mutual interest, per Reiss, but the Chargers swooped in and wound up signing Woodhead to a two-year contract. The Patriots signed another ex-Jet,
Leon Washington
, and the Jets signed former Raider
Mike Goodson
to a three-year, $6.9 million deal.
Re-signing Woodhead would've been a popular move among fans (his departure was a sore subject), but the Jets believe they landed a rising talent in Goodson. They see him as a potential tandem back with
Bilal Powell
, but some league scouts feel Goodson is a change-of-pace/third-down back.
Woodhead? All he does is make plays.
January, 11, 2013
1/11/13
5:00
AM ET
There are four divisional-playoff games this weekend, involving plenty of familiar faces. Here's our top-10 list of ex-Jets (tell us what you think of our rankings):
[+] Enlarge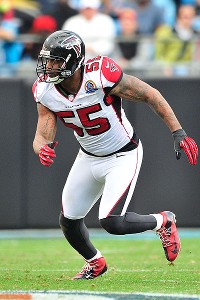 Grant Halverson/Getty ImagesJohn Abraham
1.
John Abraham
, DE, Falcons -- He has 68.5 sacks in seven seasons since being traded.
2.
Jonathan Goodwin
, C, 49ers -- A Pro Bowl in '09 for the Saints, solid pivot man for the Niners.
3.
Danny Woodhead
, RB, Patriots -- Totalled 747 yards from scrimmage this season.
4.
Leon Washington
, KR, Seahawks -- Made his second Pro Bowl, averaging 29 yards per return.
5.
Joel Dreessen
, TE, Broncos -- Caught a career-high 41 passes this season from
Peyton Manning
.
6.
Jim Leonhard
, S, Broncos -- Battled back from major knee injury. Punt returner and reserve DB.
7.
Wade Smith
, G, Texans -- A three-year starter at left guard.
8.
James Ihedigbo
, S, Ravens -- Three starts, mostly special teams and backup duty.
9.
Marquice Cole
, DB, Patriots -- Solid special teamer.
10.
Emanuel Cook
, S, Ravens -- On injured reserve.
November, 12, 2012
11/12/12
11:28
PM ET
When you talk as much trash and lose as many games as the
New York Jets
, it's natural to be the butt of some jokes. Rival
New England Patriots
quarterback
Tom Brady
is the latest to poke fun at Rex Ryan and Co.
Brady, in an interview
with WEEI in Boston
, told the station he doesn't understand how the Jets could give up on a player like
Danny Woodhead
. The running back was cut by Ryan and Jets general manager Mike Tannenbaum in 2010. Woodhead was picked up by the Patriots soon after and he's been a valuable contributor.
Brady even pointed out how the Jets misused Woodhead as a receiver when he was clearly a running back in college. It was a subtle way of Brady saying the Jets didn't know what they were doing.
The irony is that New York could use a change-of-pace running back like Woodhead this season.
September, 18, 2010
9/18/10
5:50
PM ET
Fan favorite Danny Woodhead, once the New York Jets' version of "Rudy," is now on the other side of the Border War.

Woodhead, cut Tuesday when the Jets re-signed WR David Clowney, signed Saturday with the New England Patriots.

The Foxborough Shuttle lives. The two rivals, of course, meet Sunday at the New Meadowlands Stadium.

Gamesmanship, anyone?

A year ago, the Jets traded for ex-Pats QB Kevin O'Connell at the end of the preseason, with Rex Ryan admitting they were motivated, in part, by O'Connell's familiarity with the Pats. The Jets faced the Pats in Week 2 and beat them. Sticking it to the Pats, Ryan made O'Connell one of the game captains.

Will Bill Belichick make Woodhead a captain Sunday afternoon? Will Belichick put Woodhead under a bright lamp, pumping him for the 411 on the Jets?

Jets-Patriots. Gotta love it.
April, 19, 2010
4/19/10
12:46
PM ET
The Jets addressed their needs on offense through free agency in getting WR Santonio Holmes and RB LaDainian Tomlinson.
That won't stop the Jets from drafting a running back and perhaps even a wide receiver.
The Jets have five picks in the 2010 NFL Draft, and they have a glaring need for a pass-rusher and a safety. That said, if the player they identify for those spots isn't available at No. 29, it's conceivable Jets general manager Mike Tannenbaum could trade back and get a few more picks.
Last year the Jets got three players in the seven rounds. To get QB Mark Sanchez and RB Shonn Greene, the Jets traded away the store. Although the team has found gold in undrafted free agents before, like DT Mike DeVito, it's not a good long-term strategy.
Extra picks would allow the Jets to address a pressing need at running back. You look at the roster and see Greene, LaDainian Tomlinson and Leon Washington, but which one of those players takes the preseason games?
The Jets aren't going to exhaust their No. 1 back in Greene. Tomlinson isn't at a point in his career where he needs the extra wear and tear. Washington is coming back from an injury so severe that few have even attempted a return. That leaves one Chauncey Washington for the bulk of four games.
Add to that contract issues. Tomlinson is here on a two-year contract but Leon Washington's situation would change if the league and players association come to an agreement that makes the 2006 draft class free agents. Again, there could be a lockout next season which would render it all moot, but I'm assuming there is no lockout.
Getting a young back out of a lower round would protect the Jets' top three running backs and allow Tomlinson's mentoring potential to be fully used.
The Jets are set for wide receivers for this season, but next year could have a problem at the position. Both Holmes and Braylon Edwards will be free agents. Depending on how well they play, it will probably be too expensive for the Jets to pay them both. (Like with the lockout, I'm making the assumption here that Holmes doesn't incur additional substance policy violations.)
That leaves you with Jerricho Cotchery as a solid returner. Also on the roster at the position are Brad Smith, David Clowney, Danny Woodhead, Aundrae Allison, Marcus Henry, Britt Davis, S.J Green and Larry Taylor. That's a crowded field but, aside from Smith and Clowney (go ahead and debate), is there a lot of potential? Last spring Jets coach Rex Ryan was high on Davis, but he fizzled at camp.
There's the offensive line. I'll take a look at that in a future post. And lastly a backup quarterback. Ryan clearly doesn't have a ton of faith in Kellen Clemens given the fact that they brought in veteran QB Mark Brunell earlier this spring, but that's a need they are better off addressing through free agency.
If Jason Taylor decides to stick with the Dolphins, the Jets could use Jay Feely's vacated spot to bring in Brunell or another veteran QB.
The Jets have five picks late 20s in the 1st, 2nd, 4th, 6th and 7th rounds. The third went to Cleveland for Edwards and the fifth to Pittsburgh for Holmes. Although the defense is a bigger focus of Jets draft-watchers, there could be a few offensive picks as well.