New York Jets:

Detroit Lions
August, 10, 2013
8/10/13
5:36
PM ET
CORTLAND, N.Y. -- Observations from the press box after the
New York Jets
' 26-17 loss to the
Detroit Lions
in the preseason opener:
1. A Rex-storm
: I think people are getting carried away with Rex Ryan's admission that he missed plays on offense -- including a lot of
Geno Smith
-- because he was too busy with the defense on the sideline. Granted, it was highly unusual for a head coach to admit such a thing; most coaches would've talked around it by saying, "I need to watch the tape." But let's remember one thing: It was a
preseason
game. If it had been the regular season, yes, he'd deserve criticism.
Presumably, Ryan is using the preseason to fix a defense that has seven new starters. When the real games start, he'll be in head-coach mode, managing the entire game -- at least he'd better be. He took a heavy-handed approach with the defense in 2009 and 2010, and that didn't stop the Jets from making the playoffs, did it?
2. MartyBall
: It serves no purpose to question play calling in the preseason -- coaches are in an experimental mode -- but it's worth noting that the Jets called 42 pass plays and only 16 runs against the Lions. Offensive coordinator Marty Mornhinweg is known as a pass-happy coach, a style that usually doesn't marry well with defensive-minded head coaches. Just saying.
[+] Enlarge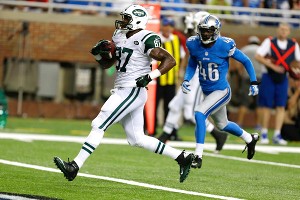 AP Photo/Scott BoehmJeff Cumberland scored in the first quarter. Last season, the Jets' offense didn't produce a TD until the fourth preseason game.
3. Off the Mark
: I watched
Mark Sanchez
's pick-6 over and over, and I still can't believe he made that throw. Rookie fullback
Tommy Bohanon
has to do a better job of leaking out of the backfield, but he was on his knees -- knocked over by ex-Jet
C.J. Mosley
-- when Sanchez lobbed the pass. Sanchez, backpedaling in the face of pressure, panicked.
But let's give credit where it's due: On the 26-yard touchdown pass to
Jeff Cumberland
, Sanchez made a fantastic read. He recognized 3-by-2 coverage on the weak side, knowing the Lions had no deep help on the strong side, where Cumberland ran a seam route. Sanchez showed nice anticipation, releasing the ball a split-second before Cumberland broke away from the linebacker.
As I noted Friday night
, Sanchez has moved into the lead for the starting job.
4. The new Geno
: Rookie QB Geno Smith played almost exclusively in the shotgun at West Virginia, so there was some question as to how he'd respond to playing under center in a traditional offense. There were no noticeable hiccups in the game. In fact, he was 3-for-3 for 27 yards under center and 3-for-4 for 20 yards from shotgun.
5. Rough debut
: RG
Willie Colon
was a solid player for many years with the Steelers, but he got off to a shaky start in his Jets debut. He was called for two penalties, and that's noteworthy because he was the Steelers' most penalized offensive player last season -- 12 penalties. That's a crazy amount for an interior lineman. Colon also allowed the pressure that caused Smith to have a pass batted at the line.
6. Uh-oh, Oday
: I think OT
Oday Aboushi
, a fifth-round pick from Virginia, is on the roster bubble. Aboushi got beat by rookie DE
Devin Taylor
on a strip sack of
Greg McElroy
, and he also was flagged for two penalties (one declined). The Jets are looking for a backup swing tackle. Aboushi is a candidate for the job, but so is
J.B. Shugarts
, a first-year player from Ohio State. Shugarts played 36 snaps in the game, more than any offensive lineman.
7. Big Mac under attack
: You have to admire McElroy's moxie, but, man, he takes a lot of hits. He was sacked three times and absorbed what appeared to be a helmet-to-helmet hit on one play -- it wasn't called. McElroy said he was fine after the game, but he also said he was fine after last December's beatdown inflicted by the Chargers, and that turned out to be a concusssion. Either way, it looks like he has locked up the No. 3 job. He made nice improv play on his 9-yard touchdown pass to
Zach Rogers
.
8. J.J. is dy-no-mite
: The coaches went into the game buzzing about former Eagles S
Jaiquawn Jarrett
, eager to see him in a game setting after impressive work on the practice field and in the classroom. He responded nicely and has leap frogged
Antonio Allen
on the depth chart, according to Ryan. Jarrett was a second-round pick in 2011, so you know the physical talent is there.
9. Silver-lining playbook:
Looking for a positive from the game? The Jets scored two offensive touchdowns. A year ago, they didn't score one until the fourth preseason game -- and that came from the third-team offense.
10. Calling all runners:
The Jets lost RB
John Griffin
(broken leg) for the season, testing their backfield depth, but they expect
Chris Ivory
(hamstring) and
Joe McKnight
(head) to practice Sunday. For Ivory, it would his first full practice of camp.
August, 10, 2013
8/10/13
2:49
PM ET
CORTLAND, N.Y. -- The snap counts in Friday night's game:
OFFENSE
(based on 64 snaps)
Quarterback
--
Greg McElroy
29,
Mark Sanchez
21,
Geno Smith
14.
Running back
--
Tommy Bohanon
28,
Bilal Powell
26,
Chad Spann
16,
Mossis Madu
14,
John Griffin
5.
Wide receiver
--
Ryan Spadola
37,
Braylon Edwards
27,
Stephen Hill
23,
Clyde Gates
21,
Ben Obomanu
19,
Zach Rogers
18,
Jeremy Kerley
14,
Joseph Collins
7,
Michael Campbell
4,
K.J. Stroud
1.
Tight end
--
Konrad Reuland
18,
Jeff Cumberland
18,
Kellen Winslow
13,
Chris Pantale
6,
Hayden Smith
5.
Offensive line
--
J.B. Shugarts
36,
Vladimir Ducasse
35,
Oday Aboushi
32,
Caleb Schlauderaff
32,
Austin Howard
28,
Stephen Peterman
28,
D'Brickashaw Ferguson
28,
Willie Colon
28,
Nick Mangold
,
Dennis Landolt
22,
Will Campbell
15,
Erik Cook
4,
Trey Gilleo
4.
Quick take/offense
: A surprising number of plays for Edwards; most older vets don't play that much in the first preseason game. It means they really wanted to take a long look at him. ... Spadola is getting a good chance to make the team, but he has to become more of a contributor on special teams (one play). ... A surprisingly low number of snaps for Hayden Smith. That doesn't bode well for his chances. ... The coaches want to see if Shugarts can become their backup swing tackle.
DEFENSE
(based on 70 snaps)
Line
--
Sheldon Richardson
33,
Leger Douzable
27,
Muhammad Wilkerson
24,
Antonio Garay
19,
Tevita Finau
15,
Kenrick Ellis
13,
Damon Harrison
9,
Junior Aumavae
7,
Lanier Coleman
6.
Linebacker
--
Nick Bellore
, 47,
Ricky Sapp
36,
DeMario Davis
34,
Danny Lansanah
32,
Quinton Coples
26,
Jacquies Smith
23,
Antwan Barnes
22,
Garrett McIntyre
17,
David Harris
14,
Sean Progar-Jackson
12,
Calvin Pace
12,
Troy Davis
10,
JoJo Dickson
9.
Secondary
--
Jaiquawn Jarrett
50,
Josh Bush
50,
Dee Milliner
38,
Darrin Walls
37,
Ellis Lankster
33,
Isaiah Trufant
32,
Kyle Wilson
31,
Dawan Landry
20,
Antonio Allen
19,
Antonio Cromartie
13.
Quick take/defense:
Jarrett received praise from Rex Ryan and may have won a starting job. ... Harris, Pace and Cromartie already were done for the night when the Lions scored their first offensive TD. ... Despite missing the offseason and four practices in camp, Milliner was thrown immediately into the fire. ... Surprised that "Snacks" Harrison played only nine snaps. ... The coaches wanted to see a heavy dose of Douzable, who has flashed in camp.
Did not play
(players in uniform) -- QB
Matt Simms
, TE
Mike Shanahan
August, 10, 2013
8/10/13
2:27
AM ET
DETROIT -- Maybe this is no big deal, maybe it is. But it's definitely unusual.
After a 26-17 loss Friday night to the
Detroit Lions
, Rex Ryan admitted he wasn't watching at times when the
New York Jets
' offense was on the field.
[+] Enlarge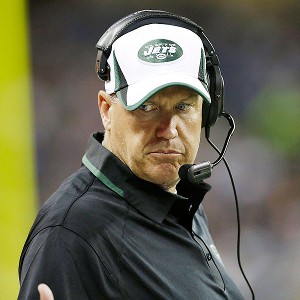 AP Photo/Paul SancyaRex Ryan kept an eye on the defense. The offense? That's another story.
As you know, Ryan has decided to run the defense this season, as he did in 2009 and 2010. It's his bread and butter, and he wants to be heavily involved again. OK, fine, but he apparently had his back turned to the field while coaching up the defense between series.
Asked about
Mark Sanchez
's interception, Ryan said, "I never saw it. I caught the tail end of it." He saw DE
Ziggy Ansah
returning it 14 yards for a touchdown. Later in his postgame news conference, Ryan was asked to assess
Geno Smith
's performance. He didn't.
"I had my own issues on the other side, so I never really focused a whole lot while he was in there," Ryan said. "We'll see it on tape. You probably saw more plays than I did."
This was a stunning admission for a head coach. How could he not watch his rookie quarterback? How could he not have his eye on Sanchez? Maybe Ryan's approach will change in the regular season. Maybe he will spend less time with hands-on coaching and more time managing the entire game from the sideline. That's how it should be; that's his job. It's nice that he has that much faith in OC Marty Mornhinweg, but you can't have two head coaches -- one for defense, one for offense.
It was only one preseason game. But it bears watching.
August, 10, 2013
8/10/13
2:00
AM ET
DETROIT -- The
New York Jets
' already-thin backfield took another hit Friday, as backup RB
John Griffin
suffered a season-ending broken leg in the 26-17 loss to the
Detroit Lions
.
Griffin, backing up
Bilal Powell
, was yanked to the ground in the third quarter on a horse-collar tackle by LB
Travis Lewis
. Griffin was carted to the locker room, where an X-ray confirmed the fracture.
[+] Enlarge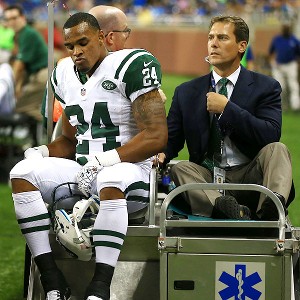 Andrew Weber/USA TODAY SportsJohn Griffin's season ended in the preseason opener.
He was on the roster bubble, but at least he was an able body. The Jets are hurting at the position.
Chris Ivory
(hamstring) and
Joe McKnight
(head) didn't travel to the game, and
Mike Goodson
still hasn't reported to camp because of undisclosed personal reasons. Ivory is expected to practice for the first time Sunday.
The Jets' running attack was non-existent, as they ran for only 37 yards on 16 carries.
INJURY REPORT
: Aside from Griffin, QB
Geno Smith
(ankle) and OLB
Garrett McIntyre
(knee) left with injuries. Smith's injury doesn't appear serious. He said he told the trainers that he wants to practice next week and play next Saturday against the Jaguars.
UNHAPPY REX
: A subdued Rex Ryan bemoaned a rash of mistakes -- 11 penalties, two turnovers, a poor rushing attack and sloppy play by the second-team defense.
"We have to improve a great deal," he said.
It was a particularly sloppy day for the offensive line. RG
Willie Colon
was called for holding and a false start and LG
Stephen Peterman
, a former Lion, was flagged for holding. Backup OT
Oday Aboushi
was guilty of a false start.
Ryan singled out only two players for exceptional performances -- WR
Ben Obomanu
(team-high four catches) and S
Jaiquawn Jarrett
(five tackles, one QB hit). Ryan said Jarrett will move up to the first team in practice next week, replacing
Antonio Allen
.
SPECIAL K
: It was a nice debut for TE
Kellen Winslow
, trying to resurrect his career after a lost 2012. He caught two passes for 30 yards, including a 24-yard reception that helped set up the first touchdown. He caught a short pass and broke a tackle, displaying some of the old Winslow.
He was cut by the Seahawks last preseason and played only one game with the Patriots.
"That was their loss," he said of the Seahawks. "I'm going to do some things this year."
ODDS AND ENDS
: Rookie CB
Dee Milliner
received mixed reviews. "At times, I thought he played really well," Ryan said. But there was a missed tackle in the open field, a 27-yard completion against him and a couple of mentor errors. ... DT
Sheldon Richardson
, who was credited with three tackles, said he didn't make as many plays as he had hoped. ... Rookie WR
Zach Rogers
had a bad drop in the open field, but he came back to score on an 11-yard pass from
Greg McElroy
. ... McElroy, one of the stars of last week's scrimmage, delivered another fine outing. He replaced the injured Smith in the third quarter and was 11-for-19, 145 yards and a touchdown. ...
Nick Folk
made a 51-yard FG. ...
Muhammad Wilkerson
and
Quinton Coples
recorded sacks. Coples cleaned up after LB
Antwan Barnes
made the key pressure.
August, 9, 2013
8/09/13
10:39
PM ET
DETROIT -- The
New York Jets
opened the preseason Friday night with
a 26-17 loss
to the
Detroit Lions
at Ford Field. Despite a killer interception,
Mark Sanchez
won the night over
Geno Smith
in the ballyhooed quarterback competition. Smith left in the third quarter after rolling his ankle. It doesn't appear serious, but he can't afford to miss any practice time.
What it means
: As it stands now, Sanchez will be the opening-day starter. He gave as many points to the Lions as he produced for the Jets -- seven -- but he showed greater command than Smith, who delivered a nondescript performance in his NFL debut. Smith is doomed if he misses any practice time; it's almost impossible for a rookie to play catch-up in training camp.


Sanchez's night:
It was the worst possible start for Sanchez, who threw a pick-six on the Jets' first series. Under pressure on a screen pass, he didn't put enough air under the pass and it was intercepted by rookie defensive end
Ziggy Ansah
, who returned it 14 yards for a touchdown. Sanchez has a maddening tendency to turn a safe pass into a calamity. In fact, he almost had another screen intercepted.
To Sanchez's credit, he responded to the disastrous start to finish 10-for-13 for 125 yards with a 26-yard touchdown pass to a wide-open
Jeff Cumberland
. It culminated a seven-play, 80-yard drive, much of which came in the hurry-up offense. It was typical Sanchez -- some good, some ugly. Some things don't change.
Geno's night
: Unlike Sanchez, Smith didn't make any horrible mistakes, but he also didn't bring any spark to the offense. The former West Virginia star, who got two series behind the starting offensive line, generated only one first down on his first three drives -- a 15-yard pass to
Clyde Gates
on his first play. Simply put, Smith didn't look ready to take over the team. He finished 6-for-7 for 47 yards. Smith came out on the first series of the third quarter, when he turned his right ankle on an open-field scramble.
Greg McElroy
came in and did a nice job against the Lions' third-stringers, going 11-for-19 for 145 yards and an 11-yard TD pass to
Zach Rogers
.
Big-play tight ends
:
Dustin Keller
is gone, but Cumberland and
Kellen Winslow
displayed playmaking ability. Winslow made a nice catch and run for 24 yards. Cumberland scored his touchdown on a deep seam, showing his ability to get vertical. It's too soon to say the Jets have two weapons at tight end, but it was a good start.
Another injured running back
:
John Griffin
was carted off with a lower-leg injury. It didn't look good. Already down
Chris Ivory
,
Mike Goodson
and
Joe McKnight
, the Jets can't afford another injury in the backfield. Ivory (hamstring) is expected to return Sunday.
New-look defense
: The Jets opened with seven new starters in the post-
Darrelle Revis
era. All things considered, the defense held up fairly well. Most of the starters played most of the first half, an unusually long stint for the first game, and allowed 10 points. Cornerback
Darrin Walls
, an early substitution for starter
Antonio Cromartie
, got beat on a 15-yard scoring pass. One player who jumped out was nose tackle
Kenrick Ellis
, who deflected a pass and held the point of attack. Safety
Dawan Landry
got beat once in coverage. Keep in mind that Lions quarterback
Matthew Stafford
played only two series.
The rookies:
It was a so-so debut for top pick
Dee Milliner
, who started at corner in the base defense. He didn't have to cover all-world receiver
Calvin Johnson
-- Cromartie drew that assignment -- so that made life easier for Milliner. He had a nice pass breakup in the end zone, but he missed an open-field tackle and allowed a 27-yard reception. Milliner gets some slack, though, because he missed a lot of time and is rusty. It was a relatively quiet night for defensive tackle
Sheldon Richardson
.
The Q report:
Former first-round pick
Quinton Coples
, making the transition to outside linebacker, flashed good and bad on his first two plays. He deflected a pass on an outside rush, but he failed to set the edge on an outside run by
Reggie Bush
. Coples didn't move well in space. This will be an interesting position change.
What's ahead
: The Jets return to Cortland, for four days of practice. They break camp Thursday and return to Florham Park, N.Y., where they will prepare for next Saturday's game against the
Jacksonville Jaguars
.
August, 9, 2013
8/09/13
6:00
AM ET
CORTLAND, N.Y. -- The Jets open the preseason Friday at the Lions. Kickoff is 7:30 p.m. Here is what to watch for:
1. Quarterback battle, Round 1
:
Mark Sanchez
starts,
Geno Smith
relieves. Sanchez figures to play a series or two with the starters before yielding to the rookie, who might get a series with the first unit. Smith will stick around and play with the backups as he attempts to convince the powers-that-be that he's ready to take over the team. The focus is on Smith, but it'll be interesting to see Sanchez in Marty Mornhinweg's West Coast offense. He loves the system. We'll see if it loves him back.


2. The rookies
: The Jets could open with three in the starting lineup -- DT
Sheldon Richardson
, CB
Dee Milliner
and FB
Tommy Bohanon
, the only fullback on the traveling roster. Incumbent
Lex Hilliard
didn't make the trip with an undisclosed injury. Milliner is rusty, which is to be expected. He missed the offseason and the first few days of camp, so his conditioning and technique still need work. Just for kicks, Rex Ryan should let Milliner cover
Calvin Johnson
for a couple of plays. Now
that
would be a welcome-to-the-NFL moment. Rookie LG
Brian Winters
(ankle) didn't make the trip, hurting his chances of winning a starting job.
3. Empty stable:
Chris Ivory
(hamstring) and
Joe McKnight
(head) are out, so the workload will fall to
Bilal Powell
. There's some concern among the coaches that Powell is being overworked, so don't expect a super-heavy work day.
John Griffin
and
Chad Spann
will see some carries as well. Mornhinweg, known for his pass-happy philosophy, will have no problem throwing it all over Ford Field.
4. Mega Who?
When the Jets drafted WR
Stephen Hill
last year in the second round, they made the mistake of comparing him, from a size-speed standpoint, to another Georgia Tech alum -- Johnson, aka. MegaTron. Hill is nowhere close to Johnson, but he has made strides on the practice field, especially with his technique. Now he has to take it to the game. With
Santonio Holmes
in limbo, they could be relying on Hill to be their No. 1 receiver.
5. New-look defense
: They have seven new starters, so there's bound to be growing pains. They could show up in the secondary, which was overhauled in the offseason. The only returning starter is CB
Antonio Cromartie
. The Lions like to spread the field, and they have a quarterback (
Matthew Stafford
) who can get the ball anywhere on the field. This should be a nice first test for the Jets' sub packages. Watch LB
Demario Davis
; he brings a pass-coverage dimension to the linebacking corps.
6. Q's debut
: Former No. 1 pick
Quinton Coples
plays his first game at outside linebacker. It has been a quiet camp for the former lineman. Part of that could be attributed to the position switch. But the coaches also want him to play with a greater sense of urgency. The feeling around the team is that Coples is the key to the defense. If he thrives in his new role, the defense has a chance to be really good.
7. Safety in numbers
: The most unsettled position is free safety.
Antonio Allen
has received most of the reps, but he's hardly a sure thing. Former Eagle
Jaiquawn Jarrett
has impressed the coaches with his approach and he could sneak in and grab the job.
August, 8, 2013
8/08/13
4:36
PM ET
CORTLAND, N.Y. -- The following players didn't make the trip Thursday to Detroit, according to the Jets:


• WR
Santonio Holmes
(foot, PUP list)
• RB
Chris Ivory
(hamstring)
• RB
Joe McKnight
(head)
• LB
Josh Mauga
(back)
• G
Brian Winters
(ankle)
• FB
Lex Hilliard
(undisclosed)
• C
Dalton Freeman
(ankle)
• WR
Titus Ryan
(hamstring)
The Jets play the Lions at 7:30 p.m. Friday in the first preseason game for both teams.