New York Jets:

Drew Brees
November, 5, 2013
11/05/13
3:30
PM ET
One last look back at the
New York Jets
' 26-20 upset of the
New Orleans Saints
:
Rex outsmarts Payton
: The game was billed as Ryan vs. Ryan, but it never was going to be Rex against Rob, the Saints' defensive coordinator. It was really a chess match between Rex and Saints coach Sean Payton, one of the brightest offensive minds in the game. The outcome: Checkmate, Ryan.
Drew Brees
put up his fantasy numbers, throwing for 382 yards (the most against the Jets in the Ryan era), but he was rattled at key moments in the game. He was confused by the Jets' different looks, forcing him into rare mistakes -- taking two delay penalties and burning three timeouts in the first quarter. On the first timeout, he was befuddled by a 2-4-5 alignment. When he came out of the timeout, it was a 3-3-5 look by the Jets -- and a delay of game penalty.
This wasn't a blitz-heavy game plan by Ryan. In fact, the Jets sent five or more rushers on only 19 percent of Brees' 53 dropbacks, slightly below their average. They didn't have to blitz because
Muhammad Wilkerson
and
Quinton Coples
overmatched the Saints offensive line.
[+] Enlarge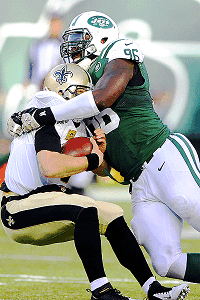 Robert Deutsch/USA TODAY SportsThe Jets' Muhammad Wilkerson was able to put steady pressure on Saints quarterback Drew Brees this past Sunday.
After watching the tape, I noticed a clever wrinkle: On some passing plays, the Jets used a defensive lineman in a spy-type role. Instead of rushing, a lineman peeled back and hovered around the line of scrimmage, reading Brees' eyes. Coples said afterward that the game plan was to obstruct the B gaps, meaning the guard-tackle gaps. In their scouting report, they noted how Brees -- listed generously at 6-foot -- liked to throw through the B gaps instead of the middle. I think the Jets used a defensive lineman as a roving shot blocker, hoping to deflect the ball or at least block his vision. This was a big point of emphasis in practice, as the coaches were constantly on the pass-rushers to get their arms up against the "5-foot-10 quarterback," as they referred to him.
On Brees' first of two interceptions, Coples was the rover, lurking behind a three-man rush. At the last second, he rushed, getting one of his long arms in Brees' face as he released the ball, which was intercepted by
Demario Davis
after an on-ball deflection by S
Dawan Landry
-- a great play all around. Other times, I saw NT
Kenrick Ellis
and DT
Sheldon Richardson
peeling back instead of rushing.
Two impressive sequences jumped out. In the third quarter, they sacked Brees on back-to-back plays. How often does that happen? Wilkerson split a double-team for the first sack. On the second, Brees tried a quick count, but he outsmarted himself because TE
Jimmy Graham
was isolated on LB
Calvin Pace
. Graham is a great receiver, but he doesn't do blocking. Pace beat him cleanly for a sack.
The second impressive sequence occurred at the end of the game. Brees had the ball at his 19, with 1:58 on the clock. He has made a career of game-winning drives. Not this time. He threw four straight incompletions, one uglier than the next. On first down, the Jets had one down lineman and five others standing at the line. It looked like a blitz, but it was a ruse because they rushed two and dropped nine, including Coples, who lurked in the spy role. CB
Antonio Cromartie
was a safety on this play, another wrinkle.
Overall, it was a brilliant game plan by Ryan.
The art of deception:
Obviously, the Jets were committed to running the ball, hoping to exploit a defense that had allowed a league-high 4.8 yard per carry. Here is an amazing stat: QB
Geno Smith
passed for only one yard in the first quarter and none in the fourth.
Coordinator Marty Mornhinweg did a fantastic job of using the read-option to exploit the Saints' aggressive front seven, which tends to over-pursue. On
Chris Ivory
's 27-yard run in the first quarter, they used the read option out of the Pistol formation. OLB
Parys Haralson
, influenced by the option, over-ran the play, leaving a gaping hole for Ivory.
On
Josh Cribbs
' 25-yard pass in the second quarter, the Jets ran a triple-option type play out of the Wildcat. Cribbs took the direct snap, faked to
Bilal Powell
and sprinted right with a run-pass option. He threw a dart to TE
Zach Sudfeld
, the Jets' best pass of the day.
I loved the two touchdown runs at the end of the second quarter. It was a great set-up by Mornhinweg, who used virtual mirror-image plays to outfox the Saints. On Ivory's three-yard scoring run, they were in shotgun, with Ivory to Smith's left -- the strong side, along with the tight end (Sudfeld) and two receivers (
Stephen Hill
and
David Nelson
). They ran a weakside play, with Ivory blasting off right tackle, behind key blocks by RG
Willie Colon
and RT
Austin Howard
.
After Cromartie's interception, the Jets got the ball back in almost an identical situation -- ball at the 3. They used the same personnel package, except they flipped the formation. Ivory went to the right of Smith, along with two receivers (Nelson and
Greg Salas
). The Saints probably were thinking it was a run to the left. It sure looked like as they ran Ivory to the left on a play-action. LBs
David Hawthorne
and
Curtis Lofton
bit hard on the fake. Smith used the read-option. He pulled the ball out of Ivory's belly and kept it himself, putting a nice, open-field move on DE
Cameron Jordan
for the touchdown. Actually, Jordan read it well, but he was faked by Smith and had no back up because Hawthorne and Lofton were out of position.
The Jets finished with 198 rushing yards. Ivory got the headlines, but the coaches did a nice job of exploiting the weaknesses in the Saints' run defense.
Geno's signature moment
: The play that had people buzzing at One Jets Drive was a 6-yard scramble by Smith at the start of the third quarter. It wasn't enough for a first down -- it was a third-and-10 play -- but it got them into field goal range, as Smith avoided a big loss.
DE
Tom Johnson
blew past LG
Brian Winters
and had a clean shot at Smith, who eluded him with a nifty step-back move. Smith took off and gained six valuable yards, allowing the Jets to take a 23-14 lead after the field goal.
Odds and ends
: Winters made a key block in the second quarter, pulling to the right on Ivory's 52-yard yard. Winters got a piece of Lofton, who ended up missing the tackle in the hole. Sudfeld, not known for his blocking, delivered a key block as well. Hill, invisible in the passing game, made a nice downfield block. ... There was confusion on Graham's 51-yard TD reception. S
Jaiquawn Jarrett
raised both arms before the snap, as if to say, "What do I do?" He ended up getting torched on a double move. ... I have no idea what Ryan was thinking on the Jets' final possession. They got the ball on downs at the Saints' 9, with 1:21 to play. The Saints had one timeout left. Three kneel-downs and it was over, but the Jets ran two plays and called a timeout before having Smith take a knee. What was the point of risking a fumble? Made no sense.
November, 3, 2013
11/03/13
8:39
PM ET
EAST RUTHERFORD, N.J. --
Drew Brees
was clearly uncomfortable with the
New York Jets
' defense Sunday. During the first quarter, the Saints' offense used up all three timeouts and was called for two delay-of-game penalties. One penalty came directly after a timeout. More telling, the veteran quarterback threw two interceptions and at least two more balls that were ripe for the picking.
"I look to the start of the game," Brees said. "We had to use a timeout early, the delay of game, the lack of tempo and rhythm. It just took a little while."
[+] Enlarge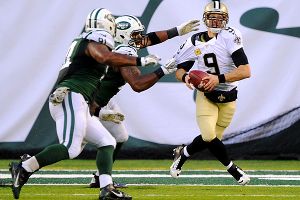 Robert Deutsch/USA TODAY SportsThe Jets sacked Drew Brees twice and kept him under pressure all day.
It actually never really arrived. The Jets decisively won the game
26-20
, and on the Saints' last drive -- a two-minute drill that would have won the game, and the type of moment Brees excels at mastering -- the defense clamped down.
"The guy's sick, he makes great throws," Jets coach Rex Ryan said. "I will say this, was I confident in our guys? Absolutely, absolutely I was confident in our guys to get it done. But a little nervous? Yes."
The Jets' defense pushed Brees back to a fourth down at the Saints' 10-yard line. On that last-ditch attempt, Jets linebacker
Quinton Coples
got to the quarterback.
"We knew he was having trouble seeing over the line," defensive lineman
Sheldon Richardson
said. "It showed. It seemed like the first couple of series he was looking over the offensive line. Then [
Muhammad Wilkerson
], Q, those guys just kept getting back there. I got back there a few times, but we all put our work in today."
Coples also got to Brees on another big fourth down play, an end-around attempt with 7:54 left in the fourth quarter.
"I was thinking he was going to put it away and throw the ball," Coples said. "But when he handed it off my eyes just got big because I knew I was going to run right through him."
To be fair, the Saints lost leading running back
Darren Sproles
on the first offensive series of the game to a concussion. It put a wrench into the team's game plan.
But the Jets took advantage after a poor showing the week before in Cincinnati.
DeMario Davis
and
Antonio Cromartie
got interceptions, and the Jets converted both those takeaways into points. Wilkerson and
Calvin Pace
were each credited with a sack.
"We knew we had to bounce back from last week," Wilkerson said. "Ready to get going for this game."
November, 3, 2013
11/03/13
2:59
PM ET
EAST RUTHERFORD, N.J. -- One quarterback has thrown two interceptions, but it wasn't
Geno Smith
. The
New York Jets
' rookie quarterback ran the ball in with 37 second left in the first half, giving the Jets a 20-14 lead against the visiting
New Orleans Saints
and veteran quarterback
Drew Brees
.

A few of the main points:
Ivory breaks through:
Chris Ivory
wasn't happy with how the Saints used him last season, and the running back had the kind of half that justifies that feeling. Ivory scored the first touchdown for the Jets with 2:39 left in the half, and had 93 yards on 10 carries. Ivory looks like he tried to spike the ball afterwards, but just ended up hitting the wall behind the end zone. But he'd already made his statement.
Stopping Graham:
The Jets haven't been able to handle 6-foot-7, 265-pound tight end
Jimmy Graham
. He dragged Jets safety
Jaiquawn Jarrett
into the end zone with him the first time he scored, and beat
Antonio Cromartie
off the line for his second touchdown catch. The Jets used every defensive back they have and a few linebackers to try to contain Graham, who has 72 yards on 4 catches in addition to the touchdowns.
Missing pieces:
Two missing players are likely affecting their team's bottom line on offense. Jets receiver
Jeremy Kerley
left the game with an elbow injury, and the Jets announced he wouldn't return. Saints running back
Darren Sproles
was also taken out of the game with a concussion.
As a result, both teams looked lopsided on offense. The Saints lost Sproles in the first series, and had just 15 rushing yards at the half with 245 yards total offense. The Jets lost Kerley about midway through the half, and weren't quite as off-balance, with 126 rushing to 95 passing yards. Interestingly, Jets receiver
Stephen Hill
hasn't been a factor even with Kerley out.
November, 1, 2013
11/01/13
6:00
PM ET
On paper, this screams, "Bad matchup!"
The
New York Jets
(4-4) are coming off one of the worst defensive performances of the Rex Ryan era and the
New Orleans Saints
(6-1), who have rediscovered their pre-Bountygate mojo, are producing crazy numbers on offense.
"This is the New Orleans Saints, so this is about as good as it gets in the NFL," Ryan said. "So if we find a way to get a win here, it would be huge. This is an outstanding football team. Again, we expect to win, but we also know it's a huge challenge. There's no doubt, it's going to be a huge challenge."
Huge, but not impossible. Kickoff is 1 p.m. Sunday at MetLife Stadium. What to watch for:
[+] Enlarge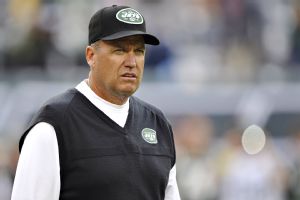 Robert Deutsch/USA TODAY SportsRex Ryan has shown the ability to get his team to bounce back from ugly performances.
1. The Rebound Effect
: If the Jets continue with the script -- 4-0 in odd weeks -- they should pull off one of the biggest upsets of the season. OK, now let's get serious: The odd-week thing is an anomaly, but there's no denying the Jets' resilience. They have a knack for rebounding from ugly losses. After getting blown out by the
Tennessee Titans
, they won impressively on the road against the
Atlanta Falcons
. After being pushed around by the
Pittsburgh Steelers
, they responded by stunning the
New England Patriots
.
It's a good quality to have, but it's a dangerous way to play a season. It can be mentally taxing on a team, and there's always the chance of doubt creeping into the psyche, especially after a stinker like the 40-point loss to the
Cincinnati Bengals
-- the season's largest margin of defeat in the NFL. We'll learn a lot about the Jets in this game.
2. Geno vs. Rex's evil twin:
Rookie QB
Geno Smith
faced a Ryan-coached defense every day in training camp; now he gets to play against Rex's identical twin, Rob, the Saints' defensive coordinator. Rob, who inherited one of the worst defenses in history (you can look it up), has turned the Saints into a playmaking unit. Led by DE
Cameron Jordan
(six sacks) and CB
Keenan Lewis
(three interceptions), the Saints have registered 24 sacks and 15 takeaways. They've allowed fewer than 20 points in six of seven games, and we all know the Jets have been held under 20 in five of eight games.
Rob Ryan isn't blitzing at an unusually high rate, but his blitzes are effective. In fact, the Saints' sack rate when sending five or more rushers is 14.5 percent, the best in the league. You can bet he will try to confuse Smith with new looks, forcing him to hold the ball. He can't fall into the trap of throwing late on sideline passes; he got burned twice last week on those, resulting in pick-sixes. Smith's turnover total is up to 16, the second-highest in the league.
[+] Enlarge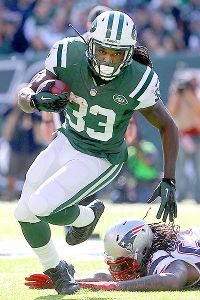 Ed Mulholland/USA TODAY SportsChris Ivory and the Jets running backs could have a big day against the Saints defense, which is allowing a league-high 4.8 yards per carry.
3. Just run, baby
: Rex and Rob look alike and sound alike, but their defenses are the exact opposite. The Jets defend the run better than any team in the league and the Saints are allowing a league-high 4.8 yards per carry. No doubt, the Jets will try to exploit that weakness. If they can control the clock and shorten the game by running the ball, they have a chance to win. This could be a big day for
Chris Ivory
, who should be highly motivated against his former team.
Offensive coordinator Marty Mornhinweg, hurting at tight end, will have to get creative with his approach to running the ball. He might want to use some of the wrinkles he employed against the Falcons -- a three-back formation, sprinkling in some Pistol looks. The trick is keeping it a close game. If the Jets fall behind and have to start throwing, they'll fall into the Saints' wheelhouse. And that won't be pretty.
4. Get physical with the receivers
: The Jets' secondary was atrocious last week, in part, because the corners were passive at the line, giving too much cushion. Whatever happened to bump-and-run coverage? DE
Muhammad Wilkerson
, usually not one to speak out, said the corners have to do a better job of holding up the receivers, allowing the pass rush to get home.
The spotlight will be on struggling rookie
Dee Milliner
, who will be targeted by
Drew Brees
the moment he steps on the field. Ryan stuck his neck out by talking up Milliner, predicting a strong second half of the season. It was a transparent attempt to bolster the kid's sagging confidence; let's see if it works. The Jets also need a better game from
Antonio Cromartie
, who could be involved in coverage plan for TE
Jimmy Graham
. Cromartie needs to be more aggressive in press man. If the secondary has a bad day, it'll be a 400-yard passing day for Brees, who averages 327 per game.
5. A Mo better effort:
The pass rush, frustrated by
Andy Dalton
's quick throws, stunk last week. There will be sack opportunities because Brees likes to push the ball downfield, meaning he's willing to hang in the pocket. He knows what he's doing, because he leads the league with eight touchdown passes of 20 yards or more. On the flip side, he hasn't faced a defensive line this good. Brees' pass protection is suspect -- already 18 sacks -- so this is a chance for the Jets' pass-rushers to redeem themselves after last week's no-show. Brees may not have his best lineman, standout G
Jahri Evans
(hip). If Brees gets in trouble, he can check down to super-quick RB
Darren Sproles
, a matchup nightmare for the Jets.
October, 31, 2013
10/31/13
9:00
PM ET
.
FLORHAM PARK, N.J. -- The
New York Jets
can upset the
New Orleans Saints
on Sunday -- yes, they can -- but they have to play the game on their terms. It has to be a street fight, old-school football, a game in the trenches. It can't be a basketball game, with
Drew Brees
leading the fast break, because the Jets aren't equipped to play that style.
The Saints are a finesse team, the model of what the NFL has become. The tenets that once shaped the game -- run the ball, stop the run -- don't apply to the Saints. They don't run it particularly well and they're giving up a league-high 4.8 yards per rush, but they're winning because they can throw it and catch it better than perhaps any team in the league.
The Jets recognize this. They respect the Saints, but they also believe they can knock them out of their comfort zone by playing big-boy football, smashing them in the mouth. Four weeks ago, they did it to the
Atlanta Falcons
, another team built around its skill players. The Jets see a lot of similarities between the Falcons and Saints, NFC South rivals.
[+] Enlarge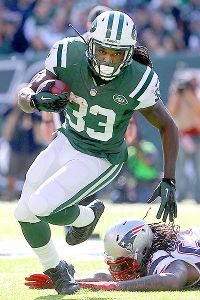 Ed Mulholland/USA TODAY SportsBruising back Chris Ivory of the Jets could do some damage against his former team.
"If we can handle Atlanta, we should, in theory, be able to handle New Orleans," linebacker
Calvin Pace
said Thursday.
It's not just a defensive thing. It's not just an offensive thing. It's an everything thing. The Jets have to set an early tone, on both sides of the ball, letting the Saints know it will be a two-chinstrap game, as coach Rex Ryan likes to say.
They can start by establishing a running attack, feeding
Bilal Powell
and ex-Saint
Chris Ivory
, who, no matter how much he downplays it, would love to rip a hole in his former team. Defensive coordinator Rob Ryan has done a nice job in his first season with the Saints, as his twin brother has pointed out every day this week, but it's hard to ignore that big, fat rushing stat: 4.8 yards per carry.
That's an engraved invitation for the Jets to impose their will on the Saints. They have to shorten the game, keep Brees on the sideline and make those New Orleans pass-rushers get dirty in the trenches, defending the run. They don't like to do that.
"Honestly, I feel like with the guys we have up front, we should be able to run the ball on everybody," right tackle
Austin Howard
said.
Everything the Saints do revolves around Brees and their high-scoring offense. When they jump to a quick lead, it allows Rob Ryan to be more aggressive on defense. It's easy to be a swashbuckling playcaller on defense when you have a 14-point lead every week. The Saints have 15 takeaways and 24 sacks, with 13 different players in the sack column.
"I think my brother is the only one without a sack on that team," Rex cracked.
For the Jets, it's all about Brees.
After getting shredded by a Brees wannabe, the
Cincinnati Bengals
'
Andy Dalton
, it's fair to wonder if they have what it takes to handle the real deal. The front four couldn't get close enough to Dalton to see the whites of his eyes, but it should have more chances against the Saints because of their vertical passing attack. Brees, looking downfield, will take deep dropbacks and hold the ball. There should be enough time for
Muhammad Wilkerson
& Co. to get home against the Saints' suspect line.
"We've shown we have one of the most explosive fronts in the game," linebacker
Demario Davis
said. "If we can cover for two or three seconds, and he's still holding the ball, I'm pretty sure somebody will be in his face."
Brees' favorite target is
Jimmy Graham
. He's a wide receiver in a tight end's body, and the Jets can't let him run freely through the secondary. He already has eight touchdown receptions, the same number as the entire Jets team. They want to get physical with him, show him the Bronx, so to speak. Cornerback
Antonio Cromartie
and safety
Antonio Allen
could take turns on Graham.
"I just have to get my hands on him and beat him up," said Allen, echoing the theme of the game plan.
The Jets have to play the game in the trenches, not on the perimeter. It's the only way to beat the Saints, a new-age team disproving the time-honored doctrines of the sport.
"I think the game has changed a little bit, obviously," Rex Ryan said. "When you're that prolific throwing the football, as they are -- and New England and Denver are -- that's how you get away with it."
The Jets have to turn back the calendar and go old school on the Saints. It's their only chance.
October, 30, 2013
10/30/13
8:00
PM ET
FLORHAM PARK, N.J. --
Drew Brees
laughed over the phone.
The
New Orleans Saints
quarterback was asked Wednesday to respond to Rex Ryan's statement from Monday, the one where he said Brees will throw for 700 yards if the
New York Jets
' pass defense doesn't improve.
Brees
"Obviously," Brees said on a conference call with the New York media, "that's a slight exaggeration."
Slight? Does that mean he expects to throw for 600 yards? How 'bout 500?
Brees, who averages 327 yards per game, has to be feeling good about his chances after watching the Jets' horror show in Cincinnati, where
Andy Dalton
threw for 325 yards and five touchdowns in three quarters.
Since then, Ryan has been poking his defense with half-joking public comments about how they could be embarrassed by the high-scoring Saints. He did it again Wednesday.
"I told the team this: 'Quite honestly, [the Saints] are going to watch that tape from what happened and I wouldn't be surprised if Drew Brees and company aren't on the flight here early to make sure they got here,'" Ryan said.
Brees made sure to toss a few obligatory compliments toward the Jets' defense, claiming last week was an "aberration. ... That's not what you usually see when you turn on the film with th Jets' defense. Usually, they're pretty stifling, so I don't put much weight in that game last week."
Brees' favorite receiver is tight end
Jimmy Graham
, but his playing time and productive have declined the last two games because of a foot injury. He played only 17 snaps last week after averaging 49.6 snaps in the first seven games, according to ESPN Stats & Information. He caught only three passes last week, but two of them went for a touchdown.
Graham probably will be covered by safety
Antonio Allen
, who did a nice job two weeks ago against New England tight end
Rob Gronkowski
.
"It's been much the same type of matchup," Allen said. "They're both tall, physical guys. You have to beat them up and be physical with them."
Allen has another strategy: "Be a tick to him. Annoy him."
It's safe to say that, in the end, someone will get stung.
May, 19, 2013
5/19/13
5:00
AM ET
A quick check on the Jets:
1. Double trouble
: John Idzik has a solid plan for rebuilding the Jets, but the plan isn't foolproof, as we now know. The new GM endured an
Ike Davis
kind of week, as he apparently has swung and missed on his first two free-agent signings -- QB
David Garrard
(
retired
) and RB
Mike Goodson
(
arrested
). Fortunately for the Jets, they weren't huge financial commitments, but that doesn't mean Idzik gets a pass. In both cases, he took a calculated risk -- and came up short.
The idea of signing a player of Garrard's ilk was smart, but they bet on damaged goods. He spent two years out of football and
his knee problems were widely known
. An AFC personnel executive told me at the time of the signing, "His knee is a concern. He'll look fine in drills, but I don't know if he can take a hit." Turns out that Garrard, 35, couldn't cut it in drills, either, prompting his abrupt retirement. Now there's a hole in Idzik's quarterback plan.
Goodson arrived with
character concerns
. There was nothing major on his record, but he bounced from the Panthers to the Raiders before becoming a free agent, and it always raises suspicions when a player with raw talent is on the move. The questions centered on his attitude and personal issues, a league source said. The Jets took a chance, betting on his upside with a three-year, $6.9 million contract. Now his future with the team is a major question mark after Friday's arrest on drug and weapon charges. An opposing scout, familiar with Goodson's background, said of the Jets: "Do these guys do background checks?"
They do, but there's risk with virtually every acquisition. Idzik assessed risk versus reward, arrived at a value and pulled the trigger for Goodson and Garrard. If you're a Jets fan, you hope these were only two blips on the screen and not indicative of Idzik's evaluation skills.
2. How 'bout a refund?
It'll be interesting to see how Idzik handles the Goodson situation. He cut the two nobodies arrested recently for possession of marijuana, Claude Davis and Cliff Harris, both of whom were signed by the previous administration. But that doesn't mean he will take the same approach with Goodson, whose contract includes a $1 million signing bonus. The bonus is divided into payouts, and I'm told he has yet to receive the full amount; he has pocketed at least $500,000. If Idzik tries to send a message and decides to cut him before the legal process plays out, it would be harder to recoup the money, according to a source. He'll have a better chance if he waits for the courts (and the league) to rule on the matter.
3. Wounded knee
: Garrard missed some workouts early in the offseason program, a source said, fueling speculation in the locker room that he wasn't right, physically. In recent practices, he was sharp on his short throws, I'm told, but he labored on longer routes because he couldn't drive the ball, probably because of his balky knee. As a result, he bounced some passes. Maybe Garrard read the handwriting on the wall, seeing
Mark Sanchez
and rookie
Geno Smith
make throws he no longer could complete. Before the knee complications, the organization felt Garrard had a decent chance of emerging as the starter until Smith was ready.
4. A cool Brees
: For those wondering if Sanchez still can get his career turned around, we bring you the story of
Drew Brees
, who received a second chance with the Chargers because of the actions of another quarterback on the roster. Brees played poorly in his third season (2-9 record, 67.5 passer rating), prompting the Chargers to draft
Philip Rivers
in 2004. Rivers would've started as a rookie, but he derailed his chances with a long holdout. They had no choice but to stick with Brees, who responded with his first Brees-like season. Sometimes athletes need to see the end before they can create a new beginning. Can Sanchez capitalize on his break (Garrard's retirement) in the same fashion? Food for thought.
5. The dilemma
: The Jets are billing it as a fair and open competition, but is it really? Make no mistake, Smith is the preferred candidate. If he proves capable of running the offense, he'll be the Week 1 starter. But would that be the wise move? Not every rookie turns into
Russell Wilson
, you know. Considering the dearth of skill-position talent on offense, Smith probably would struggle. Unless he's
Robert Griffin III
, he could get swallowed up by the enormity of the challenge, perhaps at the expense of his psyche. The right thing to do, based on what we know now, would be to start Sanchez and make him the sacrificial lamb for a few weeks. But for this organization, which is suffering from Sanchez fatigue, there could be a temptation to ignore the right thing and do what
feels
right, which would mean starting fresh with Smith. Mark my words, this will become an internal debate if the competition is close.
5.a. Geno's pinnacle
: This is what a longtime GM told me last week about Smith: "When I saw him against Texas [25-for-35, 268 yards, four TD passes], I said to myself, 'There's the No. 1 pick in the draft.' That's what he looked like. As the season went on, though, he never had any bring-back moments. He was a lot closer to ordinary." West Virginia lost five straight after the Texas win, dropping to 5-5.
6. All the king's men ... gone:
When Rex Ryan was interviewed for the head-coaching vacancy in January, 2009, he met with four team officials -- owner Woody Johnson, GM Mike Tannenbaum, assistant GM Scott Cohen and scouting chief Joey Clinkscales. Don't look now, but three-quarters of that room is gone.
Cohen became the latest casualty of the administration change
, as his expiring contract wasn't renewed. Clinkscales
left a year ago for the Raiders
and Tannenbaum, of course,
was fired
.
Idzik might have an understated personality, but he has made it abundantly clear he's no wallflower when it comes to moving and shaking. He gutted the roster and gutted the front office, as he attempts to surround himself with his people. Ryan can't feel too comfortable. I have no reason to doubt Idzik's sincerity when he says nice things about Ryan, but the law of the NFL jungle usually prevails in these situations. GMs want to hand-pick their coach. Ryan needs a miracle season to save his job.
7. Survivor
: One holdover expected to survive the purge is senior personnel executive Terry Bradway, who served as GM from 2001 to 2005 before slipping into a background role. It's unclear, however, if his role will change. Idzik will hire former Cards GM Rod Graves for a front-office position, CBS Sports reported. They worked together in Arizona. There was buzz in the scouting community that Idzik was interested in ex-Seahawks personnel director Will Lewis, another former colleague, but he was hired by the Chiefs. The Jets have at least three front-office positions to fill.
8. Tebow laughs
: Speaking to a church group Friday night in his hometown of Jacksonville, former Jets QB
Tim Tebow
was asked to name his most memorable moment in 2011, when he led the Broncos to the playoffs.
"One of my favorite stories, ironically, was against the Jets," he told the audience, according to the Florida Times-Union -- a reference to his last-minute win in Denver. With excellent timing, he added, "And probably my greatest Jets highlight, I guess." At least he can laugh about it.
9. Money for nothing
: Between Garrard and
Drew Stanton
(remember him?), the Jets spent $600,000 in signing bonuses for quarterbacks that never made it to minicamp.
10. Sloppy seconds
: Smith became the fourth quarterback to be drafted in the second round by the Jets. The first three went a combined 12-29 -- Al Woodall (5-14),
Browning Nagle
(3-10) and
Kellen Clemens
(4-5). I don't think Woodall fired his agent, though.