New York Jets:

Drew Coleman
January, 5, 2011
1/05/11
8:11
PM ET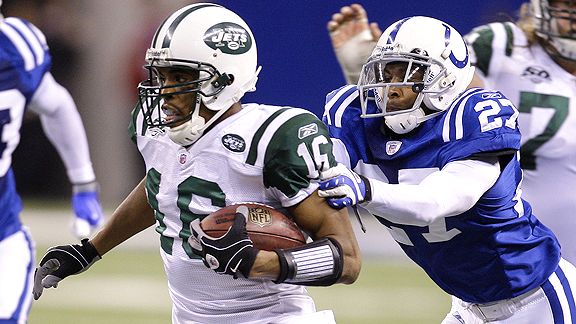 AP Photo/Darron CummingsBrad Smith and the Jets are going to Indianapolis for the third time since December 2009.
FLORHAM PARK, N.J. -- If you ask
Brad Smith
about himself, about the way his college quarterbacking skills give the New York Jets a special facility with the Wildcat, about the returns for touchdowns and -- dusted off last weekend -- his bursts of speed running the ball, he will smile and answer politely.
But it will be about the blocks on that running play, or the teammate who created a gap on the return. The Jets' most versatile player is also the least likely to stand up and talk about it. This is about as bold as Smith gets:
"I think in every game I want to be a catalyst for this team, making a special teams tackle or whatever it is," Smith said. "I want to be the guy to get things going or making a play."
Clearly, Jets coach
Rex Ryan's
locker room speeches haven't rubbed off on the understated Smith, who played quarterback at Missouri. Back then he became the first player to pass for 2,000 yards and rush for 1,000. Now in his fifth season in the NFL, Smith is the only player since 1933 to have scored touchdowns in four ways: as a receiver, as the passer, on a return and by returning a blocked punt.
"Having Brad on your team, he has a knack for making plays," cornerback
Drew Coleman
said.
Last year in a regular-season game against the Colts, Smith returned a kickoff for a touchdown, and since then he's been nonstop. Coleman said there is so much respect for Smith that when he has the ball, he gets his teammates' best effort.
"When Brad returns punts," Coleman said, "everybody wants to see him be successful. So everybody goes the extra mile to help block, and get him a good look."
Even grizzled special teams coordinator
Mike Westhoff
-- who does not gush about much of anything -- makes an exception for Smith.
"I'm a Brad Smith guy," Westhoff said. "I love him."
Now heading back to the place where he was able to put up some points on a return, only to see the Jets lose the game, Smith is excited about the opportunity to play the Colts again.
"It's the playoffs," Smith said. "We get to go to their place and play a team that beat us in the AFC championship a really good team. It's really what you play for other than the Super Bowl and all that, but this is part of the process."
Offensive coordinator
Brian Schottenheimer
said that each game there are between eight and 10 Wildcat plays that call for Smith. On some of them, he has an option to switch from a run to a pass, depending on what the defense presents. Right now Smith has 38 rushes for 299 yards and a touchdown, and four catches for 44 yards.
"It's no secret how valuable he's been to the offense, let alone special teams," right guard Brandon Moore said.
It's no secret, but you probably won't hear about it from Brad Smith.
December, 24, 2010
12/24/10
4:41
PM ET
Friday's official practice report:

NEW YORK JETS

OUT
DL Trevor Pryce (limited participation) (hip)
T Damien Woody (did not participate) (knee)

DOUBTFUL
S Eric Smith (limited participation) (concussion)

QUESTIONABLE
S James Ihedigbo (limited participation) (knee/ankle)

PROBABLE
CB Drew Coleman (full participation) (groin)
CB Antonio Cromartie (full participation) (groin)
WR Santonio Holmes (full participation) (turf toe)
C Nick Mangold (full participation) (shoulder)
CB Darrelle Revis (limited participation) (hamstring)
QB Mark Sanchez (limited participation) (right shoulder)
WR Brad Smith (full participation) (hand)

CHICAGO BEARS

PROBABLE
WR Earl Bennett (full participation) (ankle)
LB Pisa Tinoisamoa (full participation) (knee)

October, 11, 2010
10/11/10
6:12
PM ET
Drew Coleman didn't have any of his Texas friends book tickets to come to New York during training camp. He didn't want anyone to risk big dollars when he felt he could be traded or, even worse, not make the 53-man roster.
"I'm just trying to make sure I'm on the team first. I'm on the team? Ya'll come on up," Coleman said.
Coleman, who has been with the Jets since 2006, was never in any real danger of being cut, at least as fast as defensive coordinator Mike Pettine was concerned.
"In our minds, as a defensive staff, he was never on the bubble," Pettine said. "He was a guy that if there was ever an inkling on him not being here, there would have been a mad rush upstairs. From day one, we've always recognized the fact that Drew was a legitimate corner in this league and as Rex (Ryan) has said, you can never have enough guys at that position."
A few weeks ago he gave them his hometown friends the OK to come to tonight's game, which is good timing on a few fronts. Coleman will be the third cornerback in the Jets rotation tonight, which means he'll be starting in the nickel for the second straight week.
"Starting kind of overwhelmed me a little bit, OK, I've got to be ready from the jump," he laughed.
Coleman overtakes rookie Kyle Wilson, who has been lauded for his athleticism but may need more seasoning when it comes to starting in the NFL. Antonio Cromartie, the team's No. 2 cornerback said that Coleman has earned it.
"He just enjoying it, he's taking advantage of his opportunity," Cromartie said. "For him to come in and make the plays that he's making it's a good feeling because now we know we have a good No. 3 cornerback."
Darrelle Revis said he will play for the first time since injuring his hamstring against Randy Moss and the Patriots, and Revis will likely be on Moss again after he was traded to the Vikings. Nonetheless, Coleman might find himself matched with Moss, who addressed the possibility with a sense of humor.
"I can run with him I just can't jump with him, so I've got to find a way to keep him on the ground," Coleman said.
Usually Coleman plays a lot of special teams, and special teams coordinator Mike Westhoff said that Coleman's expanded role in the defense will affect coverage on kickoffs and punt returns.
"It affects special teams because they play a certain amount of snaps and it makes it a little different," Westhoff said. "I'm sure you saw last week Kyle was on our kickoff coverage team. He covered every kickoff. It's all part of the process."
Coleman may not be as big a name as Brett Favre, Randy Moss, Revis and tonight's other majoy story lines, but in some ways, this game is as big for him as anyone else.
October, 1, 2010
10/01/10
4:03
PM ET
The promotion came as a total surprise to Drew Coleman.

As Jets training camp came to a conclusion, Coleman, a cornerback, remembers talking to Jets head coach Rex Ryan and accepting his role of primarily being a special teams player, but being ready to play in the secondary when needed. He even took a pay cut to just remain a member of Gang Green.

Now, four weeks into the season, Coleman has earned the status of being a starting cornerback on a team littered with Pro Bowl and first-round corners. Coleman will start Sunday's game against the Buffalo Bills, filling in for the injured Darrelle Revis and surpassing first-round pick Kyle Wilson as the corner opposite Antonio Cromartie.

"I just went in to practice every day trying to get better," Coleman said. "Just watching Cromartie, watching Revis, talking to Kyle. Just trying to stay focused in the game just in case my number was called so I can go in and be productive."

Coleman played a signature role in the Jets' 31-23 win at Miami on Sept. 26, sealing the game with a last-minute interception in the endzone. With Wilson struggling in his first year, Coleman now gets to continue to show what he's been learning from observing the talented crew of Jets' cornerbacks.

The fifth-year player said that he's always talking to Revis and Cromartie, trying to discover what they were thinking on a play and try and compete like they do. He added that watching the Wilson, Revis and Cromartie work together has also helped him learn how they play with each other. Coleman also added that he benefited from learning to play with Cromartie and Wilson when Revis was not in camp, which has prepared for him to play in the secondary the past two weeks without Revis.

Compared to his usual backup role, Coleman said there's a different edge going into this game in which he knows he will play more snaps than usual.

"Now I'm on the field there's going to be a lot more plays and so you have to brace myself and just continue to compete with them guys knowing they're going to make some plays," Coleman said. "We know they're going to make some plays so keeping my head up and just going out there and continuing to fight with them guys knowing it's going to be a long tough game. It always is with Buffalo."

Ryan said that Coleman has earned the start after beginning at the bottom of the totem pole and working his way up.

"I think this season he has elevated his game," Ryan said. "He studies, he knows the defense, he knows what we expect, his coverage is tight. He's better at recognizing routes in my opinion and he's playing them. He just seems to be a more aware football player in my opinion. He's always had great quickness change of direction type of athlete, always had that, but it's just that awareness. I think he's really dialed in."
October, 1, 2010
10/01/10
11:33
AM ET
Linebacker Calvin Pace and cornerback Darrelle Revis both participated in drills during the portion of practice open to the media Friday morning.

Pace, who returned to practice for the first time Wednesday after breaking his right foot, went through drills and gingerly participated in a defense-on-defense practice situation. It has not been determined yet whether he will play Sunday against Buffalo.

Revis, who's dealing with a hamstring issue that will keep him out of Sunday's game against the Bills, also participated in the defense vs. defense drill. (Update: Rex Ryan later classified Revis' work as individual drills.)

Linebacker Jason Taylor, who was limited yesterday with his elbow injury, was practicing as well.

Newly signed defensive lineman Trevor Pryce, who will wear No. 93, practiced with the team.

Corner Drew Coleman also appeared to be working with the first-string defense.
September, 25, 2010
9/25/10
11:18
AM ET
Jets defensive back James Ihedigbo has a message for any Miami Dolphins expecting a repeat of last season's game at Giants Stadium, when Miami returned two kickoffs for touchdowns against the Jets.

"We're going to make a statement, special teams-wise and as a team, coming into this game. If they're thinking that, yeah, they had those two kick returns last year and that is going to go down again this year, they're mistaken," Ihedigbo said. "Because we're playing some of our best football in special teams since I've been here. We're going to make a note to make a statement this game."

After allowing two backbreaking kickoff returns to former Dolphins receiver Ted Ginn Jr. in last year's 30-25 home loss to the Dolphins on Nov. 1, the Jets special team unit is out to make sure it can hold up its end of the bargain this time against the Dolphins. The two touchdown returns were the only returns for scores the Jets allowed all of last season.

"That was last year," Ihedigbo said. "We're looking at this year and what we're trying to do this year. That all happened last year and there's no control over it now, but we can control Sunday night."

In that dubious loss, the Jet statistically dominated the Dolphins, giving up just 104 yards of total offense. Yet, the Jets inability to defend kickoffs turned out to be the deciding factor. Ginn Jr. first returned a kickoff 100 yards to give the Dolphins a 10-6 early in the third quarter, and later extended the Dolphins lead to 24-13 with a 101-yard return.

"We looked at the film this whole week about how last season, when Ted Ginn made those two runs, we had him. We just didn't the tackle, so it's all about us," defensive back Drew Coleman said. "We never really go into a game worried about their returners. As long as we do what we do and get down there and stay in our lanes and make plays or fight over the blocks like we're supposed to. Our technique, our assignment, we just got to go finish. That's the main thing we're worried about instead of the returners."

Helping the Jets in that cause will be Ginn Jr.'s departure from Miami this offseason, as he was traded to the San Francisco 49ers. Head coach Rex Ryan is certainly pleased to know he won't have to worry about Ginn Jr. burning his team once again.

"Ted Ginn destroyed us," Ryan said. "I know people in Miami said he was disappointing and all that. You look at the game last year against us, he destroyed us. He caught a long touchdown pass against us, he returned two kicks for touchdowns, so hopefully that will hurt them this week."
August, 17, 2010
8/17/10
4:04
AM ET
EAST RUTHERFORD, N.J. --
Mark Sanchez
started with a hiccup, but settled down nicely.
LaDainian Tomlinson
provided a couple of moments that made you think there's still some life in those old legs. There were other positives for the New York Jets, but something was missing in Monday night's preseason opener.
That something is named
Darrelle Revis
, and the ripple effects of his holdout were apparent in the 31-16 loss to the New York Giants in the football grand opening at the New Meadowlands Stadium.
Full story from Rich Cimini »