September, 22, 2013
9/22/13
6:00
AM ET
Some quick thoughts and observations on the Jets as we head into Week 3:
1. Arms race:
The perception that
Geno Smith
was the Jets' slam-dunk quarterback preference going into the 2013 draft isn't accurate. Smith and
EJ Manuel
, whom they face Sunday at MetLife Stadium, were "very close" on the Jets' draft board, according to former scout Joe Bommarito. "We had both guys up there high," he said.
Bommarito declined to divulge anything more specific than that, except to say both quarterbacks were grouped together on the same line on their board, meaning they probably had similar grades. If Smith hadn't been available in the second round, Bommarito said, they would've happily picked Manuel at No. 39 overall. Manuel took a pre-draft visit to the Jets' facility and felt the coaches liked him enough to take him.
As it turned out, the Jets passed twice on both quarterbacks (with the ninth and 13th picks). By the time they got to 39, Manuel was long gone, picked 16th by the Bills.
Bommarito's take on the two rookies: Smith has the stronger arm, Manuel gets the edge in accuracy. So far, you'd have to give the early lead to Manuel, who has made fewer mistakes than Smith. But we'll learn more about Manuel by the way he handles his first road game.
[+] Enlarge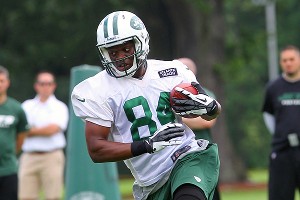 Ed Mulholland/USA TODAY SportsA former Jets scout said that the team considers WR Stephen Hill, a 2012 second-round draft choice, a "four-year project."
2. The Hill Project:
Bommarito, whose contract wasn't renewed after the draft, spent a dozen years as a Jets scout. One draft pick that caused a considerable amount of angst among fans (and some in the organization) was WR
Stephen Hill
, whose inconsistency is maddening. Bommarito is a Hill fan, but he acknowledged, "One minute, you're excited about the guy. Other times, you're like, 'Oh, really?' He's a four-year project. You have to be patient with him." He was alluding to Hill's limited background in the passing game. But four years? That's a lot of waiting in the NFL, especially for a second-round draft pick in 2012.
For more Jets-related insights from Bommarito, check him out on Twitter. His handle is @AskTheScout.
3. Rex's coaching tree
: Both Rex Ryan and Bills defensive coordinator Mike Pettine insist everything is cool between them, and that there was no falling out at the end of last season. Ryan told me he wants Pettine to succeed in his new gig. Another former Ryan assistant, Chiefs defensive coordinator Bob Sutton, is off to a great start. Before Thursday night, the Jets and Chiefs were ranked first and second in total defense, respectively, among AFC teams.
"I'm proud of Bob Sutton, too," Ryan said. "Somehow, maybe I helped a little bit. I'm proud to have a little bit of a coaching tree."
4. Nate (Can) Hackett:
Speaking of coaching trees, what's better than a father-son deal? Bills offensive coordinator Nate Hackett is the son of former Jets OC Paul Hackett, who served under Herm Edwards from 2001-04. Hackett, a Bill Walsh disciple, was a lightning rod for criticism. He got beat up pretty badly in this town, so much so that he resigned under pressure after the Jets' playoff run in Jan. 2005. The tabloids cranked out plenty of "Paul Can't Hack-it" headlines.
His son, 33, the second-youngest coordinator in the NFL, is a rising star in the business. Bills coach Doug Marrone, the offensive line coach on that same Edwards staff, hired Nate at Syracuse. That's where they developed the up-tempo offense they're using in Buffalo, and it happened almost by accident. About two weeks before the 2012 opener, the Syracuse offense was getting dominated by the defense in practice. They needed to shake it up, so Marrone and Hackett junked their old offensive system and developed a hurry-up attack on the fly. That's what you call a true hurry-up.
5. The big trade
: Jets OT
Ben Ijalana
, a former second-round pick of the Colts, was "excited," but not surprised his old team made the blockbuster trade for RB
Trent Richardson
. Ijalana said, "This is now for the Colts. There's no later. They have Lombardi aspirations. It's no secret. They talk about it all the time."
It's great to have an aggressive organization, but I think this was a panic move by the Colts, who surrendered a first-round pick to the Browns. Richardson gives them a legitimate running back to help QB
Andrew Luck
, but he won't be a game changer behind that offensive line. Luck is only a second-year player, so the window of opportunity will be open for many years. Like I said, they panicked.
6. Impact on the Jets:
The Colts/Browns trade could affect the Jets in 2014. Clearly, the Browns are in the market for a franchise quarterback, and now they have two first-round picks to wheel and deal their way to the top passer in the '14 draft, presumably Teddy Bridgewater of Louisville. The Browns own five picks in the first three rounds, plenty of ammunition to make trades. If the Jets don't like what they see from Geno Smith and want to draft another quarterback, it'll be really hard to move ahead of the Browns.
Then again, after trading their best player, the Browns could up with the No. 1 pick without having to trade up.
7. Rex and Marty Show:
Mark my words, you'll be hearing the phrase "run-pass ratio" a lot throughout the season. The chatter already has started. Ryan is saying all the right things, claiming he's all-in with Marty Mornhinweg's pass-heavy approach, but this bears watching. Ryan is a defensive-minded coach and defensive-minded coaches have "ball control" in their DNA, especially when there's a rookie quarterback involved. Under Mornhinweg, they're running the ball in only 37 percent of the plays. In 2009,
Mark Sanchez
's rookie year, they ran 59 percent of the time.
8. Class of '13
: GM John Idzik is getting a lot of bang out of his first draft, at least in terms of playing time. Smith and FB
Tommy Bohanon
have played in 100 percent and 43 percent of the offensive snaps, respectively. For DT
Sheldon Richardson
and CB
Dee Milliner
, it's 90 percent and 78 percent of the defensive snaps, respectively. Milliner, benched at halftime last week, will be part of a rotation against the Bills.
9. The Iron Man
: LT
D'Brickashaw Ferguson
has started every game in his career (114) and has missed only one play. There have been 7,330 offensive plays since his rookie year, 2006, according to ProFootballReference.com
10. Keeping up with Mr. T
: Former GM Mike Tannenbaum is off to a fast start in the agent business, having signed at least 20 new clients from the coaching and media ranks. Sports Business Journal
catches up with Tannenbaum
to see how he's enjoying his new gig.
September, 21, 2013
9/21/13
6:00
PM ET
NEWARK, N.J. -- The
Buffalo Bills
were one of just three teams to open with back-to-back home games. With a 1-1 record, they travel Sunday to face the
New York Jets
.


It's the second divisional tilt in three games for the Bills, who were edged in their opener by the
New England Patriots
. If the Bills can improve to 2-1, they'll keep pace in the AFC East with the Dolphins and Patriots, who enter the weekend 2-0. If they drop to 1-2, then they will sit at the bottom of the division before heading home to meet the
Baltimore Ravens
.
This game features a matchup of the NFL's top two rookie quarterbacks this season --
EJ Manuel
of the Bills and
Geno Smith
of the Jets -- as well as a reunion of two old friends. Bills defensive coordinator Mike Pettine coached 11 seasons under Jets coach Rex Ryan, and the two defensive-minded coaches will try to scheme against each other's offense Sunday.
Here's what to watch for:
1. Spiller's impact:
Bills running back
C.J. Spiller
had 325 yards from scrimmage in two games against the Jets last season. After a slow start in the opener, Spiller came on strong last week against the Panthers, breaking open a pair of big runs while eclipsing the 100-yard mark rushing. The Jets boast the NFL's third-best rushing defense heading into Week 3, allowing an average of 59.5 yards through two games. The Bills have the NFL's fourth-most effective rushing offense. Something will have to give on Sunday, which could help decide the game's outcome.
2. How do rookies fare?
On the surface, it may seem that Manuel and Smith will be in for a long day, playing against two defenses that have ranked in the top half of the NFL in points allowed through two games. But both quarterbacks have the advantage of seeing the general framework of the other team's defense in practice each week; Pettine and Ryan run essentially the same system. Practice and games are two different animals, so it will be worth monitoring how each quarterback responds to what could be blitz-heavy packages in game action, but you almost have to wonder if the Ryan-Pettine effect is overplayed. Both teams figure to be run-first on offense, but maybe this game will feature more passing than first anticipated.
3. Mario vs. Jets O-line:
Jets outside linebacker
Antwan Barnes
said Wednesday that he expects his offensive line to hold up against Bills defensive end
Mario Williams
, who set personal and team records with 4.5 sacks last week. Barnes, of course, won't be out there having to block Williams: that duty will fall to
Austin Howard
, who handled Williams well last season. Williams played a big part in disrupting
Cam Newton
last Sunday, and if he can get to Geno Smith, you'll have to wonder if it leads to some chippiness after plays between the Bills and the Jets, who had a fracas with the Patriots late in their Week 2 game.
September, 20, 2013
9/20/13
5:00
PM ET
FLORHAM PARK, N.J. -- After a 10-day break, the
New York Jets
(1-1) play another AFC East game, facing the
Buffalo Bills
(1-1) Sunday at MetLife Stadium. Kickoff is 4:25 p.m., ET. The top storylines:
1. The Rookies
: This could be the first of many meetings between
Geno Smith
and
EJ Manuel
. Chances are, one team will be able to sit back at the end of Sunday and say, "We picked the right guy." After two games, Manuel has been more efficient than Smith, but he's also being used differently. At 6-foot-4, 237 pounds, Manuel is an oversized point guard, leading a fastbreak offense. (The Bills average one play every 22 seconds, the fastest offense in the league.) He's basically a dink-and-dunk passer, having completed 75 percent of his throws under 10 yards (39-for-52), according to ESPN Stats & Information. Manuel doesn't stretch the field that often.
The Jets should take that approach with Smith, who has struggled on downfield passes. In fact, three of his four interceptions have come on throws of at least 15 yards. This is a big game for Smith, who encountered his first taste of adversity last week in New England. Will that affect his confidence? He says no, but that's what they all say. We'll find out Sunday. For trivia geeks, this mark the second game in Jets history with two rookies starting at quarterback. The first occurred during the 1987 strike, when replacement players David Norrie and Kevin Sweeney (
Dallas Cowboys
) faced off in an forgettable battle.
[+] Enlarge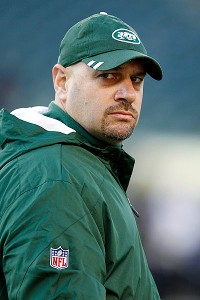 William Perlman/USA TODAY SportsMike Pettine spent 11 years with Rex Ryan before becoming the defensive coordinator in Buffalo.
2. Rex vs. Rex Lite
: This game could be decided by which defensive play caller (Rex Ryan or former Jets coordinator Mike Pettine) does a better job of creating misery for the opposing rookie quarterback. Ryan and Pettine, who spent 11 years together, are likeminded coaches in that they like to bring pressure and create confusion at the line of scrimmage.
Manuel is a cool customer -- an 88-percent completion rate under pressure, according to ProFootballFocus -- but you can bet Ryan will hit him with something he's never seen before. The knock on Manuel coming out of Florida State was that he's a one-read quarterback. In other words, shut down his first progression, make him hold the ball and he's liable to make a mistake. Meanwhile, Smith has demonstrated poor pocket presence at times. If Pettine can muddy the pocket, it'll probably lead to bad decisions by Smith.
3. Marty's dilemma
: Conventional wisdom says the Jets should protect Smith by emphasizing the ground game, hardly the strength of the Buffalo defense. But Marty Mornhinweg is infatuated with the pass (he actually thinks a pass-run ratio of 63-37 is a lot of running in his offense), and he will be tempted to attack a beat up Bills secondary. They won't have cornerback
Stephon Gilmore
, and there's a good chance safety
Jairus Byrd
will miss the game as well. This could be a breakout game for
Santonio Holmes
, who unlike some of his fellow receivers, can actually catch the ball.
4. Austin needs power
: Right tackle
Austin Howard
, in his first start for the Jets, made defensive end
Mario Williams
look pedestrian in last season's opener. In fact, Williams was held sackless in two games against the Jets. Ah, but now he's coming off a career game (a team-record 4.5 sacks) and he'll be looking for payback. Howard needs to eat his Wheaties because this will be a power-on-power matchup.
Williams used his bull rush last week, abusing
Carolina Panthers
right tackle
Byron Bell
. Williams finished with 11 hurries, according to ProFootballFocus, but he also received help from excellent coverage. Three of the five sacks were coverage sacks, with
Cam Newton
holding the ball for at least five seconds on each play. Memo to Geno Smith: Don't do that or else you'll be on the ground. A lot.
5. Here comes Spiller
: The Jets' run defense, a problem last season, has improved considerably. In the first two games, they held
Doug Martin
and
Stevan Ridley
-- both 1,200-yard rushers in 2012 -- to a combined 105 yards and 2.6 per carry. Bills running back
C.J. Spiller
presents a different challenge because ... well, he's so damn fast. The Jets know all about Spiller, who produced 325 yards from scrimmage against them last season. He will test their perimeter run defense and he could be a major headache when he's split out as a receiver.
Speedy linebacker
Demario Davis
could play a huge role in their plans to contain Spiller, who has only two rushing touchdowns in his last 12 games -- a curious slump. The Jets can't forget about running back
Fred Jackson
. The Bills are gashing defenses (7.6 yards per rush) when running Jackson out of a one-back, three-receiver spread formation. In those situations, Davis and fellow linebacker
David Harris
will have to excel in space.
September, 20, 2013
9/20/13
12:00
PM ET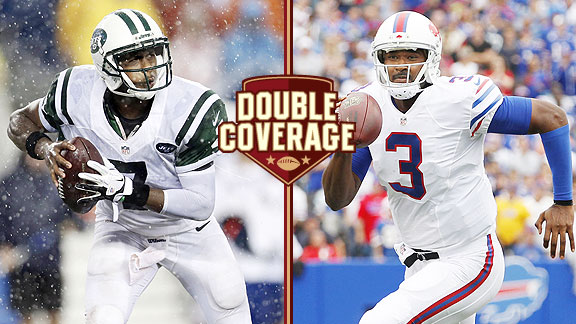 USA TODAY SportsAFC East rookie quarterbacks Geno Smith and EJ Manuel face each other for the first time.
The quarterback situation in the AFC East can be described this way:
Tom Brady
and the young guns. Two of the young guns will face each other Sunday at MetLife Stadium, where the
New York Jets
and
Buffalo Bills
-- both 1-1 -- will be battling to stay out of last place in the division.
The Bills had their choice of any quarterback in the draft, and they selected
EJ Manuel
with the 16th pick. The Jets, who had the ninth and 13th picks, rated
Geno Smith
over Manuel but waited until the 39th pick before taking him. So far, Manuel is off to a better start than Smith, at least from a statistical standpoint, but this rivalry could last years. Both teams are hoping for that, anyway.
This should be a competitive game, as both teams appear to be at similar stages of development. The Bills are rebuilding with a new coach, former Jets assistant Doug Marrone, and the Jets are rebuilding with the same old coach, Rex Ryan. They have other things in common: They both suffered close losses to the
New England Patriots
and they both beat a team from the NFC South -- the Bills the
Carolina Panthers
, the Jets the
Tampa Bay Buccaneers
.
ESPN Jets reporter Rich Cimini and ESPN Bills reporter Mike Rodak discuss the matchup:
Cimini
: Mike, New York is a quarterback-obsessed town, so I think there will be a lot of interest in Smith versus Manuel. If Smith becomes a bust and Manuel a star, the Jets will be second-guessed for passing on Manuel. Hey, that's the way it goes. The old-timers are still ticked off the Jets picked
Ken O'Brien
over
Dan Marino
. Smith has played well in stretches, but the early trend is that he'll hit a funk. In Week 1, it was the second quarter. In Week 2, it was the fourth quarter -- three interceptions. What about Manuel? I know he missed some time in the preseason. What do you like (and not like) about his game?
Rodak
: Rich, I've been impressed with Manuel's demeanor more than anything. He has the walk and talk of a franchise quarterback, and that sense has only grown for me since early in the preseason. The loss of
Kevin Kolb
was unfortunate for him and the Bills, but I think it was the best thing to happen to Manuel. The pressure is off and the job is his, and that's one of the reasons why I said in our ESPN.com preseason predictions that he will be Offensive Rookie of the Year. Here's the caveat for me, though: He needs to keep his bad mistakes in check. I think the most encouraging thing about his performance in the preseason and the regular-season opener was that he didn't commit costly turnovers. But Sunday, he was strip-sacked and threw a bad interception and was lucky to have his defense come up big both times and keep the game close. That might not happen against better opponents or on the road. Other than the quarterbacks, the biggest storyline coming out of this game is the return of Bills defensive coordinator Mike Pettine to MetLife Stadium to face his old team. What's the feeling like between Ryan and his former assistant, and what sort of chess match can you see developing between these defensive minds?
Cimini
: The Ryan-Pettine relationship is interesting. Basically, Ryan gave him his big break in the business, nurtured him for a decade, handed him the defense last season, and suddenly it was Splitsville. It was a curious departure, considering Pettine made a lateral move to the Bills. Deep down, I think they like and respect each other, but I think they both realized the relationship had run its course. As for the chess match, it will be fascinating. Let's put it this way: I wouldn't want to be a rookie quarterback, facing one of these guys. Ryan, the Jets' de facto coordinator, can confuse inexperienced quarterbacks with pressure and simulated pressure. Heck, he confused Brady last week. That Manuel faced a Ryan-like scheme all spring and summer will undoubtedly help him. Of course, the same could be said for Smith. I know this much: Ryan and Pettine are highly competitive, and there's more personal pride on the line than either one will admit. Ryan has a different challenge in that he'll have to face an up-tempo offense. Tell me more about the Bills' hurry-up.
Rodak
: It's been evident that the Bills want to move fast, but I think they still want to speed things up some more. The problem in the first game was not converting third downs. Regardless of how fast they got plays off on first and second downs, they were 4-for-13 on third down, which often took the up-tempo offense off the field quickly. They improved to 6-for-14 on third down in Week 2, but more importantly jumped from 15 first downs to 24 first downs, evidence of a better showing on early downs. Marrone also said Monday that there were problems with the coach-to-quarterback communications system, another factor in the offense not reaching its desired efficiency. So while we've seen glimpses of the pace the Bills want to run, it hasn't always been there.
September, 17, 2013
9/17/13
6:00
AM ET
There's no such thing as a must-win in September, but this one comes darn close -- the Jets (1-1) hosting the Bills (1-1) Sunday at MetLife Stadium. The Jets need it, badly, coming off a tough loss to the Patriots.
Aside from the obvious impact on the AFC East standings -- loser owns the basement -- it's huge for the Jets because of the various circumstances surrounding the game. It's a battle of the rookie quarterbacks --
Geno Smith
vs.
EJ Manuel
. The Jets passed twice on Manuel in the draft (ditto, Smith), but they had Smith rated higher on their draft board. Now he gets a chance to validate that faith.
It's also teacher vs. pupil, Rex Ryan facing former Jets defensive coordinator Mike Pettine, who holds the same position with the Bills. It would be embarrassing for the Jets if Pettine, using what he learned from Ryan, handles Smith better than his mentor does with Manuel.
Plus, it's a division game. You can't lose division games at home. The Jets have owned the rivalry in recent years, having won six of the last seven (they lost the 2012 season finale), but you get the sense there's a new energy in Buffalo under rookie coach Doug Marrone.
ICYMI
:
Positive news on the injury front
: DE
Muhammad Wilkerson
(sprained ankle), WR
Jeremy Kerley
(concussion) and LB
Quinton Coples
(fractured ankle) were on the practice field Monday, participating to varying degrees. Did the Jets miss Kerley or what? ... Smith is finding out what it's like to be
involved in a quarterback controversy
. On Monday, he was grilled with questions about his week-to-week status, about
Mark Sanchez
's claim that he had the competition locked up before his injury and about new rumblings that
Matt Simms
could be a factor. Hmm, interesting timing on the Simms stuff, wouldn't you say?
April, 8, 2013
4/08/13
7:08
PM ET
A couple of highly regarded quarterbacks are coming to town to meet with the Jets.
Florida State's
EJ Manuel
will arrive Tuesday for an overnight visit, a source confirmed. West Virginia's
Geno Smith
is scheduled to visit Wednesday and Thursday, according to the NFL Network. Smith is widely considered the top quarterback in the draft, and Manuel is considered by some as the next-best prospect.
The Jets came away impressed with Smith after meeting with him last month at his pro day. Offensive coordinator Marty Mornhinweg and senior personnel executive Terry Bradway made the trip to Morgantown. This time, the entire organization will get a chance to sit down with Smith.
It would be an upset if the Jets choose a quarterback with the ninth overall pick. They also hold the 39th pick.
PETERMAN LEAVES WITHOUT DEAL
: Former Lions RG
Stephen Peterman
completed a free-agent visit Monday, but the two sides couldn't agree to a deal, according to a source. The Jets made a contract offer, the source said.
The Jets already have signed one guard (
Willie Colon
) and they're looking for another to create more competition with holdovers
Vladimir Ducasse
and
Caleb Schlauderaff
, both backups. They lost starting LG
Matt Slauson
to the Bears. RG
Brandon Moore
is a free agent and unlikely to return.
The Jets' interest in the guard market could be an indication they're not considering Alabama's
Chance Warmack
and North Carolina's
Jonathan Cooper
, the top two guards in the draft, with the ninth pick.
CUMBERLAND IS OFFICIAL
: TE
Jeff Cumberland
, a restricted free agent, signed his one-year tender for $1.3 million.