New York Jets:

Eli Manning
August, 8, 2012
8/08/12
2:33
PM ET
ALBANY, N.Y. --
David Carr
has marveled at the incredible hype and attention surrounding Jets quarterbacks
Mark Sanchez
and
Tim Tebow
.
"I don't envy their situation at all," Carr said.
Like Tebow, Carr is a backup with first-round pedigree. The former 2002 top overall pick, though, is firmly entrenched as
Eli Manning
's backup. The dynamic between Sanchez and Tebow could be a full-blown quarterback controversy in a matter of weeks.
David Carr
"I don't think it will be easy," Carr said when asked how it might impact Sanchez. "You can say what you want when you're in that position in front of the media, but when it comes down to it there's going to be a lot of pressure. The first time the guy throws an incomplete pass, people are going to be cheering for the other guy. It's just the nature of the business. That's why quarterback is so interesting because one guy plays.
"Wide receiver, you can have five or six guys who are good players and you're all going to find a spot," Carr continued. "But as soon as you take the starting quarterback off the field and you put in another guy for a certain situation, it causes a lot more drama. It's a tough situation to be in, but like I said, I'm glad it's not our situation."
Manning joked in an appearance on ESPN New York 98.7 that he tried to get Carr to do sprints on the field with his shirt off after seeing the buzz Tebow created when he jogged in the rain shirtless. Carr couldn't believe all the attention Tebow.
"Tebow has his shirt off and he is running and I am just like, 'Who cares?'" Carr said, laughing about the media hype. "The guy got hot. He took his shirt off. So what? It is pretty intense."
Don't expect Carr to go topless anytime soon.
"Yeah, he was feeling a little excited that day," Carr said of Manning egging him on to go shirtless one day after practice. "He wanted to take some shots. So I deflected, that's for sure."
July, 30, 2012
7/30/12
6:47
PM ET
CORTLAND, N.Y. -- After the Jets missed the playoffs in his third season under center, some of
Mark Sanchez
's own teammates were quietly asking whether he was capable of ever being a franchise quarterback.
There is another New York quarterback who faced the same kind of doubts on the eve of his fourth season:
Eli Manning
, who just led the Giants to their second Super Bowl win during his tenure.
"I looked into it, seen how successful he's been, seen how he's weathered the storm and played really well," Sanchez said. "And I mean his game is unbelievable, he's doing a great job."
The two have comparable early-career numbers. In his first three seasons in the NFL, Manning completed 48.2, 52.8 and 57.7 percent of his passes in the regular season. Sanchez completed 53.8, 54.8 and 56.7 percent. Both threw 18 interceptions in their third season. Manning threw for 24 touchdowns in his third year, Sanchez for 26.
Sanchez sees the similarities between himself and Manning, and is hoping he can have a breakout fourth year as well.
"That fourth year I think he threw one pick in the playoffs when they won that Super Bowl. One," Sanchez said. "And he might have thrown 20 in the regular season. I've been there -- plenty of quarterbacks have been there. The margin for error in this league is so small."
Ryan, who drafted Sanchez after arriving in New York in 2009, said that he's seen a change in his quarterback over time.
"I think he has that natural maturation you get in the fourth year in a system, I think you see that," Ryan said. "That rookie year it's like 'Hey, let's go' -- whether he knew the system or not, he's out there winging it. Now he's a true pro. Four years into it I think you expect it, and you see it."
Although Sanchez made it to the AFC title game his first two years, some saw it as more of a case of beginner's luck -- and an outstanding defense. But Sanchez is beginning to see the totality of his career through the eyes of a veteran.
"This stuff doesn't happen forever, you can't do this forever," Sanchez said. "You get one shot -- we really need to take advantage of all these practices. These games are only getting closer."
July, 28, 2012
7/28/12
8:12
PM ET

It was bound to happen. I just didn't foresee it coming this soon.
Tim Tebow
, the most hyped backup quarterback in recent memory, is getting heckled by some
New York Jets
fans. Saturday was the first training camp day open to the public and an opportunity to crown Tebow the people's champ. Instead, the reception was "lukewarm at best" for Tebow and a pro-
Mark Sanchez
crowd, according to my colleague
Rich Cimini of ESPNNewYork.com.
What does this sudden Tebow backlash mean?
This has more to do with Tebow the hype machine than Tebow the player. Jets fans -- at least some of them -- are tired of hearing every detail about a backup quarterback and special-teams player.
American sports culture can be relentless with celebrities. We build players up so much and so fast that it can build resentment. Tebow is a tremendous person with great character, yet there is a sector of people who cannot wait to see him struggle or fail. I get these responses all the time in the AFC East blog.
Besides, New Yorkers do not give anyone a free pass. They didn't do it for Sanchez or
Eli Manning
, and they certainly won't do it for Tebow.
The biggest lesson in Saturday's Tebow heckling is no amount of hype is enough. Ultimately, Tebow has to win over Jets fans with his performance on the field.
January, 16, 2012
1/16/12
9:36
PM ET
The idea of sharing New York/New Jersey with his older brother, Peyton -- perhaps even becoming neighbors -- is an intriguing scenario to Giants quarterback
Eli Manning
, even if he doesn't know if it would ever happen.
"Yeah, it would be fun," Manning joked on Monday, during his his weekly spot on ESPN New York 1050 radio. "We could probably commute to work maybe. We could come home, eat dinner together, have the kids playing ..."
"Have bunk beds, just like the old days?" host
Michael Kay
interjected.
"Exactly. Twin beds," Manning said. "We can share notes on opponents and watch some film together."
When asked if
Peyton Manning
would be coming to
Eli's town
if such a scenario were to take place, Manning replied with a laugh, "That's right. That's right."
On a serious note, Eli made it clear that he doesn't know if Peyton would ever end up as a New York Jet, and that he wasn't campaigning for it to happen.
"I don't know what is going to happen in that situation," Manning said. "Would it be fun? Yeah, I think it would be interesting to have your brother in the same city playing football together.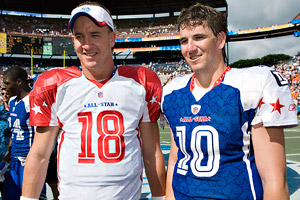 AP Photo/Marco GarciaWill Peyton Manning (left) leave Indianapolis? The rumor mill has been working overtime.
"It would be interesting. I am not saying it is going to happen or I want it to happen, but to have your brother that close to you and playing in New York would be very unique."
Manning, who will play in the NFC Championship Game against San Francisco and hopes to extend the finest season of his career, talked about the lofty expectations set for him because he shares a last name with Peyton, a four-time MVP.
"Maybe just because Peyton had a six-year head start on me," Eli said. "All of a sudden, his second year he got into playing in a high level, playing great football, and they were going to playoffs and making it to second and third round several times.
"All of the sudden people expect, 'Well, hey, here comes little brother.' and they are expecting the same thing to happen. He is going to automatically have immediate success and he is going to be in the playoffs every year.
"My first year starting, my second year in the NFL, we did make the playoffs," he continued. "Was I playing perfect football? No. But I was competing and learning and getting reps, and it is a process. I kept working on my craft and getting better and eventually it is coming around. You never know how long it is going to take."
December, 23, 2011
12/23/11
12:32
AM ET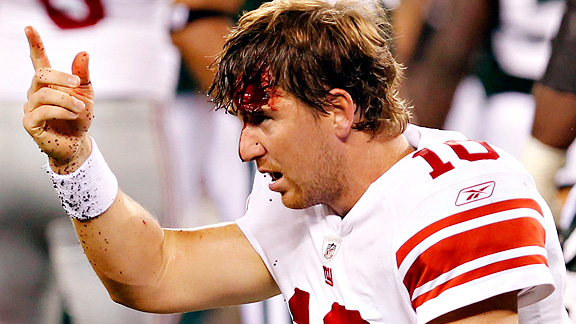 Tim Farrell/US PresswireThe Jets rocked Eli Manning's world on Aug. 16, 2010.
Each week, the Jets' defensive playbook has a different picture on the cover. The coaches pick out something appropriate.
This week, it's a shot of Giants QB
Eli Manning
, but not just any shot. It's that memorable picture from the 2010 preseason game, according to the Daily News and Star-Ledger -- the one where he gets blasted and bloodied.
What, you expected a mundane picture from last summer's preseason game?
In 2010, Manning was creamed by LB
Calvin Pace
and his helmet came flying off. He was jarred forward and clipped by
Jim Leonhard
's helmet, opening a huge gash on his forehead. There was blood everywhere and Manning had to leave the game.
Naturally, the Jets would like to hit him some time Saturday.
"We just have to make him uncomfortable," Pace told reporters. "He's just like his brother (
Peyton
). You let him sit back there, clean, he's the greatest ever. But if you get him to move around, get some hands in his face, it puts a little more challenge on him."
August, 25, 2011
8/25/11
8:15
PM ET
It is an indelible image from last season's preseason game between the Jets and the Giants; Eli Manning reaching up to feel the blood pouring from a gash in his forehead.

"He was bleeding all over the place," Jets safety Jim Leonhard said. "It's not really something you want to see on the field, but fortunately he was fine."

It was a simple botched play. Manning bumped Giants running back Brandon Jacobs and, before he could recover, Jets linebacker Calvin Pace rushed in and caught him from behind, sending Manning's helmet flying. Unprotected, Manning collided with Leonhard and came away wounded.

"I think if the helmet had been on tighter it probably wouldn't have happened," Pace said.

Pace missed the end of the chain of events, because he was on the field going after the loose ball. But Leonhard remembers everything he saw.

"They unfortunately left Calvin free, from the blind side," Leonhard said. "It was an ugly looking hit. There was no way I planned on doing what I did but he kinda got hit into me.

"I still don't know where he hit I think he scraped his head on my helmet. It's tough but there's not like there's anything we could have don't differently. Calvin had a clean hit and he knocked him into me."

Manning missed some practices with the injury, but it happened early enough in camp that he could play the first game of the regular season. Leonhard, who needed months to recover from a compound fracture in December, noted that he would have easily taken Manning's gash over the broken leg.

Jets linebacker Bart Scott saw the play unfold.

"Put a little dirt on it," Scott said. "It was one of those plays he got hit from the front and the back fumbling the snap. But it's really no big deal, you fumble the snap you leave yourself vulnerable. A busted play."

Even though this is just a preseason game, it always holds a little more significance. Pace and Leonhard both noted that when they see Giants players out during the year at charitable or promotional events, it's nice to be able to rub in a preseason win.

Pace said above all, he thinks the rivalry is good for New York.

"I like playing them," Pace said, "I think it brings out the best in all of us."