New York Jets:

Erik Ainge
June, 28, 2013
6/28/13
1:35
PM ET
The
Mark Sanchez
bare-butt video? The Jets have no comment, a spokesperson said Wednesday. The team is declining to talk about the YouTube video that shows their quarterback dancing in a kitchen with his pants down.
The original video has been removed from YouTube due to a copyright claim, according to a notice on the site. The California law firm referenced in the claim, Lavely & Singer, declined to publicly comment on the matter.
One former teammate did talk about Sanchez and his embarrassing week:
Erik Ainge
, the former Jets quarterback whose brief NFL career was
short-circuited by drug addiction
.
In a
Metro New York report from Kristian Dyer
, Ainge reveals that Sanchez was not smart when he went to parties, and once went streaking while a femaly party guest recorded the whole thing on her cellphone. Ainge said he smashed the phone to destroy the video, and Sanchez reimbursed the woman for her phone.
"Now it's become a thing to try and catch Mark doing something stupid," Ainge told Metro NY.
In another week, of course, Sanchez might be subject to more outrage over his NSFW production. But his indiscretion looks merely foolish in light of the murder charge levied against former Patriots tight end
Aaron Hernandez
.
February, 11, 2011
2/11/11
10:35
AM ET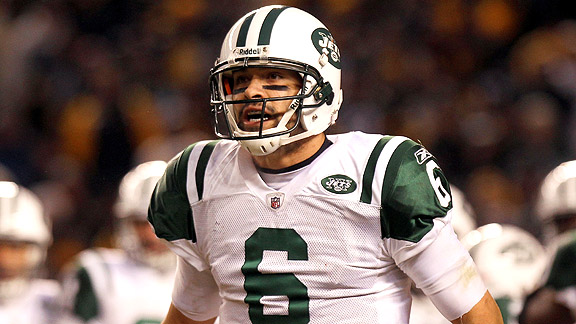 Nick Laham/Getty ImagesMark Sanchez racks up the victories. His other statistics aren't nearly as impressive.
This is part four in our daily, position-by-position breakdown of the Jets' roster. Monday: Offensive tackle
.
Focus
: Quarterback
Depth chart
:
Mark Sanchez
,
Mark Brunell
,
Kellen Clemens
,
Kevin O'Connell
,
Erik Ainge
, Drew Willy
Expiring contracts
: Clemens.
Rear-view mirror
: Few players in the league stimulate as much pro-and-con debate as Sanchez. Our take: He wins a lot of games for a guy with mediocre passing numbers. He finished near the bottom of the league in passer rating (27th), completion percentage (29th), yards-per-attempt (26th) and yards-per-game (25th), yet he won 13 games, including two in the playoffs to become the Jets' all-time winningest QB in the postseason. To his credit, he raised his level of play in the postseason with a sore shoulder.
How did he do it? Give credit to his competitiveness, for sure, but Sanchez has been helped immeasurably by a very good supporting cast. Would he be as successful in Tampa if he traded places with Josh Freeman? It's debatable. Sanchez is a good system quarterback, not a true franchise quarterback, according to some scouts. Hey, there's nothing wrong with that -- as long as you're in a good system and the front office keeps enough talent around you.
Sanchez improved his decision making significantly -- one interception every 39 attempts, up from one per 18 attempts as a rookie. (Luck factored into that, as you will see below.) His lack of accuracy (54.8 percent) is troubling. Anything below 60 percent is unacceptable, especially in a ball-control offense. His slow starts, too, are maddening -- a first-quarter passer rating of only 66.9. Scouts say he's slow to adjust when a defense unveils a new wrinkle at the start of a game -- i.e. the Denver Broncos using a four-man line instead of their 3-4. Isn't it interesting that he picked up his play late in the season when he was called out publicly by Rex Ryan?
Maybe we're being too hard on him, considering his lack of experience, but the point is this: Sanchez is closer to "work in progress" than "elite quarterback."
Numbers Game
: Sanchez led the league with 15 dropped interceptions, by far the most, according to FootballOutsiders.com.
Crystal ball
: Quarterbacks usually take a big step in Year 3, so things look promising for Sanchez. He knows how to win; that sounds simple, but a lot of quarterbacks with more physical talent than Sanchez haven't mastered that. The key for him is becoming more consistent, not only from game to game, but from quarter to quarter. He also needs to make smarter decisions off the field if he wants to last in New York.
"Booger" Brunell figures to be back as the No. 2/Sanchez big brother. Clemens is a goner. Ainge, who spent the season on the non-football injury list because of substance-abuse issues, still is under contract -- but his future is shaky at best. They need a developmental player to fill the No. 3 spot.
Hot Seat
: Sanchez. As long as you play quarterback in New York, you're on the hot seat.
Positional rating
(scale 1 to 10): 7.5
July, 29, 2010
7/29/10
9:22
PM ET
The rookies, quarterbacks and injured players had to check in with the team in Florham Park today, and the Jets made a few moves.
Notably, RB Joe McKnight failed his conditioning run and won't practice with the team until he passes it. He was placed on the active non-football injury list.
Knight had fitness issues at the Jets rookie minicamp as well. He sat drills out and was physically ill during the first practice.
QB Erik Ainge was placed on the reserve non-football list with an undisclosed illness, and won't count against the 80-man roster. After signing Mark Brunell Wednesday, the Jets would have gone into camp with five quarterbacks in Mark Sanchez, Kellen Clemens, Kevin O'Connell, Brunell and Ainge.
The team signed safety Emmanuel Cook, who was a UFA at training camp last year but was cut and spent last season on the Tampa Bay practice squad. The Jets also waived LB Ezra Butler.
Every player will have to report to the training facility on Sunday, and go from there to the dorms at SUNY Cortland where training camp officially starts on Monday.