New York Jets:

Fireman Ed
November, 27, 2012
11/27/12
1:44
PM ET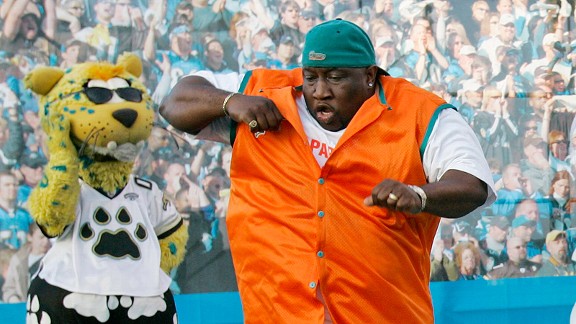 AP Photo/David J. PhillipThomas Phillips -- aka Big Papa Pump -- has been a Dolphins season ticket holder for 17 years.
Fireman Ed's decision to walk away from his self-appointed role as the Jets' most visible fan apparently has created quite a stir in Fan-dom. His Miami counterpart, Big Papa Pump, unloaded on Fireman Ed for abandoning his fan base.
BPP, a Dolphins season-ticket holder for 17 years, ripped his fellow superfan Tuesday on a South Florida radio station. He called Fireman Ed a "wuss" and a "disgrace." There apparently isn't a code of conduct among the superfan fraternity.
"If you're stepping down because of what you see, getting your butt whupped week-in and week-out and you haven't been to the Super Bowl since Super Bowl III, that is a wuss. That is a wuss," BPP said on "Hochman and Zaslow" on Sports Talk: The Ticket.
"You don't back out of your team like that. That's something you don't do. You don't step down from being a superfan. You don't do that. Fireman Ed, you're a disgrace, man."
BPP was on a roll.
"This team is looking up to him and this is what he's telling them? You quit? You just give up? If you're winning and you quit, it's another thing. But you're losing and you quit, that's even worse."
From BPP's perspective, Fireman Ed is done. He said there's no way to return with his integrity in tact; it violates the super-fan doctrine.
"You can't come back. You have to come back as somebody else," he said. "Maybe he can be Nurse Ed. He can't come back as Fireman Ed, there's no way. You can't welcome him back. How can you trust him?"
The irony here is that Ed Anzalone -- aka Fireman Ed -- actually was a Dolphins fan before switching his allegiance to the Jets in the mid-1970s. Maybe he'll do what a lot of New Yorkers do -- move to Florida and re-connect with his first love.
November, 26, 2012
11/26/12
11:29
AM ET
FLORHAM PARK, N.J. -- Rex Ryan expressed disappointment Monday that superfan Fireman Ed has decided to walk away, but the Jets' coach said the famous "J-E-T-S!" chant will live on.

"I was disappointed," Ryan said. "I love that guy's passion and energy he would bring. He's a great fan. I really admire him. He was great. If we do our job on the field, that 'Jets' chant will continue."

That's a big 'if.' The Jets are 4-7, having lost four of their last five games. In fact, they're 2-4 at home, having endured three blowouts -- losing margins of 34, 21 and 30 points.

"I like Fireman Ed," Ryan said. "If he could play linebacker, I'd use him."

Fireman Ed -- aka Ed Anzalone -- announced Sunday night that he will hang up his helmet because of too many confrontations with other Jets fans.
November, 14, 2011
11/14/11
1:45
AM ET
The only thing missing was the hat.

Moments after he burned Kyle Wilson for a fourth-quarter touchdown, Pats receiver Deion Branch openly mocked Fireman Ed, standing in the corner of the end zone and imploring Jets fans to cheer, the same way Ed does.

Branch played coy when asked about it after the game.

"I don't know, is that what it was?" he said after the Pats' 37-16 win.

Yes, that's exactly what it was.

The difference was, no one was cheered after Branch's "Fireman Ed."

"I don't know, I just saw a lot of weird looks at me," Branch said with a laugh.

"It's all fun. I truly enjoy playing here, I love it. I love the way those guys support their fans," he added.

Branch finished with five catches for 58 yards. His 8-yard TD in the fourth quarter gave the Patriots a 30-16 lead with 8:04 to play.